US and Japan Sign Historic Defense Agreements, Extend Mutual Aid to Space
The leaders of Japan and the United States are expanding the nations' alliance with a series of new commitments regarding defense spending, military modernization, and a new agreement that will extend their mutual defense treaty to space.U.S. President Joe Biden welcomed Japanese Prime Minister Kishida Fumio to the White House on Jan. 13, where the two leaders agreed to the historic expansions and enhancements of their nations' alliance. "I don't think there's ever been a time when we were closer, Japan and the United States," Biden said shortly before the meeting. "Rather than figuring out how we can work together, a more difficult job would be figuring out where we disagree." The meeting follows a flurry of activity between the two nations this week at numerous levels of government, including an overhaul in the U.S.-Japan defense posture and strategy, which will see an expansion of Japanese forces and a restructuring of U.S. Marine Corps forces stationed on and around Okinawa. "We're modernizing our military alliance, building on Japan's historic increase in defense spending and new national security strategy," Biden said. "Let me be crystal clear. The United States is fully, thoroughly, and completely committed to the alliance." The move will also start talks on developing a long-range missile capability for Japanese defense forces, which have not wielded such a weapon since World War II. Such was necessary, the leaders agreed, due to the shifting security environment and emergent threats emanating from communist China, North Korea, and Russia. "Japan and the United States are currently facing the most challenging and complex security environment in recent history," Kishida said. "The role to be played by Japan and the United States, which share fundamental values such as democracy and the rule of law, is becoming even greater." The Nimitz-class aircraft carrier USS Carl Vinson (CVN 70), Ticonderoga-class guided-missile cruiser USS Lake Champlain (CG 57), and Arleigh Burke-class guided-missile destroyer USS Chafee (DDG 90) conduct a passing honors ceremony with Japan Maritime Self-Defense Force (JMSDF) Murasame-class destroyer JS Ikazuchi (DD 107) and Kongō-class guided-missile destroyer JS Chōkai (DDG 176) at the Philippine Sea on Sept.19, 2021. (U.S. Navy photo by Mass Communication Specialist 2nd Class Haydn N. Smith) 'A Steadfast Ally' Kishida comes to the United States after embarking on a tour of Europe in which he worked to more closely integrate Japan's response with the West on the issue of Russia's invasion of Ukraine and other global crises. Notably, Kishida's government agreed in November 2022 to a historic increase to its defense budget, which will double Japan's defense spending over five years to a total of 2 percent of GDP. That spending was included in Japan's new national security strategy, which outlines plans to purchase long-range counterstrike abilities, presenting a historical development in post-war Japan's defense policies. Since the conclusion of World War II, Japan's constitution has limited its military to an exclusive self-defense capacity, and the nation has consistently refused to pursue nuclear weapons of any kind. The newly increased budget and assistance from the United States will now see Japan acquire conventional counterstrike capabilities designed to defend the nation from a foreign missile attack. Such long-range missiles are typically capable of striking targets about 900–1,800 miles away. U.S. officials hailed Japan's commitment to the alliance and the nation's willingness to adapt to emerging threats despite long-time cultural and political precedents that render it cautious about expanding its military capabilities. National Security Council Communications Coordinator John Kirby said that Japan is working with the United States on every facet of the effort. "Japan has proven a steadfast ally, ready to step up and do its part to advance our shared national security interests and values," Kirby said during a Jan. 12 press briefing. "From our perspective, the message is absolutely clear: Japan is stepping up and doing so in lockstep with the United States." Kirby said the new agreements between Japan and the United States would meaningfully help to provide for the peace and stability of the Indo-Pacific region and deter aggression from other regional powers. "All these moves are not only going to strengthen our combined ability to defend Japan but also will allow the United States and Japan together to provide for peace and security in the Indo-Pacific region and bolster deterrence in the region and globally," Kirby said. Expanding Defense In the Indo-Pacific, Space, and Beyond Leaders from Japan and the United States capped off the busy week with the signing of a new space agreement that recognizes the two nations' mutual interest in peaceful space exploration and use of the moon and other celestial bodies. The U.S.-Japan Space Cooperatio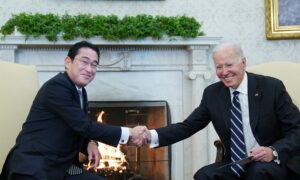 The leaders of Japan and the United States are expanding the nations' alliance with a series of new commitments regarding defense spending, military modernization, and a new agreement that will extend their mutual defense treaty to space.
U.S. President Joe Biden welcomed Japanese Prime Minister Kishida Fumio to the White House on Jan. 13, where the two leaders agreed to the historic expansions and enhancements of their nations' alliance.
"I don't think there's ever been a time when we were closer, Japan and the United States," Biden said shortly before the meeting.
"Rather than figuring out how we can work together, a more difficult job would be figuring out where we disagree."
The meeting follows a flurry of activity between the two nations this week at numerous levels of government, including an overhaul in the U.S.-Japan defense posture and strategy, which will see an expansion of Japanese forces and a restructuring of U.S. Marine Corps forces stationed on and around Okinawa.
"We're modernizing our military alliance, building on Japan's historic increase in defense spending and new national security strategy," Biden said.
"Let me be crystal clear. The United States is fully, thoroughly, and completely committed to the alliance."
The move will also start talks on developing a long-range missile capability for Japanese defense forces, which have not wielded such a weapon since World War II.
Such was necessary, the leaders agreed, due to the shifting security environment and emergent threats emanating from communist China, North Korea, and Russia.
"Japan and the United States are currently facing the most challenging and complex security environment in recent history," Kishida said.
"The role to be played by Japan and the United States, which share fundamental values such as democracy and the rule of law, is becoming even greater."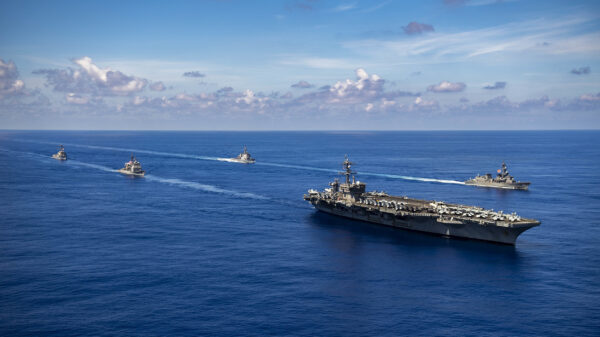 'A Steadfast Ally'
Kishida comes to the United States after embarking on a tour of Europe in which he worked to more closely integrate Japan's response with the West on the issue of Russia's invasion of Ukraine and other global crises.
Notably, Kishida's government agreed in November 2022 to a historic increase to its defense budget, which will double Japan's defense spending over five years to a total of 2 percent of GDP.
That spending was included in Japan's new national security strategy, which outlines plans to purchase long-range counterstrike abilities, presenting a historical development in post-war Japan's defense policies.
Since the conclusion of World War II, Japan's constitution has limited its military to an exclusive self-defense capacity, and the nation has consistently refused to pursue nuclear weapons of any kind.
The newly increased budget and assistance from the United States will now see Japan acquire conventional counterstrike capabilities designed to defend the nation from a foreign missile attack. Such long-range missiles are typically capable of striking targets about 900–1,800 miles away.
U.S. officials hailed Japan's commitment to the alliance and the nation's willingness to adapt to emerging threats despite long-time cultural and political precedents that render it cautious about expanding its military capabilities.
National Security Council Communications Coordinator John Kirby said that Japan is working with the United States on every facet of the effort.
"Japan has proven a steadfast ally, ready to step up and do its part to advance our shared national security interests and values," Kirby said during a Jan. 12 press briefing.
"From our perspective, the message is absolutely clear: Japan is stepping up and doing so in lockstep with the United States."
Kirby said the new agreements between Japan and the United States would meaningfully help to provide for the peace and stability of the Indo-Pacific region and deter aggression from other regional powers.
"All these moves are not only going to strengthen our combined ability to defend Japan but also will allow the United States and Japan together to provide for peace and security in the Indo-Pacific region and bolster deterrence in the region and globally," Kirby said.
Expanding Defense In the Indo-Pacific, Space, and Beyond
Leaders from Japan and the United States capped off the busy week with the signing of a new space agreement that recognizes the two nations' mutual interest in peaceful space exploration and use of the moon and other celestial bodies.
The U.S.-Japan Space Cooperation Framework Agreement is designed to preserve and encourage the safe and responsible conduct of outer space activities in Earth's orbit, on the moon, and beyond.
Notably, the agreement clarifies that attacks to, from, and within outer space could invoke Article 5 of the U.S.-Japan Security Treaty. This means that, should either nations' assets or people be attacked by a foreign entity in space, the other would come to its defense.
"Space unites us," said NASA Administrator Bill Nelson during a press conference announcing the agreement.
"In this era of space exploration, every announcement and advancement is not an achievement for just a single country. It is a victory for all of humanity, and that is how the U.S. chooses to lead this effort with Japan and others in the 21st century."
Meanwhile, U.S. Secretary of Defense Lloyd Austin met with his Japanese counterpart Defense Minister Yasukazu Hamada on Thursday, and signed documents that will further strengthen the U.S.-Japanese Security Alliance on Earth.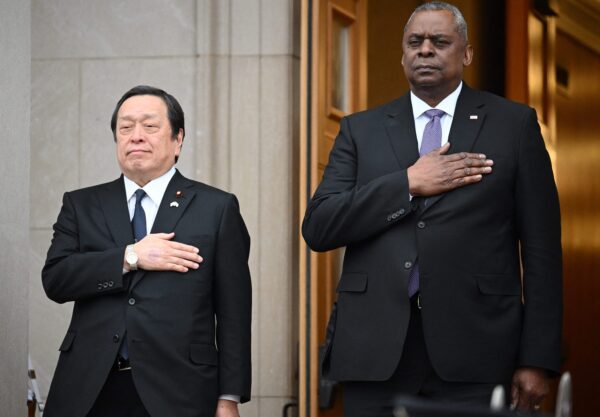 The two defense leaders signed a bilateral Research, Development, Test and Evaluation Memorandum of Understanding, as well as a bilateral, non-binding Security of Supply Arrangement.
The documents commit Japan and the United States to work together on emerging defense capabilities, including autonomous systems, microwave weapons, and systems designed to counter hypersonic missiles.
The arrangement also creates a streamlined mechanism for the defense departments of both nations to expedite requests for industrial resources in the event of unanticipated supply chain disruptions.
"This year is an inflection point for our national security and defense strategies aligning closer than ever," Austin said after signing the documents.
"And with our shared goal of a new era of alliance modernization, I strongly support Japan's updated national security policies, including decisions to increase defense spending [to acquire] counterstrike capabilities."
A day prior, Austin and Hamada were joined by U.S. Secretary of State Antony Blinken and his Japanese counterpart Foreign Minister Yoshimasa Hayashi for the year's first "2+2" meeting.
During that event, Austin announced that the United States and Japan had agreed to a "historic decision to optimize U.S. force posture in Japan" that would forward more U.S. capabilities to bolster deterrence to help defend Japan.
The agreement will also modernize the U.S. presence in Japan, adapting its presence with "more versatile, mobile, and resilient capabilities" by reorganizing the 12th Artillery Regiment into the 12th Marine Littoral Regiment.
The new formation, Austin said, would be equipped with advanced intelligence, surveillance, and reconnaissance capabilities, as well as anti-ship and anti-transportation systems "relevant to the current and future threat environments."
The meeting was hailed by National Security Council Coordinator for Indo-Pacific Affairs Kurt Campbell as an important event in the history of U.S.-Japan relations and Indo-Pacific security.
"It was one of the most consequential engagements between our two countries in decades," Campbell said of the 2+2 meeting during a roundtable discussion at the Center for Strategic and International Studies think tank on Thursday.
"When countries sometimes set off on these journeys, they go alone," Campbell said. "Not Japan. They have done this in the deepest possible consultation with the United States over months of painstaking discussions, not only in the State Department but [also] a lot of interaction at the White House and the level of the prime minister's office."