UK's Reliance on Cheap Chinese Goods a 'Trade-Off of Human Lives': Former Conservative Leader
The UK's reliance on cheap goods from the "brutal, dictatorial" Chinese regime to help avoid a recession is a "trade-off of human lives," former Conservative Party leader Sir Iain Duncan Smith has said.Appearing on the Sophy Ridge On Sunday programme on Sky News, the senior MP was asked if the UK should seek to maintain good trade relations with China for the good of the economy. He answered: "I think this is a trade-off of human lives. For me the Uyghur being incarcerated, the women being forcefully sterilised, often raped, we have children in re-education camps, Christian churches being cracked down on, arrests taking place; in Hong Kong people being arrested for their democracy campaign. A perimeter fence surrounds a forced reeducation center in Dabancheng, Xinjiang region, China, on Sept. 4, 2018. (Thomas Peter/Reuters) "Where do you draw the line? Do we turn a blind eye to all of that, do we keep going on making money out of China?" Duncan Smith said, instead of relying on China, the UK should "diversify." He said: "My answer is we diversify, bring some of these technologies back to Europe, to Britain, to America, start looking at India and others to invest more to develop them more as a counterbalance. "We can't keep go on turning a blind eye to the fact that our cheaper products come from countries that use slave labour, it's not on." 'Brutal' Commenting on reports of the apparent relaxation of COVID-19 lockdown rules in China following recent protests, Duncan Smith said he did not believe it was a sign that the Chinese Communist Party (CCP) regime is changing. Protests broke out across China over the weekend of Nov. 26–27, spurred partly by anger over a deadly fire in Xinjiang that killed at least 10 people. Local COVID-19 restrictions apparently prevented residents from escaping the fire and delayed first responders from reaching the scene. People sing slogans while gathering on a street in Shanghai on Nov. 27, 2022. (Hector Retamal/AFP via Getty Images) Following the protests, some Chinese cities announced that they were easing their lockdown restrictions. However, the regime said it will persist in its "dynamic zero-COVID" policy and has not given any indication of when it would end. Meanwhile, the regime has detained or arrested many of the protesters and has initiated the highest level of censorship on the internet. Duncan Smith said the CCP regime is a "brutal, dictatorial government which thinks nothing of incarcerating people" and "cracking down." He said the regime is carrying out genocide amongst the Uyghur people in Xinjiang and some products currently on sale in the UK have been made with slave labour in China. The former Tory leader said: "Their control is total, they use technology in a way that we couldn't just imagine over here, all of which tells me they aren't going anywhere soon, they are determined their form of government is right." Worse still, he said, CCP leader Xi Jinping is "absolutely determined that the form of government he has is the right form of government for everywhere and he's selling it to the developing world right now." A man is arrested while people gather on a street for protest in Shanghai on Nov. 27, 2022. (Hector Retamal/AFP via Getty Images) 'Threat' or 'Challenge'? The relationship between the UK and the Chinese regime has become increasingly strained following Beijing's upending of democracy and the rule of law in Hong Kong, its reciprocal sanctioning of British politicians who are vocal critics of the CCP's human rights abuses in Xinjiang, and the beating of a Hong Kong protester at the Chinese Consulate General in Manchester. Prime Minister Rishi Sunak said in a major foreign policy speech on Nov. 28 that the so-called "golden era" of the Sino–British relationship is over, and said the UK will strengthen its resilience and economic security. But he stopped short of calling the Chinese regime a threat, and said the UK will stand up to the UK's competitors with "robust pragmatism" instead of "grand rhetoric" and "simplistic Cold War rhetoric." The speech marked a clear softening of rhetoric since his leadership campaign when he said the Chinese regime poses "the largest threat to Britain and the world's security and prosperity this century," and his recent description of the regime as posing the "biggest state-based threat to our economic security." It was also in contrast with his hawkish predecessor Liz Truss, who in April called for a "global NATO" to tackle international threats and warned the CCP against invading Taiwan. Duncan Smith said he is "deeply disappointed" with Sunak's stance on China and called on the prime minister to take a tougher stance by declaring China a "systemic threat," a move which could then influence all areas of government policy regarding the regime in Beijing. He said: "I am deeply disappointed in my government over this particular area. The prime minister said over the summer that he thought th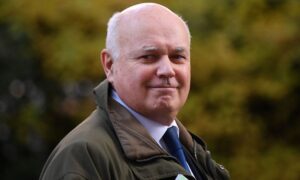 The UK's reliance on cheap goods from the "brutal, dictatorial" Chinese regime to help avoid a recession is a "trade-off of human lives," former Conservative Party leader Sir Iain Duncan Smith has said.
Appearing on the Sophy Ridge On Sunday programme on Sky News, the senior MP was asked if the UK should seek to maintain good trade relations with China for the good of the economy.
He answered: "I think this is a trade-off of human lives. For me the Uyghur being incarcerated, the women being forcefully sterilised, often raped, we have children in re-education camps, Christian churches being cracked down on, arrests taking place; in Hong Kong people being arrested for their democracy campaign.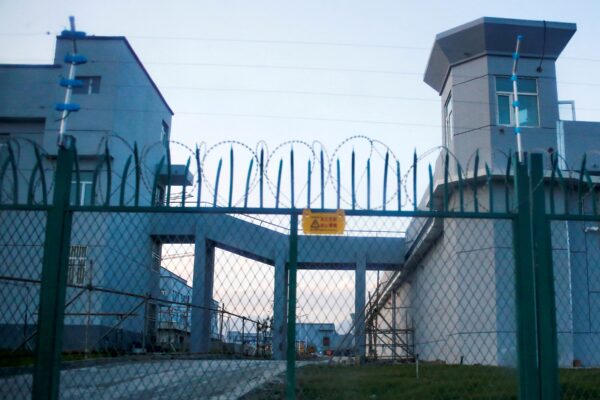 "Where do you draw the line? Do we turn a blind eye to all of that, do we keep going on making money out of China?"
Duncan Smith said, instead of relying on China, the UK should "diversify."
He said: "My answer is we diversify, bring some of these technologies back to Europe, to Britain, to America, start looking at India and others to invest more to develop them more as a counterbalance.
"We can't keep go on turning a blind eye to the fact that our cheaper products come from countries that use slave labour, it's not on."
'Brutal'
Commenting on reports of the apparent relaxation of COVID-19 lockdown rules in China following recent protests, Duncan Smith said he did not believe it was a sign that the Chinese Communist Party (CCP) regime is changing.
Protests broke out across China over the weekend of Nov. 26–27, spurred partly by anger over a deadly fire in Xinjiang that killed at least 10 people. Local COVID-19 restrictions apparently prevented residents from escaping the fire and delayed first responders from reaching the scene.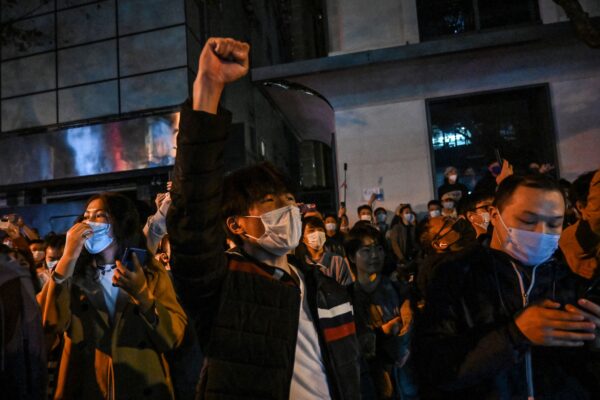 Following the protests, some Chinese cities announced that they were easing their lockdown restrictions. However, the regime said it will persist in its "dynamic zero-COVID" policy and has not given any indication of when it would end.
Meanwhile, the regime has detained or arrested many of the protesters and has initiated the highest level of censorship on the internet.
Duncan Smith said the CCP regime is a "brutal, dictatorial government which thinks nothing of incarcerating people" and "cracking down."
He said the regime is carrying out genocide amongst the Uyghur people in Xinjiang and some products currently on sale in the UK have been made with slave labour in China.
The former Tory leader said: "Their control is total, they use technology in a way that we couldn't just imagine over here, all of which tells me they aren't going anywhere soon, they are determined their form of government is right."
Worse still, he said, CCP leader Xi Jinping is "absolutely determined that the form of government he has is the right form of government for everywhere and he's selling it to the developing world right now."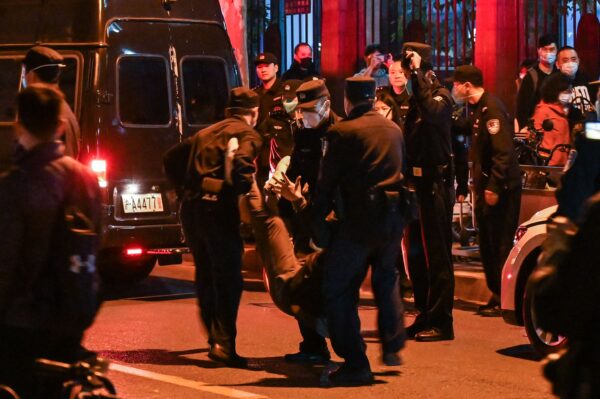 'Threat' or 'Challenge'?
The relationship between the UK and the Chinese regime has become increasingly strained following Beijing's upending of democracy and the rule of law in Hong Kong, its reciprocal sanctioning of British politicians who are vocal critics of the CCP's human rights abuses in Xinjiang, and the beating of a Hong Kong protester at the Chinese Consulate General in Manchester.
Prime Minister Rishi Sunak said in a major foreign policy speech on Nov. 28 that the so-called "golden era" of the Sino–British relationship is over, and said the UK will strengthen its resilience and economic security.
But he stopped short of calling the Chinese regime a threat, and said the UK will stand up to the UK's competitors with "robust pragmatism" instead of "grand rhetoric" and "simplistic Cold War rhetoric."
The speech marked a clear softening of rhetoric since his leadership campaign when he said the Chinese regime poses "the largest threat to Britain and the world's security and prosperity this century," and his recent description of the regime as posing the "biggest state-based threat to our economic security."
It was also in contrast with his hawkish predecessor Liz Truss, who in April called for a "global NATO" to tackle international threats and warned the CCP against invading Taiwan.
Duncan Smith said he is "deeply disappointed" with Sunak's stance on China and called on the prime minister to take a tougher stance by declaring China a "systemic threat," a move which could then influence all areas of government policy regarding the regime in Beijing.
He said: "I am deeply disappointed in my government over this particular area. The prime minister said over the summer that he thought that China represented a 'systemic threat' but he recently shifted that to 'systemic challenge' and the problem with 'challenge' is it seems weak."
Frank Fang and PA Media contributed to this report.