Ukraine may get another Patriot battery
Ukrainian President Vladimir Zelensky has claimed that the Netherlands agreed to send Kiev one of its Patriot missile defense systems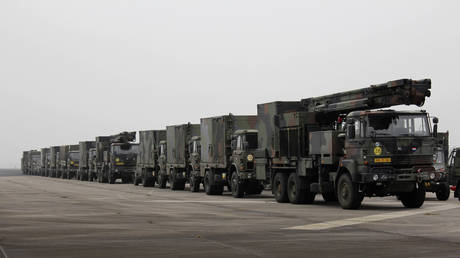 18 Jan, 2023 03:01
HomeWorld News
Ukraine may get another Patriot battery
Dutch PM promised to "join" the US and Germany on the "Patriot project"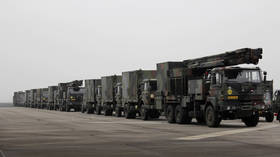 Ukrainian President Vladimir Zelensky has announced that the Netherlands agreed to send Kiev one of its missile defense systems, even as Dutch Prime Minister Mark Rutte remained extremely vague and avoided making any specific commitments.
"We have the intention to join what you are doing with Germany on the Patriot project," Rutte told President Joe Biden ahead of their meeting at the White House on Tuesday, offering no details besides that he already discussed the issue with German Chancellor Olaf Scholz.
Rutte previously told public broadcaster NOS that the "idea is not only training, but also equipment," though the country's military has yet to review "what exactly we have, how can we ensure that it works well with the American and German systems." The Dutch military reportedly has only three Patriot systems in service.
The Ukrainian leader interpreted the news as a definitive commitment, announcing in his nightly address that "there are now three guaranteed batteries" and "this is only the beginning." In recent weeks, the United States and Germany each agreed to send one Patriot anti-aircraft missile battery to Ukraine.
A single Patriot battery comprises a power unit, a command station, a radar unit and antennae, as well as up to eight truck-mounted launchers, each holding four surface-to-air missiles. Developed by US defense contractor Raytheon, the system has a reported range of up to 99 miles (160km), and can intercept incoming missiles or aircraft.
Kiev has been requesting the American air defense system for months, as Russia continues strikes on Ukrainian military and infrastructure targets. The calls intensified after a residential building was heavily damaged and dozens killed in the southeastern Ukrainian city of Dnepr on Saturday, in what a high-profile Ukrainian presidential adviser called a botched attempt to intercept a Russian missile.
The Ukrainian Defense Ministry denied having engaged the projectile and claimed that it didn't have the capability to intercept Kh-22 air-launched cruise missiles in the first place. It went on to assert that its previous statements that some missiles of that model had been intercepted were "inaccurate." Zelensky's adviser Aleksey Arestovich was forced to apologize and resign after going against the official narrative.
Moscow has vocally opposed the planned deployment of Patriots and any supporting NATO personnel to Ukraine, with the deputy head of Russia's Security Council, Dmitry Medvedev, warning that they would become "legitimate targets" for Russian forces.
Washington and Ukraine's other backers continue to insist that they are not party to the conflict, and that the missile systems will be manned only by Ukrainian personnel, who are already undergoing training to operate them at a US Army base in Grafenwoehr, Germany, as well as Fort Sill in Oklahoma.