Turkey may still 'freeze' NATO expansion – Erdogan
If Finland and Sweden don't uphold their end of the bargain, Turkey won't ratify their NATO membership, said president Erdogan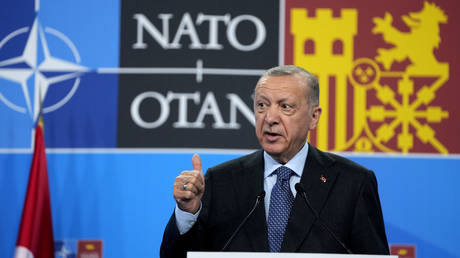 19 Jul, 2022 00:32
HomeWorld News
Turkey may still 'freeze' NATO expansion – Erdogan
Finland and Sweden must fulfill Ankara's conditions before becoming members, President Erdogan warned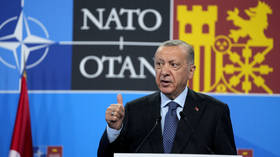 Turkish President Recep Tayyip Erdogan warned Sweden and Finland on Monday that Ankara may still "freeze" their membership in NATO if Helsinki and Stockholm fall short of last month's agreement. The two Scandinavian countries had promised they would take specific steps in order to overcome Turkey's objections.
"I want to reiterate once again that we will freeze the process if these countries do not take the necessary steps to fulfill our conditions," Erdogan told reporters. "Our stance on this issue is very clear. The rest is up to them."
"Sweden in particular does not have a good image on this issue," he added.
Ankara had blocked the bid by Helsinki and Stockholm for NATO membership until late June. A trilateral memorandum signed in Madrid allowed the alliance to formally invite Finland and Sweden at the summit in Spain. The document called for the two Scandinavian countries to address Turkish demands by ending their embargo on arms sales to Ankara and cracking down on individuals and organizations Turkey had designated as terrorists. Among them are Kurdistan Workers' Party (PKK) activists who sought asylum in Sweden and Finland, as well as followers of the exiled cleric Fetullah Gulen.
Finland and Sweden had stayed neutral during the Cold War, but applied to join NATO on May 18, citing concerns for their security amid the Russian military operation in Ukraine. The parliaments of all 30 NATO countries must ratify their membership before it can take effect.
Erdogan's conditions had threatened to derail NATO's plans to formally invite the duo at the June 28-30 summit in Madrid, but the last-minute deal – reportedly struck over coffee – found the formula to move the process forward.
The US intends to work with Finland, Sweden and Turkey to ensure "this accession process and ratification process around the world is as swift and efficient as it can possibly be," State Department spokesman Ned Price said on Monday, adding that the White House wants to see them both in NATO "as soon as possible."
Erdogan's warning comes after the US House of Representatives adopted the text of the National Defense Authorization Act (NDAA) that required additional certifications before Turkey could buy more F-16 fighter jets. US President Joe Biden insisted last month that the F-16 sale was not a "quid pro quo" for Ankara agreeing to NATO's Scandinavian expansion, and said he could get congressional approval for it.