Trump speaks about 9/11 at Saudi-sponsored golf event
Donald Trump has defended his involvement in a Saudi-sponsored golf tournament, saying that "nobody's gotten to the bottom of 9/11"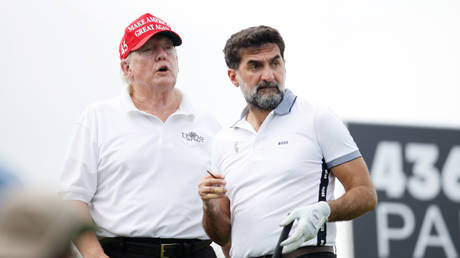 Trump speaks about 9/11 at Saudi-sponsored golf event
The former president dismissed questions about Saudi involvement in the attack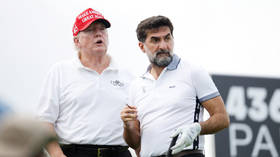 Former US President Donald Trump has defended his decision to host a Saudi-sponsored golf event at his course in New Jersey. With protesters blaming Saudi Arabia for the 9/11 terror attacks, Trump argued that "nobody's gotten to the bottom" of the tragedy.
letter sent to Trump last week.
"We simply cannot understand how you could agree to accept money from the Kingdom of Saudi Arabia's golf league to host their tournament at your golf course, and to do so in the shadows of Ground Zero," the letter read.
"nobody's gotten to the bottom of 9/11, unfortunately, and they should have," referring to the hijackers who killed nearly 3,000 people in the 2001 attacks as "maniacs."
declassified last year identified several Saudi officials as providing "significant logistic support" to two of the hijackers. The name of one of these officials – a mid-level staffer in the Saudi embassy in Washington, DC – was inadvertently leaked by the agency a year earlier.
"Who blew up the World Trade Center? It wasn't the Iraqis, it was Saudi, take a look at Saudi Arabia," he told a Fox News panel in February. At a campaign rally later that day, he declared that classified papers – apparently the aforementioned 28 pages – may prove that the Saudis "really knocked down the World Trade Center."
"pariah" over the murder of journalist Jamal Khashoggi, but traveled there earlier this month and asked the Saudi royals to pump more oil, after greeting Crown Prince Mohammed bin Salman with a fist-bump.
"It pains us to say it but you are the first president since the Sept. 11 attacks who has not met with the families and survivors," the group representing 9/11 families wrote in a separate letter to Biden.
"Yet you just traveled halfway around the world to fist-bump Saudi crown Prince Mohammed bin Salman, where he had the gall to lecture you about human rights and 'values'," the letter continued, referring to Salman telling Biden that the US attempts to "impose" its values by force on Iraq and Afghanistan were "mistakes."