Trudeau Says TikTok Being Watched 'Very Carefully' as US Moves to Restrict Access
Canada's communications spy agency is keeping a close tab on the Chinese social media application TikTok, Prime Minister Justin Trudeau said on Dec. 15."People are obviously watching very carefully, there's a range of ways that we're actively keeping Canadians safe," he said in a scrum on Parliament Hill. "The Communications Security Establishment (CSE) is one of the best cybersecurity agencies in the world and they're watching very carefully." Trudeau was asked whether his government would investigate TikTok over national security concerns. The U.S. Senate voted unanimously Dec. 14 on a law banning the Chinese app from from all government devices. The bill still needs to pass the House and be signed by the president. "TikTok is a Trojan Horse for the Chinese Communist Party. It's a major security risk to the United States, and until it is forced to sever ties with China completely, it has no place on government devices," said the sponsor of the bill Republican Senator Josh Hawley in a Dec. 15 statement. TikTok is owned by Beijing-based ByteDance, which has been linked to the Chinese Communist Party (CCP). A spokesperson for the company told The Epoch Times the move by the U.S. Senate is "politically-motivated." For Canada, the spokesperson offered reassurance about the security of the platform. "We continue to have a constructive relationship with the Canadian government, and engage across departments to demonstrate how we protect the security and privacy of Canadian users, and to respond to any questions that officials may have," said the spokesperson. The company says Canadian user data is stored in the U.S. and Singapore, that it was never provided to the Chinese regime, and that it wouldn't be if requested. However TikTok admitted in early November that its China-based staff can access the data of users stored in other countries. The People's Republic of China also has a law to compel Chinese individuals and companies to help the regime in intelligence collection. Twitter? Trudeau was asked specifically about TikTok during the media scrum, but he also mentioned Twitter, the social media company recently purchased and being transformed by Elon Musk. "Obviously, we continue to watch carefully social media channels. There's lots of questions about Twitter going on right now," Trudeau said. "We're watching what the Americans are doing and we're gonna continue to make sure that Canadians are safe in the social media they use." The U.S. government has expressed concerns about Musk's takeover. "We're all keeping a close eye on this," White House spokesperson Karine Jean-Pierre said in late November. Following Trudeau's comment on Twitter to a question on TikTok, a reporter asked if there are any concerns about potential infiltration of government accounts on "Twitter," which he later admitted he meant to say "TikTok." "I don't know that Twitter is a problem," said Trudeau, correcting the reporter. There are concerns about TikTok in other Western countries as well, with a British minister addressing them earlier this week. Britain's Security Minister Tom Tugendhat warned on Dec. 13 that TikTok, whose editorial board includes members of the ruling CCP, is set to influence elections with many young voters consuming news content on the platform. "The influence of social media platforms on our younger generations here in the UK and around the world is pervasive. The contents on these platforms will influence minds," he said. Chris Summers, Bryan Jung, and Katabella Roberts contributed to this report. Follow Noé Chartier is an Epoch Times reporter based in Montreal. Twitter: @NChartierET Gettr: @nchartieret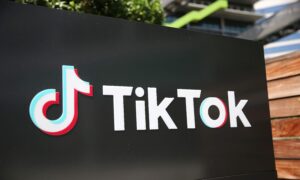 Canada's communications spy agency is keeping a close tab on the Chinese social media application TikTok, Prime Minister Justin Trudeau said on Dec. 15.
"People are obviously watching very carefully, there's a range of ways that we're actively keeping Canadians safe," he said in a scrum on Parliament Hill.
"The Communications Security Establishment (CSE) is one of the best cybersecurity agencies in the world and they're watching very carefully."
Trudeau was asked whether his government would investigate TikTok over national security concerns.
The U.S. Senate voted unanimously Dec. 14 on a law banning the Chinese app from from all government devices. The bill still needs to pass the House and be signed by the president.
"TikTok is a Trojan Horse for the Chinese Communist Party. It's a major security risk to the United States, and until it is forced to sever ties with China completely, it has no place on government devices," said the sponsor of the bill Republican Senator Josh Hawley in a Dec. 15 statement.
TikTok is owned by Beijing-based ByteDance, which has been linked to the Chinese Communist Party (CCP).
A spokesperson for the company told The Epoch Times the move by the U.S. Senate is "politically-motivated."
For Canada, the spokesperson offered reassurance about the security of the platform.
"We continue to have a constructive relationship with the Canadian government, and engage across departments to demonstrate how we protect the security and privacy of Canadian users, and to respond to any questions that officials may have," said the spokesperson.
The company says Canadian user data is stored in the U.S. and Singapore, that it was never provided to the Chinese regime, and that it wouldn't be if requested.
However TikTok admitted in early November that its China-based staff can access the data of users stored in other countries.
The People's Republic of China also has a law to compel Chinese individuals and companies to help the regime in intelligence collection.
Twitter?
Trudeau was asked specifically about TikTok during the media scrum, but he also mentioned Twitter, the social media company recently purchased and being transformed by Elon Musk.
"Obviously, we continue to watch carefully social media channels. There's lots of questions about Twitter going on right now," Trudeau said.
"We're watching what the Americans are doing and we're gonna continue to make sure that Canadians are safe in the social media they use."
The U.S. government has expressed concerns about Musk's takeover.
"We're all keeping a close eye on this," White House spokesperson Karine Jean-Pierre said in late November.
Following Trudeau's comment on Twitter to a question on TikTok, a reporter asked if there are any concerns about potential infiltration of government accounts on "Twitter," which he later admitted he meant to say "TikTok."
"I don't know that Twitter is a problem," said Trudeau, correcting the reporter.
There are concerns about TikTok in other Western countries as well, with a British minister addressing them earlier this week.
Britain's Security Minister Tom Tugendhat warned on Dec. 13 that TikTok, whose editorial board includes members of the ruling CCP, is set to influence elections with many young voters consuming news content on the platform.
"The influence of social media platforms on our younger generations here in the UK and around the world is pervasive. The contents on these platforms will influence minds," he said.
Chris Summers, Bryan Jung, and Katabella Roberts contributed to this report.