Trapped on Highway for Over 40 Days, Two Chinese Bus Drivers Live on Bus
Two Chinese long-distance bus drivers who drove to pick up farm workers from 950 miles away have been stuck on Chinese highways since Oct. 4.Xiao Ning (pseudonym), one of the bus drivers, said that he and his fellow driver are from Yinchuan city, Ningxia region. They were hired to pick up some farm workers in Hami city, Xinjiang region, and bring them home to Ningxia. The farm workers had helped them file their driver's licenses and roadworthiness certificates with the local authorities of Hami and then told them that their entry to Xinjiang was approved. They hit the road on Oct. 1 for Xinjiang, after the farm workers paid them for the trip. The drivers didn't expect that they wouldn't be allowed to enter Xinjiang and that they would be stuck on the highway for a very long time, waiting for a travel pass that they could not obtain. They suffered through freezing cold temperatures and starvation. They weren't allowed to stay at various highway service stations they passed along the way. Then they were locked down at a service station in Turpan, Xinjiang and were stuck thee for 40 days. Xiao didn't know when he would get home, he said when speaking with the Chinese language edition of The Epoch Times on Nov. 9. Travel Pass was Unobtainable Xiao told The Epoch Times that they couldn't get off the highway because they didn't have a travel pass issued by the Xinjiang authorities to leave Xinjiang. The authorities of Gansu Province, located between Ningxia and Xinjiang, required them to present a travel pass. Xinjiang has banned passenger transport service as one of its lockdown measures, thus no government department in Xinjiang would issue them a travel pass because they were not allowed to enter Xinjiang, according to Xiao. The Xinjiang authorities have imposed stringent lockdown measures since a surge in Omicron infections began in August. Many of those stranded bribed local officials to get travel passes so they could leave the region. "I came to know about the pandemic control in Xinjiang only after we had arrived at Xingxingxia Town," Xiao said, "I dared not go further and I just paused at the Xingxingxia service station." Xingxingxia is on the border of Gansu Province and Xinjiang. The local authorities in Xinjiang told them to leave Xinjiang, but the authorities in Gansu insisted on asking them for a travel pass issued by Xinjiang before allowing them to enter Gansu. The trip of the two bus drivers as shown on Google Maps. (Google/Screenshot via The Epoch Times) As they failed to get a travel pass, service stations on the highway didn't allow them to exit or stay. Xiao kept driving from one service station to another until he finally drove to a service station in Turpan, Xinjiang, that wouldn't allow him to leave. They were kept there for about 40 days. Little Food, No Heat, No Accommodation The biggest difficulties for them were food and accommodation, said Xiao. "We ate and slept on the bus, living like savages. It's unbearably cold at night, and there's no way to turn on the heating," Xiao said. The bus must be running to supply power for the heater. Howdver, Xiao said that their bus doesn't have a power generator that trucks usually have. Therefore, once the bus is turned off, there is no electricity, and they had to put up with the low temperatures. According to a Chinese weather forecast website, the temperatures in Turpan on Nov. 14 ranged from 32° F  to 51.8° F. "At first, all the shops in the service stations were closed, so we didn't have access to food," Xiao said, "We had to sleep on the bus, as there was no accommodation we could find. We were both cold and starving." They had to keep themselves warm with a ragged quilt they found in a garbage bin. At times, they got some food from passing drivers. Eventually, shops in the service stations reopened, and they were able to buy some food. Thus far, they spent about $2,400 on oil, tolls, and food. The farm workers had asked them for a full refund of their $1,400 downpayment, but later halved the refund request because they thought the drivers were "as pitiful as the farm workers," according to Xiao. Uncertain Homebound Trip Ahead Just days ago, a checkpoint in the Turpan service area was removed, so Xiao and the other driver could leave the Turpan service station. "We managed to reach a checkpoint in Gansu, but the guards blocked us and escorted us back to Turpan with a police car. They also put seals on my bus doors," Xiao said. He tore the seals off after they left the checkpoint, and luckily he wasn't punished for doing so. Xiao said that they had over 20 PCR tests during the 40 days of lockdown on the highway, following the requirements of local authorities. "When I left Ningxia for Xinjiang and passed Gansu, the trip was smooth and there was no requirement for any such document. Now I am returning to Ningxia, only transiting Gansu," Xiao said. "But now Gansu authorities insist on a travel pass from Xinjiang, w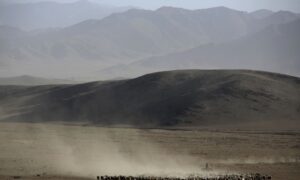 Two Chinese long-distance bus drivers who drove to pick up farm workers from 950 miles away have been stuck on Chinese highways since Oct. 4.
Xiao Ning (pseudonym), one of the bus drivers, said that he and his fellow driver are from Yinchuan city, Ningxia region. They were hired to pick up some farm workers in Hami city, Xinjiang region, and bring them home to Ningxia.
The farm workers had helped them file their driver's licenses and roadworthiness certificates with the local authorities of Hami and then told them that their entry to Xinjiang was approved.
They hit the road on Oct. 1 for Xinjiang, after the farm workers paid them for the trip.
The drivers didn't expect that they wouldn't be allowed to enter Xinjiang and that they would be stuck on the highway for a very long time, waiting for a travel pass that they could not obtain.
They suffered through freezing cold temperatures and starvation. They weren't allowed to stay at various highway service stations they passed along the way. Then they were locked down at a service station in Turpan, Xinjiang and were stuck thee for 40 days.
Xiao didn't know when he would get home, he said when speaking with the Chinese language edition of The Epoch Times on Nov. 9.
Travel Pass was Unobtainable
Xiao told The Epoch Times that they couldn't get off the highway because they didn't have a travel pass issued by the Xinjiang authorities to leave Xinjiang. The authorities of Gansu Province, located between Ningxia and Xinjiang, required them to present a travel pass.
Xinjiang has banned passenger transport service as one of its lockdown measures, thus no government department in Xinjiang would issue them a travel pass because they were not allowed to enter Xinjiang, according to Xiao.
The Xinjiang authorities have imposed stringent lockdown measures since a surge in Omicron infections began in August. Many of those stranded bribed local officials to get travel passes so they could leave the region.
"I came to know about the pandemic control in Xinjiang only after we had arrived at Xingxingxia Town," Xiao said, "I dared not go further and I just paused at the Xingxingxia service station."
Xingxingxia is on the border of Gansu Province and Xinjiang. The local authorities in Xinjiang told them to leave Xinjiang, but the authorities in Gansu insisted on asking them for a travel pass issued by Xinjiang before allowing them to enter Gansu.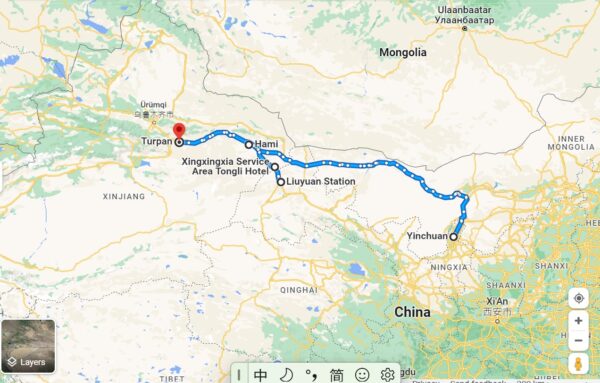 As they failed to get a travel pass, service stations on the highway didn't allow them to exit or stay. Xiao kept driving from one service station to another until he finally drove to a service station in Turpan, Xinjiang, that wouldn't allow him to leave. They were kept there for about 40 days.
Little Food, No Heat, No Accommodation
The biggest difficulties for them were food and accommodation, said Xiao.
"We ate and slept on the bus, living like savages. It's unbearably cold at night, and there's no way to turn on the heating," Xiao said.
The bus must be running to supply power for the heater. Howdver, Xiao said that their bus doesn't have a power generator that trucks usually have. Therefore, once the bus is turned off, there is no electricity, and they had to put up with the low temperatures.
According to a Chinese weather forecast website, the temperatures in Turpan on Nov. 14 ranged from 32° F to 51.8° F.
"At first, all the shops in the service stations were closed, so we didn't have access to food," Xiao said, "We had to sleep on the bus, as there was no accommodation we could find. We were both cold and starving."
They had to keep themselves warm with a ragged quilt they found in a garbage bin. At times, they got some food from passing drivers.
Eventually, shops in the service stations reopened, and they were able to buy some food.
Thus far, they spent about $2,400 on oil, tolls, and food. The farm workers had asked them for a full refund of their $1,400 downpayment, but later halved the refund request because they thought the drivers were "as pitiful as the farm workers," according to Xiao.
Uncertain Homebound Trip Ahead
Just days ago, a checkpoint in the Turpan service area was removed, so Xiao and the other driver could leave the Turpan service station.
"We managed to reach a checkpoint in Gansu, but the guards blocked us and escorted us back to Turpan with a police car. They also put seals on my bus doors," Xiao said.
He tore the seals off after they left the checkpoint, and luckily he wasn't punished for doing so.
Xiao said that they had over 20 PCR tests during the 40 days of lockdown on the highway, following the requirements of local authorities.
"When I left Ningxia for Xinjiang and passed Gansu, the trip was smooth and there was no requirement for any such document. Now I am returning to Ningxia, only transiting Gansu," Xiao said.
"But now Gansu authorities insist on a travel pass from Xinjiang, which I haven't entered. I couldn't figure out why they asked me for this pass. No one in Xinjiang would issue us a travel pass, and I don't know what to do."
Xiao wasn't reached after multiple tries by the Chinese language edition of The Epoch Times. As of the last contact with Xiao on Nov. 9, he was still stuck at the Liuyuan Service Toll Station in Gansu.
Liuyuan is about 800 miles west of Yinchuan, which is far from Xiao's home.
The Epoch Times reached out to the health commissions of Xinjiang and Gansu and has not received any reply as of press time.
Xia Song and Gu Xiaohua contributed to this report.