Trade Minister Confronted on Lack of Forced Labour Products Intercepted at Borders
As International Trade Minister Mary Ng testified before a Commons committee on March 27, Conservative MPs sought answers as to why Canada has been unable to intercept a single shipment of goods made with forced labour. MP Kyle Seeback pressed Ng on the issue during the meeting of the Standing Committee on International Trade, after the minister had testified in a previous meeting in October that she believed some shipments had been interdicted. After the October meeting, Seeback filed an order paper to obtain accurate numbers on the shipments seized and the government responded on Jan. 30 that none have been. "Were you misinformed when you gave that information to the committee? Or did you misspeak?" asked Seeback. "I provided what I understood to be the facts at that meeting," Ng replied, adding that her government takes her trade agreement obligations seriously. "Ensuring that there is no forced labour in our supply chains is something that we are absolutely committed to doing." Deputy Minister of International Trade Rob Stewart testified along with Ng and said that one unspecified shipment had been seized and subsequently released. This probably refers to the Canada Border Services Agency (CBSA) intercepting a shipment of clothes from China in Quebec in mid-2020. The trade agreement between Canada, Mexico, and the United States says that the parties must work to eliminate all forms of forced labour and prohibits the importation of goods produced wholly or in part from such labour. The United States has adopted a more aggressive approach than Canada and keeps a public dashboard on enforcement actions under its Uyghur Forced Labor Prevention Act. It says that 3,237 shipments were stopped and 424 were denied entry as of March 27. The law was adopted in December 2021 to deal with the exploitation of the ethnic and religious minorities in China such as the Uyghur Muslims in the Xinjiang region. The act creates the rebuttal presumption that the importation of goods coming from Xinjiang is prohibited due to being potentially produced by Uyghurs detained in Chinese labour camps. Seeback filed a subsequent order paper in February on the same topic and asked if the CBSA allows the companies banned by the United States law to import into Canada. Parliamentary Secretary to the Minister of Public Safety Pam Damoff responded in the House on March 22 that Canadian law does not allow the designation of goods for importation as prohibited without evidence. Neither does it allow company or country-specific bans on goods made with forced labour. Damoff added that the data importers have to legally submit to the CBSA does not provide full traceability through the importer's supply chain. "As such, while the CBSA has no records of imports by companies on the Uyghur Forced Labor Prevention Act … the agency cannot definitively confirm that there have not been imported goods linked to the listed companies," she said. Canada has a bill addressing forced labour that is close to receiving royal assent, but some Uyghur advocates do not view the bill as amounting to much to curb the issue. Bill S-211 has cleared the Senate and is currently in third reading in the House. S-21 would create a reporting obligation for governmental and private entities to make an annual declaration that they have taken steps to prevent and reduce the risk that forced or child labour was used in the production of goods. "S-211 is the pretence of pretending of doing something without doing nothing as this bill mandates only a reporting obligation to the companies if they exercise due diligence on Uyghur forced labour," said Mehmet Tothi, executive director of the Uyghur Rights Advocacy Project. And with Canada not having stopped any shipments, Tothi said the country has become "officially a dumping ground for the products made by the use of Uyghur forced labour."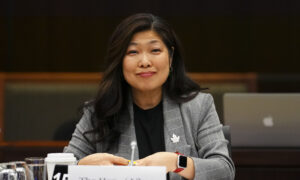 As International Trade Minister Mary Ng testified before a Commons committee on March 27, Conservative MPs sought answers as to why Canada has been unable to intercept a single shipment of goods made with forced labour.
MP Kyle Seeback pressed Ng on the issue during the meeting of the Standing Committee on International Trade, after the minister had testified in a previous meeting in October that she believed some shipments had been interdicted.
After the October meeting, Seeback filed an order paper to obtain accurate numbers on the shipments seized and the government responded on Jan. 30 that none have been.
"Were you misinformed when you gave that information to the committee? Or did you misspeak?" asked Seeback.
"I provided what I understood to be the facts at that meeting," Ng replied, adding that her government takes her trade agreement obligations seriously.
"Ensuring that there is no forced labour in our supply chains is something that we are absolutely committed to doing."
Deputy Minister of International Trade Rob Stewart testified along with Ng and said that one unspecified shipment had been seized and subsequently released. This probably refers to the Canada Border Services Agency (CBSA) intercepting a shipment of clothes from China in Quebec in mid-2020.
The trade agreement between Canada, Mexico, and the United States says that the parties must work to eliminate all forms of forced labour and prohibits the importation of goods produced wholly or in part from such labour.
The United States has adopted a more aggressive approach than Canada and keeps a public dashboard on enforcement actions under its Uyghur Forced Labor Prevention Act. It says that 3,237 shipments were stopped and 424 were denied entry as of March 27.
The law was adopted in December 2021 to deal with the exploitation of the ethnic and religious minorities in China such as the Uyghur Muslims in the Xinjiang region.
The act creates the rebuttal presumption that the importation of goods coming from Xinjiang is prohibited due to being potentially produced by Uyghurs detained in Chinese labour camps.
Seeback filed a subsequent order paper in February on the same topic and asked if the CBSA allows the companies banned by the United States law to import into Canada.
Parliamentary Secretary to the Minister of Public Safety Pam Damoff responded in the House on March 22 that Canadian law does not allow the designation of goods for importation as prohibited without evidence. Neither does it allow company or country-specific bans on goods made with forced labour.
Damoff added that the data importers have to legally submit to the CBSA does not provide full traceability through the importer's supply chain.
"As such, while the CBSA has no records of imports by companies on the Uyghur Forced Labor Prevention Act … the agency cannot definitively confirm that there have not been imported goods linked to the listed companies," she said.
Canada has a bill addressing forced labour that is close to receiving royal assent, but some Uyghur advocates do not view the bill as amounting to much to curb the issue. Bill S-211 has cleared the Senate and is currently in third reading in the House.
S-21 would create a reporting obligation for governmental and private entities to make an annual declaration that they have taken steps to prevent and reduce the risk that forced or child labour was used in the production of goods.
"S-211 is the pretence of pretending of doing something without doing nothing as this bill mandates only a reporting obligation to the companies if they exercise due diligence on Uyghur forced labour," said Mehmet Tothi, executive director of the Uyghur Rights Advocacy Project.
And with Canada not having stopped any shipments, Tothi said the country has become "officially a dumping ground for the products made by the use of Uyghur forced labour."