Top Level Military Appointments Reveal CCP's Belligerent Intent Toward US, Taiwan: Experts
News AnalysisChina's new top military command includes two generals known for their belligerent stance: a cyber war expert who has been sanctioned by the United States and a staunch Xi Jinping ally who planned live-fire exercises near Taiwan in August. Experts say the move signals the regime's preparation to confront Taiwan—and by extension, the United States—by force. Appointees to the Central Military Commission (CMC), which oversees China's vast armed forces, were announced on Oct. 23, a day after the conclusion of the 20th congress of the Chinese Communist Party (CCP). Xi Jinping will remain as chairman of the seven-person commission, which he has headed since 2012. Zhang Youxia was reappointed as vice chairman, with He Weidong as second vice chairman. Members of the CMC will include Li Shangfu, Liu Zhenli, Miao Hua, and Zhang Shengmin. The appointments of the CMC's two vice chairmen—Zhang Youxia and He Weidong—both represented a break from CCP tradition. Zhang, 72, was re-appointed despite having reached the CCP's unofficial retirement. He, who will serve as second vice-chairman under Zhang, is a relative outsider whose rapid rise has generated public attention and concern. U.S.-based China affairs analyst Tang Jingyuan feels He's appointment is particularly surprising. "He was not a delegate to the 20th party congress, not even an alternate member of the central committee before that, but he climbed rapidly to be a member of the politburo and took the position of vice chairman of the Central Military Commission." "This kind of quick upgrading is extremely rare in the political and military circles of the Communist Party," Tang told The Epoch Times on Oct. 27. Zhang: Loyalty, Continuity Zhang Youxia is a rare exception to the "seven up, eight down" rule. The convention, which has been held almost universally since 2002—Xi himself being a notable exception—dictates that if a candidate is 67 at the time of the party congress, he may remain or advance in the ranks. If he is 68 or older, he may expect to retire. In contrast, Li Keqiang, 67, was recently removed as premier of the state council, although he has not reached retirement age. The former premier was known to disagree with Xi's policies. Zhang's re-appointment provides continuity and highlights his position as a close Xi friend and ally. "The only reason Zhang can be retained is that he is a staunch supporter of Xi and has experience in the field," Tang said. Zhang is a veteran of the 1979 Sino-Vietnamese War. He is one of the few Chinese generals today with war experience. "The new list of military and diplomatic personnel arranged by Xi reveals the message of full-scale anti-Americanism, full confrontation, and war preparations," Tang stressed. Tourists look on as a Chinese military helicopter flies past Pingtan island, one of mainland China's closest points from Taiwan, in Fujian province, on Aug. 4, 2022. (Hector Retamal/AFP via Getty Images) He Weidong's Rise Seen as Preparation for War He Weidong, 65, is a career military officer. Prior to his appointment he had not served on the Central Committee and wasn't named as a delegate to the 20th CCP congress. His rapid rise has generated attention and public concern. It is speculated that one of the reasons for the general's rapid promotion is his background in Fujian, his native province. His appointment makes sense given that the CCP has Taiwan in its sights. Fujian is significant to Taiwan because of its close proximity to the nation and its similar culture. The southern Fujian ethnic group accounts for 73.5 percent of Taiwan's population. The general has a connection to Xi, as well, through his service in the former 31st group army in Fujian in the late 1990s, during Xi's time as governor of the province. From 2019 to early 2022, He was in command of the Eastern Theater, responsible for overseeing Chinese troops closest to Taiwan. He is thought to have been the main planner of massive live-fire military exercises against Taiwan in August. According to Tang, He oversees the Joint Operations Command Center, which is responsible for the war effort. The organization would become the center from which Xi's military and political power would operate during a war there. "Once war breaks out in the Taiwan Strait, He Weidong will basically become the de facto number two in the Communist Party's wartime state," Tang said. A military analyst, who goes simply by "Mark," told The Epoch Times on Oct. 26 that Xi intends to achieve so-called unification with Taiwan as soon as possible, so he may not hesitate to go to war with the United States and Japan. "From the results of the 20th party congress, Xi's selection criteria [is] 'absolute loyalty' to him. Xi especially trusted officials in Fujian and Zhejiang, where he had been in charge," said Mark, adding, "He Weidong served most of his military career in Fujian's 31st Group Army." According to Mark, the former 31st Group Army—now th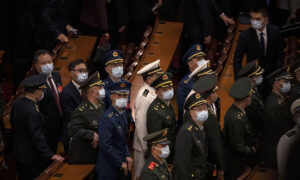 News Analysis
China's new top military command includes two generals known for their belligerent stance: a cyber war expert who has been sanctioned by the United States and a staunch Xi Jinping ally who planned live-fire exercises near Taiwan in August. Experts say the move signals the regime's preparation to confront Taiwan—and by extension, the United States—by force.
Appointees to the Central Military Commission (CMC), which oversees China's vast armed forces, were announced on Oct. 23, a day after the conclusion of the 20th congress of the Chinese Communist Party (CCP).
Xi Jinping will remain as chairman of the seven-person commission, which he has headed since 2012. Zhang Youxia was reappointed as vice chairman, with He Weidong as second vice chairman. Members of the CMC will include Li Shangfu, Liu Zhenli, Miao Hua, and Zhang Shengmin.
The appointments of the CMC's two vice chairmen—Zhang Youxia and He Weidong—both represented a break from CCP tradition.
Zhang, 72, was re-appointed despite having reached the CCP's unofficial retirement. He, who will serve as second vice-chairman under Zhang, is a relative outsider whose rapid rise has generated public attention and concern.
U.S.-based China affairs analyst Tang Jingyuan feels He's appointment is particularly surprising. "He was not a delegate to the 20th party congress, not even an alternate member of the central committee before that, but he climbed rapidly to be a member of the politburo and took the position of vice chairman of the Central Military Commission."
"This kind of quick upgrading is extremely rare in the political and military circles of the Communist Party," Tang told The Epoch Times on Oct. 27.
Zhang: Loyalty, Continuity
Zhang Youxia is a rare exception to the "seven up, eight down" rule. The convention, which has been held almost universally since 2002—Xi himself being a notable exception—dictates that if a candidate is 67 at the time of the party congress, he may remain or advance in the ranks. If he is 68 or older, he may expect to retire.
In contrast, Li Keqiang, 67, was recently removed as premier of the state council, although he has not reached retirement age. The former premier was known to disagree with Xi's policies.
Zhang's re-appointment provides continuity and highlights his position as a close Xi friend and ally.
"The only reason Zhang can be retained is that he is a staunch supporter of Xi and has experience in the field," Tang said.
Zhang is a veteran of the 1979 Sino-Vietnamese War. He is one of the few Chinese generals today with war experience.
"The new list of military and diplomatic personnel arranged by Xi reveals the message of full-scale anti-Americanism, full confrontation, and war preparations," Tang stressed.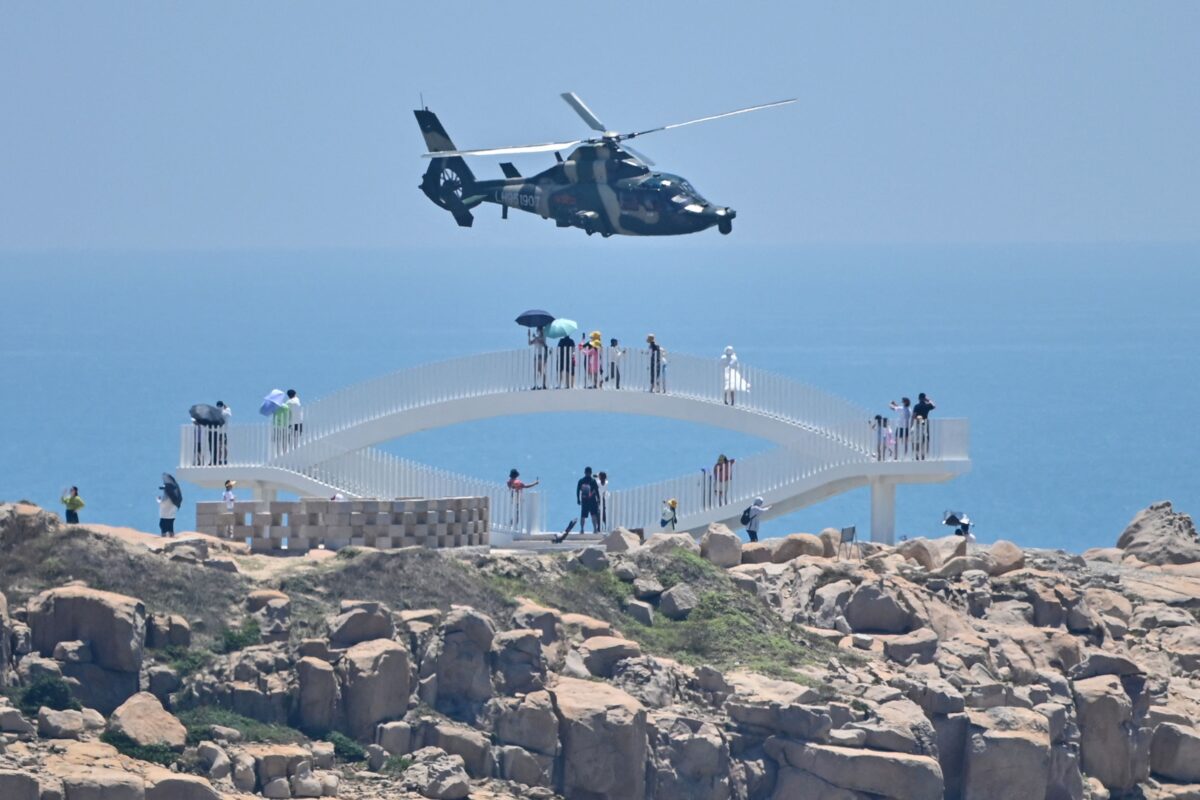 He Weidong's Rise Seen as Preparation for War
He Weidong, 65, is a career military officer. Prior to his appointment he had not served on the Central Committee and wasn't named as a delegate to the 20th CCP congress. His rapid rise has generated attention and public concern.
It is speculated that one of the reasons for the general's rapid promotion is his background in Fujian, his native province. His appointment makes sense given that the CCP has Taiwan in its sights. Fujian is significant to Taiwan because of its close proximity to the nation and its similar culture. The southern Fujian ethnic group accounts for 73.5 percent of Taiwan's population.
The general has a connection to Xi, as well, through his service in the former 31st group army in Fujian in the late 1990s, during Xi's time as governor of the province.
From 2019 to early 2022, He was in command of the Eastern Theater, responsible for overseeing Chinese troops closest to Taiwan. He is thought to have been the main planner of massive live-fire military exercises against Taiwan in August.
According to Tang, He oversees the Joint Operations Command Center, which is responsible for the war effort. The organization would become the center from which Xi's military and political power would operate during a war there.
"Once war breaks out in the Taiwan Strait, He Weidong will basically become the de facto number two in the Communist Party's wartime state," Tang said.
A military analyst, who goes simply by "Mark," told The Epoch Times on Oct. 26 that Xi intends to achieve so-called unification with Taiwan as soon as possible, so he may not hesitate to go to war with the United States and Japan.
"From the results of the 20th party congress, Xi's selection criteria [is] 'absolute loyalty' to him. Xi especially trusted officials in Fujian and Zhejiang, where he had been in charge," said Mark, adding, "He Weidong served most of his military career in Fujian's 31st Group Army."
According to Mark, the former 31st Group Army—now the 73rd Group Army, after a 2017 restructuring—would be on the front line in a conflict against Taiwan. It has carried out missions to shell Taiwan's Kinmen and Matsu Islands and has often conducted landing operations drills.
"He Weidong has been in the army in Fujian for many years and is familiar with the situation in the Taiwan Strait and amphibious operations, which is probably why he planned the military exercises around Taiwan," said Mark.
Mark believes that after Xi's reelection the Chinese leader will need to stabilize the situation for a short period of time, and will continue to purge dissidents from the party on a large scale. Therefore it is doubtful that he will invade Taiwan immediately.
However, in line with Xi's long-term goal of so-called "unification" with Taiwan, he will probably continue building up China's armaments and enhancing its amphibious warfare capabilities, Mark said, even if the Chinese economy continues to decline.
US-Sanctioned General May Be China's Next Defense Minister
Zhang protege Li Shangfu was also promoted to the commission. Formerly the commander of China's manned space program, in 2016 Li became deputy commander of the Chinese army's Strategic Support Force, responsible for cyberspace warfare. In 2017 he became director of the Equipment Development Department of the Central Military Commission. An aerospace engineer, his experience with electronic, cyber, and space warfare makes him a likely successor to Wei Fenghe as minister of defense.
In September 2018, the United States imposed sanctions on Li for allegedly importing weapons from Russia, in violation of the Countering America's Adversaries Through Sanctions Act, making Li the first Chinese communist general to be sanctioned by the U.S. and barred from entering the United States.
Tang believes that Xi's appointment of Li is significant: first, he has ties to Russia as an arms dealer; second, he is the only Chinese general sanctioned by the United States. Li's promotion will antagonize the United States, Tang said.
Mark agreed, calling Li "a man who is particularly prickly to the U.S." Placing Li in the line-up as expected defense minister, he said, makes it clear that "Xi does not care and does not want to mitigate military tensions with the U.S."
By appointing a general whom the United States has sanctioned, Xi is sending a message that "the U.S. will either put up with it or withdraw the sanctions," Mark added "Such an arrangement would show that Xi does not want to communicate with the United States."
Ellen Wan contributed to this report.