TikTok Part of CCP's 'Asymmetric Warfare' Against US: Rep. Cammack
Social media giant TikTok is a tool in communist China's strategy to undermine and displace the United States, according to a bipartisan group of lawmakers. TikTok CEO Shou Zi Chew appeared before a hearing of the House Energy and Commerce Committee for the first time ever on March 23, in an attempt to defend the company's data privacy practices and links to the Chinese Communist Party (CCP). Several lawmakers expressed their dissatisfaction with Chew's responses, unconvinced that the app didn't pose a security threat. Rep. Kat Cammack (R-Fla.) dismissed Chew's repeated insistence that TikTok wasn't affiliated with the CCP or beholden to Chinese laws. "We have records that prove otherwise," Cammack told NTD, sister media outlet of The Epoch Times. "Their parent company ByteDance has representatives that are actively some of the highest ranking officials within the Communist Party in China." "So, despite what they may say, we know the truth and we have the evidence and documentation to prove it." Cammack referenced the fact that ByteDance Editor-in-Chief Zhang Fuping is also the secretary of the company's CCP committee and in charge of promoting communist values throughout ByteDance and all its subsidiaries, including TikTok. According to a report submitted to the Australian Senate earlier this month, Zhang said that his mission within ByteDance as Party secretary was to "Transmit the correct political direction, public opinion guidance, and value orientation into every business and product line." "Let's be clear, TikTok is not a private company," Cammack said. "They are a company that does the bidding of the CCP through their parent company ByteDance. They have directives from the CCP that they have to execute on." "It's not an app that anyone should have on their devices, because it is a form of asymmetric warfare that [the CCP is] engaging in with the United States." 'A Lot of Mistrust' Rep. Kathy Castor (D-Fla.) told NTD that Congress had lost trust in TikTok because of its continued relationship with parent company ByteDance and ByteDance's deep ties to the CCP. Castor expressed concern that TikTok had repeatedly delivered U.S. user data to ByteDance in China and that the app would be used to promote the CCP's authoritarianism abroad and to spread its propaganda among American youth. "We really don't have a lot of trust because TikTok is owned by ByteDance, which is a Chinese company, and they're subject to the Chinese security law that requires the sharing of data and information," Castor said. "There's just a lot of mistrust there." "I'm concerned with the amount of social control that Xi Jinping and the Chinese Communist Party exercises over their population and, because the TikTok app is so closely associated with China and the Chinese Communist Party, I'm fearful for people in the rest of the world as well." The mistrust that members of Congress expressed at the hearing seemed to be exacerbated by Chew's own apparent uncertainty about what authority the CCP might eventually exercise over TikTok. Rep. Scott Peters (D-Calif.), for example, referenced the fact that the spokesperson for the CCP's ministry of commerce publicly condemned the potential sale of TikTok to an American company just hours before Chew's testimony, and said that a forced sale would ultimately be decided by the communist regime, which controls access to ByteDance's algorithm. When Peters asked Chew whether TikTok would therefore need the CCP's permission to move forward with "Project Texas," a proposed effort to move U.S. user data to the United States, Chew said, "We do not believe so." When pressed on whether TikTok would need to change its algorithm technology or data collection and storage practices if it were sold to an American company, Chew responded, "I don't know." Controlled by the CCP Throughout the hearing, members of Congress time and again to questioned, condemned, or illustrated ByteDance's deep ties to the CCP and its effect on TikTok policy. Rep. Frank Pallone (D-N.J.) ultimately said that TikTok was in effect owned by China's communist regime and that its employees in China could be compelled by law to divulge data on U.S. citizens to the CCP. "The combination of TikTok's Beijing Communist-based ownership and its popularity exacerbates its dangers to our country and to our privacy," Pallone said. "The Chinese Communist government can compel companies based in Beijing, like TikTok, to share data with the Communist government through existing Beijing law or coercion." "National security experts are sounding the alarm, warning that the Chinese Communist government could require TikTok to compromise device security, maliciously access American user data, promote pro-Communist propaganda, and undermine American interests." Rep. Dan Crenshaw (R-Texas) further outlined TikTok's deep connections to the regime apart from ByteDance's. Based on social media profiles, Crenshaw said, it was uncovered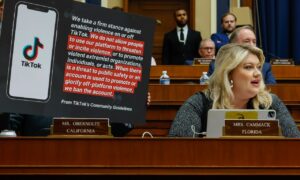 Social media giant TikTok is a tool in communist China's strategy to undermine and displace the United States, according to a bipartisan group of lawmakers.
TikTok CEO Shou Zi Chew appeared before a hearing of the House Energy and Commerce Committee for the first time ever on March 23, in an attempt to defend the company's data privacy practices and links to the Chinese Communist Party (CCP).
Several lawmakers expressed their dissatisfaction with Chew's responses, unconvinced that the app didn't pose a security threat.
Rep. Kat Cammack (R-Fla.) dismissed Chew's repeated insistence that TikTok wasn't affiliated with the CCP or beholden to Chinese laws.
"We have records that prove otherwise," Cammack told NTD, sister media outlet of The Epoch Times. "Their parent company ByteDance has representatives that are actively some of the highest ranking officials within the Communist Party in China."
"So, despite what they may say, we know the truth and we have the evidence and documentation to prove it."
Cammack referenced the fact that ByteDance Editor-in-Chief Zhang Fuping is also the secretary of the company's CCP committee and in charge of promoting communist values throughout ByteDance and all its subsidiaries, including TikTok.
According to a report submitted to the Australian Senate earlier this month, Zhang said that his mission within ByteDance as Party secretary was to "Transmit the correct political direction, public opinion guidance, and value orientation into every business and product line."
"Let's be clear, TikTok is not a private company," Cammack said. "They are a company that does the bidding of the CCP through their parent company ByteDance. They have directives from the CCP that they have to execute on."
"It's not an app that anyone should have on their devices, because it is a form of asymmetric warfare that [the CCP is] engaging in with the United States."
'A Lot of Mistrust'
Rep. Kathy Castor (D-Fla.) told NTD that Congress had lost trust in TikTok because of its continued relationship with parent company ByteDance and ByteDance's deep ties to the CCP.
Castor expressed concern that TikTok had repeatedly delivered U.S. user data to ByteDance in China and that the app would be used to promote the CCP's authoritarianism abroad and to spread its propaganda among American youth.
"We really don't have a lot of trust because TikTok is owned by ByteDance, which is a Chinese company, and they're subject to the Chinese security law that requires the sharing of data and information," Castor said. "There's just a lot of mistrust there."
"I'm concerned with the amount of social control that Xi Jinping and the Chinese Communist Party exercises over their population and, because the TikTok app is so closely associated with China and the Chinese Communist Party, I'm fearful for people in the rest of the world as well."
The mistrust that members of Congress expressed at the hearing seemed to be exacerbated by Chew's own apparent uncertainty about what authority the CCP might eventually exercise over TikTok.
Rep. Scott Peters (D-Calif.), for example, referenced the fact that the spokesperson for the CCP's ministry of commerce publicly condemned the potential sale of TikTok to an American company just hours before Chew's testimony, and said that a forced sale would ultimately be decided by the communist regime, which controls access to ByteDance's algorithm.
When Peters asked Chew whether TikTok would therefore need the CCP's permission to move forward with "Project Texas," a proposed effort to move U.S. user data to the United States, Chew said, "We do not believe so."
When pressed on whether TikTok would need to change its algorithm technology or data collection and storage practices if it were sold to an American company, Chew responded, "I don't know."
Controlled by the CCP
Throughout the hearing, members of Congress time and again to questioned, condemned, or illustrated ByteDance's deep ties to the CCP and its effect on TikTok policy.
Rep. Frank Pallone (D-N.J.) ultimately said that TikTok was in effect owned by China's communist regime and that its employees in China could be compelled by law to divulge data on U.S. citizens to the CCP.
"The combination of TikTok's Beijing Communist-based ownership and its popularity exacerbates its dangers to our country and to our privacy," Pallone said. "The Chinese Communist government can compel companies based in Beijing, like TikTok, to share data with the Communist government through existing Beijing law or coercion."
"National security experts are sounding the alarm, warning that the Chinese Communist government could require TikTok to compromise device security, maliciously access American user data, promote pro-Communist propaganda, and undermine American interests."
Rep. Dan Crenshaw (R-Texas) further outlined TikTok's deep connections to the regime apart from ByteDance's.
Based on social media profiles, Crenshaw said, it was uncovered that "over 300 TikTok employees" worked directly for some element of the regime's state propaganda apparatus before joining the company.
He said, "Leaked audio from 80 internal TikTok meetings shows that U.S. user data has been repeatedly accessed from China when you said it hasn't been."
Sen. Marco Rubio (R-Fla.) issued a prepared statement on the issue of TikTok's connection to the CCP regime and its efforts in undermining the United States, saying that Chew's demurrers on the issue of CCP-ByteDance-TikTok overlap was evidence enough that the app should be immediately banned from the United States.
"Shou Chew's comments, lies, and omissions reveal the close relationship between TikTok, ByteDance, and ultimately the Chinese government," Rubio said.
"After today's hearing, there should be no doubt that TikTok represents a national security threat. The time for half-measures and mitigation are over."