TikTok in the Crosshairs of Congress
Commentary Ask the average youth about what he watches on TikTok, and he will most likely mention funny videos of animals, pranks, dancing, experiments, and food. The top posts on TikTok get hundreds of millions of views. But ask an average member of the U.S. House of Representatives, though none are really average, and one is likely to get an entirely different view. "TikTok is the spy in Americans' pockets," said Rep. John Joyce (R-Pa.) on March 23 to the CEO of TikTok, who was testifying before Congress. Rep. Kim Schrier (D-Wash.) noted that "well over 20 percent" of the information on TikTok is, in fact, misinformation. TikTok is the most popular social media in the United States, and not just for messaging and videos. It is growing into a global "super-app," which users will be able to use for e-commerce, peer-to-peer networking, gaming, finance, and anything else developers dream up that users can be convinced that they need. TikTok's powerful algorithm extracts personal data from what users reveal, including what they watch and anything the app's AI algorithm can glean, such as from third-party websites. The main objection to TikTok is that it could be used by the Chinese Communist Party (CCP) against democracy. Given Beijing's demonstrated opposition to America, and all we stand for, allowing its influence to grow through TikTok is arguably an existential threat to U.S. national security. Rep. Mary Miller (R-Ill.) (C) spoke against TikTok on Capitol Hill in Washington on March 23, 2023. (Richard Moore/The Epoch Times) The CEO of TikTok, Shou Zi Chew of Singapore, demonstrated his lack of American values on Thursday by answering evasively throughout questioning from representatives when asked, for example, whether he supports the U.S. First Amendment or opposes genocide. The representatives, some of whom have access to classified reports, depicted TikTok as spreading addictive misinformation that can lead to eating disorders, drug overdose, and suicide. The app allegedly allows the CCP to spy on users, including through GPS, keystroke, facial, and website data. With 150 million users, banning the app would be politically difficult. Indeed, TikTok paid for travel for dozens of influencers, with a total of 60 million followers, to give a press conference in Washington on March 22, according to Wired. That's in addition to the $10 million the company paid for lobbyists in the last two years. Three Democratic lawmakers and a PR firm joined them. "My question is, why the hysteria and the panic and the targeting of TikTok?" Rep. Jamaal Bowman (D-N.Y.) asked the group. "As we know, Republicans, in particular, have been sounding the alarm creating a red scare around China." But the low-key protest, replete with matching placards, is direct evidence of the ability of a foreign power to use TikTok to parry Americans who are finally waking up to the threat. U.S. Rep. Jamaal Bowman (D-N.Y.) speaks as Rep. Robert Garcia (D-Calif.) and supporters of TikTok listen during a news conference in front of the U.S. Capitol in Washington on March 22, 2023. (Alex Wong/Getty Images) The Biden administration is looking for a solution and is threatening to ban the app unless China sells it. On Thursday, Rep. Cathy McMorris Rodgers (R-Wash.), the chair of the House Committee for Energy and Commerce that grilled Chew, called for the ban straightaway. China's Commerce Ministry responded that it "firmly opposes" a forced sale, which puzzled lawmakers. Rep. Diana Harshbarger (R-Tenn.) noted that the more emerging legislation tied the hands of TikTok, the less its sale value. "Why not take the money and run, like any other company would do?" she asked. The most likely answer, not given by Chew of course, is that Beijing seeks to use TikTok not for profit, primarily, but for influencing U.S. and global public opinion. Beijing already bans the app in China but can control it in the United States through TikTok's parent company Bytedance, headquartered in Beijing. Beijing also bans Google and Facebook in China. Still, it allows Bytedance to operate a social media company called Douyin that serves Chinese youth educational material, in contrast to the junky entertainment it serves up in the United States. The testimony of Chew on Thursday included over five hours of brutal questioning by representatives from both parties on the committee, which clearly did not trust Chew. Neither did Chew inspire much trust with his repeatedly evasive and disingenuous answers. However, his facade did show some cracks. To a question posed by Rep. Tim Walberg (R-Mich.), Chew admitted that Bytedance employees in China could access U.S. user data. TikTok's privacy policy states that it may share user data with its corporate group, and Chew admitted under questioning that Bytedance is part of TikTok's corporate group. So our children's data has been flowing to Beijing for years. If a forced sale or ban doesn't fix this invasion o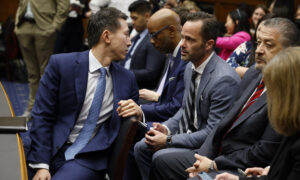 Commentary
Ask the average youth about what he watches on TikTok, and he will most likely mention funny videos of animals, pranks, dancing, experiments, and food. The top posts on TikTok get hundreds of millions of views.
But ask an average member of the U.S. House of Representatives, though none are really average, and one is likely to get an entirely different view.
"TikTok is the spy in Americans' pockets," said Rep. John Joyce (R-Pa.) on March 23 to the CEO of TikTok, who was testifying before Congress.
Rep. Kim Schrier (D-Wash.) noted that "well over 20 percent" of the information on TikTok is, in fact, misinformation.
TikTok is the most popular social media in the United States, and not just for messaging and videos. It is growing into a global "super-app," which users will be able to use for e-commerce, peer-to-peer networking, gaming, finance, and anything else developers dream up that users can be convinced that they need.
TikTok's powerful algorithm extracts personal data from what users reveal, including what they watch and anything the app's AI algorithm can glean, such as from third-party websites.
The main objection to TikTok is that it could be used by the Chinese Communist Party (CCP) against democracy. Given Beijing's demonstrated opposition to America, and all we stand for, allowing its influence to grow through TikTok is arguably an existential threat to U.S. national security.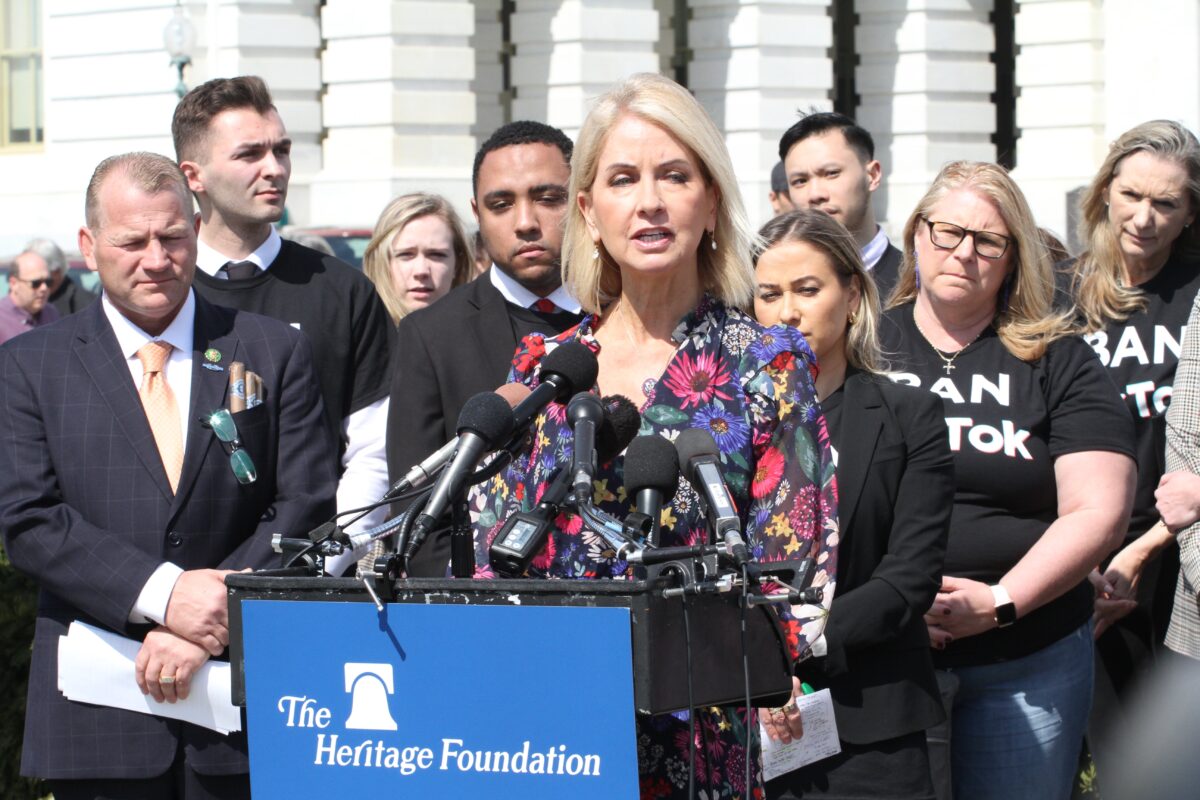 The CEO of TikTok, Shou Zi Chew of Singapore, demonstrated his lack of American values on Thursday by answering evasively throughout questioning from representatives when asked, for example, whether he supports the U.S. First Amendment or opposes genocide.
The representatives, some of whom have access to classified reports, depicted TikTok as spreading addictive misinformation that can lead to eating disorders, drug overdose, and suicide. The app allegedly allows the CCP to spy on users, including through GPS, keystroke, facial, and website data.
With 150 million users, banning the app would be politically difficult. Indeed, TikTok paid for travel for dozens of influencers, with a total of 60 million followers, to give a press conference in Washington on March 22, according to Wired. That's in addition to the $10 million the company paid for lobbyists in the last two years. Three Democratic lawmakers and a PR firm joined them.
"My question is, why the hysteria and the panic and the targeting of TikTok?" Rep. Jamaal Bowman (D-N.Y.) asked the group. "As we know, Republicans, in particular, have been sounding the alarm creating a red scare around China."
But the low-key protest, replete with matching placards, is direct evidence of the ability of a foreign power to use TikTok to parry Americans who are finally waking up to the threat.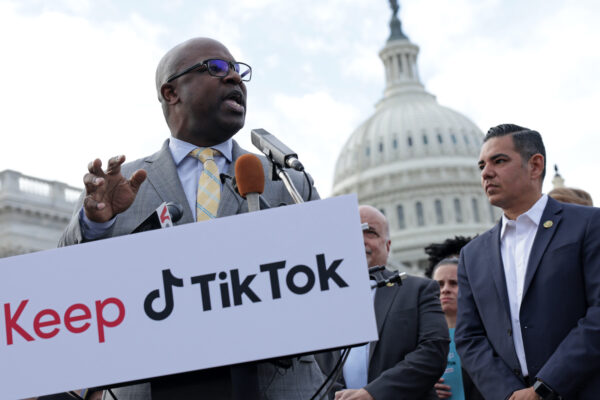 The Biden administration is looking for a solution and is threatening to ban the app unless China sells it.
On Thursday, Rep. Cathy McMorris Rodgers (R-Wash.), the chair of the House Committee for Energy and Commerce that grilled Chew, called for the ban straightaway.
China's Commerce Ministry responded that it "firmly opposes" a forced sale, which puzzled lawmakers.
Rep. Diana Harshbarger (R-Tenn.) noted that the more emerging legislation tied the hands of TikTok, the less its sale value. "Why not take the money and run, like any other company would do?" she asked.
The most likely answer, not given by Chew of course, is that Beijing seeks to use TikTok not for profit, primarily, but for influencing U.S. and global public opinion.
Beijing already bans the app in China but can control it in the United States through TikTok's parent company Bytedance, headquartered in Beijing.
Beijing also bans Google and Facebook in China. Still, it allows Bytedance to operate a social media company called Douyin that serves Chinese youth educational material, in contrast to the junky entertainment it serves up in the United States.
The testimony of Chew on Thursday included over five hours of brutal questioning by representatives from both parties on the committee, which clearly did not trust Chew. Neither did Chew inspire much trust with his repeatedly evasive and disingenuous answers.
However, his facade did show some cracks.
To a question posed by Rep. Tim Walberg (R-Mich.), Chew admitted that Bytedance employees in China could access U.S. user data.
TikTok's privacy policy states that it may share user data with its corporate group, and Chew admitted under questioning that Bytedance is part of TikTok's corporate group.
So our children's data has been flowing to Beijing for years. If a forced sale or ban doesn't fix this invasion of American privacy, perhaps a stronger approach is needed.
Offensive cyber operations by the National Security Agency, anyone?
Views expressed in this article are the opinions of the author and do not necessarily reflect the views of The Epoch Times.