Tibetan Children Targeted for Mass DNA Collection: Human Rights Watch
The latest evidence suggests that DNA is being systematically collected throughout Tibet from kindergarten children, some specifically from boys aged 5 and above, the Human Rights Watch reported on Sept. 5.The report identified mass DNA collection drives, with no consent required, in 14 distinct localities in all seven prefectures or municipalities in Tibet. As one of the communist official documents claimed, mass collection is necessary "for the public security organs to detect various illegal cases, and to effectively crack down on illegal and criminal elements," according to Human Rights Watch. "The Chinese government is already subjecting Tibetans to pervasive repression," said Sophie Richardson, China director at Human Rights Watch. "Now the authorities are literally taking blood without consent to strengthen their surveillance capabilities." Database Infrastructure Human Rights Watch stated that such collection is selective in other parts of China but widespread in Tibet and Xinjiang, showing the regime's intrusive policing to specifically target the populations of these two areas. A previous investigation revealed that in September 2016, the Xinjiang regional police bureau issued two calls for funds—at $8.69 million and $2.9 million—for a total of 12 DNA sequencers, 30 polymerase chain reaction (PCR) amplifiers, and 1,000 batches of genotyping kits. The purchase portends that authorities intend to build large-scale infrastructure to profile a large number of individuals, according to a 2017 report by Human Rights Watch. A report by the Australian Strategic Policy Institute (ASPI) titled, "Genomic Surveillance—Inside China's DNA Dragnet," also stated that beginning in late 2017, the Ministry of Public Security expanded the dragnet across China, targeting millions of men and pre-school-age boys. This program of mass DNA data collection, with the aim of building comprehensive social control, "violates Chinese domestic law and global human rights norms," the report said. Children in traditional Tibetan clothes and police watch passing Tibetan Buddhist monks during a ceremony for Monlam, otherwise known as the Great Prayer Festival of Losar, the Tibetan New Year, at the Rongwo Monastery, in Tongren County, Huangnan Tibetan Autonomous Prefecture, on the Qinghai-Tibet plateau, on March 1, 2018. (Johannes Eisele/AFP via Getty Images) It was also said that numerous biotechnology companies are assisting the Chinese police in building this database and may find themselves complicit in these violations. "They include multinational companies such as U.S.-based Thermo Fisher Scientific and major Chinese companies like AGCU Scientific and Microread Genetics. "All these companies have an ethical responsibility to ensure that their products and processes don't violate the fundamental human rights and civil liberties of Chinese citizens," according to the ASPI report. Surveillance at the Grassroots Human Rights Watch reported that DNA collection in villages is part of China's policing campaign in the region emphasizing the "three greats" in an effort to "strengthen the grass-roots social governance system." The three greats—inspection, investigation, and mediation—require police to visit each household, question residents about their views, carry out an investigation, and conduct dispute mediation. Tibetan students react inside a police vehicle after being detained during a protest against the visit of Chinese leader Xi Jinping near the ITC Grand Chola hotel in Chennai on Oct. 11, 2019. (STR/AFP via Getty Images) Since at least 2018, Chinese authorities have banned anyone, except regime and Chinese Communist Party officials, from carrying out informal dispute mediation, an important civil function in Tibet that lamas, village elders, or other locally respected figures had generally conducted earlier, said Human Rights Watch. Children's Privacy Human Rights Watch stated the collection of DNA from children was done without their or their caregivers' informed, meaningful, and freely given consent, and extracted in educational settings where they could not opt out or refuse to provide their personal health data. "The use for this data—crime detection—does not appear to constitute a legitimate, proportionate purpose that serves the child's best interest," Human Rights Watch argued. Several reports indicate that children as young as five have been included in some of the DNA collection drives. Photographs in a report from Qingzheng township in Golok in April 2021 show DNA being taken by police from boys in the first year of primary school. Human Rights Watch warned: "The collection, processing, and use of genetic information poses heightened risks to children's privacy. DNA holds highly sensitive information that would uniquely and permanently identify a child, their family members, and inherited medical conditions that could lead to disabilities and major health problems." According to the U.N. Conve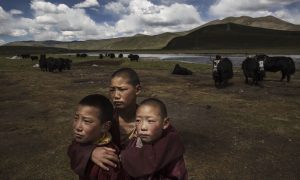 The latest evidence suggests that DNA is being systematically collected throughout Tibet from kindergarten children, some specifically from boys aged 5 and above, the Human Rights Watch reported on Sept. 5.
The report identified mass DNA collection drives, with no consent required, in 14 distinct localities in all seven prefectures or municipalities in Tibet.
As one of the communist official documents claimed, mass collection is necessary "for the public security organs to detect various illegal cases, and to effectively crack down on illegal and criminal elements," according to Human Rights Watch.
"The Chinese government is already subjecting Tibetans to pervasive repression," said Sophie Richardson, China director at Human Rights Watch. "Now the authorities are literally taking blood without consent to strengthen their surveillance capabilities."
Database Infrastructure
Human Rights Watch stated that such collection is selective in other parts of China but widespread in Tibet and Xinjiang, showing the regime's intrusive policing to specifically target the populations of these two areas.
A previous investigation revealed that in September 2016, the Xinjiang regional police bureau issued two calls for funds—at $8.69 million and $2.9 million—for a total of 12 DNA sequencers, 30 polymerase chain reaction (PCR) amplifiers, and 1,000 batches of genotyping kits. The purchase portends that authorities intend to build large-scale infrastructure to profile a large number of individuals, according to a 2017 report by Human Rights Watch.
A report by the Australian Strategic Policy Institute (ASPI) titled, "Genomic Surveillance—Inside China's DNA Dragnet," also stated that beginning in late 2017, the Ministry of Public Security expanded the dragnet across China, targeting millions of men and pre-school-age boys.
This program of mass DNA data collection, with the aim of building comprehensive social control, "violates Chinese domestic law and global human rights norms," the report said.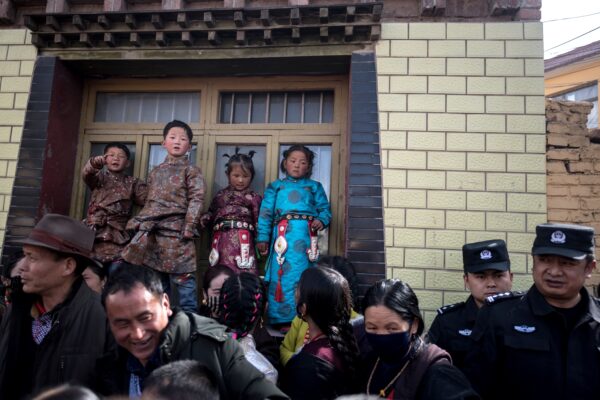 It was also said that numerous biotechnology companies are assisting the Chinese police in building this database and may find themselves complicit in these violations. "They include multinational companies such as U.S.-based Thermo Fisher Scientific and major Chinese companies like AGCU Scientific and Microread Genetics.
"All these companies have an ethical responsibility to ensure that their products and processes don't violate the fundamental human rights and civil liberties of Chinese citizens," according to the ASPI report.
Surveillance at the Grassroots
Human Rights Watch reported that DNA collection in villages is part of China's policing campaign in the region emphasizing the "three greats" in an effort to "strengthen the grass-roots social governance system."
The three greats—inspection, investigation, and mediation—require police to visit each household, question residents about their views, carry out an investigation, and conduct dispute mediation.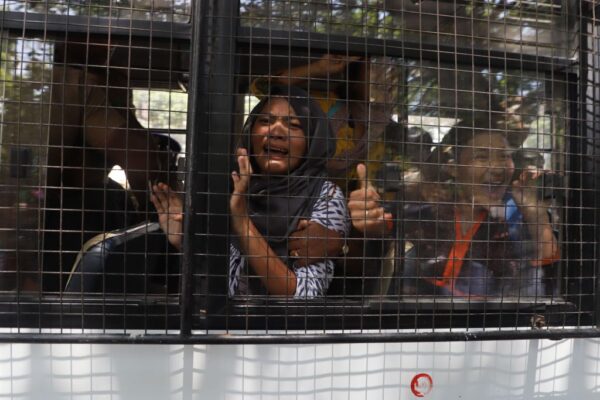 Since at least 2018, Chinese authorities have banned anyone, except regime and Chinese Communist Party officials, from carrying out informal dispute mediation, an important civil function in Tibet that lamas, village elders, or other locally respected figures had generally conducted earlier, said Human Rights Watch.
Children's Privacy
Human Rights Watch stated the collection of DNA from children was done without their or their caregivers' informed, meaningful, and freely given consent, and extracted in educational settings where they could not opt out or refuse to provide their personal health data.
"The use for this data—crime detection—does not appear to constitute a legitimate, proportionate purpose that serves the child's best interest," Human Rights Watch argued.
Several reports indicate that children as young as five have been included in some of the DNA collection drives. Photographs in a report from Qingzheng township in Golok in April 2021 show DNA being taken by police from boys in the first year of primary school.
Human Rights Watch warned: "The collection, processing, and use of genetic information poses heightened risks to children's privacy. DNA holds highly sensitive information that would uniquely and permanently identify a child, their family members, and inherited medical conditions that could lead to disabilities and major health problems."
According to the U.N. Convention on the Rights of the Child, the use and exposure of this data "may have adverse consequences on children, which can continue to affect them at later stages of their lives."