Thousands Evacuated as Fire Hits Warehouse in Crowded Hong Kong District
HONG KONG—About 3,600 people were evacuated from buildings in Hong Kong's crowded Kowloon district on Friday as firefighters battled a blaze in a warehouse. There were no reports of casualties and the fire was put out in the evening five hours after it began in what is one of the world's most densley populated areas. The warehouse is owned by China Resources Group but it was not clear what was being stored there. The state-owned company, which runs businesses from healthcare to consumer products such as beer, did not immediately respond to requests for comment. Yellow smoke emanating from the building had a chemical smell, a Reuters journalist said. "Members of the public affected by the smoke and unusual odour carried by the wind are advised to close their doors and windows and stay calm," the government said in a statement as the fire raged. Police told Reuters that about 3600 people from nearby residential schools and buildings needed to be evacuated. Two people were sent to hospital. A 39-year-old mother came to pick up her nine-year-old son as he waited alone, with police officers nearby. "It's very smelly," said the woman, who gave only her surname, Lee. "I am worried whether there are toxins affecting my child's health." By Jessie Pang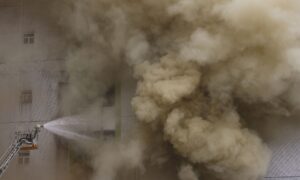 HONG KONG—About 3,600 people were evacuated from buildings in Hong Kong's crowded Kowloon district on Friday as firefighters battled a blaze in a warehouse.
There were no reports of casualties and the fire was put out in the evening five hours after it began in what is one of the world's most densley populated areas.
The warehouse is owned by China Resources Group but it was not clear what was being stored there.
The state-owned company, which runs businesses from healthcare to consumer products such as beer, did not immediately respond to requests for comment.
Yellow smoke emanating from the building had a chemical smell, a Reuters journalist said.
"Members of the public affected by the smoke and unusual odour carried by the wind are advised to close their doors and windows and stay calm," the government said in a statement as the fire raged.
Police told Reuters that about 3600 people from nearby residential schools and buildings needed to be evacuated. Two people were sent to hospital.
A 39-year-old mother came to pick up her nine-year-old son as he waited alone, with police officers nearby.
"It's very smelly," said the woman, who gave only her surname, Lee. "I am worried whether there are toxins affecting my child's health."
By Jessie Pang