Thoughts on the Prosperity Reduction Act, With Assists From Sulla and Pompey the Great
CommentarySometimes the transcriptions get garbled. A few news outlets I saw recently carried stories about something they called the "Inflation Reduction Act." Some people laughed and pointed out that the name was a cruel joke. Everyone who has attained the age of reason is worried about inflation. It's the highest it's been in 40-plus years. So if you're going to try to push through a $750 billion tax-and-spend bill along wholly partisan lines—the vote, after all, was 50–50, so Kamala Harris, as vice president, had to break the tie—you are well-advised to conceal the true nature of the beast. Call it an "inflation reduction act" even if in committee everyone called it by its real name, the "prosperity reduction act." I wonder if any early drafts with that more accurate name survive. They would be collectors' items. But take a moment to ponder what just happened. In some ways, it was like Obamacare, a huge, economy-threatening bill that, having passed with only one vote, was shoved down the throats of Americans as a partisan kick in the solar plexus. It used to be that huge and destructive bills were passed with broad support. Lyndon Johnson's Great Society legislation may have been the most destructive suite of economy-crushing, government-expanding follies in American history. But at least it was passed by a huge majority. Today, we don't do that. Instead, we take our folly neat, in the most toxic and divisive form. We double the size of the IRS, pump billions into counter-productive "green energy" initiatives, and raise taxes in the middle of a recession. This is what the Democrats are touting as a "victory" for President Joe Biden. And we don't even try to compromise, to reach across aisles, because the other side aren't fellow citizens who want what's best for the country. They are heretics and enemies who must be suppressed if not utterly destroyed. That, anyway, seems to be the operational philosophy of the Democrats. It's also the operational philosophy of the anti-Trump brigades staffing the Committee of Public Safety, also known as the Jan. 6 committee, and its gigantic propaganda arm in the so-called mainstream media. As Julie Kelly, Darren Beattie, and others have shown in meticulous detail, the entire Jan. 6 roadshow, beginning with the event itself and extending right up to the moment with the latest developments in Liz Cheney's star-chamber-like inquisition, has been an anti-populist campaign. It's an anti-Trump campaign, to be sure, but the animus is directed at something much larger than the once and possibly future president. Cheney let some part of the truth slip a few days ago when she admitted that she would "find it very difficult" to support Florida Gov. Ron DeSantis for president in 2024. She said it was because DeSantis "has lined himself up almost entirely with Donald Trump." But at bottom what bothers the future CNN hostess is not DeSantis's allegiance to Trump per se, but rather his allegiance to the populist spirit he represents. It's that which she finds "very dangerous." Not for the first time, I'm reminded of the actions of Lucius Cornelius Sulla, dictator of Rome for a couple of years around 82 B.C., and some of his allies. It's a complicated story, but the relevant episode concerns the struggle between the "optimates," at whose head stood Sulla, and the "populares," represented then by Gaius Marius. When Sulla took Rome, one of his first actions was to draw up a proscription list of 1,500 Marian supporters. These unfortunate people were subject to summary execution and had their property confiscated. It's in the nature of such ferocity to be inherently expansionist, like any government program, so that initial list of 1,500 soon encompassed more than 9,000. In many cases, their only offense was having Marian sympathies, or having friends or relations who had Marian sympathies, or were seen walking in or about the Capitol in Washington on Jan. 6, 2021—wait, that last item is from a later iteration of Sullanian tyranny. Two things stand out to me about the episode and remind me of our own campaign of proscription. One is the construction of enemy lists mostly on the basis of what people believe and who they support, not, in most cases, on account of what they have done. Part of this process is an ever-expanding definition of what is unacceptable. Everyone is against terrorism and political extremism. But what if "parading" at the Capitol is redefined as a form of "extremism" to be punished with years in prison? Sulla's proscription lists—rendering people outside the protection of the law because they support the other side—was one thing of which that anti-Trump war machine reminds me. The other thing of which I was reminded was the behavior of the young Gnaeus Pompey when he was sent by Sulla to Sicily to deal with pockets of Marian resistance. Pompey quickly ejected the Marians and set about restoring Sulla's order. In Messana, a group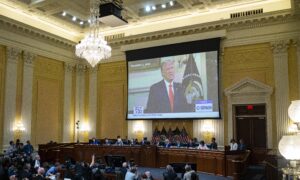 Commentary
Sometimes the transcriptions get garbled.
A few news outlets I saw recently carried stories about something they called the "Inflation Reduction Act."
Some people laughed and pointed out that the name was a cruel joke.
Everyone who has attained the age of reason is worried about inflation. It's the highest it's been in 40-plus years.
So if you're going to try to push through a $750 billion tax-and-spend bill along wholly partisan lines—the vote, after all, was 50–50, so Kamala Harris, as vice president, had to break the tie—you are well-advised to conceal the true nature of the beast.
Call it an "inflation reduction act" even if in committee everyone called it by its real name, the "prosperity reduction act."
I wonder if any early drafts with that more accurate name survive. They would be collectors' items.
But take a moment to ponder what just happened.
In some ways, it was like Obamacare, a huge, economy-threatening bill that, having passed with only one vote, was shoved down the throats of Americans as a partisan kick in the solar plexus.
It used to be that huge and destructive bills were passed with broad support.
Lyndon Johnson's Great Society legislation may have been the most destructive suite of economy-crushing, government-expanding follies in American history.
But at least it was passed by a huge majority.
Today, we don't do that.
Instead, we take our folly neat, in the most toxic and divisive form.
We double the size of the IRS, pump billions into counter-productive "green energy" initiatives, and raise taxes in the middle of a recession.
This is what the Democrats are touting as a "victory" for President Joe Biden.
And we don't even try to compromise, to reach across aisles, because the other side aren't fellow citizens who want what's best for the country.
They are heretics and enemies who must be suppressed if not utterly destroyed.
That, anyway, seems to be the operational philosophy of the Democrats.
It's also the operational philosophy of the anti-Trump brigades staffing the Committee of Public Safety, also known as the Jan. 6 committee, and its gigantic propaganda arm in the so-called mainstream media.
As Julie Kelly, Darren Beattie, and others have shown in meticulous detail, the entire Jan. 6 roadshow, beginning with the event itself and extending right up to the moment with the latest developments in Liz Cheney's star-chamber-like inquisition, has been an anti-populist campaign.
It's an anti-Trump campaign, to be sure, but the animus is directed at something much larger than the once and possibly future president.
Cheney let some part of the truth slip a few days ago when she admitted that she would "find it very difficult" to support Florida Gov. Ron DeSantis for president in 2024.
She said it was because DeSantis "has lined himself up almost entirely with Donald Trump."
But at bottom what bothers the future CNN hostess is not DeSantis's allegiance to Trump per se, but rather his allegiance to the populist spirit he represents. It's that which she finds "very dangerous."
Not for the first time, I'm reminded of the actions of Lucius Cornelius Sulla, dictator of Rome for a couple of years around 82 B.C., and some of his allies.
It's a complicated story, but the relevant episode concerns the struggle between the "optimates," at whose head stood Sulla, and the "populares," represented then by Gaius Marius.
When Sulla took Rome, one of his first actions was to draw up a proscription list of 1,500 Marian supporters.
These unfortunate people were subject to summary execution and had their property confiscated.
It's in the nature of such ferocity to be inherently expansionist, like any government program, so that initial list of 1,500 soon encompassed more than 9,000.
In many cases, their only offense was having Marian sympathies, or having friends or relations who had Marian sympathies, or were seen walking in or about the Capitol in Washington on Jan. 6, 2021—wait, that last item is from a later iteration of Sullanian tyranny.
Two things stand out to me about the episode and remind me of our own campaign of proscription.
One is the construction of enemy lists mostly on the basis of what people believe and who they support, not, in most cases, on account of what they have done.
Part of this process is an ever-expanding definition of what is unacceptable.
Everyone is against terrorism and political extremism.
But what if "parading" at the Capitol is redefined as a form of "extremism" to be punished with years in prison?
Sulla's proscription lists—rendering people outside the protection of the law because they support the other side—was one thing of which that anti-Trump war machine reminds me.
The other thing of which I was reminded was the behavior of the young Gnaeus Pompey when he was sent by Sulla to Sicily to deal with pockets of Marian resistance.
Pompey quickly ejected the Marians and set about restoring Sulla's order.
In Messana, a group of Italian mercenaries called the Mamertines told Pompey that an ancient law limited his jurisdiction.
This seems to have been true.
But Pompey, in a move that Liz Cheney, Christopher Wray, and Adam Schiff would admire if they only knew about it, simply scoffed.
"Why," he asked, "do you persist in talking about laws to us who have swords girt about us?"
Liz & Co. could have asked the same of Peter Navarro, John Eastman, or the hundreds of political prisoners languishing in the Washington gulag.
The vast majority are guilty of nothing more than being latter-day populares.
Sulla and his allies showed how dangerous being on the wrong side was for one's health.
I don't know if our Stasi, also known as the Federal Bureau of Investigation, hands out swords to its minions.
But troops in riot gear brandishing assault rifles and other firearms are just as effective.
What Pompey wouldn't have given to command Wray's shock troops and Cheney's subpoena power.
Views expressed in this article are the opinions of the author and do not necessarily reflect the views of The Epoch Times.