The War on the US Southern Border
CommentaryAn estimated 100,306 drug overdose deaths in the United States in 2021. That's a 28.5 percent increase from 78,056 in 2020. Nearly 80,000 of those deaths were from opioids—up from 56,000—which is largely the result of fentanyl pouring over our wide-open southern border. At the same time, crime is skyrocketing, inflation is rampant, and we are needlessly being pushed toward war with Russia. America's social fabric is in tatters, and its spiritual health is in critical condition. Communist China, directly facilitating this process, looks on and laughs. If you notice this, however, your government wants you to know that you are a racist and a bigot. As dutiful regime apologists, our corporate and mainstream news outlets refuse to talk about these issues except to say that they are dog whistles for right-wing extremists and an attempt to fearmonger and incite racial animus. Instead, they tell you that you must vote Democrat in the midterms because "democracy is on the ballot," and Republicans winning will lead to a fascist dictatorship. Tucker Carlson and his new documentary released on Nov. 3, titled "Battle for the Border," confronts this issue head-on. While those responsible for maintaining our domestic security sit in their Washington air-conditioned offices, Fox reporter Bill Melugin has made more than 25 trips to the border, where he has spent over 200 days. He has provided in-depth coverage of the catastrophe that's currently taking place there. Fox News host Tucker Carlson speaks onstage during Politicon 2018 at Los Angeles Convention Center on Oct. 21, 2018. (Rich Polk/Getty Images for Politicon) In the documentary, Melugin embeds with the brave men and women currently working on the border to stop the rampant drug smuggling and apprehend illegal immigrants. Their job is extremely difficult, but they do it with motivation and grit, knowing they are saving lives. Unsurprisingly, they receive little aid from the federal government and the Biden administration. Two million illegal immigrants in the past year have crossed over into the United States. The individuals working on the border, overworked and underappreciated, have seized 100,000 pounds of drugs every month. Drug cartels essentially control the border and have made an exorbitant profit as they have taken control of lax enforcement. Forty percent of illegals come from countries other than Mexico and Central America, and cartels charge a large fee for each individual attempting to cross. The Biden administration has largely refused to enforce federal law on the border. Speaking with members of the Texas Department of Public Safety—not agents of U.S. Border Patrol, the underfunded and understaffed federal agency—Melugin reports that repeated attempts to cross largely go unpenalized. This is different from the Trump administration's policy, and it's estimated that 25 percent of those encountered on the border have been caught before. That's a 7 percent increase from the last month of Donald Trump's tenure in office. President Joe Biden's decision to rescind Trump's Remain In Mexico policy is akin to a return to the catch-and-release days of the Obama administration. The documentary is truly worth watching. Viewers can appreciate the hard work that law enforcement engages in every day on our southern border. Perhaps the most interesting piece of the documentary, however, is toward the end, in which the role of China in the fentanyl trade is exposed. Fentanyl is a synthetic opioid that is 50 times stronger than heroin. Two milligrams is enough to kill a man, and it's mixed into nearly every drug product that the cartels currently produce and distribute. The chemicals needed to produce the drug are obtained directly from China, which is glad to provide these precursor elements. Carlson highlights the process by which the cartels send representatives—called "Marco Polos"—to China to work out business deals to obtain the chemicals necessary for the production of fentanyl. Sure, China is likely making some money from facilitating this process. But it goes deeper than this. The U.S. border is a major front in the indirect war currently being waged against the United States. Put yourselves in the shoes of the Chinese Communist Party. Providing the material necessary for the production of fentanyl ensures that the United States—your No. 1 geopolitical enemy—will be continuously flooded with the most lethal drug in existence. Cartels transport tens of thousands of pounds of marijuana, cocaine, methamphetamine, pharmaceutical pills, and opioids, such as Percocet and Xanax, directly into the interior United States. These drugs poison American youth and kill tens of thousands of citizens. Boxes carrying a total of more than 3,100 pounds of illicit drugs were seized at the southwest border in San Diego, Calif., on Oct. 9, 2020. (US Customs and Border Protection) Besides outright deaths, however, the drug trade ensures that the co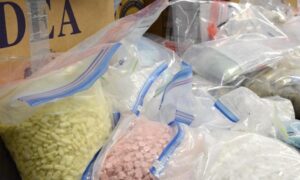 Commentary
An estimated 100,306 drug overdose deaths in the United States in 2021. That's a 28.5 percent increase from 78,056 in 2020.
Nearly 80,000 of those deaths were from opioids—up from 56,000—which is largely the result of fentanyl pouring over our wide-open southern border.
At the same time, crime is skyrocketing, inflation is rampant, and we are needlessly being pushed toward war with Russia.
America's social fabric is in tatters, and its spiritual health is in critical condition.
Communist China, directly facilitating this process, looks on and laughs.
If you notice this, however, your government wants you to know that you are a racist and a bigot.
As dutiful regime apologists, our corporate and mainstream news outlets refuse to talk about these issues except to say that they are dog whistles for right-wing extremists and an attempt to fearmonger and incite racial animus. Instead, they tell you that you must vote Democrat in the midterms because "democracy is on the ballot," and Republicans winning will lead to a fascist dictatorship.
Tucker Carlson and his new documentary released on Nov. 3, titled "Battle for the Border," confronts this issue head-on. While those responsible for maintaining our domestic security sit in their Washington air-conditioned offices, Fox reporter Bill Melugin has made more than 25 trips to the border, where he has spent over 200 days. He has provided in-depth coverage of the catastrophe that's currently taking place there.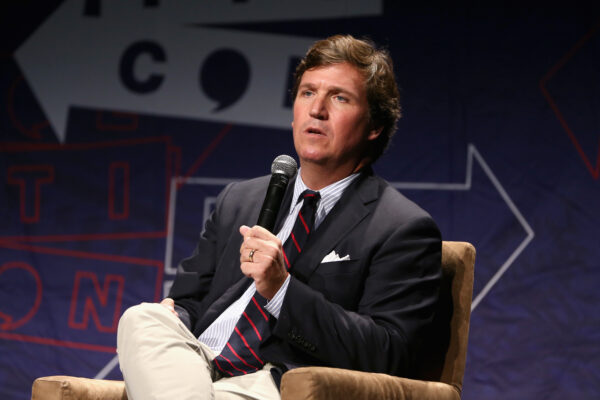 In the documentary, Melugin embeds with the brave men and women currently working on the border to stop the rampant drug smuggling and apprehend illegal immigrants. Their job is extremely difficult, but they do it with motivation and grit, knowing they are saving lives.
Unsurprisingly, they receive little aid from the federal government and the Biden administration.
Two million illegal immigrants in the past year have crossed over into the United States. The individuals working on the border, overworked and underappreciated, have seized 100,000 pounds of drugs every month. Drug cartels essentially control the border and have made an exorbitant profit as they have taken control of lax enforcement. Forty percent of illegals come from countries other than Mexico and Central America, and cartels charge a large fee for each individual attempting to cross.
The Biden administration has largely refused to enforce federal law on the border. Speaking with members of the Texas Department of Public Safety—not agents of U.S. Border Patrol, the underfunded and understaffed federal agency—Melugin reports that repeated attempts to cross largely go unpenalized. This is different from the Trump administration's policy, and it's estimated that 25 percent of those encountered on the border have been caught before. That's a 7 percent increase from the last month of Donald Trump's tenure in office. President Joe Biden's decision to rescind Trump's Remain In Mexico policy is akin to a return to the catch-and-release days of the Obama administration.
The documentary is truly worth watching. Viewers can appreciate the hard work that law enforcement engages in every day on our southern border.
Perhaps the most interesting piece of the documentary, however, is toward the end, in which the role of China in the fentanyl trade is exposed.
Fentanyl is a synthetic opioid that is 50 times stronger than heroin. Two milligrams is enough to kill a man, and it's mixed into nearly every drug product that the cartels currently produce and distribute.
The chemicals needed to produce the drug are obtained directly from China, which is glad to provide these precursor elements. Carlson highlights the process by which the cartels send representatives—called "Marco Polos"—to China to work out business deals to obtain the chemicals necessary for the production of fentanyl.
Sure, China is likely making some money from facilitating this process. But it goes deeper than this. The U.S. border is a major front in the indirect war currently being waged against the United States.
Put yourselves in the shoes of the Chinese Communist Party. Providing the material necessary for the production of fentanyl ensures that the United States—your No. 1 geopolitical enemy—will be continuously flooded with the most lethal drug in existence.
Cartels transport tens of thousands of pounds of marijuana, cocaine, methamphetamine, pharmaceutical pills, and opioids, such as Percocet and Xanax, directly into the interior United States. These drugs poison American youth and kill tens of thousands of citizens.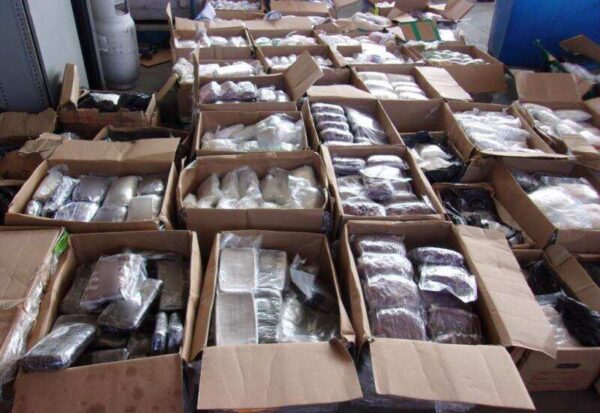 Besides outright deaths, however, the drug trade ensures that the country's citizens remain depressed and strung out, its cities crime-ridden and overflowing with illegal substances and broken families. The government is subsequently left with the task of devoting untold financial resources—not to mention manpower—to address all of this social dysfunction.
Meanwhile, the people directly responsible for stopping the source of this hardship from entering the country tell their citizens to shut up and ignore the problem. "Don't be a racist; everything is fine."
If you were China, you would love nothing more than a weak U.S. border. Sure, it might make some money, too. But that's not the only or even primary motivation in its decision to directly aid the fentanyl trade. The ability to destroy the spiritual health of the United States is much more valuable to Chinese strategists than mere dollars and cents.
Considering all of this, if you were China, there would be nothing more advantageous than a U.S. administration that refuses to perform its most fundamental duty—protecting the physical health of its citizens.
So always remember when your government tells you that you're a racist or a bigot—if you care more about crime, inflation, illegal immigration, drug overdoses, or anything else that tangibly affects the lives of American citizens rather than climate change, the war in Ukraine, or the "threat to democracy" posed by Republicans—you can be sure beyond a shadow of a doubt:
If you were China, you would love nothing more than if American citizens continue to vote for the same politicians enabling all of this.
Views expressed in this article are the opinions of the author and do not necessarily reflect the views of The Epoch Times.