The US Will Spend Another $1.7 Trillion, With Little Democratic Accountability
CommentaryOur politicians are spending more than they have, again (and again and again). It's a mounting danger to the U.S. economy, upon which U.S. national security relies. The fiscal blame for the latest $1.7 trillion "omnibus" spending bill, which passed the Senate on Dec. 22 before the Dec. 23 deadline, mostly points toward Democrats. But the bill includes votes from 18 Republicans, including Senate Minority Leader Mitch McConnell, Tom Cotton, Lyndsey Graham, and Mitt Romney. Republicans are getting paid off with crumbs from the Democrat-controlled Congress, particularly a nearly 10 percent increase in the defense budget, compared to an almost 6 percent increase in nondefense spending, and $45 billion in aid for Ukraine. McConnell calls the bill a win. It is at least somewhat bipartisan. Most Americans will find something to like or dislike in the omnibus. But left unaddressed is how to pay for bigger and bigger government in a time of growing inflation and mounting national debt. Called a "steaming pile" by The Wall Street Journal, a "scandal" by the National Review, and "sprawling" by The New York Times, the bill includes $858 billion for the military and $772.5 billion domestically. Omnibus bills with insufficient time for thorough public analysis and comment are fundamentally undemocratic. They hand power to special interests and their elite dealmakers in Congress but constrict what should be months of public debate and amendments to laws, including through the elimination of fiscal waste. A similar strategy was used to end-run democratic processes with the $858 billion National Defense Authorization Act, and the misnamed Inflation Reduction Act, which included $433 billion of new spending. Both bills included multiple provisions on unrelated topics, making governance opaque and inaccessible to the public. Therefore, these bills generally erode public trust in Congress and the U.S. government. But our leading politicians cannot seem to increase government transparency, limit their immense backroom power to tax and spend, or decrease the influence of special interests. Sen. Rick Scott (R-Fla.) speaks at a press conference about Democrats' massive omnibus spending bill in Washington on Dec. 7, 2022, in a still from a live stream released by NTD. (NTD) The process is premeditated. Since Democratic congressional leaders cannot get their bills passed individually, they passed short-term spending bills over the past few months that precipitated a crisis at the end of the year, "forcing" them to combine the bills into a massive log roll attached to an omnibus that "must pass" or our government shuts down, we hit the debt ceiling, or budget cuts become mandatory. That's blackmail, not democracy. It gives undue power to congressional leaders, who act as undemocratic gatekeepers, rather than to individual representatives and their responsibility to deliberate publicly in the interests of constituents and Americans generally. Sen. Mike Lee (R-Utah) called the omnibus "an act of extortion being leveraged on the United States Senate right before Christmas." He rightly criticized lawmakers for writing it "utterly in secret." "Mandatory" spending on social services is increasing America's debt load. Without public debate, accountability for votes, and more opportunities to offer amendments, it will be harder for the United States to make the tough choices to correct our fiscal crisis. The 4,155 pages of omnibus spending, also known as a "Consolidated Appropriations Act," was delivered to senators late at night on Dec. 19 and passed three days later, just a day before Congress' holiday recess. Three days is insufficient time for anyone to thoroughly read and comprehend, much less debate, the thousands of pages that senators are voting into law. Schumer, the chief architect of the monstrosity, railroaded voting on amendments. He sought to limit the time for voting to 10 minutes each, congratulating senators when they completed the votes in less time. "That was 8 1/2 minutes. Let's keep it up. Stay in your seats," he said following one vote. Because all the measures are ultimately packaged together, there is little accountability for this rushed and generally uneducated voting. Few, for example, will be able to decipher which senators support or oppose the election accountability, lobster fishing, Ukraine, retirement, border, TikTok, pregnancy, and health care measures in (or not in) the bill because all are ultimately combined with the rest or eliminated in 10-minute amendment votes. Legislation is therefore getting passed without the necessary democratic or fiscal accountability. There are times when deficit spending might be acceptable, for example, at the height of American power in the 1950s or 1990s when the world was soaking up excess dollars for their central bank foreign exchange reserves. But for the last two decades, the dollar has fallen from over 70 percent of reserves to less than 60 p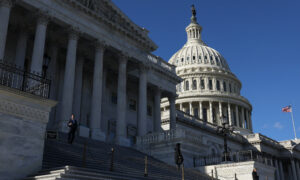 Commentary
Our politicians are spending more than they have, again (and again and again). It's a mounting danger to the U.S. economy, upon which U.S. national security relies.
The fiscal blame for the latest $1.7 trillion "omnibus" spending bill, which passed the Senate on Dec. 22 before the Dec. 23 deadline, mostly points toward Democrats. But the bill includes votes from 18 Republicans, including Senate Minority Leader Mitch McConnell, Tom Cotton, Lyndsey Graham, and Mitt Romney.
Republicans are getting paid off with crumbs from the Democrat-controlled Congress, particularly a nearly 10 percent increase in the defense budget, compared to an almost 6 percent increase in nondefense spending, and $45 billion in aid for Ukraine. McConnell calls the bill a win.
It is at least somewhat bipartisan. Most Americans will find something to like or dislike in the omnibus. But left unaddressed is how to pay for bigger and bigger government in a time of growing inflation and mounting national debt.
Called a "steaming pile" by The Wall Street Journal, a "scandal" by the National Review, and "sprawling" by The New York Times, the bill includes $858 billion for the military and $772.5 billion domestically.
Omnibus bills with insufficient time for thorough public analysis and comment are fundamentally undemocratic. They hand power to special interests and their elite dealmakers in Congress but constrict what should be months of public debate and amendments to laws, including through the elimination of fiscal waste.
A similar strategy was used to end-run democratic processes with the $858 billion National Defense Authorization Act, and the misnamed Inflation Reduction Act, which included $433 billion of new spending.
Both bills included multiple provisions on unrelated topics, making governance opaque and inaccessible to the public. Therefore, these bills generally erode public trust in Congress and the U.S. government. But our leading politicians cannot seem to increase government transparency, limit their immense backroom power to tax and spend, or decrease the influence of special interests.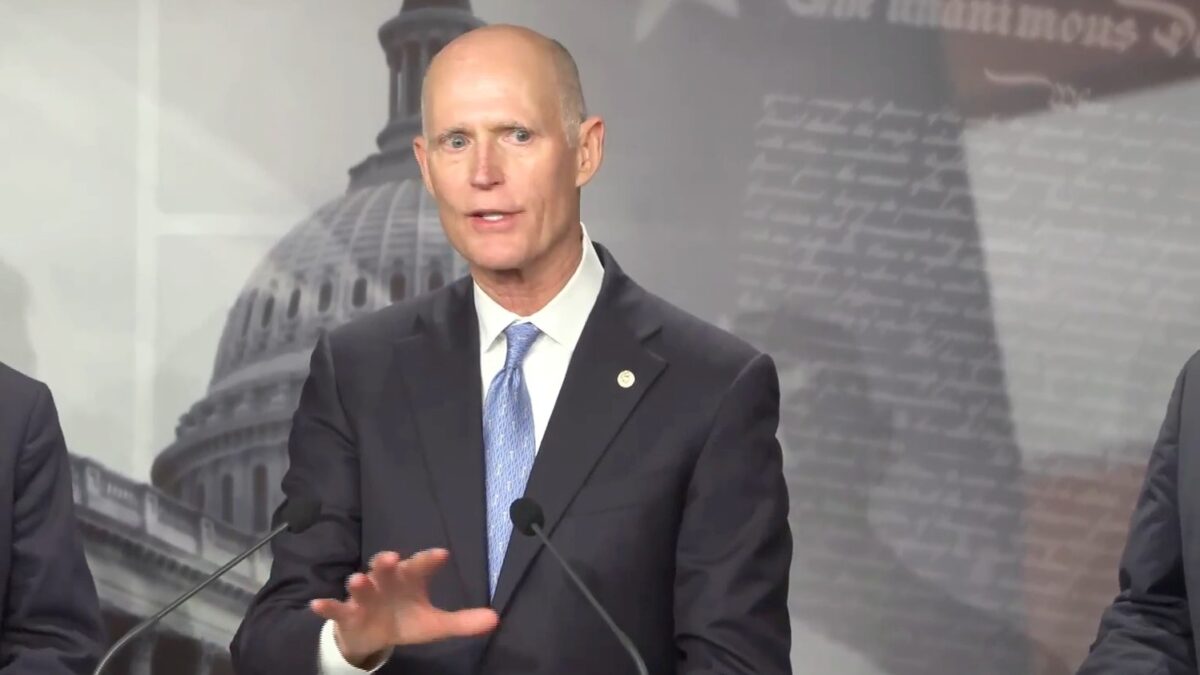 The process is premeditated. Since Democratic congressional leaders cannot get their bills passed individually, they passed short-term spending bills over the past few months that precipitated a crisis at the end of the year, "forcing" them to combine the bills into a massive log roll attached to an omnibus that "must pass" or our government shuts down, we hit the debt ceiling, or budget cuts become mandatory.
That's blackmail, not democracy. It gives undue power to congressional leaders, who act as undemocratic gatekeepers, rather than to individual representatives and their responsibility to deliberate publicly in the interests of constituents and Americans generally.
Sen. Mike Lee (R-Utah) called the omnibus "an act of extortion being leveraged on the United States Senate right before Christmas." He rightly criticized lawmakers for writing it "utterly in secret."
"Mandatory" spending on social services is increasing America's debt load. Without public debate, accountability for votes, and more opportunities to offer amendments, it will be harder for the United States to make the tough choices to correct our fiscal crisis.
The 4,155 pages of omnibus spending, also known as a "Consolidated Appropriations Act," was delivered to senators late at night on Dec. 19 and passed three days later, just a day before Congress' holiday recess. Three days is insufficient time for anyone to thoroughly read and comprehend, much less debate, the thousands of pages that senators are voting into law.
Schumer, the chief architect of the monstrosity, railroaded voting on amendments. He sought to limit the time for voting to 10 minutes each, congratulating senators when they completed the votes in less time. "That was 8 1/2 minutes. Let's keep it up. Stay in your seats," he said following one vote.
Because all the measures are ultimately packaged together, there is little accountability for this rushed and generally uneducated voting. Few, for example, will be able to decipher which senators support or oppose the election accountability, lobster fishing, Ukraine, retirement, border, TikTok, pregnancy, and health care measures in (or not in) the bill because all are ultimately combined with the rest or eliminated in 10-minute amendment votes. Legislation is therefore getting passed without the necessary democratic or fiscal accountability.
There are times when deficit spending might be acceptable, for example, at the height of American power in the 1950s or 1990s when the world was soaking up excess dollars for their central bank foreign exchange reserves. But for the last two decades, the dollar has fallen from over 70 percent of reserves to less than 60 percent.
Now, the bill provides for more spending in the context of $100 trillion in U.S. debt and future unpaid social service obligations, another $1 trillion in proposed student loan forgiveness, and skyrocketing inflation.
U.S. national debt exceeded $31 trillion in 2022 and will grow to 225 percent of GDP by 2050. Instead of finding new sources of revenue and cutting fat, we are essentially printing money.
That will add to inflation and cause the Federal Reserve to think it must increase interest rates to strangle the U.S. economy by sucking "excess" dollars out of the system. Down goes our economy, the high-interest rate medicine being worse than inflation itself. It only puts off inflation until later, though, because all those borrowed dollars must be repaid with mounting interest. That will ultimately put them right back on the street, where they will again cause inflation.
We're living on borrowed time, and the clock is broken. Our economy, upon which our democracy depends, is on life support. Congress must start making tough choices. We must either find new revenue or cut expenditures.
Views expressed in this article are the opinions of the author and do not necessarily reflect the views of The Epoch Times.