The US and EU Are in a Subsidy Race: Let's Tariff China Instead
CommentaryThe United States and European Union are entering a green subsidy race that will determine where millions of electric vehicles will be manufactured over the next decades. EV sales in the United States, for example, are projected to double by 2025 to nearly 2.5 million. Car manufacturers around the world want a piece of that action. The U.S. subsidies will boost American jobs and industrial independence from China, which will help contain Beijing economically. Despite what President Joe Biden says, however, they will have less effect on climate change and impede the economy just as we need it at maximum strength. They ignore that China is by far the world's worst polluter, exceeding the emissions of the United States and European Union combined. A better idea than dueling U.S.-EU subsidies would be joint tariffs on the biggest polluters in China. That would slow China's economy and put a dent in its emissions, while weakening its military and decreasing the chance of military conflict. Give an Inch, Take … The approximately $386 billion in Washington's Inflation Reduction Act (IRA) subsidies have some effects that parallel China tariffs. They protect U.S. industry, increase jobs, and strengthen the industrial ecosystem. The "buy American" restrictions of the law—including the limitation of $7,500 tax credits to U.S., Canadian, and Mexican EVs—ensure the IRA does not subsidize China's production of green technology. Neither does it subsidize Europe, Japan, or South Korea, which has them all in a lather. They want the same illogical exemptions offered to Canada and Mexico. If these countries want to subsidize green technologies, they should pay their own way rather than expect U.S. taxpayers to do it for them. Channeling the United States into greener technologies is already a global public good that risks our own economy. What right do our allies have to demand more? US Green Subsidies Work In the three months since the IRA was enacted, compared to the previous three months, U.S. battery manufacturing investment skyrocketed from $7.5 billion to $13.5 billion. It is headed toward $91 billion over the next 10 years. That new manufacturing will bring jobs and tax revenues that at least partially counter the costs of the original subsidies. The Bipartisan Infrastructure Law of 2021 also includes subsidies of $2.8 billion. The law will likely attract approximately $9 billion of investment, including in lithium and graphite production. Recipients of the U.S. subsidies include foreign companies, as long as they manufacture in the United States. They should be thanking us. Belgium's Solvay and Mexico's Orbia are planning new chemical manufacturing in Georgia. South Korea's Hyundai broke ground in the same state last month for an EV and battery factory. Singapore's Trafigura will supply feedstock to a new refinery in Arizona that, by 2027, plans to produce 40 percent of the cobalt used in U.S. EV production. But European politicians are worried that all this subsidy-fueled investment will deindustrialize Europe. The same is happening from China's preferential economic policies. China has lower costs associated with regulation, tax, and energy, the latter because of continued cheap Russian liquified natural gas imports, along with extensive use of coal. The European Union is responding to the IRA, like they never did to China's subsidies, with a "European Sovereignty Fund" for high-tech manufacturing, including microchips, batteries, EVs, and wind turbines. It should have done so long ago to stop the biggest cause of European deindustrialization: free trade with China. The German chemical company BASF, for example, is planning to slash jobs in Germany and move new production to China. A man walks past tanks of German chemicals giant BASF at the company's headquarters in Ludwigshafen, western Germany, on Feb. 26, 2019. (Uwe Anspach/DPA/AFP via Getty Images) French President Emmanuel Macron, along with the German and French economy ministers, support the European Sovereignty Fund. They issued a joint statement calling for an "EU industrial policy that enables our companies to thrive in the global competition, especially through technological leadership." Some Anti-American Europeans If all countries subsidized greening their economies, global trade dislocations from the IRA would be minimized, and all would benefit from a greener world. But some European politicians are stuck to old free trade dogma and anti-Americanism. They go so far as to link the IRA to their accusations that the United States caused the spike in Europe's military and energy costs, saying the United States is war profiteering and charging four times as much for LNG as Russia did previously. This overlooks the higher LNG transport and storage costs from the United States to Europe, much of which is garnered by European companies. The tanker Sun Arrows loads its cargo of liquefied natural gas from the Sakhalin-2 proje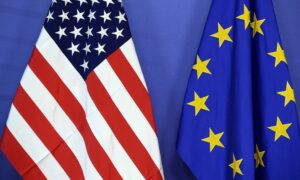 Commentary
The United States and European Union are entering a green subsidy race that will determine where millions of electric vehicles will be manufactured over the next decades. EV sales in the United States, for example, are projected to double by 2025 to nearly 2.5 million. Car manufacturers around the world want a piece of that action.
The U.S. subsidies will boost American jobs and industrial independence from China, which will help contain Beijing economically.
Despite what President Joe Biden says, however, they will have less effect on climate change and impede the economy just as we need it at maximum strength. They ignore that China is by far the world's worst polluter, exceeding the emissions of the United States and European Union combined.
A better idea than dueling U.S.-EU subsidies would be joint tariffs on the biggest polluters in China. That would slow China's economy and put a dent in its emissions, while weakening its military and decreasing the chance of military conflict.
Give an Inch, Take …
The approximately $386 billion in Washington's Inflation Reduction Act (IRA) subsidies have some effects that parallel China tariffs. They protect U.S. industry, increase jobs, and strengthen the industrial ecosystem.
The "buy American" restrictions of the law—including the limitation of $7,500 tax credits to U.S., Canadian, and Mexican EVs—ensure the IRA does not subsidize China's production of green technology. Neither does it subsidize Europe, Japan, or South Korea, which has them all in a lather. They want the same illogical exemptions offered to Canada and Mexico.
If these countries want to subsidize green technologies, they should pay their own way rather than expect U.S. taxpayers to do it for them. Channeling the United States into greener technologies is already a global public good that risks our own economy. What right do our allies have to demand more?
US Green Subsidies Work
In the three months since the IRA was enacted, compared to the previous three months, U.S. battery manufacturing investment skyrocketed from $7.5 billion to $13.5 billion. It is headed toward $91 billion over the next 10 years. That new manufacturing will bring jobs and tax revenues that at least partially counter the costs of the original subsidies.
The Bipartisan Infrastructure Law of 2021 also includes subsidies of $2.8 billion. The law will likely attract approximately $9 billion of investment, including in lithium and graphite production.
Recipients of the U.S. subsidies include foreign companies, as long as they manufacture in the United States. They should be thanking us.
Belgium's Solvay and Mexico's Orbia are planning new chemical manufacturing in Georgia.
South Korea's Hyundai broke ground in the same state last month for an EV and battery factory.
Singapore's Trafigura will supply feedstock to a new refinery in Arizona that, by 2027, plans to produce 40 percent of the cobalt used in U.S. EV production.
But European politicians are worried that all this subsidy-fueled investment will deindustrialize Europe. The same is happening from China's preferential economic policies. China has lower costs associated with regulation, tax, and energy, the latter because of continued cheap Russian liquified natural gas imports, along with extensive use of coal.
The European Union is responding to the IRA, like they never did to China's subsidies, with a "European Sovereignty Fund" for high-tech manufacturing, including microchips, batteries, EVs, and wind turbines. It should have done so long ago to stop the biggest cause of European deindustrialization: free trade with China.
The German chemical company BASF, for example, is planning to slash jobs in Germany and move new production to China.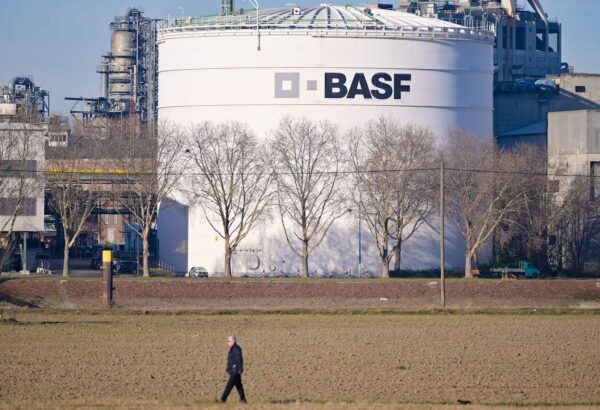 French President Emmanuel Macron, along with the German and French economy ministers, support the European Sovereignty Fund. They issued a joint statement calling for an "EU industrial policy that enables our companies to thrive in the global competition, especially through technological leadership."
Some Anti-American Europeans
If all countries subsidized greening their economies, global trade dislocations from the IRA would be minimized, and all would benefit from a greener world. But some European politicians are stuck to old free trade dogma and anti-Americanism.
They go so far as to link the IRA to their accusations that the United States caused the spike in Europe's military and energy costs, saying the United States is war profiteering and charging four times as much for LNG as Russia did previously. This overlooks the higher LNG transport and storage costs from the United States to Europe, much of which is garnered by European companies.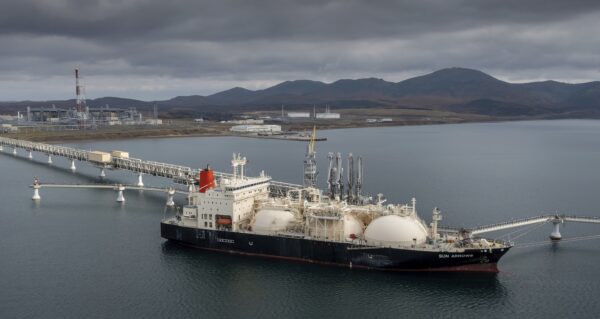 The claim of war profiteering forgets that for a century, the United States subsidized the defense of Western Europe from German and Russian aggressors. Today, the United States is the biggest supplier of military aid to Ukraine, at over $15.2 billion compared to just $8.3 billion from the European Union. This, in addition to the United States shouldering most of the defense burden from China, tin-pot dictators in the Middle East, and global terrorism.
Recent anti-American comments from a smattering of European politicians reveal an appeal to passion rather than reason and serve to displace public blame for Europe's lagging economy away from European capitals.
The E.U. industrial chief warned that the IRA subsidies are an "existential challenge." He didn't mention they might help the environment.
"The U.S. is following a domestic agenda, which is regrettably protectionist and discriminates against U.S. allies," sniffed a leading E.U. diplomat on transatlantic relations.
The French finance minister said: "China favors Chinese production, America favors American production, it is time Europe favors European production. … All European states must understand that today in the face of these American decisions, we must learn to better protect and defend our economic interests."
He seems more bothered by U.S. subsidies that have not gone into effect than Chinese subsidies that have deindustrialized Europe and the United States for half a century.
Ireland's deputy prime minister warned of a "tit-for-tat," and the Netherlands trade minister obliquely threatened a "trade war" against America. This follows her resistance to U.S. controls on computer chip technologies that she would apparently like to export to China.
EU Should Join US
Rather than threaten the United States with a trade war, the European Union should match our tariffs and subsidies against China. This would strengthen Europe's industrial independence without weakening the United States or strengthening China. Europe would still enjoy all of its U.S. market share.
The United States and Europe should act more strategically against polluting authoritarians by increasing the weight of China tariffs in their industrial policy relative to subsidies. This requires fewer relocation costs for industrial supply chains that cross friendly boundaries, for example, between the United States, Europe, Japan, South Korea, Canada, and Mexico.
The U.S. and EU economies are the world's wealthiest. We can jointly leverage them to get concessions from China and Russia. But to do so, we must be united and flexible enough to impose not only matching subsidies, but matching tariffs. It is time to let go of free market dogma from the 1990s when we had the luxury of not containing the world's two most dangerous and intransigent dictators. Those days are gone.
Views expressed in this article are the opinions of the author and do not necessarily reflect the views of The Epoch Times.