The Ukrainian Tank Story and Taiwan
Commentary At the beginning of the current Russian-Ukrainian war, many pundits claimed that Taiwan should copy Ukraine's "porcupine strategy" and focus on "asymmetric warfare." Think tanks, the Department of Defense, the White House, and even some members of Congress agreed. They were wrong and continue to be wrong. This article will use the story of the tanks involved in the Russian-Ukrainian war to explain why they were wrong. The Russian-Ukrainian War Is a Work in Progress When the war started, the public, the politicians, and the media were enamored by the Ukrainian "Davids" knocking out Russian tanks "Goliaths" with the proverbial stone—the Javelin and other anti-tank missiles. These groups were like cheerleaders shouting encouraging words, thinking that anti-tank and anti-armor missiles and a few anti-ship and anti-air missiles would end the Russian invasion. Nope. Tank Numbers The Russian army continues to press on with armor, missiles, aircraft, and infantry. At the beginning of the war, the Russians had about 3,000 main battle tanks (MBTs), and the Ukrainians had about 1,000, according to the International Institute for Strategic Studies' (IISS) 2021 annual report, "The Military Balance." By Jan. 24, according to Oryx, Russia had lost at least 1,646 (total destroyed: 967, mostly T-72s and T-80s and, at least, 44 advanced T-90 MBTs, including 10 of the latest T-90M), 75 tanks damaged, 59 abandoned, and 545 captured. Of the 1,000 tanks Ukraine had at the beginning of the war, Ukraine lost 450 (mostly T-64s and T-72s), 267 destroyed, 24 damaged, 16 abandoned, and 143 captured. In effect, Ukraine also lost about half of its inventory but gained 545 captured Russian tanks. Thank goodness for innovative and smart Ukrainians! Prior to the new tranche of MBTs promised to Ukraine, the nations of Poland, Slovakia, the Czech Republic, North Macedonia, and the Netherlands provided at least 450 modernized Soviet-design tanks, mainly T-72s. Thus, Ukraine increased its inventory by 50 percent (of its initial total of 1,000) during the war. Ukrainian servicemen attend a rehearsal of an official ceremony to hand over tanks, armored personnel carriers, and military vehicles to the Ukrainian Armed Forces as the country celebrates Army Day in Kyiv, Ukraine, on Dec. 6, 2021. (Gleb Garanich/Reuters) The Ukrainians are asking their allies to replace their losses to enable Ukraine to counter the probable Russian spring push to take more of Ukrainian territory. Which countries plan to provide Ukraine with tanks? Countries Agreeing to Send More Tanks As of Jan, 26, according to author and defense analyst H I Sutton, the following nine countries agreed to send Ukraine between 73 and 175 MBTs: United Kingdom: 14 Challenger 2 United States: 31 M1A1 Abrams Germany: 14 Leopard 2 (and another 14) Poland: 14 Leopard 2 Spain: Up to 53 Leopard 2 Norway: 8 Leopard 2 Netherlands: 18 Leopard 2 Finland: 5 Leopard 2 Portugal: 4 Leopard 2 Vadym Omelchenko, the Ukrainian ambassador to France, claims that Ukrainian allies promised a total of 321 MBTs as of Jan. 27. In addition to 31 M1A1 Abrams, the U.S. government also pledged to send eight M88 armored recovery vehicles (ARVs), which will be used in case the Abrams get stuck. But there is one item missing from Ukraine's post-Christmas wish list. M1074 Joint Assault Bridge System (JABS) Tanks and other heavy armor need bridging systems to cross areas where bridges were damaged or because the existing bridges cannot hold the 63-ton Abrams tank. They also will need these bridging systems to cross water obstacles that are too deep or to bypass anti-tank ditches. The U.S. Army uses the M1074 Joint Assault Bridge System (JABS), which deploys an MLC95 bridge with a gap crossing of 11 meters in approximately 3 minutes and can support the Abrams' weight. In early 2022, the Australian Department of Defense announced that it had ordered 75 M1A2 SEPv3 Abrams tanks, 29 M1150 assault breacher vehicles, 17 M1074 JABS, and six M88A2 ARVs to be delivered starting in 2024. Poland received approval in April 2022 for 250 M1A2 SEPV3 MBTs, 26 M88A2 ARVs, and 17 M1074JABS. Why so many tanks? Poland sent more than 260 T-72 tanks to Ukraine early in the war, and asked the United States for a one-for-one swap for the Abrams replacing the T-72s. Australia and Poland ordered the correct package: tanks, recovery vehicles, and bridging systems. Members of the U.S. Army 1st Division 9th Regiment 1st Battalion unload heavy combat equipment, including Abrams tanks and Bradley fighting vehicles, at the railway station near the Pabrade military base in Lithuania, on Oct. 21, 2019. (Petras Malukas/AFP via Getty Images) Why are there no JABS going to Ukraine? JABS are also missing from Taiwan's list. Why? Although Ukraine and Taiwan (M3 Amphibious Rig) already have some assault bridging systems, none of them can manage the 63-ton Abrams tank. Let us hope that both countries add enough JABS f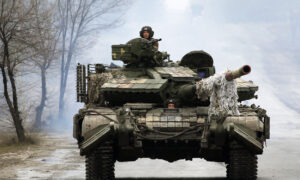 Commentary
At the beginning of the current Russian-Ukrainian war, many pundits claimed that Taiwan should copy Ukraine's "porcupine strategy" and focus on "asymmetric warfare."
Think tanks, the Department of Defense, the White House, and even some members of Congress agreed. They were wrong and continue to be wrong. This article will use the story of the tanks involved in the Russian-Ukrainian war to explain why they were wrong.
The Russian-Ukrainian War Is a Work in Progress
When the war started, the public, the politicians, and the media were enamored by the Ukrainian "Davids" knocking out Russian tanks "Goliaths" with the proverbial stone—the Javelin and other anti-tank missiles. These groups were like cheerleaders shouting encouraging words, thinking that anti-tank and anti-armor missiles and a few anti-ship and anti-air missiles would end the Russian invasion. Nope.
Tank Numbers
The Russian army continues to press on with armor, missiles, aircraft, and infantry. At the beginning of the war, the Russians had about 3,000 main battle tanks (MBTs), and the Ukrainians had about 1,000, according to the International Institute for Strategic Studies' (IISS) 2021 annual report, "The Military Balance." By Jan. 24, according to Oryx, Russia had lost at least 1,646 (total destroyed: 967, mostly T-72s and T-80s and, at least, 44 advanced T-90 MBTs, including 10 of the latest T-90M), 75 tanks damaged, 59 abandoned, and 545 captured.
Of the 1,000 tanks Ukraine had at the beginning of the war, Ukraine lost 450 (mostly T-64s and T-72s), 267 destroyed, 24 damaged, 16 abandoned, and 143 captured. In effect, Ukraine also lost about half of its inventory but gained 545 captured Russian tanks. Thank goodness for innovative and smart Ukrainians!
Prior to the new tranche of MBTs promised to Ukraine, the nations of Poland, Slovakia, the Czech Republic, North Macedonia, and the Netherlands provided at least 450 modernized Soviet-design tanks, mainly T-72s. Thus, Ukraine increased its inventory by 50 percent (of its initial total of 1,000) during the war.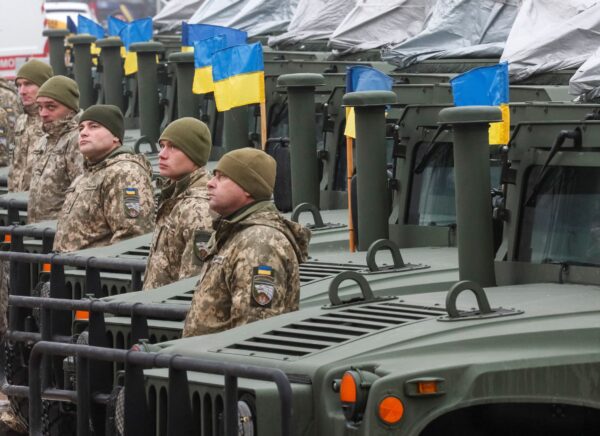 The Ukrainians are asking their allies to replace their losses to enable Ukraine to counter the probable Russian spring push to take more of Ukrainian territory. Which countries plan to provide Ukraine with tanks?
Countries Agreeing to Send More Tanks
As of Jan, 26, according to author and defense analyst H I Sutton, the following nine countries agreed to send Ukraine between 73 and 175 MBTs:
United Kingdom: 14 Challenger 2
United States: 31 M1A1 Abrams
Germany: 14 Leopard 2 (and another 14)
Poland: 14 Leopard 2
Spain: Up to 53 Leopard 2
Norway: 8 Leopard 2
Netherlands: 18 Leopard 2
Finland: 5 Leopard 2
Portugal: 4 Leopard 2
Vadym Omelchenko, the Ukrainian ambassador to France, claims that Ukrainian allies promised a total of 321 MBTs as of Jan. 27.
In addition to 31 M1A1 Abrams, the U.S. government also pledged to send eight M88 armored recovery vehicles (ARVs), which will be used in case the Abrams get stuck. But there is one item missing from Ukraine's post-Christmas wish list.
M1074 Joint Assault Bridge System (JABS)
Tanks and other heavy armor need bridging systems to cross areas where bridges were damaged or because the existing bridges cannot hold the 63-ton Abrams tank. They also will need these bridging systems to cross water obstacles that are too deep or to bypass anti-tank ditches. The U.S. Army uses the M1074 Joint Assault Bridge System (JABS), which deploys an MLC95 bridge with a gap crossing of 11 meters in approximately 3 minutes and can support the Abrams' weight.
In early 2022, the Australian Department of Defense announced that it had ordered 75 M1A2 SEPv3 Abrams tanks, 29 M1150 assault breacher vehicles, 17 M1074 JABS, and six M88A2 ARVs to be delivered starting in 2024.
Poland received approval in April 2022 for 250 M1A2 SEPV3 MBTs, 26 M88A2 ARVs, and 17 M1074JABS. Why so many tanks? Poland sent more than 260 T-72 tanks to Ukraine early in the war, and asked the United States for a one-for-one swap for the Abrams replacing the T-72s. Australia and Poland ordered the correct package: tanks, recovery vehicles, and bridging systems.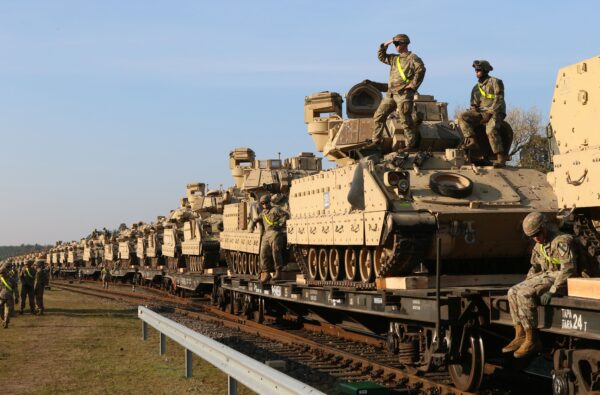 Why are there no JABS going to Ukraine? JABS are also missing from Taiwan's list. Why? Although Ukraine and Taiwan (M3 Amphibious Rig) already have some assault bridging systems, none of them can manage the 63-ton Abrams tank. Let us hope that both countries add enough JABS for their needs or the United States allows them to have JABS to ensure that the Abrams are combat effective and efficient.
What About Taiwan?
According to the IISS 2021 "The Military Balance," Taiwan's army has a total of 565 MBTs: 200 M60A3, 100 M48A5, and 265 M48H Brave Tiger tanks. Taiwan also has about 100 M41A3/D Walker Bulldog light tanks.
In 2019, the U.S. government approved the sale of 108 M1A2T Abrams MBTs to Taiwan as well as 14 M88A2 ARVs and associated weapons, ammunition, and military equipment. Of the 108 M1A2T Abrams tanks purchased, 38 Abrams tanks are "scheduled to arrive in Taiwan by 2024, followed by 42 in 2025, and 28 in 2026," according to The Defense Post. The Abrams are replacing some very old tanks, such as the M41, M48 and M60 tanks, some of which are over 50 years old.
Many think tanks dismissed the usefulness of the M1A2 Abrams tank for Taiwan because it does not fit the "asymmetric warfare" or "porcupine strategy" or "Overall Defense Concept." If and when the People's Liberation Army (PLA) invades Taiwan, the Abrams tank will be one of the many capabilities that will stop and push back the PLA from the island, especially if the United States takes a while to respond or doesn't show up at all.
'The Lady Doth Protest Too Much, Methinks' (Shakespeare's 'Hamlet)
Many "asymmetric warfare" diehards will claim that Ukraine is not like Taiwan. Yet these same self-proclaimed "smart people" made statements early in the Russian-Ukrainian war that Ukraine should use "asymmetric warfare" against the Russians, just as they had argued Taiwan should pursue "asymmetric warfare" to protect themselves against the PLA. Clearly, MBT versus MBT is symmetric warfare, regardless of how fast and glibly asymmetric strategists talk.
Nuclear Weapons
It is ironic that U.S. experts, who enjoy the luxury of a full suite of weapons, including nuclear weapons, tell other countries to conduct "one-handed" fights. Freedom-loving countries that developed their own nuclear stockpiles are safer for having them. Israel and India are better off than those countries that the United States stopped from developing nuclear weapons, such as Taiwan. Even Japanese and South Korean politicians and the publics now discuss the nuclear option more openly because of the Chinese Communist Party's (CCP) and North Korea's aggressive military behaviors throughout East Asia.
The 1994 Budapest Memorandum
Probably the most ironic story of the Russian-Ukraine war is the 1994 Budapest Memorandum. Until 1994, Ukraine had 3,000 nuclear weapons, Belarus had 81 nuclear weapons, and Kazakhstan had 1,4000 nuclear weapons. Russia, the UK and the United States forced these countries to join the Non-Proliferation Treaty and remove their nuclear weapons from Russia.
What did Russia, UK, and the United States promise Ukraine?
According to the Budapest Memorandum, Russia, the United States, and the UK agreed to do the following:
Respect the independence and sovereignty and the existing borders of Ukraine.
Reaffirm their obligation to refrain from the threat or use of force against the territorial integrity or political independence of Ukraine, and that none of their weapons will ever be used against Ukraine.
Russia lied about its intentions, and the United States and the UK did nothing in 2014 when Russia invaded Ukraine and took Crimea and parts of eastern Ukraine. The United States and the UK almost did nothing at the beginning of the current Ukrainian-Russian war.
Note: Did any U.S. or UK government representative refer to this 1994 Budapest Memorandum during the current war? No.
Ukraine-China Strategic Partnership
The icing on the cake is that the CCP had signed several agreements with Ukraine, including a 2013 "Joint Declaration of Ukraine and China to further deepen strategic partnership 2014–2018" just before the Russian 2014 invasion. What did the declaration say?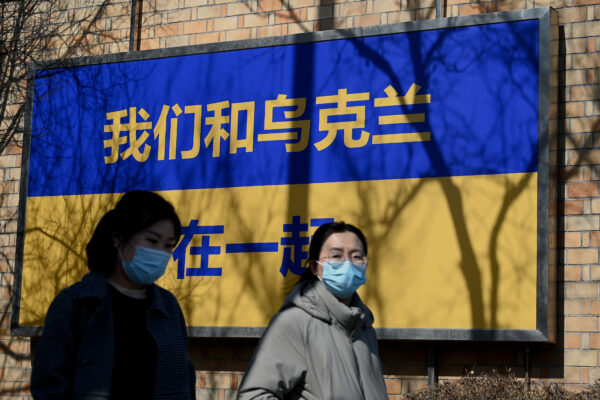 After kowtowing to the CCP's one-China policy with respect to Taiwan, the joint document states that "based on the Declaration of the Government of the People's Republic of China dated December 4, 1994, on the provision of security guarantees to Ukraine, undertakes not to apply under any conditions nuclear weapons and will not threaten to use them against Ukraine as a non-possessing state with nuclear weapons, as well as in the conditions, if Ukraine becomes a victim of aggression with the use of its nuclear weapons or the threat of such aggression, confirms the provision to Ukraine relevant security guarantees."
The joint CCP-Ukraine declaration stated the same thing that the UK, United States, and Russia had promised in the 1994 Budapest Memorandum—the CCP agreed that it would not use nuclear weapons against Ukraine and would protect Ukraine if a nuclear power used nuclear weapons against it.
Did the CCP have such an agreement with any other country in the world? No.
Did Ukraine try to invoke the 1994 Budapest Memorandum? Did Ukraine invoke the CCP-Ukraine declaration? Did any government bring up this agreement and demand that the CCP provide military assistance to Ukraine against Russia's invasion? Nope.
Asymmetric and Symmetric Warfare—the Only Way
No matter how "experts" argue, fighting with one hand behind one's back will lead to disaster. The adviser to the Ukrainian defense minister got it right. Yuriy Sak, who advises Ukraine's Defense Minister Oleksiy Reznikov, said the following to Reuters: "They didn't want to give us heavy artillery, then they did. They didn't want to give us HIMARS systems, then they did. They didn't want to give us tanks, now they're giving us tanks. Apart from nuclear weapons, there is nothing left that we will not get."
What about Western fighter aircraft? Sak said: "If we get them (Western fighter jets), the advantages on the battlefield will be just immense. … It's not just F-16s (U.S. multirole fighter jets): fourth generation aircraft, this is what we want."
Adm. Rob Bauer, the head of NATO's military committee, said that "if the Russians are fighting with tanks, the Ukrainians need tanks as well." Then it follows that if the Russians are fighting with fighter aircraft, the Ukrainians will need fighter aircraft. This argument doesn't sound like an argument for asymmetric warfare.
Additionally, after a recent meeting in Brussels of NATO military chiefs, Supreme Allied Commander in Europe Gen. Christopher Cavoli (U.S. Army), said: "There is not a particular weapon system that is a silver bullet. A balance of all systems is needed."
In other words, Ukraine is fighting a war against Russia with the full spectrum of weapon systems, not just the "asymmetric weapons" that pundits want Taiwan to focus on.
Taiwan's Future Weapons Procurement
Pundits can make disparaging remarks about Taiwan's government, military, and weapon systems. But now the Russian-Ukrainian war has clearly demonstrated that countries need a full suite of weapons, military personnel, and strategies to counter their enemies, especially against superpower aggressor states like Russia and communist China.
The proponents of "asymmetric warfare"-only and "porcupine"-only strategies do not provide useful advice to future victims of aggression. I would be happy to take on any of these pundits who support these losing strategies if they think they can beat me by fighting with one hand behind their backs.
Views expressed in this article are the opinions of the author and do not necessarily reflect the views of The Epoch Times.