The Rise and Fall of Communist China: Part 1
Commentary Is communist China rising, cresting, or in decline? There are conflicting signals and news reports, as well as wishful thinking in multiple directions. Let us examine the subject in two parts: the rise (part I) and the fall (part II). The Rise The willing and able assistance of virtually the entire post-World War II international order led by the United States facilitated communist China's rise over the last 50-plus years through massive foreign direct investment, access to foreign markets, and free trade provisions that have greatly enabled China's export economy. In parallel, the communists have been busy penetrating, corrupting, and subverting international organizations and foreign governments, universities, and other institutions in their quest to become the world's leading economy and military power by displacing the United States. The Chinese Communist Party (CCP) has been pursuing a number of intertwined goals aimed at world economic dominance in all spheres, with considerable success in the areas of trade, economic policy, international law, technology acquisition, intellectual property, and other spheres of influence. In addition, a well-coordinated information warfare campaign has been led by state-run Chinese media, the Chinese diplomatic corps, and fellow travelers in foreign countries to help demoralize their primary competition—the United States—in order to achieve their penultimate goal: world leadership in all human endeavors. The CCP's information warfare campaign has been very successful. Western media have marveled at the "rise of China" for years. Here are a few example headlines; it is almost as if the phrase was a CCP propaganda narrative planted in the echo chamber that exists among thoroughly bought-and-paid-for legacy media, think tanks, and U.S.-China "friendship groups." Is that only happy talk, or is there a basis for concern? Chinese Successes Geopolitical leverage on the international scene stems from a strong economy and accompanying military might. China has developed both in spades. Over the past two decades in particular, China has achieved success perhaps beyond the wildest dreams of the CCP leadership. The growth of China's economy and military capabilities has been phenomenal. On the military front, communist China's navy has already eclipsed the U.S. Navy. From a 2021 Department of Defense report on Chinese military capabilities: "The People's Liberation Army Navy (PLAN) has numerically the largest navy in the world with an overall battle force of approximately 355 ships and submarines, including approximately more than 145 major surface combatants." The PLA-Air Force (PLAAF) is the third largest in the world, with over 2,800 total aircraft, of which approximately 2,250 are combat aircraft and a continuing stream of regular capability upgrades, including the development of fifth-generation (stealth) fighters and bombers. And as reported by the Financial Times, U.S. experts in the Pentagon are forecasting that the PLA-Rocket Force (PLARF) will quadruple its nuclear warhead arsenal to over 1,000 by 2030 (China is unconstrained by nuclear arms treaties). Parity with the United States—and maybe dominance!—could be right around the corner. China has also moved into space in a big way in recent years, with missions to Mars and the moon, as well as dozens of Earth-orbiting rocket launches in recent years. According to state-run Global Times, China's space launches continue to increase year on year: "China Aerospace Science and Technology Corporation (CASC) has delivered over 50 successful missions in a year, sending more than 140 spacecraft into space with a 100 percent success rate." This compares to NASA's 87 earth orbital missions in 2022, as reported by Space Stats Online. As an additional comparison, private company SpaceX launched 61 rockets in 2022, half of which was for the placement of Starlink satellites, as reported by Space Explored. China also shocked the world in 2021 by testing a potential first-strike strategic suborbital-launched hypersonic glide vehicle capability. A Long March 5B rocket, which is expected to launch China's Tianhe space station core module on April 29, 2021, at the Wenchang Spacecraft Launch Site in southern China's Hainan Province on April 23, 2021. (STR/China News Service/AFP via Getty Images) The Chinese economy is currently the second largest in the world and could overtake the U.S. economy in less than a decade, according to some observers (see here, here, and here). As research and development is the key to future economic dominance, it is noteworthy that "China ranked No. 1 in the world for international patent applications through the Patent Cooperation Treaty last year," according to China Optics Valley. In addition, the World Intellectual Property Organization listed Shenzhen–Hong Kong–Guangzhou and Beijing as the No. 2 and No. 3 largest science and technology clusters in the world. According to Clarkso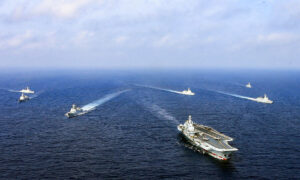 Commentary
Is communist China rising, cresting, or in decline? There are conflicting signals and news reports, as well as wishful thinking in multiple directions.
Let us examine the subject in two parts: the rise (part I) and the fall (part II).
The Rise
The willing and able assistance of virtually the entire post-World War II international order led by the United States facilitated communist China's rise over the last 50-plus years through massive foreign direct investment, access to foreign markets, and free trade provisions that have greatly enabled China's export economy.
In parallel, the communists have been busy penetrating, corrupting, and subverting international organizations and foreign governments, universities, and other institutions in their quest to become the world's leading economy and military power by displacing the United States. The Chinese Communist Party (CCP) has been pursuing a number of intertwined goals aimed at world economic dominance in all spheres, with considerable success in the areas of trade, economic policy, international law, technology acquisition, intellectual property, and other spheres of influence.
In addition, a well-coordinated information warfare campaign has been led by state-run Chinese media, the Chinese diplomatic corps, and fellow travelers in foreign countries to help demoralize their primary competition—the United States—in order to achieve their penultimate goal: world leadership in all human endeavors.
The CCP's information warfare campaign has been very successful. Western media have marveled at the "rise of China" for years. Here are a few example headlines; it is almost as if the phrase was a CCP propaganda narrative planted in the echo chamber that exists among thoroughly bought-and-paid-for legacy media, think tanks, and U.S.-China "friendship groups."
Is that only happy talk, or is there a basis for concern?
Chinese Successes
Geopolitical leverage on the international scene stems from a strong economy and accompanying military might. China has developed both in spades. Over the past two decades in particular, China has achieved success perhaps beyond the wildest dreams of the CCP leadership. The growth of China's economy and military capabilities has been phenomenal.
On the military front, communist China's navy has already eclipsed the U.S. Navy. From a 2021 Department of Defense report on Chinese military capabilities: "The People's Liberation Army Navy (PLAN) has numerically the largest navy in the world with an overall battle force of approximately 355 ships and submarines, including approximately more than 145 major surface combatants." The PLA-Air Force (PLAAF) is the third largest in the world, with over 2,800 total aircraft, of which approximately 2,250 are combat aircraft and a continuing stream of regular capability upgrades, including the development of fifth-generation (stealth) fighters and bombers. And as reported by the Financial Times, U.S. experts in the Pentagon are forecasting that the PLA-Rocket Force (PLARF) will quadruple its nuclear warhead arsenal to over 1,000 by 2030 (China is unconstrained by nuclear arms treaties). Parity with the United States—and maybe dominance!—could be right around the corner.
China has also moved into space in a big way in recent years, with missions to Mars and the moon, as well as dozens of Earth-orbiting rocket launches in recent years. According to state-run Global Times, China's space launches continue to increase year on year: "China Aerospace Science and Technology Corporation (CASC) has delivered over 50 successful missions in a year, sending more than 140 spacecraft into space with a 100 percent success rate." This compares to NASA's 87 earth orbital missions in 2022, as reported by Space Stats Online. As an additional comparison, private company SpaceX launched 61 rockets in 2022, half of which was for the placement of Starlink satellites, as reported by Space Explored. China also shocked the world in 2021 by testing a potential first-strike strategic suborbital-launched hypersonic glide vehicle capability.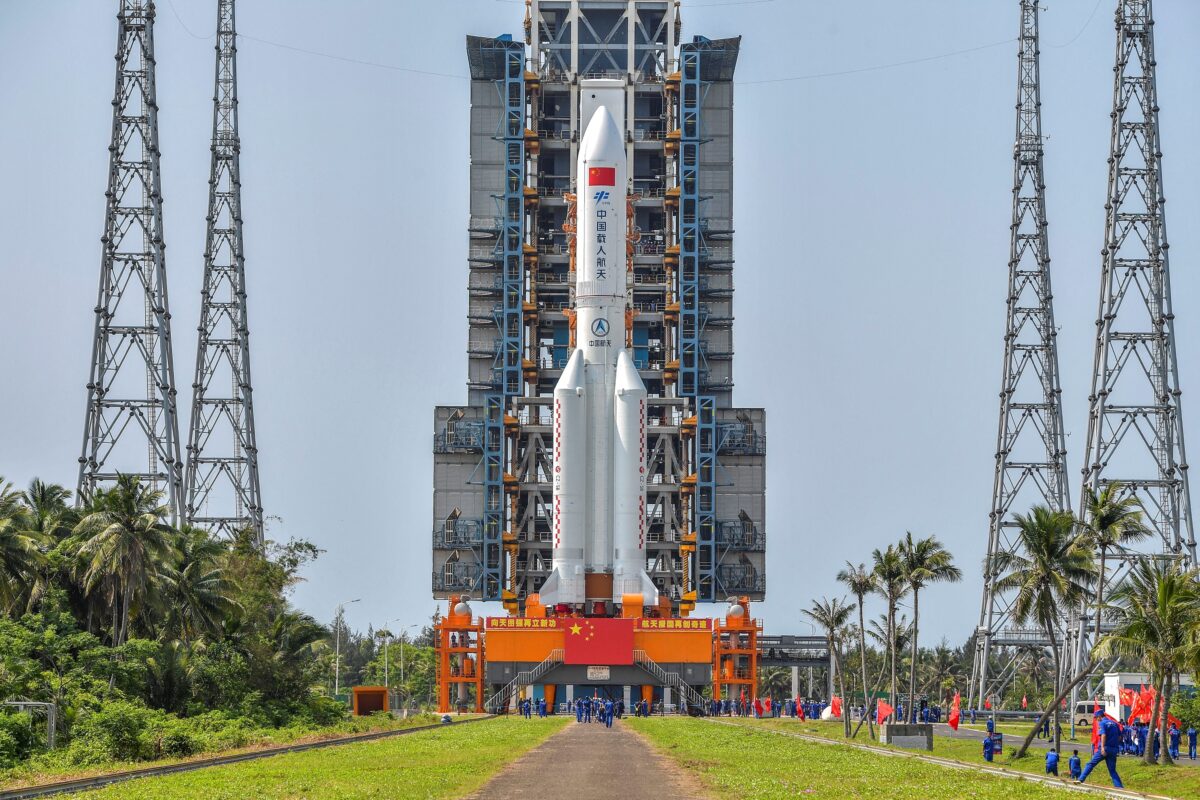 The Chinese economy is currently the second largest in the world and could overtake the U.S. economy in less than a decade, according to some observers (see here, here, and here). As research and development is the key to future economic dominance, it is noteworthy that "China ranked No. 1 in the world for international patent applications through the Patent Cooperation Treaty last year," according to China Optics Valley. In addition, the World Intellectual Property Organization listed Shenzhen–Hong Kong–Guangzhou and Beijing as the No. 2 and No. 3 largest science and technology clusters in the world.
According to Clarkson Research, China led the world in capturing 49 percent of global orders for new ships in 2022. Its shipyards also floated the "world's largest containership" in August 2022.
China dominates the solar energy production industry. According to Statista, China "dominates all steps of solar panel production": polysilicon (66 percent of world share), solar cells (78 percent), and solar modules (72 percent).
As reported by the Daily Caller, China continues "to dominate the global market for electric vehicles (EVs) and batteries." Battery makers Contemporary Amperex Technology Co. Limited (CATL) and Build Your Dreams Limited (BYD) produce more than 50 percent of all electric vehicle batteries in the world, according to the Financial Times.
China has pursued Chinese leader Xi Jinping's Belt and Road Initiative (BRI, also known as "One Belt, One Road") with considerable success around the world. As summarized by Statista, BRI "is a long-term economic and political strategy of China to accelerate economic development at home and in emerging countries and to foster China's global influence."
As of December 2022, there are 149 participating countries benefiting from China's average annual investment of $59.5 billion (halved due to the COVID-19 pandemic) for a total of over $1 trillion invested to date. The benefits to China are manifold: infrastructure contracts that employ Chinese workers in many of those 149 countries, access to raw materials that fuel Chinese manufacturing concerns, access to hydrocarbon resources, and foreign markets for Chinese finished goods. For example, the cargo volume transported by the China-Europe Railway Express, a key element of the BRI overland network, exceeded 1.4 million twenty-foot equivalent units (TEU) in 2021.
Concluding Thoughts
The CCP has worked hard to convince the world of China's benign intentions in order to keep foreign direct investment flowing and tariffs and other trade barriers minimized. For example, former Chinese leader Hu Jintao's long-forgotten policy of "China's peaceful rise" served to purposely mask the more unsavory aspects of the CCP's machinations, including genocide in Xinjiang, the persecution of the Falun Gong and other minority and religious groups, and—most importantly—the rise and increasing belligerence of the People's Liberation Army. Xi Jinping's reign over the past 10 years has ripped that mask off for all the world to see.
The rise of China, as manifested by the Chinese economic and military juggernaut, as well as increasing Chinese persecution of minorities and intimidation of Taiwan, is finally capturing the notice of bipartisan members of the U.S. Congress. In a move to counter China's growing global influence, the U.S. House of Representatives voted 365 to 65 to create the "Select Committee on the Strategic Competition Between the United States and the Chinese Communist Party" on Jan. 11.
From the above list of successes (only just a sampling), one might conclude that the communists will achieve their dreams of world leadership by the centenary celebration of the founding of the Chinese regime in 1949. However, the CCP is facing some serious headwinds, including many of its own making. Part II of this series will examine some of those headwinds and speculate as to whether the wobbly orbit of the CCP has reached its zenith.
Views expressed in this article are the opinions of the author and do not necessarily reflect the views of The Epoch Times.