The Only 'Value' in Sport Is to Win Fairly, Not Promote Progressivism
CommentaryJust as the Andrew Thorburn saga (which I wrote about in these pages) put the intolerance of the so-called "progressive" left on full display, the furore over the last week in Australia surrounding sportspeople objecting to sponsorship by mining and energy companies has further underlined how hypocrisy and double standards are the order of the day when the sport is used to advance political "values." While Premier League footballers and many others last year were "taking the knee" in support of Black Lives Matter, how many sporting organisations have called out the beating to death of Iranian women by that country's mullahs? Further, when Cricketer Pat Cummins objected to the $40 million (US$26 million) sponsorship deal Alinta Energy provided Cricket Australia on the grounds that a stand has to be taken for "climate change," nowhere was there a discussion that cricketers should not wear sporting equipment made in factories powered by fossil fuels, or that Cricket Australia stop jetting its players around the world to swing a bat or give up playing day/night games under the coal-powered stadium lights. Pat Cummins of Australia (L) celebrates his wicket during the ICC Men's T20 World Cup match between Australia and Sri Lanka at Perth Stadium in Australia, on Oct. 25, 2022. (James Worsfold/Getty Images) More Impactful Ways to Make a Real Difference Recently, Hancock Prospecting withdrew its $15 million (US$9.5 million) sponsorship of Netball Australia, leaving the sport facing serious financial difficulty. It came after players from the national team (known as the Diamonds) gave Indigenous debutant Donnell Wallam their full support after the goal shooter voiced concerns about wearing a Diamonds dress that included branding from Hancock Prospecting. Lang Hancock, the father of current Hancock Prospecting Executive Chairman Gina Rinehart and founder of the mining giant, had infamously suggested nearly 40 years ago in a television interview that Indigenous Australians should be sterilised to "breed themselves out" in coming years. In the same way that Thorburn was sent packing due to his leadership role in a Christian church that teaches its members to follow traditional Christian teachings, we see here guilt by association, grandstanding, and a self-righteousness that demands that an entire organisation must bow to the views of one radical "true believer." In withdrawing its sponsorship, Hancock Prospecting released a statement in which some real home truths were pointed out. "Hancock and its Executive Chairman, Mrs Rinehart, consider that it is unnecessary for sports organisations to be used as the vehicle for social or political causes," the statement said. "Firstly, because sport is at its best when it is focused on good and fair competition, with dedicated athletes striving for excellence to achieve their sporting dreams and to represent our country at their very best. "Secondly, because there are more targeted and genuine ways to progress social or political causes without virtue signalling or for self-publicity. For example, the meaningful engagement with local Indigenous communities undertaken by Hancock's Roy Hill Community Foundation in Western Australia to support their actual needs," the statement said. "Thirdly, because there are more impactful means to make a beneficial difference. For example, Hancock's holistic support for real programs, including Hanrine Futures—that are providing a true pathway for Indigenous students through education and into employment where they are guaranteed a job, should they wish, at the end of their training." "The reality is that sponsorship is integral to sports organisations—for full-time professionals right through to young children at the grassroots level—who rely on corporations investing the funds that enable all sports to not only survive but thrive," they said. Value and Success in Sport As Rinehart points out, what matters most are actions, not words. Her significant contribution to other sports, such as rowing, volleyball and swimming, has not only kept them afloat but given them a platform for international success. Swimming great Dawn Fraser pointed out that if it weren't for Rinehart's sustained support over a number of years, Australian swimmers would not have achieved the success they did at the Tokyo Olympics last year. So, while senior players are focussed on politics, the sport as a whole, and in particular, the grassroots players, the juniors who look up to those seniors, will find their pathways to success that much harder thanks to "sports washing." And where does one draw the line? Gambling, as we know, can be socially destructive, but what about the plethora of advertising for bookmakers and betting agencies before and during matches? That is a lucrative source of revenue for sports channels that pay hundreds of millions of dollars in broadcast rights, much of which ends up in either elite players' pockets or funding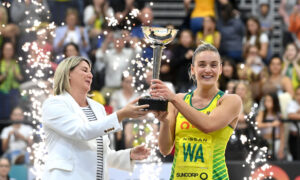 Commentary
Just as the Andrew Thorburn saga (which I wrote about in these pages) put the intolerance of the so-called "progressive" left on full display, the furore over the last week in Australia surrounding sportspeople objecting to sponsorship by mining and energy companies has further underlined how hypocrisy and double standards are the order of the day when the sport is used to advance political "values."
While Premier League footballers and many others last year were "taking the knee" in support of Black Lives Matter, how many sporting organisations have called out the beating to death of Iranian women by that country's mullahs?
Further, when Cricketer Pat Cummins objected to the $40 million (US$26 million) sponsorship deal Alinta Energy provided Cricket Australia on the grounds that a stand has to be taken for "climate change," nowhere was there a discussion that cricketers should not wear sporting equipment made in factories powered by fossil fuels, or that Cricket Australia stop jetting its players around the world to swing a bat or give up playing day/night games under the coal-powered stadium lights.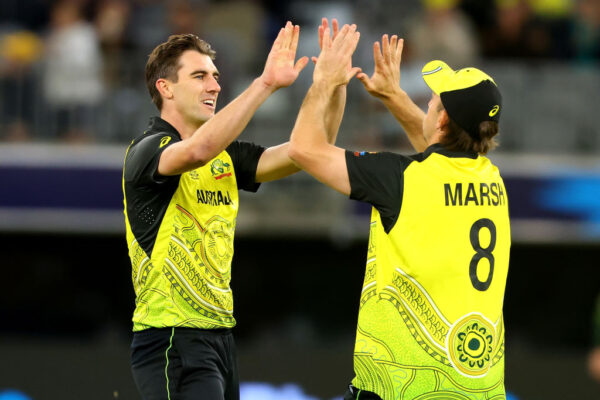 More Impactful Ways to Make a Real Difference
Recently, Hancock Prospecting withdrew its $15 million (US$9.5 million) sponsorship of Netball Australia, leaving the sport facing serious financial difficulty.
It came after players from the national team (known as the Diamonds) gave Indigenous debutant Donnell Wallam their full support after the goal shooter voiced concerns about wearing a Diamonds dress that included branding from Hancock Prospecting.
Lang Hancock, the father of current Hancock Prospecting Executive Chairman Gina Rinehart and founder of the mining giant, had infamously suggested nearly 40 years ago in a television interview that Indigenous Australians should be sterilised to "breed themselves out" in coming years.
In the same way that Thorburn was sent packing due to his leadership role in a Christian church that teaches its members to follow traditional Christian teachings, we see here guilt by association, grandstanding, and a self-righteousness that demands that an entire organisation must bow to the views of one radical "true believer."
In withdrawing its sponsorship, Hancock Prospecting released a statement in which some real home truths were pointed out.
"Hancock and its Executive Chairman, Mrs Rinehart, consider that it is unnecessary for sports organisations to be used as the vehicle for social or political causes," the statement said.
"Firstly, because sport is at its best when it is focused on good and fair competition, with dedicated athletes striving for excellence to achieve their sporting dreams and to represent our country at their very best.
"Secondly, because there are more targeted and genuine ways to progress social or political causes without virtue signalling or for self-publicity. For example, the meaningful engagement with local Indigenous communities undertaken by Hancock's Roy Hill Community Foundation in Western Australia to support their actual needs," the statement said.
"Thirdly, because there are more impactful means to make a beneficial difference. For example, Hancock's holistic support for real programs, including Hanrine Futures—that are providing a true pathway for Indigenous students through education and into employment where they are guaranteed a job, should they wish, at the end of their training."
"The reality is that sponsorship is integral to sports organisations—for full-time professionals right through to young children at the grassroots level—who rely on corporations investing the funds that enable all sports to not only survive but thrive," they said.
Value and Success in Sport
As Rinehart points out, what matters most are actions, not words. Her significant contribution to other sports, such as rowing, volleyball and swimming, has not only kept them afloat but given them a platform for international success.
Swimming great Dawn Fraser pointed out that if it weren't for Rinehart's sustained support over a number of years, Australian swimmers would not have achieved the success they did at the Tokyo Olympics last year.
So, while senior players are focussed on politics, the sport as a whole, and in particular, the grassroots players, the juniors who look up to those seniors, will find their pathways to success that much harder thanks to "sports washing."
And where does one draw the line? Gambling, as we know, can be socially destructive, but what about the plethora of advertising for bookmakers and betting agencies before and during matches? That is a lucrative source of revenue for sports channels that pay hundreds of millions of dollars in broadcast rights, much of which ends up in either elite players' pockets or funding junior programmes.
And what about fast food chains? No doubt there is any number of studies linking excessive fast food consumption with obesity and poor health in children, so should the AFL tell McDonald's that its money as a major sponsor is no longer welcome?
A great Indigenous Australian, Sir Doug Nicholls, governor of South Australia, was a champion Australian Rules footballer in his youth and a committed Christian. He once remarked that a player could preach a sermon by the way he plays the game.
In other words, the only "value" in sports is to win and to do so by playing well and fairly.
Views expressed in this article are the opinions of the author and do not necessarily reflect the views of The Epoch Times.