The Not-So-Great Wall Street of China
CommentaryThe moral truth about capitalism was eloquently argued by George Gilder in his 1981 opus "Wealth and Poverty," which is often referred to as the Bible of the Reagan administration. "Not from greed, avarice, or even self-love can one expect the rewards of commerce, but from a spirit closely akin to altruism, a regard for the needs of others, a benevolent, outgoing, and courageous temper of mind." The tax cut-fueled Reagan prosperity that followed the Jimmy Carter malaise provided real-world vindication for the rich sociological evidence Gilder brought to bear against the intellectual status quo within academia regarding the free market. But Gilder never contended it wasn't possible for men who make a lot of money to be stupid and treacherous. After so much work has gone into documenting that markets are moral and socialism is dangerous, Wall Street big names come along and rejuvenate the caricature of capitalists as greedy, unpatriotic, and ultimately self-destructive robber barons incapable of awareness of the long term. The father of free market thought, Adam Smith, believed that businessmen "seldom gather together except to conspire against the public interest." And in Hong Kong at the beginning of November, the American financial CEOs who gathered with the enabler of that free market hub's oppressors proved Smith right. At the Global Financial Leaders' Investment Summit, an audience of 250 that included CEOs David Soloman of Goldman Sachs, James Gorman of Morgan Stanley, and BlackRock President Rob Kapito heard Hong Kong government Chief Executive John Lee Ka-chiu tellingly declare that "the global advantage and the China advantage come together" in the city. "This unique convergence makes Hong Kong the irreplaceable connection between the mainland and the rest of the world." Citi Group CEO Jane Fraser was set to be in attendance but contracted COVID. Lee is a collaborator with communist mainland China in the ongoing suppression of free speech and assembly in Hong Kong, which includes the recent kangaroo court fraud conviction of media luminary Jimmy Lai. Lee and 10 other Hong Kong government officials were sanctioned by the Trump administration's Treasury Department, sanctions that the Biden administration has continued. For Lee to tout the besieged region—for so many decades the shining beacon of freedom and prosperity in Asia—as the connection between the free world's expansionist adversary, which just bestowed Chinese leader Xi Jinping with permanent Mao-like dictatorial powers, and the investment capital of democratic countries is akin to a campaign enticing foreign investors to place their faith in a rising Germany in the mid and late 1930s. For many decades, investors and consumers alike around the world have benefited from the Hong Kong miracle—a tiny region with few natural resources, except its people, that came to be the home of millions because of a government boasting minimal corruption; rock-solid rule of law governed by a fully independent judiciary; taxation half that of the United States with zero capital gains and interest taxes; zero sales tax; zero value-added taxes; and hardly any regulatory burdens, tariffs, or government debt. Famously, Hong Kong has welcomed and assisted foreign firms seeking to take root in the city, who enjoy policies that include nothing in the way of foreign exchange controls or restrictions on the nationality of corporate ownership. You would think when hundreds of thousands of Hong Kong's people began demonstrating in 2019 against growing communist oppression—including the ability to extradite dissenters to mainland China—and thousands of protesters were violently arrested, that the non-Chinese who have made fortunes thanks to Hong Kongers would come to their side in their time of trouble. You would think they'd criticize their oppressors. Instead, they prioritize money over people. They come to Hong Kong not to stand in the streets in solidarity with the protesters, but to sit in the luxury of the Four Seasons Hotel listening to the living conduit between the communists and the region tell them how they can continue to make money from Hong Kong as its freedoms shrivel. Whenever someone who has spent his whole life distrusting entrepreneurs and financiers because he believes their moral compass extends no further than self-absorbed profit begins to see what George Gilder illuminated—that capitalism is actually driven by creative people giving their energy, imagination, and organizational skills, sacrificing their time and wealth to provide others with a new good or service, despite no guarantee of success and reward—we can depend on the likes of Goldman Sachs, Morgan Stanley, BlackRock, and Citigroup, in their foolishness, avarice, and absence of patriotism, to extinguish it immediately. Views expressed in this article are the opinions of the author and do not necessarily reflect the views of The Epoch Times. Fo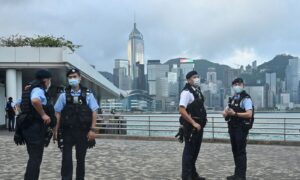 Commentary
The moral truth about capitalism was eloquently argued by George Gilder in his 1981 opus "Wealth and Poverty," which is often referred to as the Bible of the Reagan administration. "Not from greed, avarice, or even self-love can one expect the rewards of commerce, but from a spirit closely akin to altruism, a regard for the needs of others, a benevolent, outgoing, and courageous temper of mind."
The tax cut-fueled Reagan prosperity that followed the Jimmy Carter malaise provided real-world vindication for the rich sociological evidence Gilder brought to bear against the intellectual status quo within academia regarding the free market. But Gilder never contended it wasn't possible for men who make a lot of money to be stupid and treacherous.
After so much work has gone into documenting that markets are moral and socialism is dangerous, Wall Street big names come along and rejuvenate the caricature of capitalists as greedy, unpatriotic, and ultimately self-destructive robber barons incapable of awareness of the long term. The father of free market thought, Adam Smith, believed that businessmen "seldom gather together except to conspire against the public interest." And in Hong Kong at the beginning of November, the American financial CEOs who gathered with the enabler of that free market hub's oppressors proved Smith right.
At the Global Financial Leaders' Investment Summit, an audience of 250 that included CEOs David Soloman of Goldman Sachs, James Gorman of Morgan Stanley, and BlackRock President Rob Kapito heard Hong Kong government Chief Executive John Lee Ka-chiu tellingly declare that "the global advantage and the China advantage come together" in the city. "This unique convergence makes Hong Kong the irreplaceable connection between the mainland and the rest of the world." Citi Group CEO Jane Fraser was set to be in attendance but contracted COVID.
Lee is a collaborator with communist mainland China in the ongoing suppression of free speech and assembly in Hong Kong, which includes the recent kangaroo court fraud conviction of media luminary Jimmy Lai. Lee and 10 other Hong Kong government officials were sanctioned by the Trump administration's Treasury Department, sanctions that the Biden administration has continued.
For Lee to tout the besieged region—for so many decades the shining beacon of freedom and prosperity in Asia—as the connection between the free world's expansionist adversary, which just bestowed Chinese leader Xi Jinping with permanent Mao-like dictatorial powers, and the investment capital of democratic countries is akin to a campaign enticing foreign investors to place their faith in a rising Germany in the mid and late 1930s.
For many decades, investors and consumers alike around the world have benefited from the Hong Kong miracle—a tiny region with few natural resources, except its people, that came to be the home of millions because of a government boasting minimal corruption; rock-solid rule of law governed by a fully independent judiciary; taxation half that of the United States with zero capital gains and interest taxes; zero sales tax; zero value-added taxes; and hardly any regulatory burdens, tariffs, or government debt.
Famously, Hong Kong has welcomed and assisted foreign firms seeking to take root in the city, who enjoy policies that include nothing in the way of foreign exchange controls or restrictions on the nationality of corporate ownership.
You would think when hundreds of thousands of Hong Kong's people began demonstrating in 2019 against growing communist oppression—including the ability to extradite dissenters to mainland China—and thousands of protesters were violently arrested, that the non-Chinese who have made fortunes thanks to Hong Kongers would come to their side in their time of trouble. You would think they'd criticize their oppressors.
Instead, they prioritize money over people. They come to Hong Kong not to stand in the streets in solidarity with the protesters, but to sit in the luxury of the Four Seasons Hotel listening to the living conduit between the communists and the region tell them how they can continue to make money from Hong Kong as its freedoms shrivel.
Whenever someone who has spent his whole life distrusting entrepreneurs and financiers because he believes their moral compass extends no further than self-absorbed profit begins to see what George Gilder illuminated—that capitalism is actually driven by creative people giving their energy, imagination, and organizational skills, sacrificing their time and wealth to provide others with a new good or service, despite no guarantee of success and reward—we can depend on the likes of Goldman Sachs, Morgan Stanley, BlackRock, and Citigroup, in their foolishness, avarice, and absence of patriotism, to extinguish it immediately.
Views expressed in this article are the opinions of the author and do not necessarily reflect the views of The Epoch Times.