The Mysterious Man Driving China's EV Dominance
CommentaryThe electric vehicle market is growing. Last year, EV sales doubled to a record high of 6.6 million. Is the EV race a sprint or marathon? This question divides commentators. What doesn't divide commentators, however, is the fact that China is dominating the EV space. And there's one man—who most people outside of China have never heard of—working tirelessly to help China exert even more control over the EV market. His name is Li Shufu. The future of motoring appears to be electric. According to a report published by Virta, a leading supplier of EV charging platforms, the market is growing from anywhere between 40 to 80 percent each year. In 2020, for example, 1 in 10 cars sold in Europe happened to be electric. The sheer potential of the EV market is not lost on the Chinese Communist Party (CCP). Not only does China have ambitions of controlling the Asian EV market, but it also has ambitions of controlling the European market. As analysts at the Mercator Institute for Chinese Studies recently noted, Europe is now the number one destination for "made in China" EVs. Of course, one cannot discuss EVs without discussing Elon Musk. What Steve Jobs was to cell phones, Musk is to EVs. Tesla Inc. is, in many ways, the Apple of the motor industry. Last year, in a piece for the Financial Times, Patrick McGee and Joe Miller waxed lyrically about Tesla's prospects. While other car manufacturers of significant repute were expected to enter the space, none, they argued, would ever come close to rivaling Musk's company. However, according to a recent piece published by Bloomberg, Tesla's future looks considerably less rosy than the one painted by the FT authors. Three years from now, "Tesla looks likely to lose its position as the dominant electric-vehicle maker in the US to GM or Ford." Moreover, Tesla's "share of the market will fall to about 11% in 2025 from over 70% today." In short, as the Bloomberg piece warned, Musk's company simply "won't be able to keep up with the pace of new models coming from General Motors Co., Ford Motor Co., and several foreign automakers." Although Musk is an important player in the EV space, he's not the only player. In fact, Li, a mysterious billionaire from China, is giving Musk a run for his money. A business magnate and entrepreneur of real pedigree, Li is the founder and chairman of Zhejiang Geely Holding Group, one of China's largest automakers that the CCP does not control, according to Forbes. However, the idea that Li and his highly successful company don't have ties to the CCP is hard to believe. You see, in China, there is no such thing as an entirely private company. Any major investments, especially foreign investments, are closely monitored. Again, to think that the CCP is not closely monitoring Shufu requires a complete suspension of disbelief. China wants to control the EV market, and Li is one of its dominant players. Worth somewhere in the region of $24 billion, Li is heavily invested in projects across Europe. Geely Holding owns the Volvo Group, one of the world's largest manufacturers of automobiles. Volvo has been around for almost a century; now, like other well-known brands (Ford, Toyota, etc.), it's putting all its eggs in the electric basket. According to the Swedish manufacturer's website, Volvo is "committed to putting one million electrified cars on the road by 2025." Volvo hopes to be fully electric by the end of the decade; to fulfill this ambition, it plans to introduce at least five new battery-electric vehicles by 2030. The Geely Automotive plant in Ningbo, in China's Zhejiang Province. Swedish carmaker Volvo and Chinese parent company Geely will share the factory, producing both brands on the same production line. The move is designed to help transfer more European know-how to Geely. (STR/AFP/Getty Images) The Volvo Group also owns Lynk & Co, a Chinese-Swedish automobile brand specializing in hybrid and electric vehicles. It also owns Polestar, a company that assembles its electric vehicles in China and exports them worldwide. As Forbes noted, Polestar has plans to move some of its manufacturing to the United States very soon. Besides owning Volvo, Li also owns the London Electric Vehicle Company, which makes electric-petrol hybrid versions of the city's iconic black taxis. The 59-year-old also owns a sizable stake in Mercedes-Benz, a company with serious ambitions of dominating the EV market. According to Electrive.com, a site dedicated to EVs, last year alone, Mercedes "delivered a total of 227,458 electric cars and plug-in hybrids," almost 70% more than in 2020. By 2026, according to Automotive News Europe, the German company expects to have a number of factories dedicated solely to producing electric vehicles. If that's not enough, Li also owns Lotus, the legendary producer of luxurious racing cars. In March, the British automaker unveiled its first-ever EV, the 600HP Eletre, worth a cool 100,000 British pounds ($118,000). As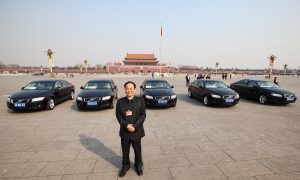 Commentary
The electric vehicle market is growing. Last year, EV sales doubled to a record high of 6.6 million. Is the EV race a sprint or marathon?
This question divides commentators. What doesn't divide commentators, however, is the fact that China is dominating the EV space. And there's one man—who most people outside of China have never heard of—working tirelessly to help China exert even more control over the EV market. His name is Li Shufu.
The future of motoring appears to be electric. According to a report published by Virta, a leading supplier of EV charging platforms, the market is growing from anywhere between 40 to 80 percent each year. In 2020, for example, 1 in 10 cars sold in Europe happened to be electric.
The sheer potential of the EV market is not lost on the Chinese Communist Party (CCP). Not only does China have ambitions of controlling the Asian EV market, but it also has ambitions of controlling the European market. As analysts at the Mercator Institute for Chinese Studies recently noted, Europe is now the number one destination for "made in China" EVs.
Of course, one cannot discuss EVs without discussing Elon Musk. What Steve Jobs was to cell phones, Musk is to EVs. Tesla Inc. is, in many ways, the Apple of the motor industry.
Last year, in a piece for the Financial Times, Patrick McGee and Joe Miller waxed lyrically about Tesla's prospects. While other car manufacturers of significant repute were expected to enter the space, none, they argued, would ever come close to rivaling Musk's company.
However, according to a recent piece published by Bloomberg, Tesla's future looks considerably less rosy than the one painted by the FT authors. Three years from now, "Tesla looks likely to lose its position as the dominant electric-vehicle maker in the US to GM or Ford." Moreover, Tesla's "share of the market will fall to about 11% in 2025 from over 70% today." In short, as the Bloomberg piece warned, Musk's company simply "won't be able to keep up with the pace of new models coming from General Motors Co., Ford Motor Co., and several foreign automakers."
Although Musk is an important player in the EV space, he's not the only player. In fact, Li, a mysterious billionaire from China, is giving Musk a run for his money. A business magnate and entrepreneur of real pedigree, Li is the founder and chairman of Zhejiang Geely Holding Group, one of China's largest automakers that the CCP does not control, according to Forbes.
However, the idea that Li and his highly successful company don't have ties to the CCP is hard to believe. You see, in China, there is no such thing as an entirely private company. Any major investments, especially foreign investments, are closely monitored. Again, to think that the CCP is not closely monitoring Shufu requires a complete suspension of disbelief.
China wants to control the EV market, and Li is one of its dominant players. Worth somewhere in the region of $24 billion, Li is heavily invested in projects across Europe. Geely Holding owns the Volvo Group, one of the world's largest manufacturers of automobiles. Volvo has been around for almost a century; now, like other well-known brands (Ford, Toyota, etc.), it's putting all its eggs in the electric basket.
According to the Swedish manufacturer's website, Volvo is "committed to putting one million electrified cars on the road by 2025." Volvo hopes to be fully electric by the end of the decade; to fulfill this ambition, it plans to introduce at least five new battery-electric vehicles by 2030.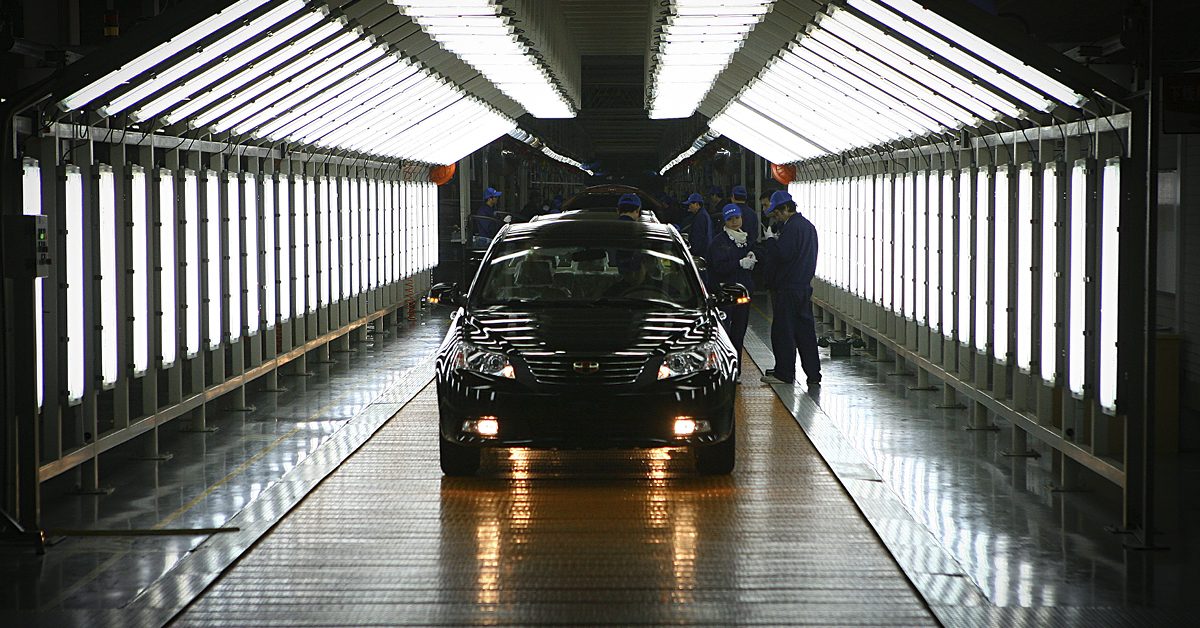 The Volvo Group also owns Lynk & Co, a Chinese-Swedish automobile brand specializing in hybrid and electric vehicles. It also owns Polestar, a company that assembles its electric vehicles in China and exports them worldwide. As Forbes noted, Polestar has plans to move some of its manufacturing to the United States very soon.
Besides owning Volvo, Li also owns the London Electric Vehicle Company, which makes electric-petrol hybrid versions of the city's iconic black taxis. The 59-year-old also owns a sizable stake in Mercedes-Benz, a company with serious ambitions of dominating the EV market. According to Electrive.com, a site dedicated to EVs, last year alone, Mercedes "delivered a total of 227,458 electric cars and plug-in hybrids," almost 70% more than in 2020. By 2026, according to Automotive News Europe, the German company expects to have a number of factories dedicated solely to producing electric vehicles.
If that's not enough, Li also owns Lotus, the legendary producer of luxurious racing cars. In March, the British automaker unveiled its first-ever EV, the 600HP Eletre, worth a cool 100,000 British pounds ($118,000). As authors at Engadget noted, manufacturing of Lotus' new vehicle begins later this year at a production plant in Wuhan, China. Worldwide deliveries of the vehicle will start in 2023.
Before reading this piece, many readers had probably never heard of Li Shufu. However, as the EV market grows, expect his name to become more well known. And as he grows in power, so will China's EV dominance.
Views expressed in this article are the opinions of the author and do not necessarily reflect the views of The Epoch Times.