The Most Addictive Drug in America
CommentaryThe United States has a serious drug problem. Of all the drugs plaguing the country, fentanyl, a synthetic opioid that is up to 100 times stronger than morphine, is perhaps the most dangerous. However, it's not the only drug ruining the lives of Americans, especially younger Americans. Sadly, the country's fentanyl crisis is getting worse. Last year alone, drug overdoses claimed the lives of almost 108,000 Americans. Fentanyl or fentanyl-related substances were responsible for two-thirds of these deaths. Among adults between the ages of 18 and 45, fentanyl overdoses are now the No. 1 cause of death. Let's talk about the most addictive drug in the United States. The drug in question is gaming. Yes, video games. To be clear, a drug is defined as something that has a physiological effect when ingested into the body or otherwise consumed. Video games affect a user's blood pressure and heart rate. Moreover, video games affect the brain in the very same way as addictive drugs. Like alcohol, marijuana, and other powerful drugs, video games hijack our reward centers. It's best to think of video games as digital drugs. This is not to say that video games are as bad as fentanyl. Nevertheless, they pose an oft-overlooked danger to tens of millions of Americans, and this danger will only increase with time. The United States is home to around 330 million people. As many as 230 million Americans are active gamers. It's estimated that anywhere between 14-34 million of these gamers exhibit signs that could be characterized as addiction, according to researchers at the University of Mexico. Again, just like alcohol and other much harder drugs, it is possible to get addicted to gaming. In 2021, the video game market was worth $189 billion; by the end of the decade, it will be worth three times that amount. In other words, one should expect the number of disordered American gamers to increase dramatically. I write this as someone in his early 30s who grew up playing video games. To say that today's world of video games differs from the world of video games some 20 years ago is like saying the internet is slightly different today than it was two decades ago. In other words, an understatement of epic proportions. As the internet has evolved at breakneck speeds, so too has gaming. Although some gamers still play standard video games, generally designed to be played by a single individual, most players gravitate toward Massively Multiplayer Online Role-Playing Games or MMORPGs. These thoroughly absorbing role-playing games are played by a large number of players at the same time. The most popular MMORPG in the world is World of Warcraft (WoW). At any given moment, there are 34,000 active WoW users, and 23 percent of them are based in the United States. Unlike standard video games, the kind I used to play 15-20 years ago, MMORPGs rarely have an ending. In theory, you could play them forever, until the day you die. The WoW, more than a decade old, is still adding new chapters. A "disordered" gamer is just like any other addict, actively seeking out the very thing that is negatively affecting his or her life (48 percent of gamers in the United States are female). Interestingly, but not surprisingly, the rise in addiction goes hand in hand with the rise in the popularity of MMORPGs. Again, not surprisingly, the MMORPG market is growing in size. This growth, one imagines, will create many more disordered gamers. Although the destruction from gaming is nowhere near as swift or brutal as the destruction caused by fentanyl, video games can destroy lives and relationships. Gaming appears to contribute directly to social isolation, anxiety, and depression, creating less healthy individuals. In moderation, video games are relatively harmless. Alas, we are discussing the consumption of video games in the United States, a country synonymous with excessive indulgences. The average gamer spends more than eight hours per week playing video games. That's 32 hours per month, 384 hours (or 16 days) per year. Let that soak in for a minute. In one year, an average gamer now spends half a month of his or her life gaming. As games become more addictive and immersive, we should expect to see the number of hours dedicated to gaming increase. Willpower, it seems, is no match for modern-day video games. Binge gaming is now a very real problem, and the United States appears to be one of the worst affected countries on the planet. When we discuss dangerous drugs, it's natural to discuss something as lethal as fentanyl. At the same time, however, we shouldn't forget that other, less obvious threats exist. Views expressed in this article are the opinions of the author and do not necessarily reflect the views of The Epoch Times. Follow John Mac Ghlionn is a researcher and essayist. He covers psychology and social relations, and has a keen interest in social dysfunction and media manipulation. His work has bee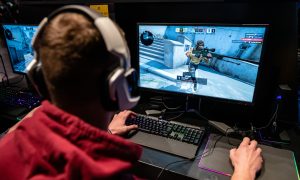 Commentary
The United States has a serious drug problem. Of all the drugs plaguing the country, fentanyl, a synthetic opioid that is up to 100 times stronger than morphine, is perhaps the most dangerous. However, it's not the only drug ruining the lives of Americans, especially younger Americans.
Sadly, the country's fentanyl crisis is getting worse. Last year alone, drug overdoses claimed the lives of almost 108,000 Americans. Fentanyl or fentanyl-related substances were responsible for two-thirds of these deaths. Among adults between the ages of 18 and 45, fentanyl overdoses are now the No. 1 cause of death.
Let's talk about the most addictive drug in the United States. The drug in question is gaming. Yes, video games. To be clear, a drug is defined as something that has a physiological effect when ingested into the body or otherwise consumed. Video games affect a user's blood pressure and heart rate. Moreover, video games affect the brain in the very same way as addictive drugs. Like alcohol, marijuana, and other powerful drugs, video games hijack our reward centers. It's best to think of video games as digital drugs.
This is not to say that video games are as bad as fentanyl. Nevertheless, they pose an oft-overlooked danger to tens of millions of Americans, and this danger will only increase with time.
The United States is home to around 330 million people. As many as 230 million Americans are active gamers. It's estimated that anywhere between 14-34 million of these gamers exhibit signs that could be characterized as addiction, according to researchers at the University of Mexico. Again, just like alcohol and other much harder drugs, it is possible to get addicted to gaming. In 2021, the video game market was worth $189 billion; by the end of the decade, it will be worth three times that amount. In other words, one should expect the number of disordered American gamers to increase dramatically.
I write this as someone in his early 30s who grew up playing video games. To say that today's world of video games differs from the world of video games some 20 years ago is like saying the internet is slightly different today than it was two decades ago. In other words, an understatement of epic proportions. As the internet has evolved at breakneck speeds, so too has gaming.
Although some gamers still play standard video games, generally designed to be played by a single individual, most players gravitate toward Massively Multiplayer Online Role-Playing Games or MMORPGs. These thoroughly absorbing role-playing games are played by a large number of players at the same time. The most popular MMORPG in the world is World of Warcraft (WoW). At any given moment, there are 34,000 active WoW users, and 23 percent of them are based in the United States. Unlike standard video games, the kind I used to play 15-20 years ago, MMORPGs rarely have an ending. In theory, you could play them forever, until the day you die. The WoW, more than a decade old, is still adding new chapters.
A "disordered" gamer is just like any other addict, actively seeking out the very thing that is negatively affecting his or her life (48 percent of gamers in the United States are female). Interestingly, but not surprisingly, the rise in addiction goes hand in hand with the rise in the popularity of MMORPGs. Again, not surprisingly, the MMORPG market is growing in size. This growth, one imagines, will create many more disordered gamers.
Although the destruction from gaming is nowhere near as swift or brutal as the destruction caused by fentanyl, video games can destroy lives and relationships. Gaming appears to contribute directly to social isolation, anxiety, and depression, creating less healthy individuals.
In moderation, video games are relatively harmless. Alas, we are discussing the consumption of video games in the United States, a country synonymous with excessive indulgences. The average gamer spends more than eight hours per week playing video games. That's 32 hours per month, 384 hours (or 16 days) per year. Let that soak in for a minute. In one year, an average gamer now spends half a month of his or her life gaming. As games become more addictive and immersive, we should expect to see the number of hours dedicated to gaming increase.
Willpower, it seems, is no match for modern-day video games. Binge gaming is now a very real problem, and the United States appears to be one of the worst affected countries on the planet. When we discuss dangerous drugs, it's natural to discuss something as lethal as fentanyl. At the same time, however, we shouldn't forget that other, less obvious threats exist.
Views expressed in this article are the opinions of the author and do not necessarily reflect the views of The Epoch Times.