The Marriage Effect
Research shows that married people, especially men, live a longer, healthier lifeWhen I met them, Bill and Janet Ligon were living in a sunny, plant-filled home in Ashland, Oregon. Born in Malaysia of English parents, Janet was just turning 85, and Bill, who grew up in Tulsa, Oklahoma, was turning 90. They told me they had been happily married for over 60 years. Bill used a cane for balance. Because of an ankle injury he sustained while serving in the Army, he could no longer ski or square-dance. If he stood for too long, he got tired, he said. He'd also had a heart valve replacement, an operation Janet also needed. But both Bill and Janet agreed that they were enjoying the twilight of their lives to the fullest, despite the health challenges. The love they felt for each other was palpable. They held hands while we talked, kidded each other, and finished one another's sentences. One of the reasons they have lived such long, happy lives, I found myself thinking after I spent several hours interviewing them, was because they had each other. I wasn't wrong: Marriage, it turns out, can be good for both health and longevity. Living a Long, Healthy Life Life expectancy varies from country to country and changes from year to year. National statistics take time to collect. No one is sure what effect the global COVID-19 crisis will have on life expectancy rates in the long term. According to the Centers for Disease Control and Prevention (CDC), in the United States today, the average life expectancy is 77.3 years. Longevity research is multi-factorial. Scientists continue to research and debate nearly every aspect of longevity and health. Questions abound: To what extent do genetics play a role in longevity? What about toxic exposures? Does the composition of the microbiome (the microscopic creatures that live in your gut) have an effect on longevity? What about birth via C-section, or breastfeeding? While these are still open questions, longevity researchers have found that people like the Ligons—especially men—in stable marriages tend to enjoy healthier, longer lives. The Marriage Effect A growing body of research shows that married people are generally healthier, happier, and tend to live longer than people who have never been married. Scientists call this phenomenon the "marriage effect." In one particularly striking study, published in 2013, researchers analyzed data from nearly 5,000 adults who participated in ongoing longitudinal research that began in the 1940s. The research from the University of North Carolina Alumni Heart Study showed that having a partner during middle age was protective against dying prematurely. The study, published in the Annals of Behavioral Medicine, found that people who never married were twice as likely to die early than people who had enjoyed stable marriages throughout their adult lives. Other research, including a systematic review by a team of Italian scientists published in 2018, has found that married people are more likely to have cancer diagnosed at an early stage and are less likely to die from it. Similar results appeared in in 2004, when the CDC released a 36-page report about marital status and health. The report, based on 127,545 interviews, found that on nearly every health metric, married adults were better off than adults who were single or divorced. Regardless of age, sex, race, education level, income, or birth country, the results were consistent. "Married adults generally had lower prevalence rates for unfavorable health characteristics, conditions, and health risk behaviors, with the notable exception of being overweight or obese, than adults in other marital status groups," the researchers concluded. Marriage Affects Men and Women Differently Interestingly, the protective health benefits of marriage seem to be most pronounced for people who marry after age 25. According to a Harvard Medical School analysis, the longer you stay married, the better, especially for men. Despite the apparent benefits of marriage on longevity and health, the marriage effect seems to be different for men than for women. The Terman Life-Cycle Study, started in 1922 by psychologist Lewis Terman and concluded in 1991, found that men who were steadily married lived longer than men who were divorced or remarried; men who got divorced and did not remarry were at the highest risk of premature mortality. However, women who were divorced lived nearly as long as married women. "Marriage was health-promoting primarily for men who were well suited to marriage and had a good marriage," said psychologist Howard S. Friedman, Ph.D., a lead Terman researcher and coauthor of a book about the Terman study, in an interview in 2011. "For the rest, there were all kinds of complications. Women who got divorced or stayed single often thrived. Even women who were widowed often did exceptionally well. It seemed as if women who got rid of their troublesome husbands stayed healthy." For both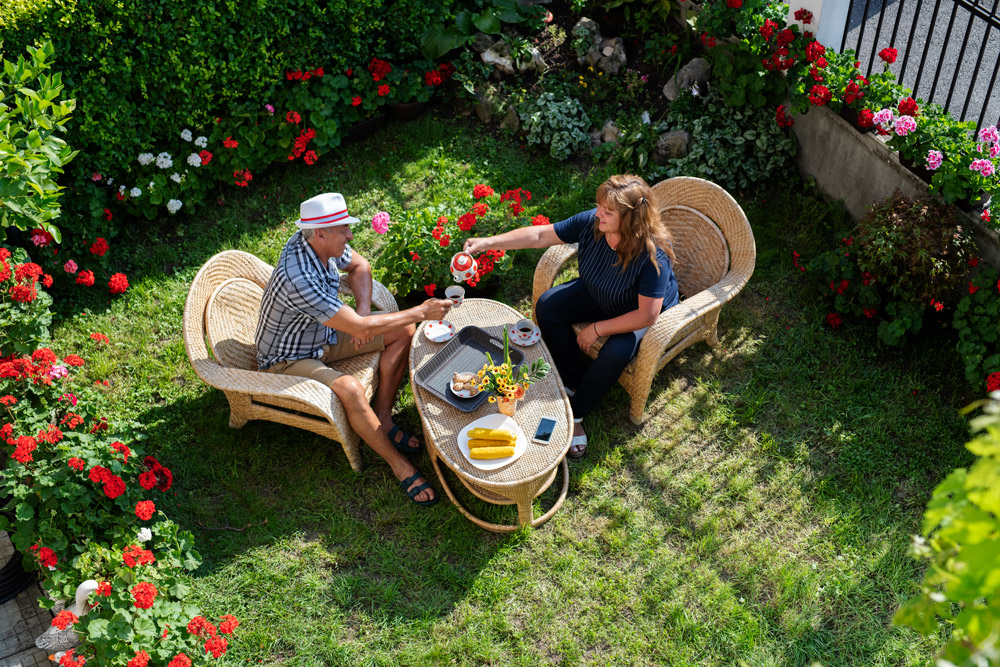 Research shows that married people, especially men, live a longer, healthier life
When I met them, Bill and Janet Ligon were living in a sunny, plant-filled home in Ashland, Oregon. Born in Malaysia of English parents, Janet was just turning 85, and Bill, who grew up in Tulsa, Oklahoma, was turning 90. They told me they had been happily married for over 60 years.
Bill used a cane for balance. Because of an ankle injury he sustained while serving in the Army, he could no longer ski or square-dance. If he stood for too long, he got tired, he said. He'd also had a heart valve replacement, an operation Janet also needed. But both Bill and Janet agreed that they were enjoying the twilight of their lives to the fullest, despite the health challenges.
The love they felt for each other was palpable. They held hands while we talked, kidded each other, and finished one another's sentences. One of the reasons they have lived such long, happy lives, I found myself thinking after I spent several hours interviewing them, was because they had each other. I wasn't wrong: Marriage, it turns out, can be good for both health and longevity.
Living a Long, Healthy Life
Life expectancy varies from country to country and changes from year to year. National statistics take time to collect. No one is sure what effect the global COVID-19 crisis will have on life expectancy rates in the long term. According to the Centers for Disease Control and Prevention (CDC), in the United States today, the average life expectancy is 77.3 years.
Longevity research is multi-factorial. Scientists continue to research and debate nearly every aspect of longevity and health. Questions abound: To what extent do genetics play a role in longevity? What about toxic exposures? Does the composition of the microbiome (the microscopic creatures that live in your gut) have an effect on longevity? What about birth via C-section, or breastfeeding?
While these are still open questions, longevity researchers have found that people like the Ligons—especially men—in stable marriages tend to enjoy healthier, longer lives.
The Marriage Effect
A growing body of research shows that married people are generally healthier, happier, and tend to live longer than people who have never been married. Scientists call this phenomenon the "marriage effect."
In one particularly striking study, published in 2013, researchers analyzed data from nearly 5,000 adults who participated in ongoing longitudinal research that began in the 1940s. The research from the University of North Carolina Alumni Heart Study showed that having a partner during middle age was protective against dying prematurely. The study, published in the Annals of Behavioral Medicine, found that people who never married were twice as likely to die early than people who had enjoyed stable marriages throughout their adult lives.
Other research, including a systematic review by a team of Italian scientists published in 2018, has found that married people are more likely to have cancer diagnosed at an early stage and are less likely to die from it.
Similar results appeared in in 2004, when the CDC released a 36-page report about marital status and health. The report, based on 127,545 interviews, found that on nearly every health metric, married adults were better off than adults who were single or divorced. Regardless of age, sex, race, education level, income, or birth country, the results were consistent. "Married adults generally had lower prevalence rates for unfavorable health characteristics, conditions, and health risk behaviors, with the notable exception of being overweight or obese, than adults in other marital status groups," the researchers concluded.
Marriage Affects Men and Women Differently
Interestingly, the protective health benefits of marriage seem to be most pronounced for people who marry after age 25. According to a Harvard Medical School analysis, the longer you stay married, the better, especially for men.
Despite the apparent benefits of marriage on longevity and health, the marriage effect seems to be different for men than for women. The Terman Life-Cycle Study, started in 1922 by psychologist Lewis Terman and concluded in 1991, found that men who were steadily married lived longer than men who were divorced or remarried; men who got divorced and did not remarry were at the highest risk of premature mortality. However, women who were divorced lived nearly as long as married women.
"Marriage was health-promoting primarily for men who were well suited to marriage and had a good marriage," said psychologist Howard S. Friedman, Ph.D., a lead Terman researcher and coauthor of a book about the Terman study, in an interview in 2011. "For the rest, there were all kinds of complications. Women who got divorced or stayed single often thrived. Even women who were widowed often did exceptionally well. It seemed as if women who got rid of their troublesome husbands stayed healthy."
For both men and women, having a strong social network is important to longevity. In the Terman study, women who had strong social ties—to church, extended family, close friends—seemed to enjoy the benefits of healthy aging and longevity as much as their married peers.
Why Does Marriage Make You Healthier?
As with every aspect of human health, it's hard to make definitive claims about cause and effect, and this is especially true regarding longevity. Still, according to some scientists, a stable marriage deserves much of the credit for people living longer, healthier lives.
Being part of a faith community and regularly attending services has consistently been associated with health and longevity. The longest-lived people in the world—from Seventh Day Adventists in Loma Linda, California, to the centenarians in Okinawa, Japan—participate in religious worship at least four times a month. And, according to the Institute for Family Studies, people who attend church marry more and divorce less. So, one reason people in stable marriages may enjoy better health is that they enjoy the health benefits of having a close social network and living a faith-based life.
In addition, people in happy marriages usually have less stress in their lives. In strong, healthy marriages, the partners support each other's ambitions, hopes, and dreams. They both have a constant companion with whom they can share their ideas and talk through difficulties, and they can help each other weather the hurricanes that life throws their way. And because they pool their incomes and share space, married people usually have less financial stress than those who stay single or get divorced.
The Marriage Gap
On average, married people earn 26% more income and have 35% more net worth than unmarried people, according to Nawid Siassi, an economist and assistant professor at the Vienna University of Technology. In other words, people who are married tend to have more economic stability and financial prosperity than people who aren't.
This economic disparity also has a name: "the marriage gap." This phrase is used to describe the finding that adults and children in single-parent households face poverty at notably higher rates than married families. Though this idea remains controversial and there are always exceptions, it seems that single-parent families tend to not be as healthy as two-parent families.
Marriage May Be Healthy, But That Doesn't Mean It's Easy
Still, as anyone who has ever been married knows, having a good, stable marriage is not always easy.
"It takes work, luck, and a willingness to compromise," says Nicole Johnson, 51, of Bishop, Georgia, who has been happily married for 24 years to an orthopedic surgeon with whom she has two adult children. "I attribute our solid relationship to persistence, patience, and also to counseling. The reason I think counseling is so helpful is because it allows each person to be heard on topics that are often too difficult to discuss without emotion."
Johnson says that one exercise, which she and her husband learned from a marriage counselor, has helped them both to communicate more effectively. The counselor encouraged them to listen to each other with more empathy, and asked them to acknowledge and validate the other person's point of view first, instead of simply reacting. Taking the time to restate what he told her has been helpful, Johnson says, especially when her husband has had something to say that was difficult to hear.
Staying Alive for Your Spouse
At almost 90, Bill Ligon told me that he swam laps three times a week and golfed with his buddies, splitting a pitcher of beer afterwards, and that he enjoyed playing bridge with Janet, though she was better at it than him. He credited a sense of humor for keeping him so healthy. Janet added that having the financial security to hire help for fix-it jobs around the house, gardening, and other things was also helpful.
But Bill revealed his best-kept secret to healthy aging when he walked me to the door: Janet needed him. Although he always imagined she would outlive him, he planned to stay vibrantly alive for as long as possible to take care of his wife.
This article was first published in Radiant Life magazine.