The Health Miracles of Oil: Tips on Choosing the Right Olive Oil
When pharmaceutical director Wang Ning was fighting cervical cancer, she unintentionally discovered that certain oils could restore darkened skin caused by the disease. The discovery led her to further explore the world of oils and eventually become an internationally certified oil expert (CLUBalogue IOEA). In the program "Health 1+1," Wang shares the benefits of choosing the right oils for optimum health and tips on how to select the right ones. When Wang was 40, she was diagnosed with stage three cervical cancer. Despite aggressive treatment for the illness, her abdominal skin remained blackened. One day, she casually applied sea buckthorn oil—which happened to be on the table—to her abdomen. To her surprise, after a few weeks of application, the blackened skin gradually returned to its natural color. Chemotherapy for cancer involves internally damaging the body's cells, and while it kills cancer cells, it also harms normal cells. Wang had a sudden idea: "If the oil has such a miraculous effect when used externally, what about ingesting it?" Through extensive research on oil products in scientific papers and reports, she was amazed to discover that oils had nutritional and skincare value, held royal and strategic significance in ancient times, and served as symbols of religious rituals. Wang found that using oil for skincare reduced the damage her body suffered during chemotherapy compared to other cancer patients. She also realized obtaining a bottle of excellent oil was difficult. As early as the Roman Empire, there were already instances of "fake oil," and there were significant differences in the quality of oil, sometimes resulting in wild price variations. As a certified oil expert, Wang has sought opportunities worldwide to find high-quality oils. Is Less Dietary Oil Beneficial or Harmful to Health? Current health concepts emphasize reducing sugar, salt, and oil intake. Wang explains that fats are one of the three major nutrients in the human body and are essential for cell membrane structure and nutrition to hormones. Fats also contribute to the formation of the brain and the myelin sheath of neurons. Particularly as people age, consuming insufficient oil can lead to brain damage and increase the risk of dementia. Wang also noticed various aging symptoms, such as hair loss, dull skin, and dry eyes in individuals who consumed boiled food for weight loss. Wang believes reducing oil consumption means minimizing saturated fatty acids but increasing unsaturated fatty acids. Reducing saturated fat is necessary because excessive intake can raise cholesterol levels in the blood, leading to arterial blockage and a higher risk of heart attacks or strokes. Saturated fats refer to fats that solidify at low temperatures, such as lard, chicken fat, duck fat, goose fat, butter, cream, and coconut oil. As for unsaturated fats, Wang highly recommends olive and camellia oil, which are excellent cooking options. They have high smoke points, are suitable for high-temperature frying, and are rich in unsaturated fatty acids, which benefit human health. (Gleb Usovich/Shutterstock) Choosing the Right Olive Oil Wang explains that olive oil is classified into five grades: Extra virgin Virgin 100 percent pure Light and extra light Olive pomace oil Extra virgin, cold-pressed olive oil is obtained by picking olives from the trees, cleaning them, crushing them into a paste, and then pressing them to extract the oil. The first oil obtained from this process is considered the most precious olive oil. It is stored in nitrogen tanks, undergoes sedimentation and filtration, and is highly valued for its purity. Extra virgin cold-pressed olive oil has a distinct aroma—the higher the polyphenol content, the more pungent it tastes. Wang said that olive oil can be classified as early or late harvest, with the oil from early-harvested fruits having a lower yield and being more expensive. The oil from late-harvested fruits has a milder taste and is less pungent. Virgin olive oil comes after the second pressing of the olive fruit, which involves heating the fruit with water and then pressing it again. 100 percent pure olive oil comes from the olive pomace, which undergoes a refining process using a chemical solvent called hexane. The olive pomace is dissolved in hexane which evaporates during high-temperature heating. Light or extra light olive oil does not refer to the calorie content of the oil, but rather to its color and flavor. Extra-light olive oil undergoes a process of ultra-refinement, resulting in a pale and mild oil. The advantage of using extra-light olive oil lies in its higher smoke point compared to regular or extra-virgin olive oil. This means it can withstand higher temperatures without breaking down and producing smoke. It is particularly suitable for baking and other cooking methods that require a neutral-tasting oil. Olive pomace oil is the oil comprising a blend of refined olive-pomace oil an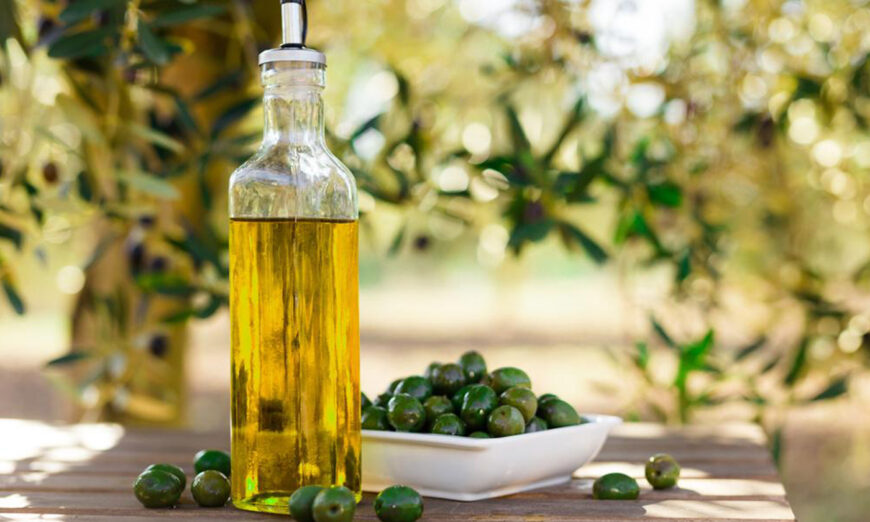 When pharmaceutical director Wang Ning was fighting cervical cancer, she unintentionally discovered that certain oils could restore darkened skin caused by the disease. The discovery led her to further explore the world of oils and eventually become an internationally certified oil expert (CLUBalogue IOEA).
In the program "Health 1+1," Wang shares the benefits of choosing the right oils for optimum health and tips on how to select the right ones.
When Wang was 40, she was diagnosed with stage three cervical cancer. Despite aggressive treatment for the illness, her abdominal skin remained blackened. One day, she casually applied sea buckthorn oil—which happened to be on the table—to her abdomen. To her surprise, after a few weeks of application, the blackened skin gradually returned to its natural color.
Chemotherapy for cancer involves internally damaging the body's cells, and while it kills cancer cells, it also harms normal cells. Wang had a sudden idea: "If the oil has such a miraculous effect when used externally, what about ingesting it?" Through extensive research on oil products in scientific papers and reports, she was amazed to discover that oils had nutritional and skincare value, held royal and strategic significance in ancient times, and served as symbols of religious rituals.
Wang found that using oil for skincare reduced the damage her body suffered during chemotherapy compared to other cancer patients. She also realized obtaining a bottle of excellent oil was difficult. As early as the Roman Empire, there were already instances of "fake oil," and there were significant differences in the quality of oil, sometimes resulting in wild price variations.
As a certified oil expert, Wang has sought opportunities worldwide to find high-quality oils.
Is Less Dietary Oil Beneficial or Harmful to Health?
Current health concepts emphasize reducing sugar, salt, and oil intake. Wang explains that fats are one of the three major nutrients in the human body and are essential for cell membrane structure and nutrition to hormones. Fats also contribute to the formation of the brain and the myelin sheath of neurons. Particularly as people age, consuming insufficient oil can lead to brain damage and increase the risk of dementia. Wang also noticed various aging symptoms, such as hair loss, dull skin, and dry eyes in individuals who consumed boiled food for weight loss.
Wang believes reducing oil consumption means minimizing saturated fatty acids but increasing unsaturated fatty acids. Reducing saturated fat is necessary because excessive intake can raise cholesterol levels in the blood, leading to arterial blockage and a higher risk of heart attacks or strokes. Saturated fats refer to fats that solidify at low temperatures, such as lard, chicken fat, duck fat, goose fat, butter, cream, and coconut oil.
As for unsaturated fats, Wang highly recommends olive and camellia oil, which are excellent cooking options. They have high smoke points, are suitable for high-temperature frying, and are rich in unsaturated fatty acids, which benefit human health.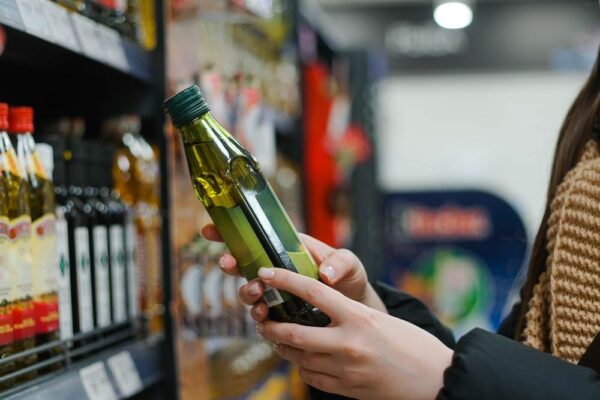 Choosing the Right Olive Oil
Wang explains that olive oil is classified into five grades:
Extra virgin
Virgin
100 percent pure
Light and extra light
Olive pomace oil
Extra virgin, cold-pressed olive oil is obtained by picking olives from the trees, cleaning them, crushing them into a paste, and then pressing them to extract the oil. The first oil obtained from this process is considered the most precious olive oil. It is stored in nitrogen tanks, undergoes sedimentation and filtration, and is highly valued for its purity.
Extra virgin cold-pressed olive oil has a distinct aroma—the higher the polyphenol content, the more pungent it tastes. Wang said that olive oil can be classified as early or late harvest, with the oil from early-harvested fruits having a lower yield and being more expensive. The oil from late-harvested fruits has a milder taste and is less pungent.
Virgin olive oil comes after the second pressing of the olive fruit, which involves heating the fruit with water and then pressing it again.
100 percent pure olive oil comes from the olive pomace, which undergoes a refining process using a chemical solvent called hexane. The olive pomace is dissolved in hexane which evaporates during high-temperature heating.
Light or extra light olive oil does not refer to the calorie content of the oil, but rather to its color and flavor. Extra-light olive oil undergoes a process of ultra-refinement, resulting in a pale and mild oil. The advantage of using extra-light olive oil lies in its higher smoke point compared to regular or extra-virgin olive oil. This means it can withstand higher temperatures without breaking down and producing smoke. It is particularly suitable for baking and other cooking methods that require a neutral-tasting oil.
Olive pomace oil is the oil comprising a blend of refined olive-pomace oil and virgin olive oils fit for consumption without further processing.
Wang pointed out that most olive oils available in the market are blends of refined olive oil and 5 percent to 25 percent virgin olive oil. Virgin olive oil retains the aroma of olives, while refined olive oil is usually odorless.
Wang noted that "salad" oil, or vegetable oil, is chemically refined. It is odorless and can withstand high temperatures without affecting the flavor of dishes. Salad oil is typically made from soybeans, and the oil pressed from soybeans has a cola-like dark color. However, the salad oil found on store shelves has undergone chemical refining processes such as high-temperature heating, decolorization, deodorization, and removal of pungency, resulting in a product with no nutritional value or aroma.
Regarding concerns about the potential harm of commonly consumed oils such as salad, palm, or refined olive oil, Wang reassured us that as long as one starts consuming healthy oils, the harmful substances in the body will be metabolized slowly.
2 Criteria for Selecting Olive Oil: Aroma and Flavor
Wang emphasized that the color of the oil is not a reliable indicator of quality, as adulterated oils can be artificially adjusted using chemicals. Therefore, oil tasters usually use blue cups to evaluate the oil, focusing on its aroma and flavor using their sense of smell and taste buds. They don't check the color of the oil.
According to Wang, high-quality olive oil should have the aroma of fresh olives and taste like fruit juice. Most oils on the market tend to leave a heavy, sticky sensation on the tongue and palate, whereas good quality extra virgin olive oil should not have this feeling.
While it may be difficult to taste the oil in common supermarkets, Wang encourages people to take advantage of opportunities where sellers offer oil tasting and use their taste buds to remember the characteristics of good oil.
Extra virgin olive oil, especially high-quality ones, may be rare and expensive, leading some individuals to think it should only be used for drizzling over salads. However, Wang reminds everyone that good olive oil can be used for frying, sautéing, stir-frying, and cooking, as it generally has a high smoke point. Any leftover oil can also be utilized to make handmade soap, benefiting skincare and alleviating eczema, among other benefits.
Wang particularly emphasizes that opened oil should be consumed within two months to ensure the oil's freshness.