The Health Benefits of a Vacation
C.J. is 52 years old, happily married, has two teenagers, and is a big-time TV executive. It was her annual check-up, and she was in her usual rush to get in and out.I've known C.J. for close to 25 years; she has been in menopause for three years and is on a low dose of hormone replacement therapy. Today, she was in a "mood": she wanted more estrogen, while complaining about her job, husband, and kids. She also complained about the waiting room. I responded with, "It's always nice seeing you, but maybe there is another solution for what is ailing you." All her blood tests and her exam were normal. I made the offhand comment that maybe she had too much on her plate and needed a vacation. Then she complained about me. I've known her since she was in college, so I suppose I'm fair game. She didn't leave as the happiest camper, but said she was going to Hawaii in two weeks. As I was walking out of the exam room, I suggested that she not take her work with her and just do nothing but relax for that time. No computers, conference calls, just downtime. I even suggested that she try meditating on the beach, or hiking. A paper published in Psychosomatic Medicine in 2000, came to what many may think is an obvious conclusion that "Annual vacations by middle-aged men at high risk for CHD (cardiovascular heart disease) is associated with a reduced risk of all-cause mortality and, more specifically, mortality attributed to CHD. Vacationing may be good for your health." The results of this study make sense, but why is a vacation so important? Also, do we need full vacations, or will a short break help as well? A fascinating but long article published in Annals of Tourism Research Empirical Insights in 2021 concluded: "This study has demonstrated that taking a short break (3–4 days away from home) or longer vacation (1–5 weeks away from home) is able to achieve measurable restorative benefits, using both objective (performance on cognitive tests) and subjective (self-report) measures." One might ask, why do we need studies to prove what we intuitively know, and that's a fair question. Academicians have to work. There is probably even a study on that somewhere! C.J. sent me a long email a few months after her visit. She begrudgingly admitted that I may have been right and that all she needed was a vacation—a stress reducer with time to clear her head. The problem, she said, was she had been back at work for two weeks and was miserable again. I responded that she needed a long talk with herself about how to reduce her stress levels. I know that's easier said than done, but quality of life is critical for a happy, fulfilling life. A study published in the Wisconsin Medical Journal in 2005 compared stress levels and quality of life between women who took vacations and those who didn't. Their conclusion was definitive: "Women who take vacations frequently are less likely to become tense, depressed, or tired, and are more satisfied with their marriage. These personal psychological benefits that lead to increased quality of life may also lead to improved work performance." I think we've all been there, exhausted from work and the daily stress. It builds up. We all need a vacation—some more than others. The truth is we all need a break from stress. Even five-minute breaks from a stressful situation at work helps. A study published in the British Journal of Guidance & Counseling in 2005 looked at leisure as a stress survival strategy and concluded that leisure provides opportunities for promoting life balance. A lot of newer tech companies provide some leisure activities at work. The belief is that the mind needs a break from the pressure of trying to constantly be productive and that productive outcomes can emerge from 5-to-10-minute mental breaks at the office. Some companies will offer meditation, yoga, or exercise equipment, while others offer healthy snacks or even a ping pong table. Not all of us have these kinds of luxuries and may have to find other ways to relieve the daily stress and take our 5-to-10-minute "vacations." It could be as simple as getting up from the desk and walking outside for an iced tea. Fresh air is an amazing stress reducer. Once or twice a year, we should all try to take a real vacation, this can simply be a three-to-five-day trip down the road to a local campsite or a two-week cruise down the Danube in Europe. It could also be taking a day off and going to the beach, the park, or taking a hike. Outdoor vacations may be more therapeutic for stress reduction than staying indoors, but any break can help. And if we get to travel, all the better. Travel gives us an opportunity for stress reduction as well as healthy stimulation. I've been told that I've been complaining a lot at work these past few months, and I am sure my wife has been complaining about me. That's probably because it's time for our vacation. My wife, Pam, and I love to travel. These trips are our revitalizer, stress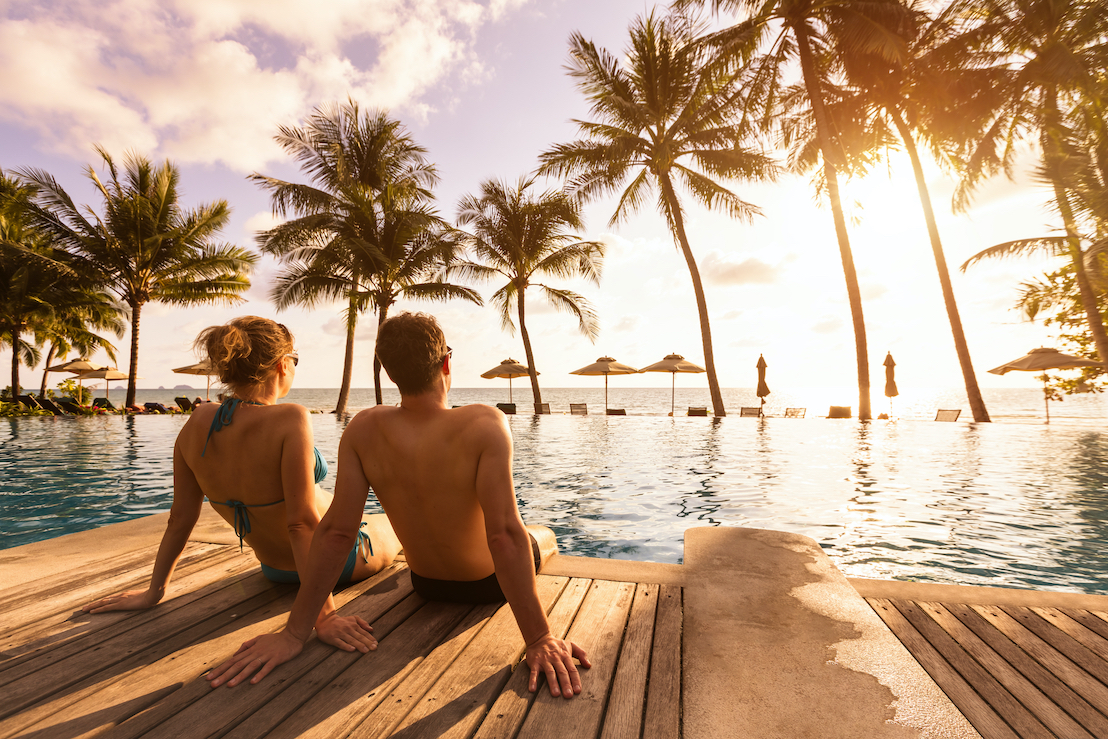 C.J. is 52 years old, happily married, has two teenagers, and is a big-time TV executive. It was her annual check-up, and she was in her usual rush to get in and out.
I've known C.J. for close to 25 years; she has been in menopause for three years and is on a low dose of hormone replacement therapy. Today, she was in a "mood": she wanted more estrogen, while complaining about her job, husband, and kids.
She also complained about the waiting room.
I responded with, "It's always nice seeing you, but maybe there is another solution for what is ailing you." All her blood tests and her exam were normal. I made the offhand comment that maybe she had too much on her plate and needed a vacation. Then she complained about me.
I've known her since she was in college, so I suppose I'm fair game. She didn't leave as the happiest camper, but said she was going to Hawaii in two weeks. As I was walking out of the exam room, I suggested that she not take her work with her and just do nothing but relax for that time. No computers, conference calls, just downtime. I even suggested that she try meditating on the beach, or hiking.
A paper published in Psychosomatic Medicine in 2000, came to what many may think is an obvious conclusion that "Annual vacations by middle-aged men at high risk for CHD (cardiovascular heart disease) is associated with a reduced risk of all-cause mortality and, more specifically, mortality attributed to CHD. Vacationing may be good for your health."
The results of this study make sense, but why is a vacation so important? Also, do we need full vacations, or will a short break help as well?
A fascinating but long article published in Annals of Tourism Research Empirical Insights in 2021 concluded:
"This study has demonstrated that taking a short break (3–4 days away from home) or longer vacation (1–5 weeks away from home) is able to achieve measurable restorative benefits, using both objective (performance on cognitive tests) and subjective (self-report) measures."
One might ask, why do we need studies to prove what we intuitively know, and that's a fair question. Academicians have to work. There is probably even a study on that somewhere!
C.J. sent me a long email a few months after her visit. She begrudgingly admitted that I may have been right and that all she needed was a vacation—a stress reducer with time to clear her head. The problem, she said, was she had been back at work for two weeks and was miserable again.
I responded that she needed a long talk with herself about how to reduce her stress levels. I know that's easier said than done, but quality of life is critical for a happy, fulfilling life.
A study published in the Wisconsin Medical Journal in 2005 compared stress levels and quality of life between women who took vacations and those who didn't. Their conclusion was definitive:
"Women who take vacations frequently are less likely to become tense, depressed, or tired, and are more satisfied with their marriage. These personal psychological benefits that lead to increased quality of life may also lead to improved work performance."
I think we've all been there, exhausted from work and the daily stress. It builds up. We all need a vacation—some more than others.
The truth is we all need a break from stress. Even five-minute breaks from a stressful situation at work helps.
A study published in the British Journal of Guidance & Counseling in 2005 looked at leisure as a stress survival strategy and concluded that leisure provides opportunities for promoting life balance.
A lot of newer tech companies provide some leisure activities at work. The belief is that the mind needs a break from the pressure of trying to constantly be productive and that productive outcomes can emerge from 5-to-10-minute mental breaks at the office. Some companies will offer meditation, yoga, or exercise equipment, while others offer healthy snacks or even a ping pong table.
Not all of us have these kinds of luxuries and may have to find other ways to relieve the daily stress and take our 5-to-10-minute "vacations."
It could be as simple as getting up from the desk and walking outside for an iced tea. Fresh air is an amazing stress reducer. Once or twice a year, we should all try to take a real vacation, this can simply be a three-to-five-day trip down the road to a local campsite or a two-week cruise down the Danube in Europe. It could also be taking a day off and going to the beach, the park, or taking a hike.
Outdoor vacations may be more therapeutic for stress reduction than staying indoors, but any break can help.
And if we get to travel, all the better. Travel gives us an opportunity for stress reduction as well as healthy stimulation.
I've been told that I've been complaining a lot at work these past few months, and I am sure my wife has been complaining about me. That's probably because it's time for our vacation.
My wife, Pam, and I love to travel. These trips are our revitalizer, stress reducer, and what gives us new energy when we get back. We're thinking of taking a Viking river cruise down the Mississippi. At my age, I don't like stress, but I like the idea of being pampered on a river cruise. It will definitely be good for our health.