The EU Tries to Have It Both Ways With China
Commentary As Washington steps up pressure on China and shows every intention of decoupling the U.S. and Chinese economies, the European Union (EU) finds itself in a bind. Brussels clearly values China trade and does not want to lose it. At the same time, public support in Europe for China trade is narrowing, American pressure cannot be dismissed, and European leaders are having more and more trouble ignoring Beijing's unfair trade policies. EU leadership would like to thread this needle and find a balanced middle way, but those efforts are becoming less sustainable. America's position has become increasingly harsh. For a long time, Washington, as well as U.S. business, chose to ignore Beijing's abuses—the outright theft of intellectual property, the heavy use of domestic subsidies, and unusual conditions imposed on any who wanted to sell into China or source there. All are in violation of accepted practice, if not always outright violations of World Trade Organization (WTO) rules. But as China's economy has grown to greater prominence, ignoring such practices has become more difficult. The first American pushback occurred under the Trump administration, which tried to pressure change in Beijing by imposing hefty tariffs on Chinese goods entering the United States. Although President Joe Biden criticized the tariffs during the 2020 presidential election campaign, he has kept them in place for the same reasons the Trump administration had imposed them. Biden has gone further, signing into law the Inflation Reduction Act and the Chips and Science Act, which together answer Beijing's use of subsidies for technology with an American equivalent. These laws, especially the latter, include strictures on the export of advanced chips to China as well as chip-making equipment. Several bills presently circulating in Congress would build on this momentum, citing disagreeable Chinese practices and proposing ways of pressuring Beijing to change. Just recently, the new House panel on the Chinese economy designated China the "single greatest threat to America's global standing." China's Premier Li Keqiang (2nd R) looks over to European Commission President Jean-Claude Juncker (C) as they attend the China-EU Business Roundtable at the Great Hall of the People in Beijing on July 16, 2018. (Ng Han Guan /AFP/Getty Images) Europe, to be sure, has complained about the subsidies written into the American legislation. French President Emmanuel Macron has called for a response to "support our strategic sectors" and "counter the risk of relocation." But Europe is less concerned about American practice than it appears on the surface. European Commission President Ursula von der Leyen, even while echoing Macron's statements, has made it plain that Europe's concerns lie more with China than the United States. "The topic," she insisted, "is much wider" than the American actions and requires "a much broader strategy," adding that the American measures have the virtue of clarity, but China's are opaque with "hidden subsidies." Still, Europe finds it hard to take a strong position. Despite the heavy use of the word "decoupling" in Washington, neither EU leaders nor authorities in member nations will speak in that way. Apart from the chronic European need to appear independent of the United States, their reluctance to follow America's lead reflects Europe's heavy trade dependence on China, much greater than America's. EU-China trade has increased at more than a 12 percent annual rate over the past couple of years. China produces fully 20 percent of all EU imports and absorbs 10 percent of all EU exports. Almost all of Europe's solar panels come from China, as do all the rare earth elements Europe's economy needs to produce batteries and electronic vehicles. Already suffering economic damage from the severing of trade ties with Russia over the fighting in Ukraine, Brussels and member state leaders are especially wary of disrupting still more trade arrangements. For all these constraints, Europe has expressed its dissatisfaction with Beijing's policies. In 2013, the EU imposed anti-dumping duties on China, alleging the use of subsidies. Not too long ago, the EU imposed sanctions against China for human rights violations, an act that scuttled an investment agreement on which Beijing and Brussels had negotiated for years. More recently, the EU has passed new rules allowing it to investigate foreign companies that benefit from government cash. The Netherlands recently joined Washington's ban on the sale of advanced chips and chip-making equipment to China. Reinforcing such trends are the clear signs that public opinion in Europe has turned against China. Even in business, the number committed to China has narrowed. Only 10 firms in Europe and the United Kingdom account for fully 80 percent of investments in China. Meanwhile, Chinese investment in Europe has declined and now stands at the lowest level since 2013. Even the hardship imp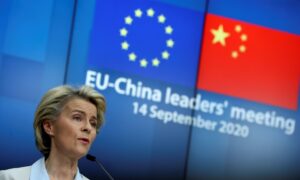 Commentary
As Washington steps up pressure on China and shows every intention of decoupling the U.S. and Chinese economies, the European Union (EU) finds itself in a bind.
Brussels clearly values China trade and does not want to lose it. At the same time, public support in Europe for China trade is narrowing, American pressure cannot be dismissed, and European leaders are having more and more trouble ignoring Beijing's unfair trade policies. EU leadership would like to thread this needle and find a balanced middle way, but those efforts are becoming less sustainable.
America's position has become increasingly harsh. For a long time, Washington, as well as U.S. business, chose to ignore Beijing's abuses—the outright theft of intellectual property, the heavy use of domestic subsidies, and unusual conditions imposed on any who wanted to sell into China or source there. All are in violation of accepted practice, if not always outright violations of World Trade Organization (WTO) rules. But as China's economy has grown to greater prominence, ignoring such practices has become more difficult. The first American pushback occurred under the Trump administration, which tried to pressure change in Beijing by imposing hefty tariffs on Chinese goods entering the United States.
Although President Joe Biden criticized the tariffs during the 2020 presidential election campaign, he has kept them in place for the same reasons the Trump administration had imposed them. Biden has gone further, signing into law the Inflation Reduction Act and the Chips and Science Act, which together answer Beijing's use of subsidies for technology with an American equivalent. These laws, especially the latter, include strictures on the export of advanced chips to China as well as chip-making equipment. Several bills presently circulating in Congress would build on this momentum, citing disagreeable Chinese practices and proposing ways of pressuring Beijing to change. Just recently, the new House panel on the Chinese economy designated China the "single greatest threat to America's global standing."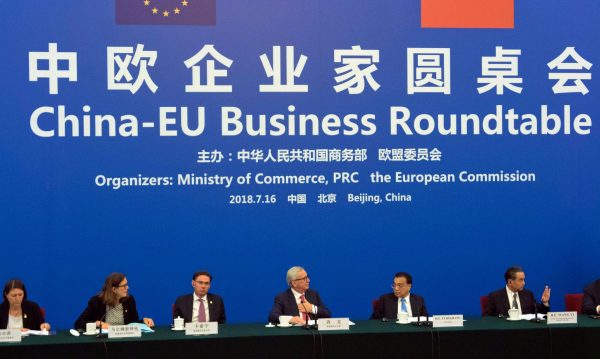 Europe, to be sure, has complained about the subsidies written into the American legislation. French President Emmanuel Macron has called for a response to "support our strategic sectors" and "counter the risk of relocation." But Europe is less concerned about American practice than it appears on the surface. European Commission President Ursula von der Leyen, even while echoing Macron's statements, has made it plain that Europe's concerns lie more with China than the United States. "The topic," she insisted, "is much wider" than the American actions and requires "a much broader strategy," adding that the American measures have the virtue of clarity, but China's are opaque with "hidden subsidies."
Still, Europe finds it hard to take a strong position. Despite the heavy use of the word "decoupling" in Washington, neither EU leaders nor authorities in member nations will speak in that way. Apart from the chronic European need to appear independent of the United States, their reluctance to follow America's lead reflects Europe's heavy trade dependence on China, much greater than America's.
EU-China trade has increased at more than a 12 percent annual rate over the past couple of years. China produces fully 20 percent of all EU imports and absorbs 10 percent of all EU exports. Almost all of Europe's solar panels come from China, as do all the rare earth elements Europe's economy needs to produce batteries and electronic vehicles. Already suffering economic damage from the severing of trade ties with Russia over the fighting in Ukraine, Brussels and member state leaders are especially wary of disrupting still more trade arrangements.
For all these constraints, Europe has expressed its dissatisfaction with Beijing's policies. In 2013, the EU imposed anti-dumping duties on China, alleging the use of subsidies. Not too long ago, the EU imposed sanctions against China for human rights violations, an act that scuttled an investment agreement on which Beijing and Brussels had negotiated for years. More recently, the EU has passed new rules allowing it to investigate foreign companies that benefit from government cash. The Netherlands recently joined Washington's ban on the sale of advanced chips and chip-making equipment to China.
Reinforcing such trends are the clear signs that public opinion in Europe has turned against China. Even in business, the number committed to China has narrowed. Only 10 firms in Europe and the United Kingdom account for fully 80 percent of investments in China.
Meanwhile, Chinese investment in Europe has declined and now stands at the lowest level since 2013. Even the hardship imposed by the loss of Russia trade has provided a warning to Europe to, in the words of NATO Secretary-General Jens Stoltenberg, avoid such "dangerous dependency."
While the EU and the UK try to keep what they value in China trade, it is apparent that these important economies are awakening to the same concerns as Washington. If these nations, for clear reasons, refuse simply to join the United States, the tendency to challenge communist China is gaining momentum, albeit slowly.
Views expressed in this article are the opinions of the author and do not necessarily reflect the views of The Epoch Times.