The End Is Near: California's Last Eviction Moratorium Will Expire on July 31
Commentary For the last three years, countless ears have been deaf to the cries of injustice from property owners and landlords throughout California. They cry injustice over a well-intended eviction moratorium. A moratorium that has left behind a troubling void of millions in unpaid rents, the collateral damage of foreclosures, bankruptcies, and displaced landlords and tenants statewide. Once again, our state has collectively failed to heed history's greatest lesson: that "what affects one of us, affects all of us." George Wu, a property owner I represent, is one of those landlords crying injustice. Mr. Wu cries injustice because his tenant has not paid any rent for the past three years. He cries injustice because he is left without an advocate in the state or local municipality who will fight to recoup his nearly $150,000 in unpaid rents. He cries injustice because he has nearly faced the prospect of a foreclosure on his property as a result of his tenant's refusal to pay rent. More than anything else, he cries injustice because he managed to escape communist China only to face a similar injustice on American soil. Like many other immigrants, Mr. Wu heard all about the so-called freedoms you and I take for granted, such as free enterprise and the right to be free from government interference in earning an honest wage. He has now been an American citizen for nearly seven years, but the environment feels all too familiar for him in light of a moratorium that has essentially forced him to pay his tenant's rent for several years without any promise of recouping his loss. Exactly three years after the moratorium's inception, Mr. Wu decided to take a stand. He started a hunger strike that spearheaded a new movement against the moratorium—a hunger strike that lasted much longer than anyone anticipated. With time, Mr. Wu's story drew considerable attention. On March 1, 2023, before a restless crowd of fellow property owners and media on the steps of Oakland's City Hall, Mr. Wu spoke in ardent opposition to Alameda County's eviction moratorium, which had no end in sight. Weary and fatigued from hunger, Mr. Wu managed to garner considerable support from small and disenfranchised property owners throughout the state. Three days later, that support led the County Board of Supervisors to announce an end date to their moratorium. The last moratorium in the state—the one in the city of San Leandro—is scheduled to end on July 31. The expiring moratorium will give landlords like Mr. Wu the opportunity to reclaim possession of their properties and evict to collect back-rent owed. This conclusion will also mark the beginning of a crisis—an unprecedented wave of statewide evictions. Seated at center stage of this crisis are state and local lawmakers responsible for prolonging these unsustainable moratoriums. From Governor Gavin Newsom's desk in Sacramento to local city council chambers and rent boards, lawmakers at every level of leadership played a part in this crisis. For years, these lawmakers have sought the convenience of "kicking the can down the road" instead of making prudent leadership decisions for the long-term future of California's housing market. After years of ignoring warnings from housing providers, leading experts, widespread data, pollsters, and a burgeoning homeless population, those same lawmakers now find themselves facing a daunting reality: There is no can left to kick. Some lawmakers will say the moratorium was created as an emergency response to the COVID-19 pandemic—a virus that caused worldwide panic. That's true, but leadership in moments of panic demands solutions that protect all segments of the population, not just certain demographics. A crisis demands measures that can benefit people at every end of the socioeconomic spectrum, not regulations that pit groups against one another. Part the curtains of California's countless housing measures prohibiting evictions and you will find lawmakers picking winners and losers in the housing crisis. They enacted a slew of measures that protect tenants and disenfranchise property owners like Mr. Wu. It is all too clear who held the state's allegiance. Contrary to what the Left may believe, each missed rent payment for most landlords is accompanied by a detrimental setback: a missed mortgage payment, a notice of default, a bankruptcy, or worse, a foreclosure. For the longest time, it seemed no one in leadership cared to listen. It was not until landlords and property owners like Mr. Wu collectively united and took a stand against these injustices that people began to listen. Nonetheless, the painful consequences remain for both landlords and tenants. Landlords like Mr. Wu continue facing the prospect of losing their homes, while tenants also face the prospect of losing their tenancies in the eviction wave to come. Homelessness is expected to dramatically increase. For the first time in a long time, California lawmakers do not have a means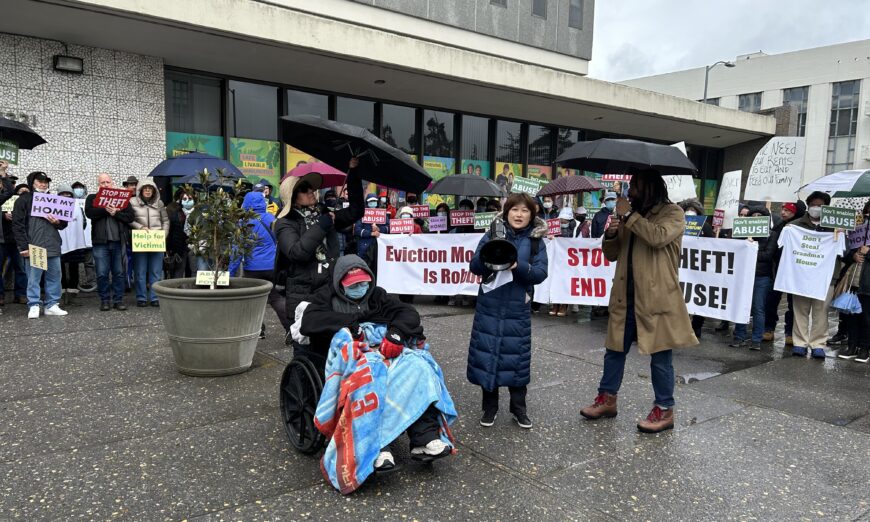 Commentary
For the last three years, countless ears have been deaf to the cries of injustice from property owners and landlords throughout California.
They cry injustice over a well-intended eviction moratorium. A moratorium that has left behind a troubling void of millions in unpaid rents, the collateral damage of foreclosures, bankruptcies, and displaced landlords and tenants statewide. Once again, our state has collectively failed to heed history's greatest lesson: that "what affects one of us, affects all of us."
George Wu, a property owner I represent, is one of those landlords crying injustice. Mr. Wu cries injustice because his tenant has not paid any rent for the past three years. He cries injustice because he is left without an advocate in the state or local municipality who will fight to recoup his nearly $150,000 in unpaid rents. He cries injustice because he has nearly faced the prospect of a foreclosure on his property as a result of his tenant's refusal to pay rent.
More than anything else, he cries injustice because he managed to escape communist China only to face a similar injustice on American soil.
Like many other immigrants, Mr. Wu heard all about the so-called freedoms you and I take for granted, such as free enterprise and the right to be free from government interference in earning an honest wage. He has now been an American citizen for nearly seven years, but the environment feels all too familiar for him in light of a moratorium that has essentially forced him to pay his tenant's rent for several years without any promise of recouping his loss.
Exactly three years after the moratorium's inception, Mr. Wu decided to take a stand. He started a hunger strike that spearheaded a new movement against the moratorium—a hunger strike that lasted much longer than anyone anticipated. With time, Mr. Wu's story drew considerable attention.
On March 1, 2023, before a restless crowd of fellow property owners and media on the steps of Oakland's City Hall, Mr. Wu spoke in ardent opposition to Alameda County's eviction moratorium, which had no end in sight. Weary and fatigued from hunger, Mr. Wu managed to garner considerable support from small and disenfranchised property owners throughout the state.
Three days later, that support led the County Board of Supervisors to announce an end date to their moratorium. The last moratorium in the state—the one in the city of San Leandro—is scheduled to end on July 31.
The expiring moratorium will give landlords like Mr. Wu the opportunity to reclaim possession of their properties and evict to collect back-rent owed.
This conclusion will also mark the beginning of a crisis—an unprecedented wave of statewide evictions.
Seated at center stage of this crisis are state and local lawmakers responsible for prolonging these unsustainable moratoriums. From Governor Gavin Newsom's desk in Sacramento to local city council chambers and rent boards, lawmakers at every level of leadership played a part in this crisis.
For years, these lawmakers have sought the convenience of "kicking the can down the road" instead of making prudent leadership decisions for the long-term future of California's housing market. After years of ignoring warnings from housing providers, leading experts, widespread data, pollsters, and a burgeoning homeless population, those same lawmakers now find themselves facing a daunting reality: There is no can left to kick.
Some lawmakers will say the moratorium was created as an emergency response to the COVID-19 pandemic—a virus that caused worldwide panic. That's true, but leadership in moments of panic demands solutions that protect all segments of the population, not just certain demographics. A crisis demands measures that can benefit people at every end of the socioeconomic spectrum, not regulations that pit groups against one another.
Part the curtains of California's countless housing measures prohibiting evictions and you will find lawmakers picking winners and losers in the housing crisis. They enacted a slew of measures that protect tenants and disenfranchise property owners like Mr. Wu. It is all too clear who held the state's allegiance.
Contrary to what the Left may believe, each missed rent payment for most landlords is accompanied by a detrimental setback: a missed mortgage payment, a notice of default, a bankruptcy, or worse, a foreclosure. For the longest time, it seemed no one in leadership cared to listen.
It was not until landlords and property owners like Mr. Wu collectively united and took a stand against these injustices that people began to listen.
Nonetheless, the painful consequences remain for both landlords and tenants. Landlords like Mr. Wu continue facing the prospect of losing their homes, while tenants also face the prospect of losing their tenancies in the eviction wave to come. Homelessness is expected to dramatically increase.
For the first time in a long time, California lawmakers do not have a means by which to postpone the tough decisions that need to be made for our housing market. Having picked winners and losers in the moratoriums, our lawmakers will now see they have indirectly created losers all around.
To effectively address the homelessness crisis and diminish the wave of evictions, our elected leaders will need to act swiftly to loosen regulations on housing construction statewide. Countless zoning and building ordinances disincentivize construction in places throughout the state. The effect is such that our state does not have enough housing to go around for the growing population.
Basic economics tells us that these conditions create a higher demand for housing and an oversupply of people seeking housing. We must make fundamental changes to state and local law that incentivize investment in the construction of residential housing. Many of these changes must address rent control, eviction control, and related ordinances that can shackle homeowners.
Second, we must loosen regulations on eviction ordinances throughout the state that discourage landlords from leasing their property. After the trauma experienced by many landlords following eviction moratoriums, a number of landlords are refusing to lease their properties altogether. Others are vetting the tenants they select by new and unconventional means, such as invasive financial investigations and bank account balance verifications.
If we want to diminish the homeless population and keep tenants in properties, we must make reasonable accommodations for landlords to lease their properties.
Finally, like Mr. Wu, we must take a stand against injustice no matter the cost. We must fight for our freedoms and liberties without fear of consequence. We must make our voices heard, no matter how great or tyrannical the opposition.
Mr. Wu's story reminds us that, alone, he is just one landlord. One Chinese immigrant. One property owner. One hunger strike participant. One California resident. Yet, just one seemingly insignificant individual's action can create a vast movement against injustice.
Likewise, I would encourage us to follow his example and make our voices heard. Make your voice heard at the ballot box. Make your voice heard at your local City Hall. Make your voice heard in your local paper and in your community's institutions. Together, we can bring bold and meaningful change wherever injustice resides.
Views expressed in this article are the opinions of the author and do not necessarily reflect the views of The Epoch Times.