The Electrifying Journey of the EKG
Measuring our heart's electrical pulse used to require three buckets and a 600-pound machine It was well over four weeks since I had gotten COVID-19. Other than a sometimes lingering cough and a little fatigue, I felt better. The only issue was a nagging chest tightness. It first started as an occasional quick but mild discomfort. It steadily became constant, but never "painful." Trying not to be a physician but a patient, I dutifully went in for a simple blood test and an electrocardiogram. An electrocardiogram, or ECG, is commonly known as an EKG, which is the German derivative. I haven't had an EKG in a long time. It's such a simple machine, yet it gives so much information. Luckily for me, all was good; I just had some mild post-COVID effects. The first real EKG machine was developed by British physiologist Augustus Desiré Waller in 1887. He would place electrodes on a patient's chest and back, and the heart's electrical pulses would then cause the mercury in several tubes to move. This image was projected onto a photographic plate (a flat sheet of metal), and a static image was recorded. This may call to mind images of a Dr. Frankenstein, but remember that the science was in its infancy. The Waller device was obviously not very accurate. He didn't even recognize the clinical importance of his invention, according to the article "AD Waller and the Electrocardiogram, 1887," published in the British Medical Journal. While Waller missed the significance of his invention, others did not. His work was taken further by Willem Einthoven, a physiology professor at Leiden University in the Netherlands. Einthoven used a string galvanometer to conduct the first recording of the human electrocardiogram in 1905. A galvanometer is a device used for detecting and measuring small currents of voltage. Einthoven's machine weighed 600 pounds. Patients in the hospital were connected to his machine using a telephone wire from the laboratory to the patient, a distance of almost a mile. Patients had to place each hand in a saline-filled bucket, and their left leg in a solution-filled bucket. These buckets acted as electrodes to conduct the current. Einthoven coined the term electrocardiogram and won the Nobel Prize for physiology and medicine in 1924. It was Sir Thomas Lewis of University College Hospital in London who recorded the first clinically irregular heartbeat. It soon became the "modern" modality to help differentiate a heart attack from simple chest pain. What a difference a century makes. Today, we have what is commonly known as the 12-lead EKG. The 12 leads refer to the 12 vectors of electricity that are measured by a full EKG. Today, Apple and Kardia have simple handheld devices that can give a validated rhythm strip. This means they can detect a cardiac arrhythmia such as atrial fibrillation (Afib). The Kardia mobile device weighs 18 grams, which is 0.04 pounds. Compare that to the 600-pound original machine. Afib has a strong link to sudden cardiac death and can lead to blood clots, stroke, and heart failure as well. Patients with Afib have a 3.7-fold increased risk of all-cause death compared with the general population, according to a 2018 article in PLoS One. A heart attack, medically known as a myocardial infarction (MI), happens when the heart muscle doesn't get enough blood (oxygen), which is called ischemia, and the muscle of the heart starts to die. An EKG is a quick simple method to help diagnose such an event. Coronary artery disease is the main underlying cause of an MI. The symptoms can vary but usually consist of: Chest pain or discomfort Feeling weak, lightheaded, or faint Pain in the jaw, neck, or even back Pain in one or both shoulders or arms Shortness of breath Some people actually present with stomach pains. This sometimes throws off the ER doctor. Women may also have a different presentation for a heart attack. They often don't have "chest pain" per se, but can have stomach, jaw, or neck pain and feel fatigued. While many still do have the typical presentation, many don't, and this can lead to a delay in seeking medical attention. Heart disease is the leading cause of death for both men and women. Roughly 659,000 people die each year from heart disease, which is about 1 in 4 deaths, according to a report from the American Heart Association. The National Center for Health Statistics reports that about 805,000 people in the United States suffer from a heart attack each year, with about 1 in 5 being a "silent heart attack," with no symptoms. What most people don't realize is that heart disease, not breast cancer, is the leading cause of death among women, with almost 300,000 deaths in 2017. That's 1 in 5 deaths, according to the Centers for Disease Control and Prevention. While cardiovascular disease is still our No. 1 killer, one thing that has changed significantly is what we know about the heart's rhythm and what it means. And it's all thanks to a 600-pou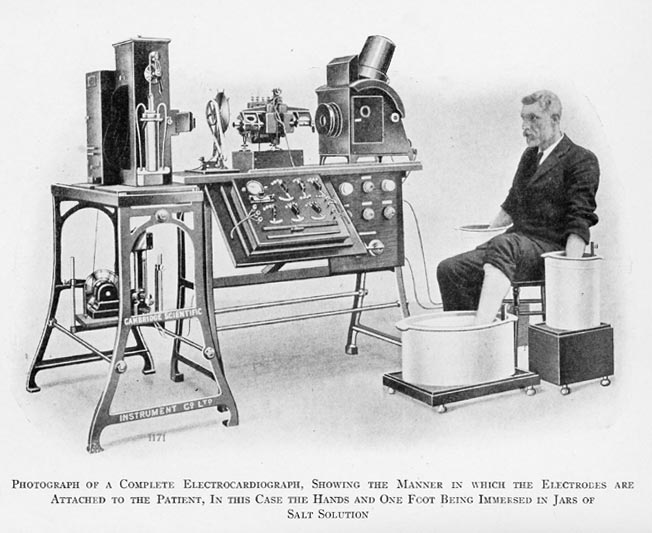 Measuring our heart's electrical pulse used to require three buckets and a 600-pound machine
It was well over four weeks since I had gotten COVID-19. Other than a sometimes lingering cough and a little fatigue, I felt better. The only issue was a nagging chest tightness. It first started as an occasional quick but mild discomfort. It steadily became constant, but never "painful."
Trying not to be a physician but a patient, I dutifully went in for a simple blood test and an electrocardiogram. An electrocardiogram, or ECG, is commonly known as an EKG, which is the German derivative. I haven't had an EKG in a long time. It's such a simple machine, yet it gives so much information. Luckily for me, all was good; I just had some mild post-COVID effects.
The first real EKG machine was developed by British physiologist Augustus Desiré Waller in 1887. He would place electrodes on a patient's chest and back, and the heart's electrical pulses would then cause the mercury in several tubes to move. This image was projected onto a photographic plate (a flat sheet of metal), and a static image was recorded. This may call to mind images of a Dr. Frankenstein, but remember that the science was in its infancy. The Waller device was obviously not very accurate. He didn't even recognize the clinical importance of his invention, according to the article "AD Waller and the Electrocardiogram, 1887," published in the British Medical Journal.
While Waller missed the significance of his invention, others did not. His work was taken further by Willem Einthoven, a physiology professor at Leiden University in the Netherlands. Einthoven used a string galvanometer to conduct the first recording of the human electrocardiogram in 1905. A galvanometer is a device used for detecting and measuring small currents of voltage.
Einthoven's machine weighed 600 pounds. Patients in the hospital were connected to his machine using a telephone wire from the laboratory to the patient, a distance of almost a mile. Patients had to place each hand in a saline-filled bucket, and their left leg in a solution-filled bucket. These buckets acted as electrodes to conduct the current. Einthoven coined the term electrocardiogram and won the Nobel Prize for physiology and medicine in 1924.
It was Sir Thomas Lewis of University College Hospital in London who recorded the first clinically irregular heartbeat. It soon became the "modern" modality to help differentiate a heart attack from simple chest pain.
What a difference a century makes. Today, we have what is commonly known as the 12-lead EKG. The 12 leads refer to the 12 vectors of electricity that are measured by a full EKG.
Today, Apple and Kardia have simple handheld devices that can give a validated rhythm strip. This means they can detect a cardiac arrhythmia such as atrial fibrillation (Afib). The Kardia mobile device weighs 18 grams, which is 0.04 pounds. Compare that to the 600-pound original machine. Afib has a strong link to sudden cardiac death and can lead to blood clots, stroke, and heart failure as well. Patients with Afib have a 3.7-fold increased risk of all-cause death compared with the general population, according to a 2018 article in PLoS One.
A heart attack, medically known as a myocardial infarction (MI), happens when the heart muscle doesn't get enough blood (oxygen), which is called ischemia, and the muscle of the heart starts to die. An EKG is a quick simple method to help diagnose such an event. Coronary artery disease is the main underlying cause of an MI. The symptoms can vary but usually consist of:
Chest pain or discomfort
Feeling weak, lightheaded, or faint
Pain in the jaw, neck, or even back
Pain in one or both shoulders or arms
Shortness of breath
Some people actually present with stomach pains. This sometimes throws off the ER doctor. Women may also have a different presentation for a heart attack. They often don't have "chest pain" per se, but can have stomach, jaw, or neck pain and feel fatigued. While many still do have the typical presentation, many don't, and this can lead to a delay in seeking medical attention.
Heart disease is the leading cause of death for both men and women. Roughly 659,000 people die each year from heart disease, which is about 1 in 4 deaths, according to a report from the American Heart Association.
The National Center for Health Statistics reports that about 805,000 people in the United States suffer from a heart attack each year, with about 1 in 5 being a "silent heart attack," with no symptoms.
What most people don't realize is that heart disease, not breast cancer, is the leading cause of death among women, with almost 300,000 deaths in 2017. That's 1 in 5 deaths, according to the Centers for Disease Control and Prevention.
While cardiovascular disease is still our No. 1 killer, one thing that has changed significantly is what we know about the heart's rhythm and what it means. And it's all thanks to a 600-pound machine that can now fit in a wristwatch. Now if we could only learn to eat healthy foods and exercise more.