The Canadian Memorial Ceremony to Commemorate the Fallen Soldiers Fighting for HK During WWII
The Consulate General of Canada in Hong Kong and Macau held the 75th Memorial Ceremony for Canadian War Veterans at Sai Wan Memorial Cemetery in Hong Kong on Dec. 4.Rachael Bedlington, Canadian Consul General in Hong Kong and Macau, and John Theodore Siewert, a 98-year-old veteran of World War II, also attended the ceremony. Veteran John Theodore Siewert, 98, was aided by others to lay a wreath at the cross. (Screenshot of the Facebook live broadcast of the Canadian Consulate General in Hong Kong and Macau) The first land battle the Canadian Army participated in during World War II was the Battle of Hong Kong in 1941. At that time, the British, Indian, Canadian, and Hong Kong soldiers participated in the defense of Hong Kong, and the Republic of China provided intelligence and evacuation support. The Chinese Communist Party (CCP) did not send any soldiers to defend Hong Kong. After 17 and a half days of intense fighting, more than 500 of the 1,975 Canadian troops were killed. Therefore, since 1947, the Canadian Consulate General in Hong Kong and Macau has held an annual memorial ceremony on the 1st Sunday of December to commemorate the Canadian soldiers, soldiers from other allied countries, and Hong Kong soldiers who died in its defense. Although Hong Kong fell to the Japanese in December 1941, it was handed back at the end of the war in August 1945. This year is the 75th session of the ceremony, and was open to the public. Consul generals of six countries in Hong Kong laid wreaths in commemoration of the fallen soldiers. (Screenshot of the Facebook live broadcast of the Canadian Consulate General in Hong Kong and Macau) At the start of the ceremony, the Canadian Consul General in Hong Kong and Macau, Rachael Bedlington, made an opening speech. She pointed out that the defense of Hong Kong is not only the history of Hong Kong but also the history of Canada. The battle was fought in the name of freedom, and that defense continues until today. She is very grateful to the Canadians in Hong Kong, Hong Kong people, and people from other countries who come to attend the memorial service every year. When she mentioned Hong Kong people, she even called them "Hongkongers" and said in Cantonese, "We will miss them forever." Ms. Bedlington also mentioned the Russian-Ukrainian war in her speech, saying that the war to defend freedom is still happening today, and she hopes that all parts of the world can continue to unite and support the Ukrainian people. Consul general of Canada, Rachael Bedlington, and consul generals of other allied countries laid wreaths to mourn the fallen soldiers of the battle of Hong Kong at the 75th memorial ceremony on Sunday, Dec. 4, 2022. (Screenshot of the Facebook live broadcast of the Canadian Consulate General in Hong Kong and Macau) Then the student representative made a speech, and all present observed two minutes of silence in respect of the dead. It was followed by the wreath-laying session, in which the Consul-Generals of Australia, Britain, the U.S., South Africa, New Zealand, and Ireland in Hong Kong each presented a wreath. John Theodore Siewert, a 98-year-old veteran of World War II, participated in the ceremony for the 4th year in succession. He was aided by others to help lay a wreath at the cross. Follow Follow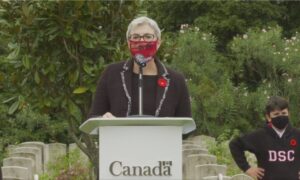 The Consulate General of Canada in Hong Kong and Macau held the 75th Memorial Ceremony for Canadian War Veterans at Sai Wan Memorial Cemetery in Hong Kong on Dec. 4.
Rachael Bedlington, Canadian Consul General in Hong Kong and Macau, and John Theodore Siewert, a 98-year-old veteran of World War II, also attended the ceremony.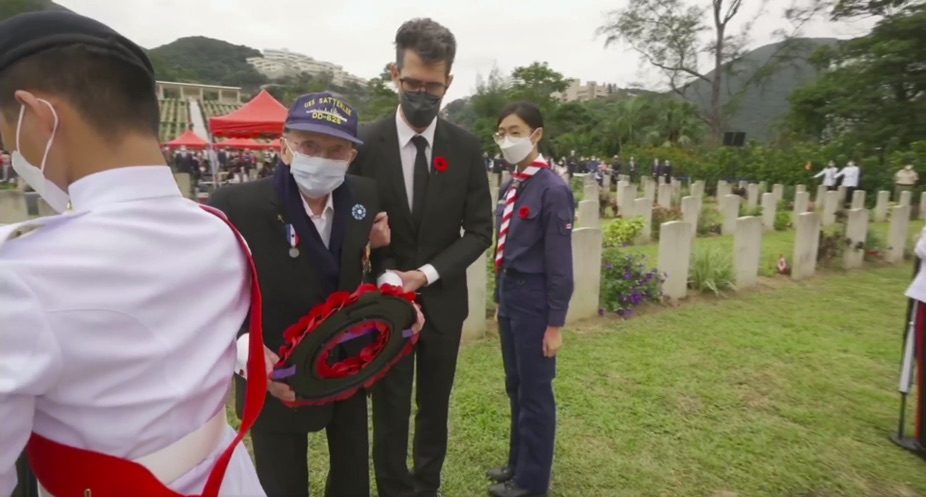 The first land battle the Canadian Army participated in during World War II was the Battle of Hong Kong in 1941. At that time, the British, Indian, Canadian, and Hong Kong soldiers participated in the defense of Hong Kong, and the Republic of China provided intelligence and evacuation support.
The Chinese Communist Party (CCP) did not send any soldiers to defend Hong Kong.
After 17 and a half days of intense fighting, more than 500 of the 1,975 Canadian troops were killed. Therefore, since 1947, the Canadian Consulate General in Hong Kong and Macau has held an annual memorial ceremony on the 1st Sunday of December to commemorate the Canadian soldiers, soldiers from other allied countries, and Hong Kong soldiers who died in its defense. Although Hong Kong fell to the Japanese in December 1941, it was handed back at the end of the war in August 1945.
This year is the 75th session of the ceremony, and was open to the public.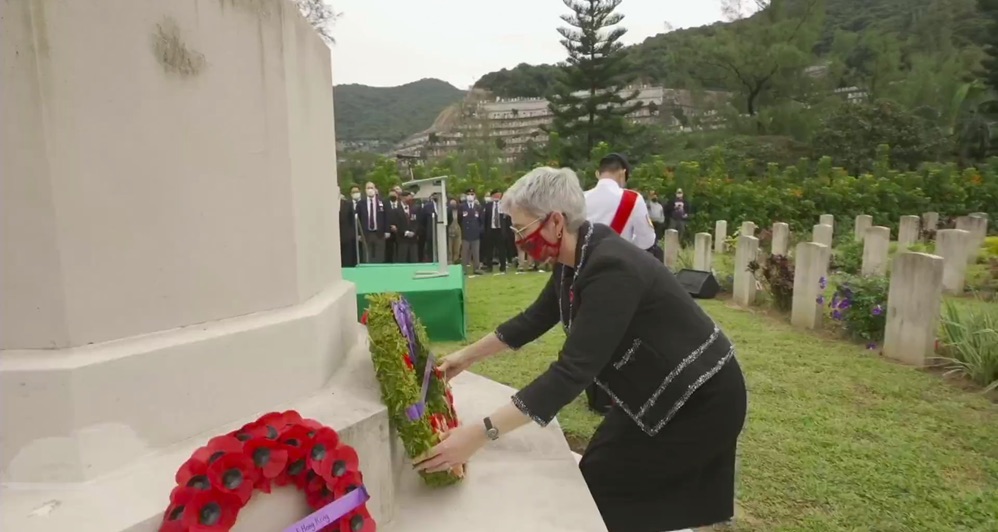 At the start of the ceremony, the Canadian Consul General in Hong Kong and Macau, Rachael Bedlington, made an opening speech. She pointed out that the defense of Hong Kong is not only the history of Hong Kong but also the history of Canada.
The battle was fought in the name of freedom, and that defense continues until today. She is very grateful to the Canadians in Hong Kong, Hong Kong people, and people from other countries who come to attend the memorial service every year. When she mentioned Hong Kong people, she even called them "Hongkongers" and said in Cantonese, "We will miss them forever."
Ms. Bedlington also mentioned the Russian-Ukrainian war in her speech, saying that the war to defend freedom is still happening today, and she hopes that all parts of the world can continue to unite and support the Ukrainian people.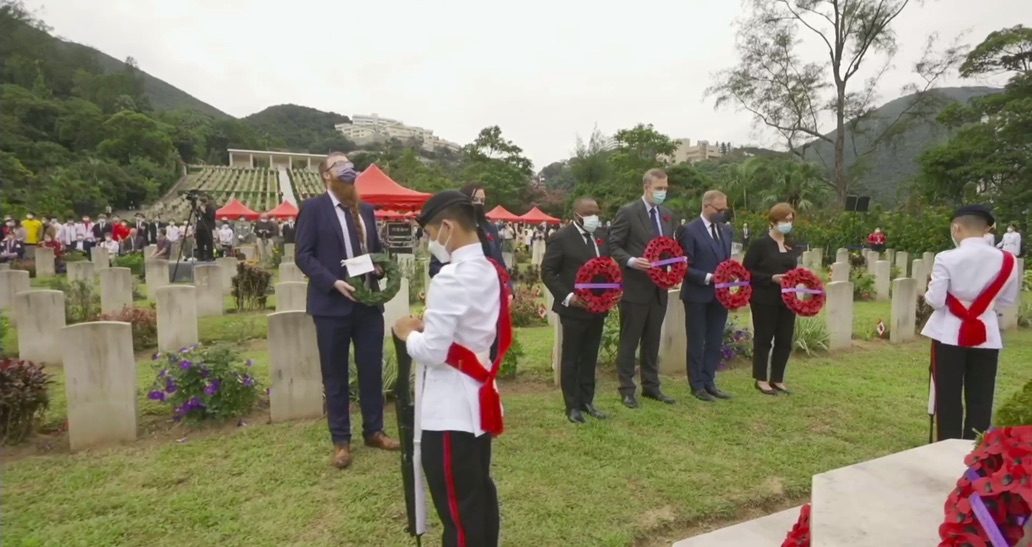 Then the student representative made a speech, and all present observed two minutes of silence in respect of the dead. It was followed by the wreath-laying session, in which the Consul-Generals of Australia, Britain, the U.S., South Africa, New Zealand, and Ireland in Hong Kong each presented a wreath.
John Theodore Siewert, a 98-year-old veteran of World War II, participated in the ceremony for the 4th year in succession. He was aided by others to help lay a wreath at the cross.