TCM Anti-Drug Rehabilitation in Just Ten Weeks Favoured by Hollywood Stars
Los Angeles is a city of entertainment and a metropolis with Hollywood stars and professional athletes, but it is also full of various social problems. Guns are rampant, drugs are everywhere, and many people are on the road of no return because of drug addiction. Yu Jiashan, a Traditional Chinese Medicine (TCM) practitioner in Ventura County, California, said that many second-tier Hollywood movie stars had, through friend's recommendation, asked him to help them get rid of drug addiction. Because normal western medical anti-drug sanatoriums cost thousands of dollars a day, for example, the top sanatorium that Britney Spears went to cost US$48,000 a week. In contrast, Chinese medicine is not only cheaper but also more secretive, because in general, when seeing a TCM practitioner people will not link this to "anti-drug" treatment. Two-prong Approach of Acupuncture and TCM Shortens Rehabilitation to 10 Weeks Yu believes that compared with Western medicine, TCM has the advantages of both "pain relief" and "gynaecology." Acupuncture in traditional Chinese medicine has significant curative effects on these diseases. Western surgical operations and emergency treatment are better than TCM, but TCM does exhibit its curative effect quite differently. Take "anti-drug rehabilitation treatment" as an example, Yu used a combination of acupuncture and traditional Chinese medicine. He called the prescription in this case he called the "Lin Wenzheng anagraph." Lin Wenzheng is the namesake of the famous Qing dynasty viceroy Lin Zexu, who banned the sale of opium at Humen in 1839, which ultimately triggered the Sino-British Opium War. Yu continued to say: "Chinese people have long-term experience in anti-drug rehabilitation treatment. This prescription can help addicts reduce their dependence on drugs bit by bit on a daily basis. It is not too unpleasant to drink, just it tastes a little bit strange." Whether it is heroin, marijuana, or other kinds of drugs, you can always quit eventually. He will take 10 weeks to complete the whole programme. He tells the addicts they can still take the drugs during the course whenever they need but have to reduce the amount by 10% every week. A Programme Very Much Favoured by Stars and Celebrities Most patients stopped seeing the doctor by the fourth or fifth week, and very few need the complete ten weeks. Yu believes that through TCM diagnosis and treatment, these celebrities do not need the full 10 weeks to finish the programme. After reducing the amount and frequency of drug use, they can resume work, or after they are again financially affordable to buy drugs again, they might resume doing that. He said: "This latter happens because their social network remains unchanged, which makes resumption of taking drugs later a real possibility. Chinese medicine can help them rid themselves of the drugs, but it cannot change the general environment they are in." Some parents brought their children to receive the treatment. Although the parents might be very angry, the children still continued to take drugs. The same was true for some celebrities. Because they wanted to make a movie, and because they looked too decadent after taking drugs, they have to do something. Later, after the treatment, her face turned red, and her waist straightened again to allow them to take part in movies. But after the filming, they would resume the habit again. Many patients have repeatedly come to Yu Jiashan for drug rehabilitation. He said, "This is more a social problem. People just want to reduce consumption, in quantity and in frequency, but don't really want to quit for good." Yu Jiashan never discloses the identity of his customers, nor does he raise prices arbitrarily without prior notice. Compared with Western medical practice, he is more favoured by stars and celebrities. "Maybe my clinic is remote enough and so is relatively more secretive," he said. TCM Becomes More and More Recognised in General Yu is committed to promoting the introduction of TCM and acupuncture into the U.S. health care system. For that, he has given free clinics at Capitol Hill for three consecutive years targeting the "Veterans Acupuncture Act" and "Heroes and Elders Proposal." Despite the many obstacles to getting Chinese medicine included in the U.S. Medicare Act, Yu found that there are more and more people recognizing Chinese medicine as a viable alternative. He said that the way Chinese medicine treats illnesses is more complicated and is completely different from that of Western practices. He cited his own successful treatment experience as an example. Once he had a patient who fell while skiing seven years ago. At first, the patient did not care about the leg injury, but it became increasingly painful. It really hurt. He had seen more than 100 doctors, both Chinese and Western, over the seven years but to no avail. From Yu's diagnosis, he found that the patient was suffering from "cold in the tendons" symptoms and n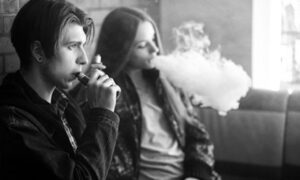 Los Angeles is a city of entertainment and a metropolis with Hollywood stars and professional athletes, but it is also full of various social problems. Guns are rampant, drugs are everywhere, and many people are on the road of no return because of drug addiction.
Yu Jiashan, a Traditional Chinese Medicine (TCM) practitioner in Ventura County, California, said that many second-tier Hollywood movie stars had, through friend's recommendation, asked him to help them get rid of drug addiction. Because normal western medical anti-drug sanatoriums cost thousands of dollars a day, for example, the top sanatorium that Britney Spears went to cost US$48,000 a week. In contrast, Chinese medicine is not only cheaper but also more secretive, because in general, when seeing a TCM practitioner people will not link this to "anti-drug" treatment.
Two-prong Approach of Acupuncture and TCM Shortens Rehabilitation to 10 Weeks
Yu believes that compared with Western medicine, TCM has the advantages of both "pain relief" and "gynaecology." Acupuncture in traditional Chinese medicine has significant curative effects on these diseases. Western surgical operations and emergency treatment are better than TCM, but TCM does exhibit its curative effect quite differently.
Take "anti-drug rehabilitation treatment" as an example, Yu used a combination of acupuncture and traditional Chinese medicine. He called the prescription in this case he called the "Lin Wenzheng anagraph." Lin Wenzheng is the namesake of the famous Qing dynasty viceroy Lin Zexu, who banned the sale of opium at Humen in 1839, which ultimately triggered the Sino-British Opium War.
Yu continued to say: "Chinese people have long-term experience in anti-drug rehabilitation treatment. This prescription can help addicts reduce their dependence on drugs bit by bit on a daily basis. It is not too unpleasant to drink, just it tastes a little bit strange." Whether it is heroin, marijuana, or other kinds of drugs, you can always quit eventually. He will take 10 weeks to complete the whole programme. He tells the addicts they can still take the drugs during the course whenever they need but have to reduce the amount by 10% every week.
A Programme Very Much Favoured by Stars and Celebrities
Most patients stopped seeing the doctor by the fourth or fifth week, and very few need the complete ten weeks. Yu believes that through TCM diagnosis and treatment, these celebrities do not need the full 10 weeks to finish the programme. After reducing the amount and frequency of drug use, they can resume work, or after they are again financially affordable to buy drugs again, they might resume doing that. He said: "This latter happens because their social network remains unchanged, which makes resumption of taking drugs later a real possibility. Chinese medicine can help them rid themselves of the drugs, but it cannot change the general environment they are in."
Some parents brought their children to receive the treatment. Although the parents might be very angry, the children still continued to take drugs. The same was true for some celebrities. Because they wanted to make a movie, and because they looked too decadent after taking drugs, they have to do something. Later, after the treatment, her face turned red, and her waist straightened again to allow them to take part in movies. But after the filming, they would resume the habit again. Many patients have repeatedly come to Yu Jiashan for drug rehabilitation. He said, "This is more a social problem. People just want to reduce consumption, in quantity and in frequency, but don't really want to quit for good."
Yu Jiashan never discloses the identity of his customers, nor does he raise prices arbitrarily without prior notice. Compared with Western medical practice, he is more favoured by stars and celebrities. "Maybe my clinic is remote enough and so is relatively more secretive," he said.
TCM Becomes More and More Recognised in General
Yu is committed to promoting the introduction of TCM and acupuncture into the U.S. health care system. For that, he has given free clinics at Capitol Hill for three consecutive years targeting the "Veterans Acupuncture Act" and "Heroes and Elders Proposal." Despite the many obstacles to getting Chinese medicine included in the U.S. Medicare Act, Yu found that there are more and more people recognizing Chinese medicine as a viable alternative. He said that the way Chinese medicine treats illnesses is more complicated and is completely different from that of Western practices.
He cited his own successful treatment experience as an example. Once he had a patient who fell while skiing seven years ago. At first, the patient did not care about the leg injury, but it became increasingly painful. It really hurt. He had seen more than 100 doctors, both Chinese and Western, over the seven years but to no avail. From Yu's diagnosis, he found that the patient was suffering from "cold in the tendons" symptoms and needed to get rid of all the cold energy from the body. Just after the second time, the patient received treatment at the clinic, he could start walking for 15 minutes. After four visits, the patient was able to travel to Hawaii.
During the free clinic at Capitol Hill, Yu helped a woman with a "tubal cyst" to have acupuncture. Originally, the patient felt pain around the abdomen, but after two sessions, the pain was significantly reduced, and she was also much relieved. The affected area was also less swollen as a result.
Yu added that acupuncture can treat pain with internal medicine, surgery, gynaecology, and paediatrics, and it is even also effective for skin diseases. In general, Chinese medicine does not rely on medicines like Western practice. As different methods are employed, their respective curative effects are also different in nature.