TCM Advice: Insufficient Water Intake Can Lead to Obesity
Water is an important ingredient of the human body, accounting for about 70 percent of the body weight. It is also essential in maintaining normal physiological functions.Statistical data show that life will be at risk when 15 percent of water inside the body is lost. In other words, sufficient water intake plays a vital role in keeping a healthy body. But the busy life that most urban people experience means there is a good chance that water drinking at the right time could well be off the mind of some people. It is well understood that prolonged dehydration is no good and will cause symptoms such as chapped lips, dull skin, and the feeling of tiredness. Worse still, some traditional Chinese medicine (TCM) practitioners pointed out, as we might not be too aware, that insufficient water intake can even lead to obesity. Too Little Water Intake Causes Tiredness, Headaches, Bad Temper Recently, Lu Huanyi, a physician at the Xin Hua An Chinese Medicine Clinic in Taiwan, shared a case on Facebook. This was a case of a female patient, about 30 years old, who drank only about 1000 ml (2.53 pints US) of water per day. She was usually so busy with daily work that she could hardly find much time to drink water when needed. Even worse, sometimes she could not even finish a glass of water on the table. She also rarely got up from work to go to the toilet, which led to repeated symptoms of urethritis, and her skin became rough and old, her lower abdomen was bulging, and there were signs of obesity too. Dr. Lu diagnosed such symptoms as mainly due to insufficient water intake and eating a lot of snacks in the office when feeling hungry. "It is true that she was indeed not hungry." Dr. Lu pointed out that the patient's symptoms were mainly due to the severe long-term lack of water in the body. He explained further that there is much similarity between hunger and thirst physiologically. Both conditions can result in tiredness, irrationality, and even a headache. It is because the part of the human brain processes the two senses of "hunger" and "thirst" in the same area. With this precondition, it is not so easy for the brain to distinguish between the two, and sometimes even gives mixed signals, mistaking thirst for hunger, leading a person to overeat, bringing in excessive calories that the body might not need. Guideline on Right Amount to Drink In determining the correct amount of water to take in, Dr. Lu said that the human body's average daily "water intake" must at least balance that of the "consumption." So how much is too much or too little? Dr. Lu answers that question in the following way. An average human body gives out about 1500 ml (3.8 pints) through direct excretion daily. When you include other sources like water loss through feces, respiration through breathing, skin evaporation through sweating, and the like, the total loss amounts to about 2500 ml (6.34 pints US). On the intake side, the human body absorbs about 1000 ml (2.53 pints) of water from food, and through the metabolic process every day, you need to drink at least 1500 ml (3.8 pints) of water to compensate for the total losses. However, the actual amount needed depends upon a person's body weight. As a recommendation, the water intake should reach 30ml (1.1 fl oz) for each kilogram of body weight. Those who are more weight conscious should use a figure of 40ml (1.6 fl oz) for each Kg (2.2 pounds) of body weight. Drink Smaller Amounts but More Frequently Recently the weather has been hot, and many people have become tired more easily. Dr. Lu explained that this is because, at a higher temperature, the blood vessels dilate more and reduce the blood and thus the oxygen that flows through the brain. Again, drinking more water is the best way to alleviate this root cause. Dr. Lu reminded us that drinking more water can prevent diseases and improve weight loss efficiency. ​​However, to achieve the best result, we should try to drink "small amounts" each time and increase the number of times. In so doing, we ensure the body is not dehydrated too much before the next replenishment. At the same time, also take care not to drink too fast. Otherwise, your body will lose water through urination before it is fully utilized. One good habit to help that done correctly is to keep the cup within sight so that you are constantly reminding yourself that it is time to be "rehydrated." As a rule of thumb, replenishing every hour or so with about 200 ml (8 fl oz) should be appropriate. Do not wait until you are thirsty. This is the principle of daily hydration done for its best effect. If you feel that boiled plain water is too "plain," you can always add a few tea leaves, lemon slices, or wolfberry to it. Using natural and healthy raw materials to bake the water and to allow the taste and nutrition to coexist will add another dimension to enjoying drinking water. Ultimately, life will become much more enjoyable after achieving such a good habit of he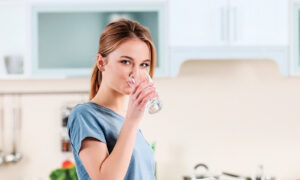 Water is an important ingredient of the human body, accounting for about 70 percent of the body weight. It is also essential in maintaining normal physiological functions.
Statistical data show that life will be at risk when 15 percent of water inside the body is lost. In other words, sufficient water intake plays a vital role in keeping a healthy body. But the busy life that most urban people experience means there is a good chance that water drinking at the right time could well be off the mind of some people. It is well understood that prolonged dehydration is no good and will cause symptoms such as chapped lips, dull skin, and the feeling of tiredness.
Worse still, some traditional Chinese medicine (TCM) practitioners pointed out, as we might not be too aware, that insufficient water intake can even lead to obesity.
Too Little Water Intake Causes Tiredness, Headaches, Bad Temper
Recently, Lu Huanyi, a physician at the Xin Hua An Chinese Medicine Clinic in Taiwan, shared a case on Facebook. This was a case of a female patient, about 30 years old, who drank only about 1000 ml (2.53 pints US) of water per day.
She was usually so busy with daily work that she could hardly find much time to drink water when needed. Even worse, sometimes she could not even finish a glass of water on the table.
She also rarely got up from work to go to the toilet, which led to repeated symptoms of urethritis, and her skin became rough and old, her lower abdomen was bulging, and there were signs of obesity too. Dr. Lu diagnosed such symptoms as mainly due to insufficient water intake and eating a lot of snacks in the office when feeling hungry.
"It is true that she was indeed not hungry." Dr. Lu pointed out that the patient's symptoms were mainly due to the severe long-term lack of water in the body. He explained further that there is much similarity between hunger and thirst physiologically.
Both conditions can result in tiredness, irrationality, and even a headache. It is because the part of the human brain processes the two senses of "hunger" and "thirst" in the same area. With this precondition, it is not so easy for the brain to distinguish between the two, and sometimes even gives mixed signals, mistaking thirst for hunger, leading a person to overeat, bringing in excessive calories that the body might not need.
Guideline on Right Amount to Drink
In determining the correct amount of water to take in, Dr. Lu said that the human body's average daily "water intake" must at least balance that of the "consumption." So how much is too much or too little?
Dr. Lu answers that question in the following way. An average human body gives out about 1500 ml (3.8 pints) through direct excretion daily. When you include other sources like water loss through feces, respiration through breathing, skin evaporation through sweating, and the like, the total loss amounts to about 2500 ml (6.34 pints US).
On the intake side, the human body absorbs about 1000 ml (2.53 pints) of water from food, and through the metabolic process every day, you need to drink at least 1500 ml (3.8 pints) of water to compensate for the total losses.
However, the actual amount needed depends upon a person's body weight. As a recommendation, the water intake should reach 30ml (1.1 fl oz) for each kilogram of body weight. Those who are more weight conscious should use a figure of 40ml (1.6 fl oz) for each Kg (2.2 pounds) of body weight.
Drink Smaller Amounts but More Frequently
Recently the weather has been hot, and many people have become tired more easily. Dr. Lu explained that this is because, at a higher temperature, the blood vessels dilate more and reduce the blood and thus the oxygen that flows through the brain. Again, drinking more water is the best way to alleviate this root cause.
Dr. Lu reminded us that drinking more water can prevent diseases and improve weight loss efficiency. ​​However, to achieve the best result, we should try to drink "small amounts" each time and increase the number of times. In so doing, we ensure the body is not dehydrated too much before the next replenishment. At the same time, also take care not to drink too fast. Otherwise, your body will lose water through urination before it is fully utilized.
One good habit to help that done correctly is to keep the cup within sight so that you are constantly reminding yourself that it is time to be "rehydrated." As a rule of thumb, replenishing every hour or so with about 200 ml (8 fl oz) should be appropriate. Do not wait until you are thirsty. This is the principle of daily hydration done for its best effect.
If you feel that boiled plain water is too "plain," you can always add a few tea leaves, lemon slices, or wolfberry to it. Using natural and healthy raw materials to bake the water and to allow the taste and nutrition to coexist will add another dimension to enjoying drinking water. Ultimately, life will become much more enjoyable after achieving such a good habit of healthy drinking.