Taiwan the Porcupine Prepares for War
CommentaryChinese leader Xi Jinping is talking about war again. On Nov. 9, he called on his military to train for a "new era" and prepare for military conflict over "increased instability and uncertainty." That brave new world could come sooner than most realize and at the point of a People's Liberation Army (PLA) bayonet. Since Hong Kong and chunks of India and the South China Sea have already fallen, the most likely next target is Taiwan. U.S. Under Secretary of Defense for Policy Colin Kahl said an attack on the island democracy could come anytime. "I don't think in the next couple of years they're likely to invade Taiwan. But you never know," he said on Nov. 4. Xi "has certainly given his military the charge to have that capability by the end of this decade and probably by 2027." The government in Taipei isn't waiting to find out. Defense preparations are underway now, with a strategic shift from purchases of large prestige systems, like fighter jets and naval vessels, to smaller but just as lethal anti-ship and surface-to-air missiles. Known as the porcupine strategy, Taiwan's shift takes advantage of China's chief weakness, moving soldiers by ship and plane across 110 miles of water called the Taiwan Strait. Taipei has an asymmetric advantage as the missiles required to hit Chinese planes and ships are much cheaper than their targets. The United States and Japan would most likely assist Taiwan with not only weapons systems, but direct intervention. China's expansion poses a bigger threat to both countries than Russia's because China's economic power is about 10 times greater. Allowing China to take Taiwan would also make Japan's southernmost islands vulnerable and break the first-island chain that contains China's navy. A Navy Force helicopter under the Eastern Theatre Command of the Chinese army takes part in military exercises in the waters around Taiwan, at an undisclosed location, on Aug. 8, 2022. (Eastern Theatre Command/Handout via Reuters) President Joe Biden has increased the level of commitment to Taiwan by saying, on four occasions, that the United States would defend Taiwan with military force. This hasn't changed U.S. policy on Taiwan because it was always, arguably, to defend the country. It also hasn't drastically changed strategic ambiguity because the White House usually followed up on Biden's threats with more circumspection. What Biden has done is dialed up the military commitment to Taiwan, which helps deter China. But after watching the Philippines, Ukraine, and India lose territory to China and Russia, Taiwan cannot rely entirely on U.S. intervention. In addition to missiles, Taiwan is prioritizing armed drone production and cyberdefense. Ukraine's military has proven the effectiveness of drones, whether of the type that fires missiles and returns to base or of the smaller kamikaze variety. Taiwan has purchased numerous armed drones from the United States but is also developing its own indigenous industry in case the PLA navy succeeds in blockading the island. Taiwan's ability to use the internet to inform the world about an ongoing attack will also be important to garnering global public support. If China attempts to cut Taiwan's access to the internet, for example, by severing underwater cables, Taipei's two-month-old Ministry for Digital Affairs is developing a backup service that does not rely on foreign governments or corporations. The ministry plans to connect 5G mobile towers to 700 satellite receivers in mid- or low-earth orbit. "Beijing has used its information warfare machine to undermine Taiwanese people's confidence in their government's handling of the coronavirus pandemic," according to Josh Rogin in The Washington Post. "Chinese influence campaigns promote pro-Beijing candidates in Taiwanese elections … [and focus] on convincing Taiwanese people that their democracy is a facade and that their leaders are controlled by the CIA." Speaker of the House Nancy Pelosi's trip to Taiwan in August was a dress rehearsal. Afterward, Chinese cyberattacks disabled Taiwan government websites and projected disinformation. Regular Taiwanese citizens organized against disinformation through fact-checking campaigns. While Taiwan is taking concrete steps to defend itself, the Biden administration and Australia's leftist government are asking for an audience with Xi and doing little concrete, on Taiwan's soil, to demonstrate their commitment and deter war. Too much rhetoric and flashy diplomacy—without American and Australian boots on the ground to back it up—could actually increase the risk of conflict. Biden and Australia's prime minister, Anthony Albanese, appear to think "jaw-jaw is better than war-war," as a British prime minister once said. That may not be true with Xi, in which case meeting him just appeases his ego, obscures the danger from the public, and kicks the can of war down an increasingly precipitous road. Views expressed in this article are the opinion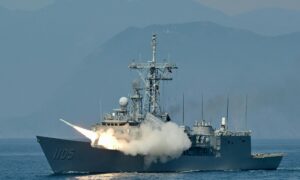 Commentary
Chinese leader Xi Jinping is talking about war again. On Nov. 9, he called on his military to train for a "new era" and prepare for military conflict over "increased instability and uncertainty." That brave new world could come sooner than most realize and at the point of a People's Liberation Army (PLA) bayonet. Since Hong Kong and chunks of India and the South China Sea have already fallen, the most likely next target is Taiwan.
U.S. Under Secretary of Defense for Policy Colin Kahl said an attack on the island democracy could come anytime.
"I don't think in the next couple of years they're likely to invade Taiwan. But you never know," he said on Nov. 4. Xi "has certainly given his military the charge to have that capability by the end of this decade and probably by 2027."
The government in Taipei isn't waiting to find out. Defense preparations are underway now, with a strategic shift from purchases of large prestige systems, like fighter jets and naval vessels, to smaller but just as lethal anti-ship and surface-to-air missiles.
Known as the porcupine strategy, Taiwan's shift takes advantage of China's chief weakness, moving soldiers by ship and plane across 110 miles of water called the Taiwan Strait. Taipei has an asymmetric advantage as the missiles required to hit Chinese planes and ships are much cheaper than their targets.
The United States and Japan would most likely assist Taiwan with not only weapons systems, but direct intervention. China's expansion poses a bigger threat to both countries than Russia's because China's economic power is about 10 times greater. Allowing China to take Taiwan would also make Japan's southernmost islands vulnerable and break the first-island chain that contains China's navy.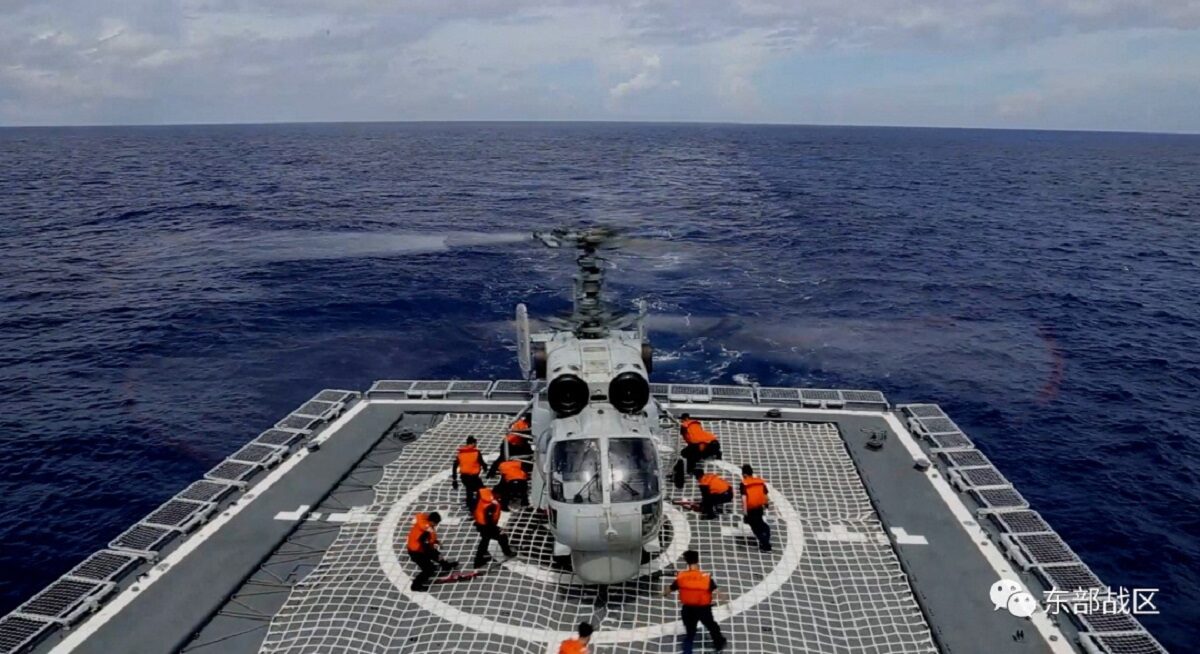 President Joe Biden has increased the level of commitment to Taiwan by saying, on four occasions, that the United States would defend Taiwan with military force. This hasn't changed U.S. policy on Taiwan because it was always, arguably, to defend the country. It also hasn't drastically changed strategic ambiguity because the White House usually followed up on Biden's threats with more circumspection. What Biden has done is dialed up the military commitment to Taiwan, which helps deter China.
But after watching the Philippines, Ukraine, and India lose territory to China and Russia, Taiwan cannot rely entirely on U.S. intervention. In addition to missiles, Taiwan is prioritizing armed drone production and cyberdefense.
Ukraine's military has proven the effectiveness of drones, whether of the type that fires missiles and returns to base or of the smaller kamikaze variety. Taiwan has purchased numerous armed drones from the United States but is also developing its own indigenous industry in case the PLA navy succeeds in blockading the island.
Taiwan's ability to use the internet to inform the world about an ongoing attack will also be important to garnering global public support. If China attempts to cut Taiwan's access to the internet, for example, by severing underwater cables, Taipei's two-month-old Ministry for Digital Affairs is developing a backup service that does not rely on foreign governments or corporations. The ministry plans to connect 5G mobile towers to 700 satellite receivers in mid- or low-earth orbit.
"Beijing has used its information warfare machine to undermine Taiwanese people's confidence in their government's handling of the coronavirus pandemic," according to Josh Rogin in The Washington Post.
"Chinese influence campaigns promote pro-Beijing candidates in Taiwanese elections … [and focus] on convincing Taiwanese people that their democracy is a facade and that their leaders are controlled by the CIA."
Speaker of the House Nancy Pelosi's trip to Taiwan in August was a dress rehearsal. Afterward, Chinese cyberattacks disabled Taiwan government websites and projected disinformation. Regular Taiwanese citizens organized against disinformation through fact-checking campaigns.
While Taiwan is taking concrete steps to defend itself, the Biden administration and Australia's leftist government are asking for an audience with Xi and doing little concrete, on Taiwan's soil, to demonstrate their commitment and deter war. Too much rhetoric and flashy diplomacy—without American and Australian boots on the ground to back it up—could actually increase the risk of conflict.
Biden and Australia's prime minister, Anthony Albanese, appear to think "jaw-jaw is better than war-war," as a British prime minister once said. That may not be true with Xi, in which case meeting him just appeases his ego, obscures the danger from the public, and kicks the can of war down an increasingly precipitous road.
Views expressed in this article are the opinions of the author and do not necessarily reflect the views of The Epoch Times.