Taiwan Media Ranked as Most Exposed to Chinese Influence, Taipei Fights Chinese Disinformation
Taiwan's media and society ranked top in exposure to Chinese influence according to a "China Index 2022" report by Taipei-based think tank Doublethink Lab.The report, published on Dec. 8, evaluates the Chinese Communist Party's (CCP) influence on 82 countries and territories worldwide. The index measures the degree of CCP influence in nine domains: academia, domestic politics, economy, foreign policy, law enforcement, military, society, technology, and media. Taiwan ranked first in media and society. Among the 82 countries and regions, Taiwan ranked 11th overall (all factors combined). Each domain in the report comprises 11 indicators corresponding to observable phenomena of Beijing's influence, with comparable data collected by regional partners through collaboration with local experts. According to the report data, the CCP influences Taiwan's media through various methods, one of which is money. Evidence of Media Subversion The indicators point to a large number of Taiwanese journalists, media organizations, or online influencers who have attended "all-expenses-paid" media tours to China or received training from Chinese state-owned media or state-connected entities. Meanwhile, some Taiwanese media outlets have reportedly used low-cost or free content provided by Chinese state-funded media. Chinese government advertisements or state media content are also inserted within Taiwan's local newspapers, online news sites, and social media. In addition, several local media outlets in Taiwan are wholly or partly owned by Chinese nationals or corporations. The CCP has long used these channels to spread disinformation and create divisions in Taiwan, in an attempt to undermine its democratic society. Another notable method of influence is coercion. The report indicates that Beijing has exerted pressure on some Taiwanese journalists, "including (but not limited to) public denouncement, revocation of journalist ID, and denial of visa." According to the survey's interviews with Taiwanese journalists who used to work in China, "[Beijing's] Taiwan Affairs Office would monitor their whereabouts with surveillance on their phones" and exert mental pressure on them. In sensitive times, "the [Chinese] national security and police departments would contact the journalists and remind them about the "red lines" of journalism. [And] when sensitive incidents occurred, such as the protests and crackdown in Tibet or Xinjiang, the phones of some Taiwanese journalists in China were interfered with [for the] whole day," which disabled their ability to do interviews. Many Taiwanese media are compromised because of the CCP's money and coercion. The reports indicate that many Taiwanese journalists or media organizations are "members of the [CCP's] Belt and Road Media Cooperation Alliance/Union, the Belt and Road News Alliance, or other Belt and Road media networks." For example, Taiwan's CTI Television Incorporation, TVBS Media Inc., and CTV are members of the Belt and Road News Alliance. Additionally, in order to receive contracts for embedded advertisements or for their benefits in China, many Taiwanese media would censor themselves on topics that might be critical of the Chinese government, according to one of the indicators. US Think Tank: The CCP Uses Disinformation to Influence Media Worldwide The Chinese Communist Party (CCP) has intensified efforts to influence media worldwide as part of a multibillion-dollar global campaign to shape public opinion in its favor, according to a Washington-based think tank. Freedom House, in its "Beijing's Global Media Influence" report released on Sept. 8, found that the Chinese regime and its proxies were using "more sophisticated, covert, and coercive tactics" to propagate pro-Beijing narratives, spread disinformation, and stamp out unfavorable news. A China Daily newspaper box in Midtown Manhattan, on Dec. 6, 2017. (Benjamin Chasteen/The Epoch Times) "Beijing is doubling down on its campaign to control how it is portrayed in the world and to bend foreign media to its will," Michael J. Abramowitz, president of Freedom House, said in a press release. "These efforts seek to silence criticism of the regime and convert independent media into shills for the Chinese Communist Party." The areas that experienced the most intense Chinese influence were: Taiwan, the United States, and the United Kingdom, with Freedom House labeling Beijing's manipulation efforts in those places as "very high." Taiwan: A Primary Target of Beijing's Disinformation Campaign Freedom House's report on Taiwan states that the CCP employs "new media tactics and strategies intended to sow local divisions, harm Taiwan's foreign relations, and destabilize its government." It said the CCP purposefully propagates false information about Taiwan's ruling party, the Democratic Progressive Party (DPP), to "discredit the democratic system in Taiwan while promoting China's authoritarian model and the idea of unificat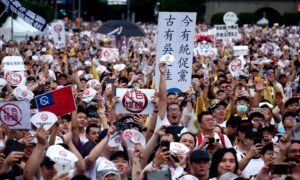 Taiwan's media and society ranked top in exposure to Chinese influence according to a "China Index 2022" report by Taipei-based think tank Doublethink Lab.
The report, published on Dec. 8, evaluates the Chinese Communist Party's (CCP) influence on 82 countries and territories worldwide.
The index measures the degree of CCP influence in nine domains: academia, domestic politics, economy, foreign policy, law enforcement, military, society, technology, and media. Taiwan ranked first in media and society.
Among the 82 countries and regions, Taiwan ranked 11th overall (all factors combined).
Each domain in the report comprises 11 indicators corresponding to observable phenomena of Beijing's influence, with comparable data collected by regional partners through collaboration with local experts.
According to the report data, the CCP influences Taiwan's media through various methods, one of which is money.
Evidence of Media Subversion
The indicators point to a large number of Taiwanese journalists, media organizations, or online influencers who have attended "all-expenses-paid" media tours to China or received training from Chinese state-owned media or state-connected entities.
Meanwhile, some Taiwanese media outlets have reportedly used low-cost or free content provided by Chinese state-funded media. Chinese government advertisements or state media content are also inserted within Taiwan's local newspapers, online news sites, and social media.
In addition, several local media outlets in Taiwan are wholly or partly owned by Chinese nationals or corporations.
The CCP has long used these channels to spread disinformation and create divisions in Taiwan, in an attempt to undermine its democratic society.
Another notable method of influence is coercion. The report indicates that Beijing has exerted pressure on some Taiwanese journalists, "including (but not limited to) public denouncement, revocation of journalist ID, and denial of visa."
According to the survey's interviews with Taiwanese journalists who used to work in China, "[Beijing's] Taiwan Affairs Office would monitor their whereabouts with surveillance on their phones" and exert mental pressure on them.
In sensitive times, "the [Chinese] national security and police departments would contact the journalists and remind them about the "red lines" of journalism. [And] when sensitive incidents occurred, such as the protests and crackdown in Tibet or Xinjiang, the phones of some Taiwanese journalists in China were interfered with [for the] whole day," which disabled their ability to do interviews.
Many Taiwanese media are compromised because of the CCP's money and coercion. The reports indicate that many Taiwanese journalists or media organizations are "members of the [CCP's] Belt and Road Media Cooperation Alliance/Union, the Belt and Road News Alliance, or other Belt and Road media networks." For example, Taiwan's CTI Television Incorporation, TVBS Media Inc., and CTV are members of the Belt and Road News Alliance.
Additionally, in order to receive contracts for embedded advertisements or for their benefits in China, many Taiwanese media would censor themselves on topics that might be critical of the Chinese government, according to one of the indicators.
US Think Tank: The CCP Uses Disinformation to Influence Media Worldwide
The Chinese Communist Party (CCP) has intensified efforts to influence media worldwide as part of a multibillion-dollar global campaign to shape public opinion in its favor, according to a Washington-based think tank.
Freedom House, in its "Beijing's Global Media Influence" report released on Sept. 8, found that the Chinese regime and its proxies were using "more sophisticated, covert, and coercive tactics" to propagate pro-Beijing narratives, spread disinformation, and stamp out unfavorable news.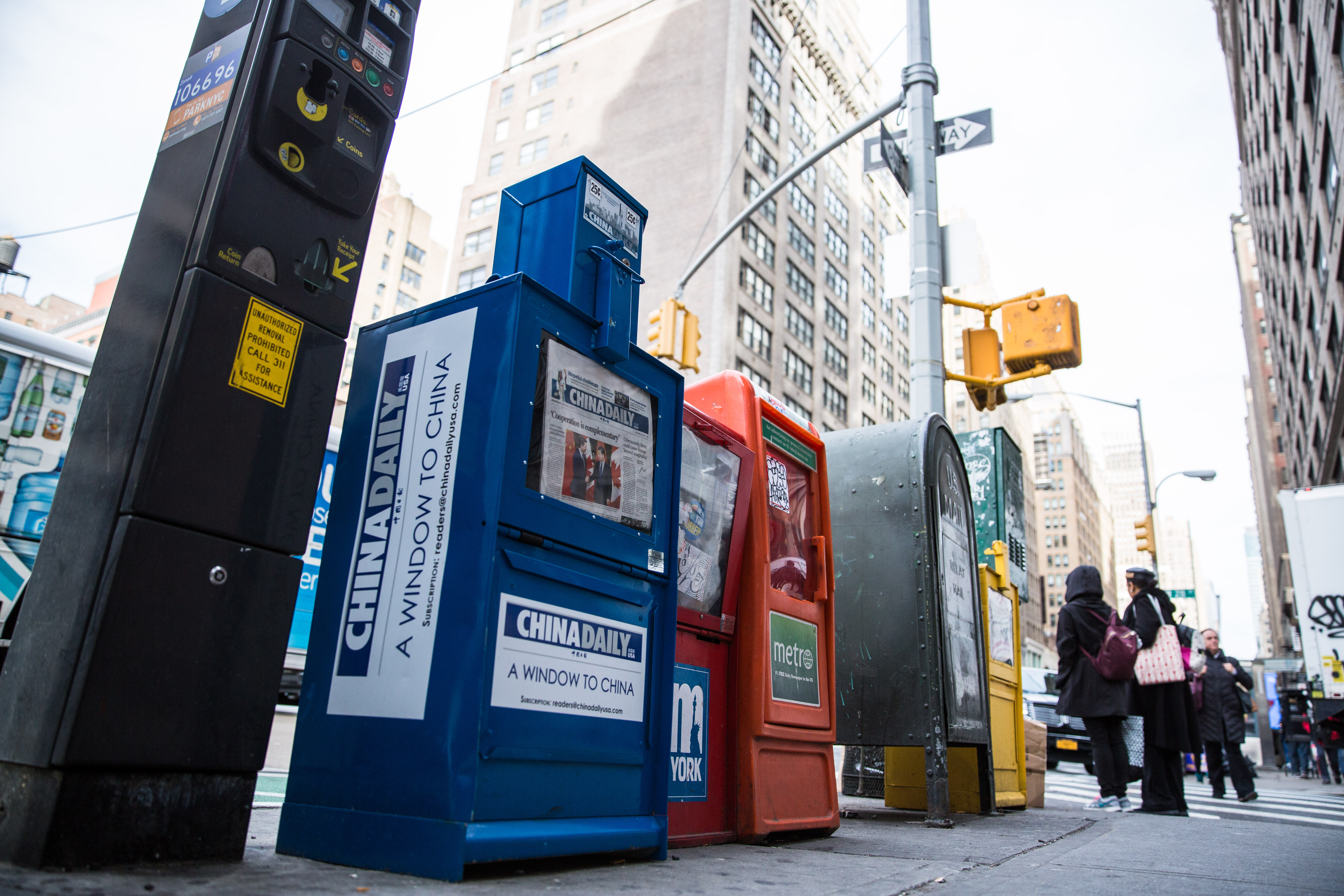 "Beijing is doubling down on its campaign to control how it is portrayed in the world and to bend foreign media to its will," Michael J. Abramowitz, president of Freedom House, said in a press release.
"These efforts seek to silence criticism of the regime and convert independent media into shills for the Chinese Communist Party."
The areas that experienced the most intense Chinese influence were: Taiwan, the United States, and the United Kingdom, with Freedom House labeling Beijing's manipulation efforts in those places as "very high."
Taiwan: A Primary Target of Beijing's Disinformation Campaign
Freedom House's report on Taiwan states that the CCP employs "new media tactics and strategies intended to sow local divisions, harm Taiwan's foreign relations, and destabilize its government."
It said the CCP purposefully propagates false information about Taiwan's ruling party, the Democratic Progressive Party (DPP), to "discredit the democratic system in Taiwan while promoting China's authoritarian model and the idea of unification."
The report identifies "disinformation campaigns" as one of the most prominent avenues for the CCP to influence Taiwan's media discourse.
Examples provided in the report include Beijing's engagement in disinformation campaigns on issues such as Hong Kong's pro-democracy protests, U.S.-Taiwan relations, and "most prominently, Taiwan's domestic politics."
Chinese state media often generate false or misleading narratives, networks of automated "bot" accounts on social media, or so-called content farms. And these narratives are then republished in some Taiwanese media, thereby amplifying their influence, the report said.
According to Huang Jaw-Nian, an assistant professor at Taiwan's National Chengchi University and one of the report's authors, dozens of disinformation campaigns mounted by Beijing-linked actors were detected monthly during the writing of the report, with a primary focus on discrediting Taiwan's democratically elected government during the COVID-19 pandemic.
Taiwan Fights Chinese Disinformation
Researchers at Doublethink Lab found that CCP-linked disinformation is inserted into Taiwan's media via four main channels: "1. direct promotion by Chinese government departments and/or Chinese state media; 2. local actors inside China, such as lower-level government departments, state-affiliated users, pro-CCP netizens, or social media bot networks; 3. Taiwanese actors with commercial interests in [promoting] CCP narratives, including Taiwanese businesses and paid influencers; and 4. more generalized Facebook fan pages or content farms that push out pro-Beijing content in exchange for payment, without a political objective."
However, the study found the Taiwanese public has become increasingly aware of the threats posed by the CCP's disinformation and "red media," a term referring to Taiwanese-owned media that promote Beijing's interests.
Due to Beijing's "countless information operations" aimed at Taiwan's news consumers over the past three years, Taiwan's Ministry of National Defense declared that it is combating the CCP's "cognitive warfare" against Taiwan.
Meanwhile, Taiwan's government agencies have also established initiatives to track disinformation, such as, the Ministry of Justice Investigation Bureau's Disinformation Prevention Center that was established in August 2019.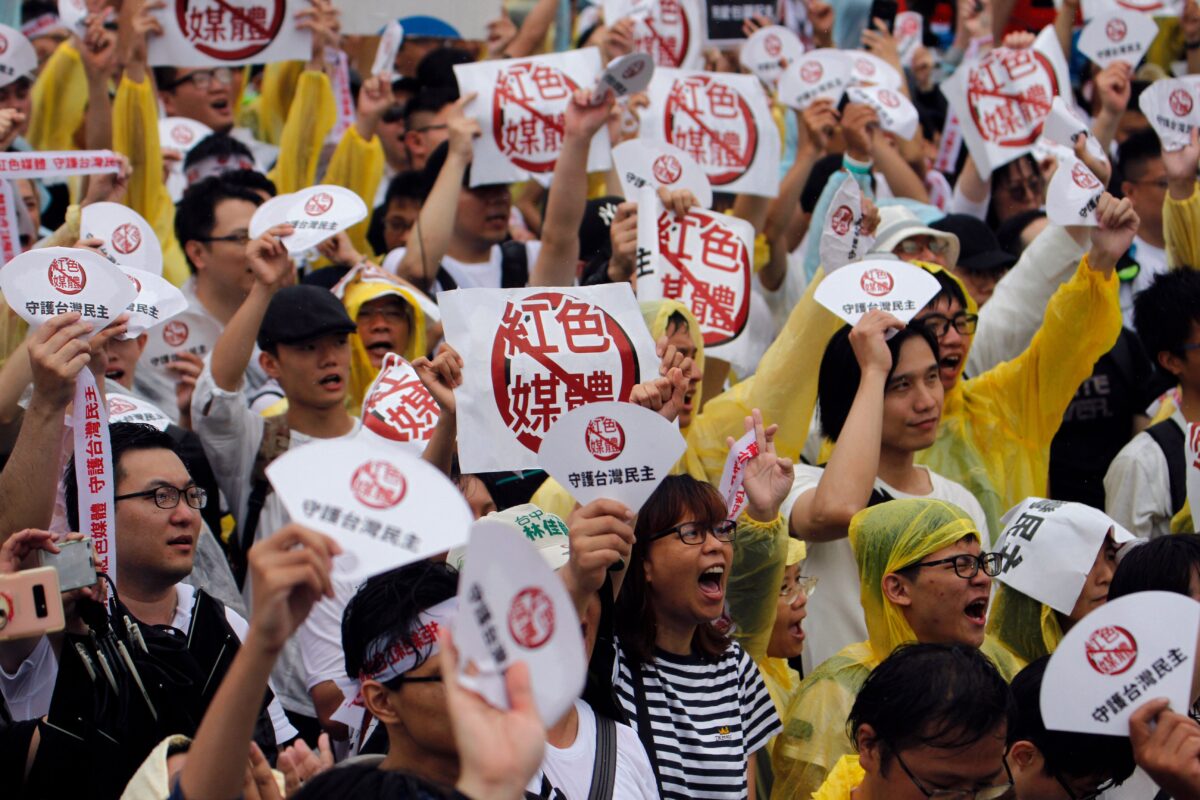 The World Cannot Do Without Taiwan
The government of Taiwan, or the Republic of China (ROC), was forced to retreat from China to Taiwan after the civil war with the Chinese Communist Party in 1949.
Since then, the CCP has claimed the island as a breakaway province, and claimed sovereignty over it. In recent years, Beijing has been clamoring to "liberate" Taiwan and repeatedly threatened it with force while increasing its military provocations around the island.
Meanwhile, the United States, Japan, and other Western nations have voiced their support for peace and stability across the Taiwan Strait and condemned the CCP's unilateral threat to change the status quo.
How important is Taiwan to the world? German newspaper Tagesspiegel (The Daily Mirror) published an article on Dec. 11 referring to Taiwan as "the most important island in the world."
The report said that Taiwan Semiconductor Manufacturing Co. (TSMC) produces more than 90 percent of the world's advanced semiconductors. It added that losing the island's chip supply will severely hamper global development.
According to the article, amid the global chip shortage last year, Chris Miller, a U.S. expert on the subject and author of the book "Chip War: The Fight for the World's Most Critical Technology," reportedly told the then-German Federal Minister for Economic Affairs and Energy that "the prosperity of the global economy depends on the safety of Taiwan."
The report emphasized that the international community must pay close attention to Taiwan's safety and that democratic nations should protect the island, even if it's out of self-interest or spontaneous unity.
It added that an invasion of Taiwan by the CCP would be the greatest threat to Germany's economic prosperity since World War II.
Mabel Han contributed to this report.