'Summoning the Devil:' Chinese Economist's Call for 'People's Economy' Triggers Backlash
A Chinese agricultural economist's claim that China's economy should be a "people's economy" has triggered fierce criticism in China and overseas.Wen Tiejun, a 71-year-old professor at China's Renmin University, is better known as an expert in China's agricultural and rural issues. In the 1980s and 1990s, Wen was engaged in rural policy research for the Chinese regime's central government. In a recent video clip, Wen said that all those economies that "safeguard sovereignty, develop independently, and possess a patriotic nature" are called "people's economies." He added that such an economy has four characteristics: independence, localization, comprehensiveness, and people orientation. Wen's claim came at a delicate time, just two weeks ahead of the Chinese Communist Party's 20th national congress, an event that takes place once every five years, reshuffling the regime's political leadership and plotting major policy decisions for the next five years. Well-known Chinese economist Xiang Songzuo blasted Wen for "cheating people in the name of the people." Chinese Communist Party leader Xi Jinping speaks at the opening session of the 19th Communist Party Congress in Beijing, on Oct. 18, 2017. (Kevin Frayer/Getty Images) Domestic Blasts Xiang, also a professor at Renmin University, wrote in a Weibo post that Wen was talking "nonsense" and "off the top of his head." "Isn't his so-called independence to close the borders and lock up the country, negating all foreign and joint venture enterprises? Isn't his so-called localization to restrict [China's economy] and [advocate] self-sufficiency? Isn't his so-called comprehensiveness to build enterprises into a big society [with various social functions]? Isn't his so-called people orientation to backtrack to public ownership?" Xiang retorted in his post, which has been removed from China's online platforms. Several Chinese economists joined Xiang in blasting Wen, according to the Chinese edition of Radio France Internationale (RFI) on Oct. 2. Ren Zeping, a former economist at the Development Research Center, overseen by China's cabinet, wrote on his Chinese social media account that Wen's words caused "widespread concern among private entrepreneurs," as Wen advocates moving away from the market economy, a return to a planned economy and closure of China's borders. "This is an experiment that has failed all over the world, for which hundreds of millions of people have paid a heavy price," reported RFI. Xiang's post is no longer available on Chinese social media platforms. Other posts criticizing Wen have also been removed. 'Wen is Testing the Waters for the CCP:' Economist Zheng Xuguang, a Chinese economist now living in the United States, said that Wen's ideas are not new. He speculated that Wen's proposal hints at a CCP plan to backtrack its economy to public ownership. In an interview with the Chinese language edition of The Epoch Times on Oct. 2, Zheng said that after the CCP took power in China, it transformed the Chinese economy into a state-owned economy, which it labeled "public ownership." Construction workers at a residential skyscraper in Shanghai on Nov. 29, 2016. (Johannes Eisele/AFP/Getty Images) "But the Chinese people didn't really own anything," Zheng said. As the date for the CCP's national congress approaches, Wen may have sensed upcoming policy changes. His proposed backtracking to the CCP's state-owned economy may have been a testing of the waters, said Zheng. Wen's so-called people's economy looks toward the impending nationalization of the private sector, warning off foreign capital before the CCP sets this in motion, according to Zheng. "Why did Wen promote 'independence?'" said Zheng, "The message is clear: [foreign capital] you'd better get out of the way, so the Chinese government can close the door and handle Chinese private capital." Zheng said he believes Chinese leader Xi Jinping represents those who resented China's opening-up policies: market reforms that began in the late 1970s and early 1980s. "These CCP officials want to lock the country because they are worried that China's economy will be affected by the international community, which will force them to carry out political reforms," Zheng said. "In [that] case, the CCP may collapse." Employees of the Shin Chiao Hotel build a rudimentary smelting furnace, in Beijing, in October 1958. (Jacquet-Francillon/AFP/Getty Images) "The CCP wants to maintain its absolute rule of China. As long as it has absolute control of the country, it can allow China's economy to be as rotten as that of North Korea." Recalling 'The Descent Into Hell' Zheng said that Wen's proposal is tantamount to "summoning the devil," as he described the disastrous man-made famine that caused millions of deaths in China. "Mao didn't care at all about people's death; he continued to eat his seafood," he said. Between 1958 and 1962, former CCP leader Mao Zedong launched "the Great Leap Forward,"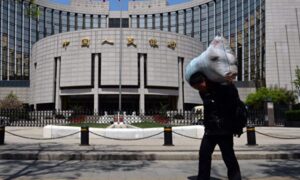 A Chinese agricultural economist's claim that China's economy should be a "people's economy" has triggered fierce criticism in China and overseas.
Wen Tiejun, a 71-year-old professor at China's Renmin University, is better known as an expert in China's agricultural and rural issues. In the 1980s and 1990s, Wen was engaged in rural policy research for the Chinese regime's central government.
In a recent video clip, Wen said that all those economies that "safeguard sovereignty, develop independently, and possess a patriotic nature" are called "people's economies." He added that such an economy has four characteristics: independence, localization, comprehensiveness, and people orientation.
Wen's claim came at a delicate time, just two weeks ahead of the Chinese Communist Party's 20th national congress, an event that takes place once every five years, reshuffling the regime's political leadership and plotting major policy decisions for the next five years.
Well-known Chinese economist Xiang Songzuo blasted Wen for "cheating people in the name of the people."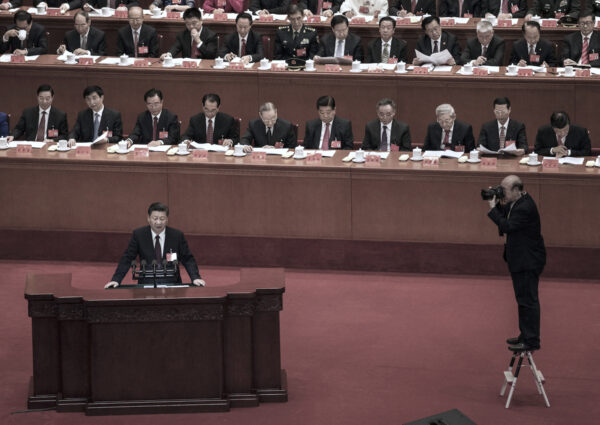 Domestic Blasts
Xiang, also a professor at Renmin University, wrote in a Weibo post that Wen was talking "nonsense" and "off the top of his head."
"Isn't his so-called independence to close the borders and lock up the country, negating all foreign and joint venture enterprises? Isn't his so-called localization to restrict [China's economy] and [advocate] self-sufficiency? Isn't his so-called comprehensiveness to build enterprises into a big society [with various social functions]? Isn't his so-called people orientation to backtrack to public ownership?" Xiang retorted in his post, which has been removed from China's online platforms.
Several Chinese economists joined Xiang in blasting Wen, according to the Chinese edition of Radio France Internationale (RFI) on Oct. 2.
Ren Zeping, a former economist at the Development Research Center, overseen by China's cabinet, wrote on his Chinese social media account that Wen's words caused "widespread concern among private entrepreneurs," as Wen advocates moving away from the market economy, a return to a planned economy and closure of China's borders. "This is an experiment that has failed all over the world, for which hundreds of millions of people have paid a heavy price," reported RFI.
Xiang's post is no longer available on Chinese social media platforms. Other posts criticizing Wen have also been removed.
'Wen is Testing the Waters for the CCP:' Economist
Zheng Xuguang, a Chinese economist now living in the United States, said that Wen's ideas are not new. He speculated that Wen's proposal hints at a CCP plan to backtrack its economy to public ownership.
In an interview with the Chinese language edition of The Epoch Times on Oct. 2, Zheng said that after the CCP took power in China, it transformed the Chinese economy into a state-owned economy, which it labeled "public ownership."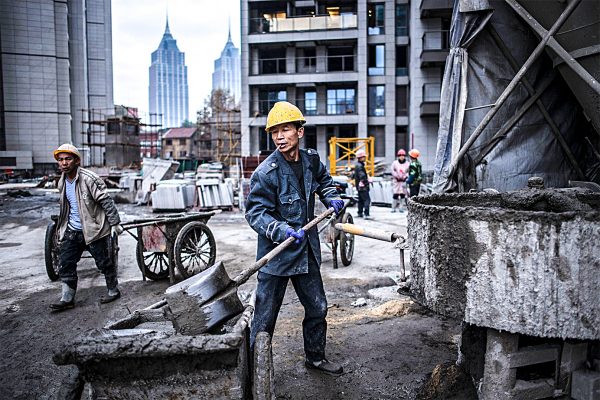 "But the Chinese people didn't really own anything," Zheng said.
As the date for the CCP's national congress approaches, Wen may have sensed upcoming policy changes. His proposed backtracking to the CCP's state-owned economy may have been a testing of the waters, said Zheng.
Wen's so-called people's economy looks toward the impending nationalization of the private sector, warning off foreign capital before the CCP sets this in motion, according to Zheng.
"Why did Wen promote 'independence?'" said Zheng, "The message is clear: [foreign capital] you'd better get out of the way, so the Chinese government can close the door and handle Chinese private capital."
Zheng said he believes Chinese leader Xi Jinping represents those who resented China's opening-up policies: market reforms that began in the late 1970s and early 1980s.
"These CCP officials want to lock the country because they are worried that China's economy will be affected by the international community, which will force them to carry out political reforms," Zheng said. "In [that] case, the CCP may collapse."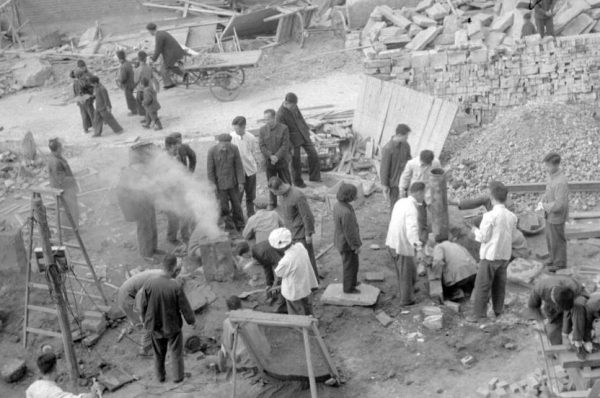 "The CCP wants to maintain its absolute rule of China. As long as it has absolute control of the country, it can allow China's economy to be as rotten as that of North Korea."
Recalling 'The Descent Into Hell'
Zheng said that Wen's proposal is tantamount to "summoning the devil," as he described the disastrous man-made famine that caused millions of deaths in China. "Mao didn't care at all about people's death; he continued to eat his seafood," he said.
Between 1958 and 1962, former CCP leader Mao Zedong launched "the Great Leap Forward," a campaign to surpass the economic production of the United Kingdom and the United States.
The CCP forced Chinese farmers into so-called people's communes and collectivized every aspect of society. The Great Leap Forward killed as many as 45 million people, according to historian Frank Dikötter, author of "Mao's Great Famine."
As Dikötter describes it in the book, "Between 1958 and 1962, China descended into hell. Mao Zedong threw his country into a frenzy with the Great Leap Forward, an attempt to catch up to and overtake Britain in less than fifteen years. The experiment ended in the greatest catastrophe the country had ever known, destroying tens of millions of lives."
Private Sector Purge
Now there are signs that the CCP may be moving in that direction again. It began purging the private sector last year, as Xi Jinping advocated "common prosperity" and "tertiary distribution," forcing China's successful private companies to "donate" their wealth to social causes.
The CCP's stringent zero-COVID policies ravaged the Chinese economy. Its second-quarter gross domestic product (GDP) grew a mere 0.4 percent this year over the same period in 2021.
Ning Haizhong and Luo Ya contributed to the article.