Study: Hachimijiogan Helps Delay Alzheimer's Disease
Hachimijiogan (HJG) is a prescription found in a Chinese classic medical publication "Golden Mirror of Medicine," written by Wu Qian, a famous doctor in the Qing Dynasty of ancient China. It has a wide range of uses and shows remarkable protective effects on chronic nephritis, arteriosclerosis, and diabetes. The latest Japanese research found that HJG can effectively delay the symptoms of Alzheimer's Disease (AD). HJG is composed of eight kinds of Chinese herbal medicines, for which five natural drugs (Rehmannia Root, Cornus Fruit, Dioscorea Rhizome, Moutan Bark, and Cinnamon Bark) and their extracted ingredients have been reported to have efficacy against AD pathology. HJG Can Improve Mild Dementia On Oct. 14, a research team led by Professor KAINUMA Mosaburo of the Department of Oriental Medicine of the Toyama University Hospital in Japan recruited 69 mild dementia patients aged 50 to 85, and all participants had been taking an acetylcholinesterase inhibitor (AChEI) for more than three months. AChEI is a commonly used drug to control AD. Participants were divided into two groups, the HJG group, and the control group. The control group continued to take AChEI, while the HJG group took AChEI plus HJG, with a dose of about 7.5 grams per day, for three to six months. The results showed that for the participants over 65 years, at three months a more significant improvement in cognitive function was seen in the HJG group compared with the control group. Analysis by sex showed that the women, especially, in the HJG group showed more significant improvement in cognitive function at both three and six months than the women in the control group. The data suggest that HJG has an adjuvant effect for AChEIs and that it delays the deterioration of the cognitive function of mild AD patients. The research results have been published in the njournal Frontiers in Pharmacology. More Than 55 Million Suffer From Dementia The research team said that Japan had entered a super-aging society and the number of dementia patients is increasing. According to data from the Statistics Bureau of the Ministry of Internal Affairs and Communications of Japan, as of Sept. 15, there were 36.27 million people over the age of 65 in Japan, an increase of 60,000 from the previous year, reaching a record high. It's estimated that approximately 6 million people over 65  will live with dementia as of 2020 and approximately 7 million (one in five seniors) may suffer from dementia by 2025. Moreover, more than 55 million people worldwide currently suffer from dementia, with an incidence of about 10 million each year. Estimates indicate it will rise to 78 million in 2030 and 139 million in 2050. Professor Mosaburo Kainuma said that AD is a progressive neurodegenerative disease and the most prevalent form of dementia, accounting for 60–70 percent of the disease. Intervention at an early stage is imperative. Although three AChEIs are currently approved for the treatment of mild AD, the effects are insufficient. Therefore, the need for new drugs to improve symptoms has become an urgent issue. Kidneys Are Related to the Brain HJG is a traditional Chinese herbal medicine that is actually prescribed for the treatment of "kidney deficiency." It is effective for various symptoms, such as chronic nephritis, arteriosclerosis, sequelae of cerebral hemorrhage, diabetes, uremia, sciatica, cold limbs, impotence, bladder stones, asthma, and dizziness symptoms. The research team said this study was done because they consider one of the mechanisms of cognitive impairment, from the traditional Chinese medicine (TCM) perspective, to be "kidney deficiency." In TCM , it's believed that the kidneys are closely related to the brain. The classic of TCM, "The Yellow Emperor's Inner Canon" records, "The kidney governs the bones, produces the marrow, and connects to the brain." The kidneys are in charge of the brain and spinal cord. People with kidney deficiency also have brain deficiency, and they tend to think slowly and feel exhausted. Ke Xia, a TCM practitioner in Japan, said in an interview with The Epoch Times on Nov. 18, "Chinese medicine was introduced to Japan from China, with a history of at least 1,500 years. The efficacy of many Chinese medicines has not yet been discovered. We hope to combine the efficacy of TCM through research and continue to reveal the new functions of medicinal materials and alleviate the suffering of the people." Follow Ellen Wan has worked for the Japanese edition of The Epoch Times since 2007. Follow Follow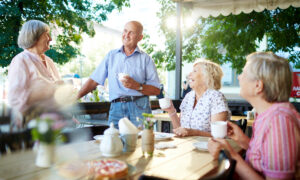 Hachimijiogan (HJG) is a prescription found in a Chinese classic medical publication "Golden Mirror of Medicine," written by Wu Qian, a famous doctor in the Qing Dynasty of ancient China. It has a wide range of uses and shows remarkable protective effects on chronic nephritis, arteriosclerosis, and diabetes. The latest Japanese research found that HJG can effectively delay the symptoms of Alzheimer's Disease (AD).
HJG is composed of eight kinds of Chinese herbal medicines, for which five natural drugs (Rehmannia Root, Cornus Fruit, Dioscorea Rhizome, Moutan Bark, and Cinnamon Bark) and their extracted ingredients have been reported to have efficacy against AD pathology.
HJG Can Improve Mild Dementia
On Oct. 14, a research team led by Professor KAINUMA Mosaburo of the Department of Oriental Medicine of the Toyama University Hospital in Japan recruited 69 mild dementia patients aged 50 to 85, and all participants had been taking an acetylcholinesterase inhibitor (AChEI) for more than three months. AChEI is a commonly used drug to control AD.
Participants were divided into two groups, the HJG group, and the control group. The control group continued to take AChEI, while the HJG group took AChEI plus HJG, with a dose of about 7.5 grams per day, for three to six months.
The results showed that for the participants over 65 years, at three months a more significant improvement in cognitive function was seen in the HJG group compared with the control group. Analysis by sex showed that the women, especially, in the HJG group showed more significant improvement in cognitive function at both three and six months than the women in the control group.
The data suggest that HJG has an adjuvant effect for AChEIs and that it delays the deterioration of the cognitive function of mild AD patients. The research results have been published in the njournal Frontiers in Pharmacology.
More Than 55 Million Suffer From Dementia
The research team said that Japan had entered a super-aging society and the number of dementia patients is increasing.
According to data from the Statistics Bureau of the Ministry of Internal Affairs and Communications of Japan, as of Sept. 15, there were 36.27 million people over the age of 65 in Japan, an increase of 60,000 from the previous year, reaching a record high. It's estimated that approximately 6 million people over 65 will live with dementia as of 2020 and approximately 7 million (one in five seniors) may suffer from dementia by 2025.
Moreover, more than 55 million people worldwide currently suffer from dementia, with an incidence of about 10 million each year. Estimates indicate it will rise to 78 million in 2030 and 139 million in 2050.
Professor Mosaburo Kainuma said that AD is a progressive neurodegenerative disease and the most prevalent form of dementia, accounting for 60–70 percent of the disease. Intervention at an early stage is imperative. Although three AChEIs are currently approved for the treatment of mild AD, the effects are insufficient. Therefore, the need for new drugs to improve symptoms has become an urgent issue.
Kidneys Are Related to the Brain
HJG is a traditional Chinese herbal medicine that is actually prescribed for the treatment of "kidney deficiency."
It is effective for various symptoms, such as chronic nephritis, arteriosclerosis, sequelae of cerebral hemorrhage, diabetes, uremia, sciatica, cold limbs, impotence, bladder stones, asthma, and dizziness symptoms.
The research team said this study was done because they consider one of the mechanisms of cognitive impairment, from the traditional Chinese medicine (TCM) perspective, to be "kidney deficiency."
In TCM , it's believed that the kidneys are closely related to the brain. The classic of TCM, "The Yellow Emperor's Inner Canon" records, "The kidney governs the bones, produces the marrow, and connects to the brain." The kidneys are in charge of the brain and spinal cord. People with kidney deficiency also have brain deficiency, and they tend to think slowly and feel exhausted.
Ke Xia, a TCM practitioner in Japan, said in an interview with The Epoch Times on Nov. 18, "Chinese medicine was introduced to Japan from China, with a history of at least 1,500 years. The efficacy of many Chinese medicines has not yet been discovered. We hope to combine the efficacy of TCM through research and continue to reveal the new functions of medicinal materials and alleviate the suffering of the people."