Stranded Mayflower Christians Need Our Help
CommentaryA Christian group has fled South Korea due to threats of deportation and is now in Thailand. The group of Chinese house Christians is called the Mayflower Church, after the pilgrims' famous ship that landed in Plymouth. Like the Pilgrims, the Mayflower Christians are on the run—this time from China, where regime harassment of the group, originally known as the Shenzhen Holy Reformed Church (SHRC), reached unbearable levels. Christianity and other religions in China are repressed by the Chinese Communist Party (CCP), sometimes by knocking crosses off churches or insisting on a compliant leadership that preaches according to CCP doctrines and arbitrary rules. In some Chinese churches, the CCP replaced the cross with a photo of CCP leader Xi Jinping. Worshiping God, under those circumstances, is beyond difficult. Thirty-two of the sixty Mayflower members who fled are children, according to Christianity Today. The Mayflower was established in 2012 in the city of Shenzhen, where the SHRC had a large church building and school for Christian education. Educating children in religion is directly contrary to the strictures of communism. While the church's pastor, Pan Yongguang, did not immediately respond to my request for comment, he recently spoke to The Wall Street Journal, Christianity Today, and UCANEWS, a Catholic news outlet. "I have been charged with subversion of state power, colluding with anti-China foreign forces and human trafficking," Pan told UCANEWS. "That's because I took these believers out of China, so now I'm suspected of trafficking or smuggling them." According to Christianity Today, Pan's friend, a pastor at a nearby church, was sentenced in 2019 to nine years in prison, acting as an impetus to the group's flight. Pan co-signed, along with 400 other house church leaders, a letter of protest against the CCP's suppression of religion. Chinese police raided his church and school and ordered them to shut down multiple times. "Concerned that their children would be taught material that violated their faith, SHRC parents believed they must move," according to Christianity Today. The pillar of a demolished Catholic church is seen in Puyang, in China's central Henan Province, on Aug. 13, 2018. (Greg Baker/AFP/Getty Images) According to the Journal, Mayflower "members say they have faced government harassment for years, but growing pressure eventually convinced them to leave China." The group fled to South Korea over two-and-a-half years ago, but their applications for religious asylum were repeatedly refused. Meanwhile, to make ends meet, the group had to rely on charity and "odd jobs like picking tangerines," according to UCANEWS. Those Mayflower members who stayed in China faced interrogation, heightened surveillance, and in some cases, house arrest. Pastor Pan told Christianity Today, "Even the children were familiar with the history of the Mayflower." He noted that his church had studied Pilgrim leader William Bradford's "Of Plymouth Plantation" before they left the country. "Our faith is the same as the Mayflower's; our experience is also similar to theirs." The president of China Aid, Bob Fu, alleged in UCANEWS that South Korea had denied 99.6 percent of asylum applications from China because Seoul is wary and seeks to avoid conflict with Beijing. "South Korea is effectively being held hostage by the CCP," he said. Members have appealed for help from the United States, but U.S. officials have apparently done little. To apply for asylum directly to the United Nations, applicants may not reside in a signatory country to U.N. refugee treaties. The group chose Thailand because it is not a signatory. But time is getting short, as the group's Thai visas are only valid for 15 days, with some already expired. Church members are scared that Thai authorities will deport them back to China. "This is dangerous, but it is an opportunity," the pastor told the Journal. Criticism From Chinese Christians Back Home While some house Christians in China have criticized Pan for fleeing China, he did exactly the right thing. The alternative is to put oneself at the mercy of the regime and continue under repression that could one day—judging by the treatment of Uyghurs, Tibetans, and Falun Gong adherents—devolve into genocide. Demonstrators supporting Tibetans, Uyghurs, and Hongkongers take part in a protest against the Chinese Communist Party as they march along Regent Street towards the Chinese Embassy in London on Oct. 1, 2021. (Matt Dunham/AP Photo) If at least some Chinese Christians flee, they can more effectively lend their efforts to the kind of public advocacy and political reforms that will eventually make the country safe for religion, and the world safe for democracy. "These Christians who have fled need and deserve urgent assistance to provide them with sanctuary," wrote Benedict Rogers in an email. Rogers is deputy chair of the British Conservative Party's Human Rig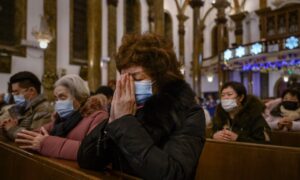 Commentary
A Christian group has fled South Korea due to threats of deportation and is now in Thailand. The group of Chinese house Christians is called the Mayflower Church, after the pilgrims' famous ship that landed in Plymouth.
Like the Pilgrims, the Mayflower Christians are on the run—this time from China, where regime harassment of the group, originally known as the Shenzhen Holy Reformed Church (SHRC), reached unbearable levels.
Christianity and other religions in China are repressed by the Chinese Communist Party (CCP), sometimes by knocking crosses off churches or insisting on a compliant leadership that preaches according to CCP doctrines and arbitrary rules.
In some Chinese churches, the CCP replaced the cross with a photo of CCP leader Xi Jinping.
Worshiping God, under those circumstances, is beyond difficult.
Thirty-two of the sixty Mayflower members who fled are children, according to Christianity Today. The Mayflower was established in 2012 in the city of Shenzhen, where the SHRC had a large church building and school for Christian education.
Educating children in religion is directly contrary to the strictures of communism.
While the church's pastor, Pan Yongguang, did not immediately respond to my request for comment, he recently spoke to The Wall Street Journal, Christianity Today, and UCANEWS, a Catholic news outlet.
"I have been charged with subversion of state power, colluding with anti-China foreign forces and human trafficking," Pan told UCANEWS. "That's because I took these believers out of China, so now I'm suspected of trafficking or smuggling them."
According to Christianity Today, Pan's friend, a pastor at a nearby church, was sentenced in 2019 to nine years in prison, acting as an impetus to the group's flight.
Pan co-signed, along with 400 other house church leaders, a letter of protest against the CCP's suppression of religion.
Chinese police raided his church and school and ordered them to shut down multiple times. "Concerned that their children would be taught material that violated their faith, SHRC parents believed they must move," according to Christianity Today.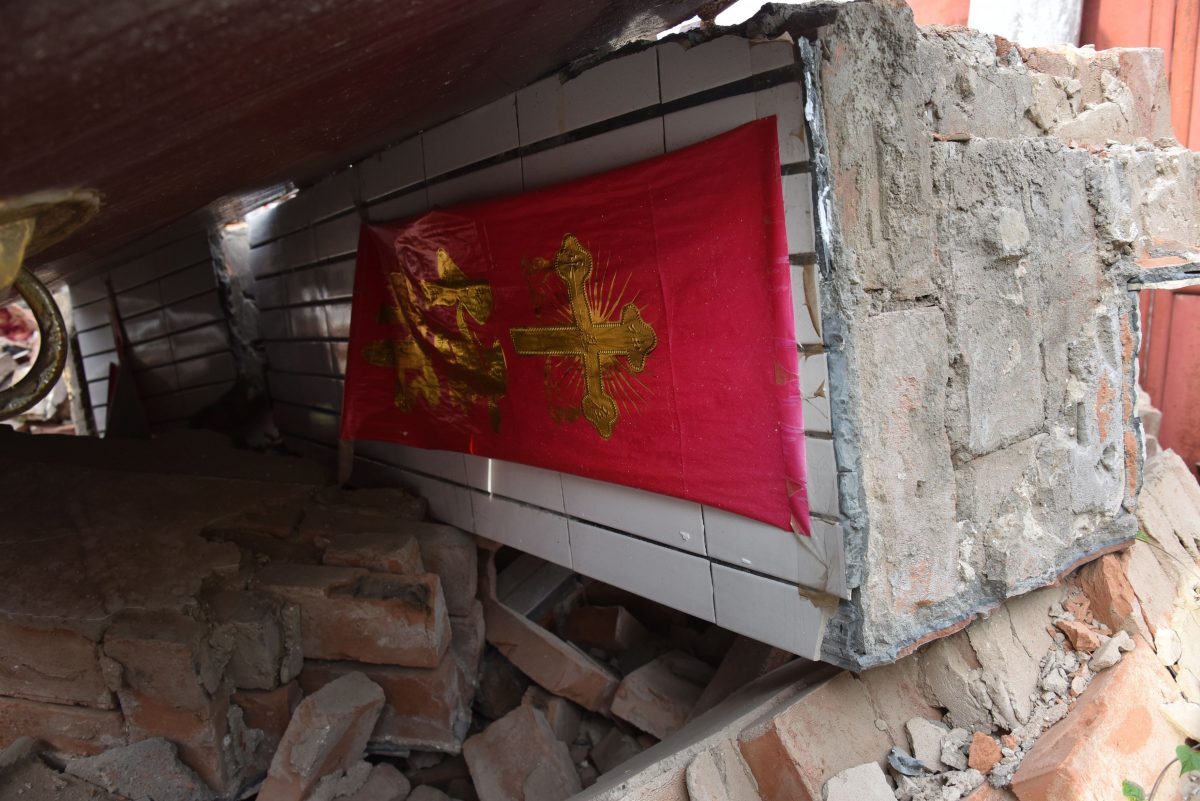 According to the Journal, Mayflower "members say they have faced government harassment for years, but growing pressure eventually convinced them to leave China."
The group fled to South Korea over two-and-a-half years ago, but their applications for religious asylum were repeatedly refused. Meanwhile, to make ends meet, the group had to rely on charity and "odd jobs like picking tangerines," according to UCANEWS.
Those Mayflower members who stayed in China faced interrogation, heightened surveillance, and in some cases, house arrest.
Pastor Pan told Christianity Today, "Even the children were familiar with the history of the Mayflower." He noted that his church had studied Pilgrim leader William Bradford's "Of Plymouth Plantation" before they left the country. "Our faith is the same as the Mayflower's; our experience is also similar to theirs."
The president of China Aid, Bob Fu, alleged in UCANEWS that South Korea had denied 99.6 percent of asylum applications from China because Seoul is wary and seeks to avoid conflict with Beijing.
"South Korea is effectively being held hostage by the CCP," he said.
Members have appealed for help from the United States, but U.S. officials have apparently done little.
To apply for asylum directly to the United Nations, applicants may not reside in a signatory country to U.N. refugee treaties. The group chose Thailand because it is not a signatory.
But time is getting short, as the group's Thai visas are only valid for 15 days, with some already expired.
Church members are scared that Thai authorities will deport them back to China. "This is dangerous, but it is an opportunity," the pastor told the Journal.
Criticism From Chinese Christians Back Home
While some house Christians in China have criticized Pan for fleeing China, he did exactly the right thing. The alternative is to put oneself at the mercy of the regime and continue under repression that could one day—judging by the treatment of Uyghurs, Tibetans, and Falun Gong adherents—devolve into genocide.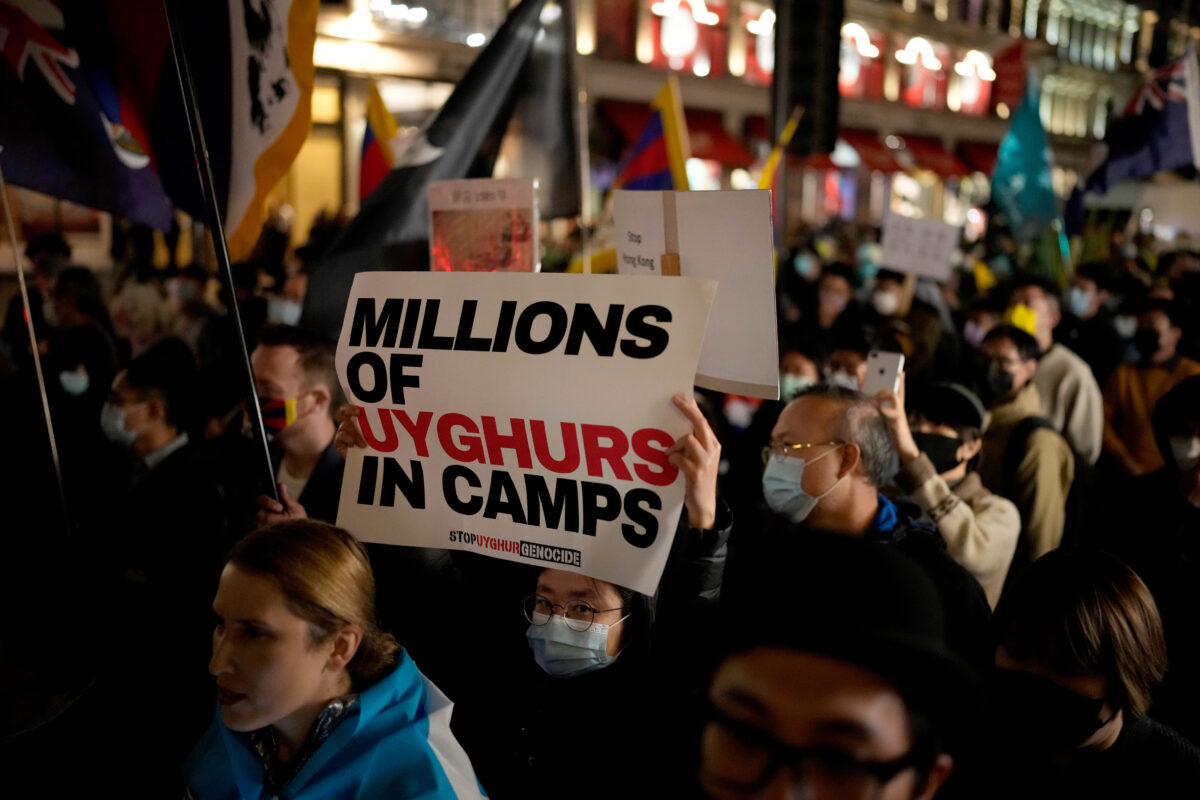 If at least some Chinese Christians flee, they can more effectively lend their efforts to the kind of public advocacy and political reforms that will eventually make the country safe for religion, and the world safe for democracy.
"These Christians who have fled need and deserve urgent assistance to provide them with sanctuary," wrote Benedict Rogers in an email. Rogers is deputy chair of the British Conservative Party's Human Rights Commission and author of "China Nexus: Thirty Years In and Around the Chinese Communist Party's Tyranny."
"They cannot safely return to China and they should not be put in a situation where they are at risk of being deported back to China," Rogers continued. "The United States and other liberal democracies should coordinate to find the best possible immediate solution, to offer them sanctuary as a matter of urgency."
The Mayflower Needs Our Help
Given the importance of supporting freedom of religion in China and considering the broader positive impact on potential political reform in China, why didn't South Korea and the United States do more to help the Mayflower Christians?
Why are U.N. rules so difficult for religious asylum applicants that they must put their heads into the dragon's jaws before they can apply for religious asylum directly to the United Nations?
In the case of South Korea, why must these asylum seekers mediate their U.N. request through a nation-state that could deport them back to China and is overly influenced by Beijing, with all the power it wields over trade relations?
The world's democracies must do more to help those fleeing China for reasons of conscience and religion.
Even the pope could help by providing these Christian faithful with Vatican travel documents. Tania Bruguera, a dissident from Cuba, proposed as much in 2014.
Like Bruguera, we need to think outside the box if we are to help those fleeing the CCP.
America was built upon immigrants who fled Europe's religious wars and persecutions. We owe the same to new asylum seekers if we are to carry forward the legacy of our Founding Fathers—if we want to remain a moral leader of the world and a beacon of freedom.
Views expressed in this article are the opinions of the author and do not necessarily reflect the views of The Epoch Times.