St. John's Wort: A Nonaddictive Wonder 'Antidepressant' With Fewer Side Effects
St. John's wort begins to bloom around St. John the Baptist's birthday, June 24—hence its name—and continues until August. There is a myth that St. John's wort sprouted at the site of the beheading of John the Baptist. It was believed that the plant's healing and protective properties were so profound that the devil perforated its leaves to hinder its power. A Brief History of St. John's Wort St. John's wort's scientific name is Hypericum perforatum, which refers to the plant's use by the ancient Greeks, who hung the herb over depictions of gods to ward off evil spirits. There are more than 400 species in the Hypericum family. It's the Hypericum perforatum subspecies that qualifies as a medicinal plant. Found in Western Asia, Europe, and North America, St. John's wort has been used as an herb for hundreds of years. Natural Antidepressant to Heal Mind and Body According to the 8th-century "Lorscher Arzneibuch," the oldest preserved book on monastic medicine, St. John's wort can alleviate melancholy. Later, herbalists and physicians found that it could also help with depression. St. John's wort functions like a wonder herb, healing many symptoms of depression but intervening gently, as opposed to antidepressants. Antidepressants remain some of the most controversial pharmaceuticals. German neurologist and psychiatrist Karl Kleist, who conducted research between the 1930s and 1950s, found that depression symptoms go beyond disorders of brain metabolism. The disease affects the entire person, both physically and psychologically. It's thought that St. John's wort can help with depression by healing its psychological side. A 2008 review of 29 international studies suggested that St. John's wort may be as effective as different standard-prescription antidepressants for mild to moderate depression. Unlike antidepressants, which often require trial and error to find the right one and dosage, St. John's wort has a more accessible and generalized healing effect. Many studies have suggested that St. John's wort increases activity among neurotransmitters. Furthermore, serotonin, dopamine, norepinephrine, and melatonin messenger substances appear to be regulated by the herb, and monoamine oxidase is inhibited. Consequently, taking the plant may make increase feelings of happiness, energy, and resilience in day-to-day life. It may also aid sleep. Moreover, St. John's wort seems to help alleviate physical exhaustion from burnout and stress. It's used for various types of depression, including depression associated with menopause, aging, and puberty, as well as postpartum depression. Safe, Not Addictive, but a Bit Slow Like many old-world treatments, St. John's wort has a track record of efficacy throughout its hundreds of years of use, showing that it poses few risks. The aforementioned 2008 review found that St. John's wort has fewer side effects than antidepressants. This can likely be attributed to its being free of manmade chemicals that can often trigger reactions. It also isn't addictive and can be used long-term without causing chemical dependency. However, natural healing requires patience, just like other forms of "slow medicine." Individual symptoms begin to improve with some patience, depending on the dosage and the severity of the symptoms. A positive effect may appear as soon as a few days but often takes about two to four weeks. A 'Universal Medicine' Hildegard von Bingen, a 12th-century abbess, expressed concern about St. John's wort's cultivation standards and viewed it as unfit for human consumption, but the famous 16th-century Swiss physician Paracelsus considered St. John's wort to be a universal medicine. It helped not only with depression and other mental health issues but also with other bodily functions. Improves Immunity St. John's wort enhances the skin's photosensitivity. Sunlight enables the body to produce vitamin D, which supports the immune system and many other biochemical processes. Sunlight also induces metastatic melanoma cell death. Helps Heal Wounds St. John's wort helps wounds to heal more quickly and cleanly. Midwives used to use St. John's wort oil if a woman's perineum ruptured during childbirth. St. John's wort has also been used to heal burns. Traditionally used in German medicine, St. John's wort oil has antimicrobial and anti-inflammatory effects, which also help with wound healing. The yellow flowers yield a deep red oil; the color comes from hypericin, a red pigment believed to be one of the active components, along with hyperforin. Hyperforin can inhibit cancer invasion and metastasis. When combined with sunlight, it can inhibit certain viruses and other pathogens. Soothes Chronic Pain This plant is also claimed to ease the pain of various conditions, including sciatica, rheumatism, arthritis, gout, and menstruation, as well as lumbago, strains, and contortions in the lower back. It may also ease the itching and burning of hemorrhoids and vagin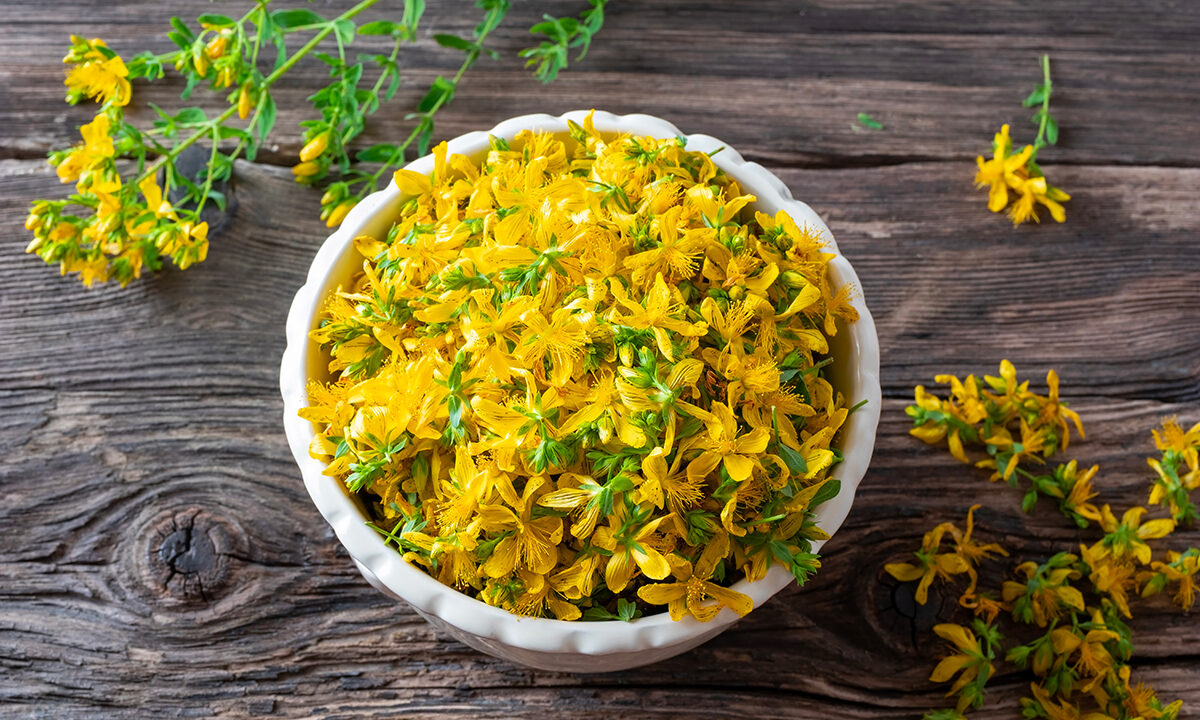 St. John's wort begins to bloom around St. John the Baptist's birthday, June 24—hence its name—and continues until August. There is a myth that St. John's wort sprouted at the site of the beheading of John the Baptist. It was believed that the plant's healing and protective properties were so profound that the devil perforated its leaves to hinder its power.
A Brief History of St. John's Wort
St. John's wort's scientific name is Hypericum perforatum, which refers to the plant's use by the ancient Greeks, who hung the herb over depictions of gods to ward off evil spirits.
There are more than 400 species in the Hypericum family. It's the Hypericum perforatum subspecies that qualifies as a medicinal plant.
Found in Western Asia, Europe, and North America, St. John's wort has been used as an herb for hundreds of years.
Natural Antidepressant to Heal Mind and Body
According to the 8th-century "Lorscher Arzneibuch," the oldest preserved book on monastic medicine, St. John's wort can alleviate melancholy.
Later, herbalists and physicians found that it could also help with depression.
St. John's wort functions like a wonder herb, healing many symptoms of depression but intervening gently, as opposed to antidepressants. Antidepressants remain some of the most controversial pharmaceuticals.
German neurologist and psychiatrist Karl Kleist, who conducted research between the 1930s and 1950s, found that depression symptoms go beyond disorders of brain metabolism. The disease affects the entire person, both physically and psychologically. It's thought that St. John's wort can help with depression by healing its psychological side.
A 2008 review of 29 international studies suggested that St. John's wort may be as effective as different standard-prescription antidepressants for mild to moderate depression. Unlike antidepressants, which often require trial and error to find the right one and dosage, St. John's wort has a more accessible and generalized healing effect.
Many studies have suggested that St. John's wort increases activity among neurotransmitters. Furthermore, serotonin, dopamine, norepinephrine, and melatonin messenger substances appear to be regulated by the herb, and monoamine oxidase is inhibited.
Consequently, taking the plant may make increase feelings of happiness, energy, and resilience in day-to-day life. It may also aid sleep.
Moreover, St. John's wort seems to help alleviate physical exhaustion from burnout and stress.
It's used for various types of depression, including depression associated with menopause, aging, and puberty, as well as postpartum depression.
Safe, Not Addictive, but a Bit Slow
Like many old-world treatments, St. John's wort has a track record of efficacy throughout its hundreds of years of use, showing that it poses few risks.
The aforementioned 2008 review found that St. John's wort has fewer side effects than antidepressants. This can likely be attributed to its being free of manmade chemicals that can often trigger reactions.
It also isn't addictive and can be used long-term without causing chemical dependency.
However, natural healing requires patience, just like other forms of "slow medicine."
Individual symptoms begin to improve with some patience, depending on the dosage and the severity of the symptoms. A positive effect may appear as soon as a few days but often takes about two to four weeks.
A 'Universal Medicine'
Hildegard von Bingen, a 12th-century abbess, expressed concern about St. John's wort's cultivation standards and viewed it as unfit for human consumption, but the famous 16th-century Swiss physician Paracelsus considered St. John's wort to be a universal medicine.
It helped not only with depression and other mental health issues but also with other bodily functions.
Improves Immunity
St. John's wort enhances the skin's photosensitivity. Sunlight enables the body to produce vitamin D, which supports the immune system and many other biochemical processes. Sunlight also induces metastatic melanoma cell death.
Helps Heal Wounds
St. John's wort helps wounds to heal more quickly and cleanly. Midwives used to use St. John's wort oil if a woman's perineum ruptured during childbirth. St. John's wort has also been used to heal burns.
Traditionally used in German medicine, St. John's wort oil has antimicrobial and anti-inflammatory effects, which also help with wound healing.
The yellow flowers yield a deep red oil; the color comes from hypericin, a red pigment believed to be one of the active components, along with hyperforin.
Hyperforin can inhibit cancer invasion and metastasis. When combined with sunlight, it can inhibit certain viruses and other pathogens.
Soothes Chronic Pain
This plant is also claimed to ease the pain of various conditions, including sciatica, rheumatism, arthritis, gout, and menstruation, as well as lumbago, strains, and contortions in the lower back. It may also ease the itching and burning of hemorrhoids and vaginitis.
St. John's wort oil is also used to treat myalgia (muscle pain, inflammation, and soreness after treatment), soothes and moisturizes skin, and relieves skin irritation.
It can also help with:
Balancing blood sugar
Nervous tension and nerve pain (neuralgia)
Bladder infections
Contracting (astringent) slowing bleeding (hemostatic)
Stomach discomfort, including diarrhea and flatulence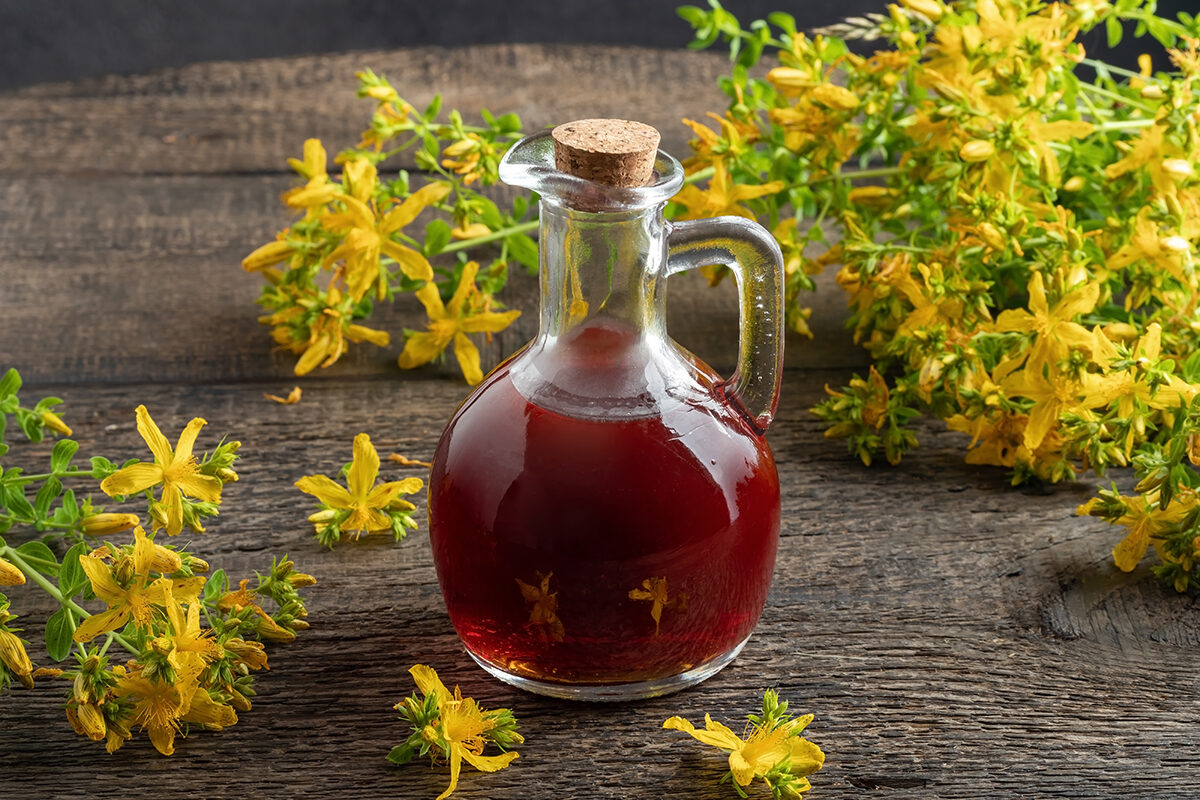 How to Use St. John's Wort
There are many ways to use St. John's wort oils, extracts, tinctures, and teas to address minor symptoms of psychological and psychosomatic problems.
Red oil is produced when the flowers and leaves are pressed.
To create a topical ointment, combine the herb with Vaseline, cocoa butter, or beeswax. For topical application, compresses (with water) can also be used.
To make tinctures with St. John's wort, mix 1/4 jar of the dried herb with 80 to 90 proof alcohol poured up to the top of the jar. Place a lid on the jar. Store the tincture in a tightly sealed glass container in a dark place for about six weeks. Consider diluting the solution for use in compresses. Apple vinegar works as an alternative to alcohol.
To take the tincture, add about 10 drops to a glass of water.
The dosages vary in different clinical trials, mostly ranging from 300 milligrams a day to 1,800 milligrams a day. According to Web MD, the most common dose used in "studies has been 300 milligrams three times a day as a standardized extract."
The skin's sensitivity to UV light increases with higher daily doses, so avoid excessive sun exposure while taking it.
How to Find or Grow St. John's Wort
Hypericum has deep roots, a two-edged stem, and five-petaled yellow flowers, which have yellow stamens, black spots, and violet longitudinal stripes.
A variety of habitats support the plant, including roadsides, embankments, forest margins, and dry grasslands.
It's easy to cultivate; gardeners and pot gardeners have been able to grow the plant in barren conditions.
Cautions
St. John's wort can interact with medications and weaken their effects, so be sure to check with an herbalist or physician before taking it.