Socialist 'Equity' Enters Orange County Schools in California
CommentaryEven in Orange County, California, parental control continues to slip away, replaced by dictates from unelected local, state, and even federal bureaucrats. That's going to be a big topic at the Jan. 4 meeting of the Orange County Board of Education, which still has a board majority representing the interests of parents. At issue is a federal block grant of $23 million. It's part of a $2.25 billion COVID-19 relief package for schools passed in 2021 by the U.S. Congress. The money will be controlled and spent by Director Clayton Chau, the head of the Orange County Health Care Agency and the Orange County health officer. It's called Equity in OC and goes by the acronym EiOC. It has its own web page, headlined, "Together, Everyone Can Reach Their Full Potential." Subhead: "Addressing health inequities in Orange County requires systemic changes backed by data and achieved through collective action." That's where the socialism comes in, pushing equity instead of the American ideal of equality before the law. The inspiration for equality is Martin Luther King's "I Have a Dream" speech from 1963: "I have a dream that my four little children will one day live in a nation where they will not be judged by the color of their skin but by the content of their character." That's equality. Each of us has different abilities. But when you use those abilities as best you can, based on the content of your character, you get an equal opportunity to excel in your chosen field. By contrast, equity is based on government bureaucratic control of even the smallest minutiae of life, and how well one follows the dictates of the functionaries in charge. That's socialism. Here's how the EiOC front page explains its mission: Health inequities are avoidable or remediable differences among groups of people, whether the groups are defined socially, economically, demographically, or geographically. Throughout Orange County we see differences in length of life; quality of life; rates of disease, disability, and death; severity of disease; and access to treatment due to these inequities. But it's obvious different groups have different rates of disease. For example, whites are more likely to get skin cancer because of lower levels of melanin. And Jews and a couple other communities are more likely to get Tay-Sachs disease. While on the other end, The Epoch Times recently ran an interesting article on Okinawan centenarians, "Diet, social engagement, physical activity, and genetics are key to Okinawans' long lives." And here's a chart by the Kaiser Family Foundation on diabetes in 2020: Here are some cancer numbers: Old People in OC In the EiOC's "OC 1-pager" we read: THE CASE FOR EQUITY The COVID-19 pandemic exposed deep rooted gaps in Orange County (OC) caused by underlying health inequities and disparities. Almost 90% of total COVID-19 deaths were adults aged 55 and older, despite being ~28% of the OC population Latinos experienced the highest percentage of cases among all races/ethnic group During peak months of the pandemic, higher case and death incidence were reported in north/central regions of the county Yes, because as we have seen, different diseases affect different people differently. The 1918 to 1920 influenza pandemic disproportionally affected young people. And of the three points listed above, the second two are the same, because Latinos have a higher concentration in Santa Ana and Anaheim—that is, the "north/central regions of the county." The redundancy is on purpose to try to make their bad case look better. For all we know, the next pandemic could affect Latinos less than other groups. It's also worth pointing out that Africa is the continent least affected by COVID-19, a place obviously with a lot of black people. The reason generally given is because its demographics are much younger than anywhere else, and young people were much less affected. That's why one needs to be careful about making accusations of "systemic racism" based on misreading the data. Lifespan Then there's how long people live. CalMatters ran an article with a loaded headline: "COVID pulls down Latino, Black, Asian life expectancy more than whites, study says." It read: Racial and economic health disparities exposed by the pandemic have factored into a widening gap in Californians' life expectancies, according to a study published today in the Journal of the American Medical Association. Researchers found that between 2019 and 2021, the life expectancy for Latino Californians fell by almost six years — from 82.5 years to 76.8. That plunge is twice the average decline of about three years for all Californians and three times more than the decrease for white Californians of close to two years. Prior to the pandemic, white Californians had a lower life expectancy than Latinos of 80.5 years. In 2021 the expected life span of whites had decreased to 78.6 years. … It decreased by nearly four years for Black Califor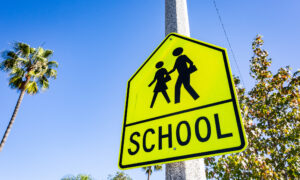 Commentary
Even in Orange County, California, parental control continues to slip away, replaced by dictates from unelected local, state, and even federal bureaucrats. That's going to be a big topic at the Jan. 4 meeting of the Orange County Board of Education, which still has a board majority representing the interests of parents.
At issue is a federal block grant of $23 million. It's part of a $2.25 billion COVID-19 relief package for schools passed in 2021 by the U.S. Congress. The money will be controlled and spent by Director Clayton Chau, the head of the Orange County Health Care Agency and the Orange County health officer.
It's called Equity in OC and goes by the acronym EiOC. It has its own web page, headlined, "Together, Everyone Can Reach Their Full Potential." Subhead: "Addressing health inequities in Orange County requires systemic changes backed by data and achieved through collective action."
That's where the socialism comes in, pushing equity instead of the American ideal of equality before the law. The inspiration for equality is Martin Luther King's "I Have a Dream" speech from 1963: "I have a dream that my four little children will one day live in a nation where they will not be judged by the color of their skin but by the content of their character."
That's equality. Each of us has different abilities. But when you use those abilities as best you can, based on the content of your character, you get an equal opportunity to excel in your chosen field.
By contrast, equity is based on government bureaucratic control of even the smallest minutiae of life, and how well one follows the dictates of the functionaries in charge. That's socialism.
Here's how the EiOC front page explains its mission:
Health inequities are avoidable or remediable differences among groups of people, whether the groups are defined socially, economically, demographically, or geographically. Throughout Orange County we see differences in length of life; quality of life; rates of disease, disability, and death; severity of disease; and access to treatment due to these inequities.
But it's obvious different groups have different rates of disease. For example, whites are more likely to get skin cancer because of lower levels of melanin. And Jews and a couple other communities are more likely to get Tay-Sachs disease. While on the other end, The Epoch Times recently ran an interesting article on Okinawan centenarians, "Diet, social engagement, physical activity, and genetics are key to Okinawans' long lives."
And here's a chart by the Kaiser Family Foundation on diabetes in 2020: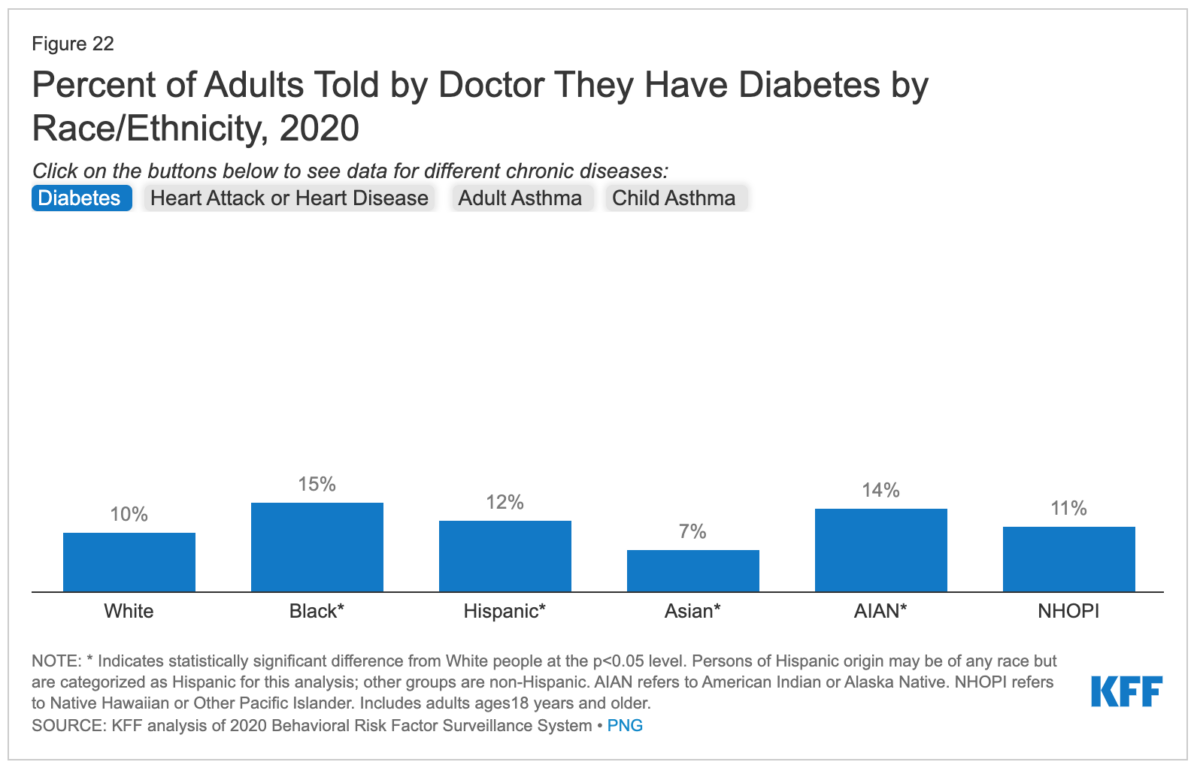 Here are some cancer numbers: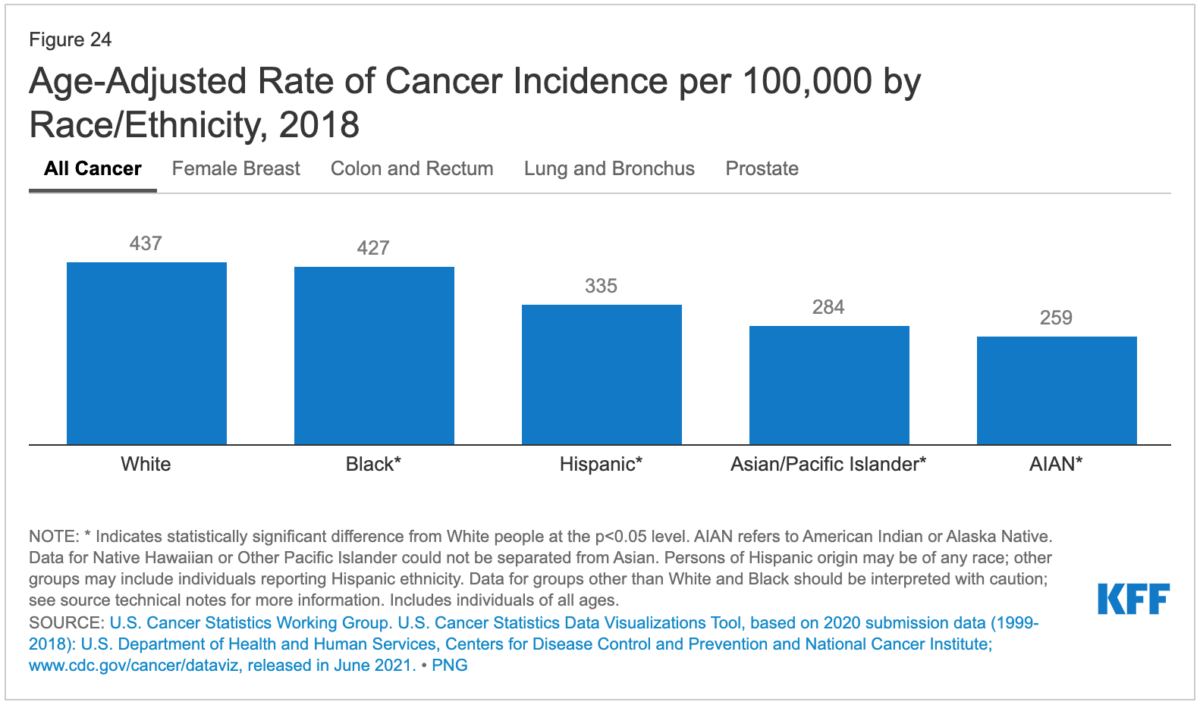 Old People in OC
In the EiOC's "OC 1-pager" we read:
THE CASE FOR EQUITY

The COVID-19 pandemic exposed deep rooted gaps in Orange County (OC) caused by underlying health inequities and disparities.

Almost 90% of total COVID-19 deaths were adults aged 55 and older, despite being ~28% of the OC population
Latinos experienced the highest percentage of cases among all races/ethnic group
During peak months of the pandemic, higher case and death incidence were reported in north/central regions of the county
Yes, because as we have seen, different diseases affect different people differently. The 1918 to 1920 influenza pandemic disproportionally affected young people. And of the three points listed above, the second two are the same, because Latinos have a higher concentration in Santa Ana and Anaheim—that is, the "north/central regions of the county." The redundancy is on purpose to try to make their bad case look better.
For all we know, the next pandemic could affect Latinos less than other groups. It's also worth pointing out that Africa is the continent least affected by COVID-19, a place obviously with a lot of black people. The reason generally given is because its demographics are much younger than anywhere else, and young people were much less affected. That's why one needs to be careful about making accusations of "systemic racism" based on misreading the data.
Lifespan
Then there's how long people live. CalMatters ran an article with a loaded headline: "COVID pulls down Latino, Black, Asian life expectancy more than whites, study says." It read:
Racial and economic health disparities exposed by the pandemic have factored into a widening gap in Californians' life expectancies, according to a study published today in the Journal of the American Medical Association.

Researchers found that between 2019 and 2021, the life expectancy for Latino Californians fell by almost six years — from 82.5 years to 76.8. That plunge is twice the average decline of about three years for all Californians and three times more than the decrease for white Californians of close to two years.

Prior to the pandemic, white Californians had a lower life expectancy than Latinos of 80.5 years. In 2021 the expected life span of whites had decreased to 78.6 years. …

It decreased by nearly four years for Black Californians, from 74.8 years to 71, and by three years for Asian Californians, from 86.6 years to 83.5, the study says.

"Our findings are another troubling sign of how the pandemic's impact was not felt evenly across all communities," said Till von Wachter, a UCLA economics professor and California Policy Lab faculty director who is one of the report's co-authors.
Von Wachter is an economist, not a medical doctor or epidemiologist. Moreover, we're still early in analyzing what happened during the pandemic. I'm hoping hearings by the new Republican House of Representatives will reveal more of what really went on, such as whether the vaccines reduced or increased the death rates of those who got the jab.
And though the numbers are there in the quote above, the article doesn't list next to one another the post-pandemic longevity rates in California, which are: Asians 83.5 years. Whites 78.6. Latinos 76.8. Blacks 71. The difference between whites and Latinos still is only 1.8, which is small. And are the numbers reliable? What will the numbers be in five years? Back with Latinos higher than whites? Then what? Will the EiOC bureaucracy give its money back to taxpayers?
Dividing Us
The problem with the "equity" programs, including the new ones being foisted on children in Orange County and elsewhere, is they divide us by groups, causing strife now and in the future. Recent immigrants come from dozens of different countries, speaking as many or more different languages. Unless we return to MLK's call to equality of opportunity—not equity—we will spend all our time tearing ourselves apart. As dictatorial bureaucrats enjoy their arrogance and high salaries.
And what can this EiOC program do to advance health "equity"? America has a highly complex private/public health care system, which varies by locality. It's basically an efficient private system, on which many different public systems piggyback, such as Obamacare, Medicare, the VA system, Medi-Cal, etc.
I have personal experience now that I'm 67 and on Medicare. My doctors and other medics are private, and I have an HMO. But the system is administered, and paid for, largely by Medicare, into which I pay premiums, as well as taxes on my income. I'm also a veteran, so I use the VA system, which actually has improved in recent years. Its main part is the VA and its hospitals and clinics, which is government—but it also contracts with private medical providers.
Poor people in California, including millions of children in the public schools, get Medi-Cal and other programs. The state now covers almost everybody. And numerous anti-discrimination laws make sure we have equality (not "equity"). By law, anyone showing up in an emergency room, even a recent immigrant, must be helped.
Obviously, it's possible to make things better. But the system seems to be working well for most people. So working the "equity" angle only will cause resentment.
One of the EiOC FAQs asks, "How can we address institutionalized and systemic racism to achieve better health equity?" Their answer:
The first step is to gather and then collaborate. The Equity in OC Taskforce is a space where many different community members and organizations can gather, review and analyze data, learn, and share stories of resilience. Our hope is to collectively take action against systemic health inequities in Orange County.
"Institutionalized and systemic racism" is another ploy to divide us while increasing the bureaucrats' power, especially at the expense of local parental control. It's just a way to shut people up. As Jordan Peterson said of his native country, where this mania has gone even further, "If a university professor now questions the very existence of 'systemic racism' in Canada in a blog post students can request they may be punished very severely. Pay attention. All this is coming your way." He linked to a blog by Prof. Rima Azar, who was suspended after absurd allegations against her.
What Should Be Done?
At the Tuesday meeting of the OC Board of Education, the EiOC program should be thoroughly questioned about its content and intent. Where will the money go? For what programs? Will parents get to approve, or reject, what is taught to their children—or done to them?
Is this just another Biden administration implementation of its "woke" ideas on an unsuspecting American populace?
Clayton Chau, who directs the EiOC, pulls down a cool $455,423.30 in pay and benefits. Does "equity" demand a reduction in his remuneration, with the money saved going to improve the health of poor people?
Would it be better just to reject the entire grant, rather than have this socialist scheme damage our children and divide our community?
Views expressed in this article are the opinions of the author and do not necessarily reflect the views of The Epoch Times.