Slow China–US Decoupling Underway in Congress
CommentaryChinese companies with ties to Beijing are receiving American tax dollars.In Illinois, U.S. tax dollars are being used as an incentive to persuade a Chinese battery company called Gotion to set up a factory, which would help create jobs. Gotion is set to receive financial support from taxpayers, including a substantial $536 million subsidy package for electric vehicle manufacturing, $213 million in tax benefits, a 30-year property tax freeze, and an additional $125 million from the state's lending program, Invest in Illinois.It is important to note that Gotion has connections to the Chinese Communist Party (CCP) and is currently under investigation by the FBI for alleged "theft of trade secrets and economic espionage."It is evident that this Gotion investment should be subject to scrutiny, but it is not clear which agency would conduct the investigation. The interagency Committee on Foreign Investment in the United States (CFIUS) has stated that Gotion's projects do not fall under its jurisdiction.Related Stories11/11/2023State governments have considerable autonomy to make their own decisions. For example, after Virginia Gov. Glenn Youngkin earlier this year rejected a partnership between Ford and Chinese battery maker CATL—citing concerns that it might be a "Trojan horse" for Beijing—the project was relocated to Michigan, where it received approval.As wrong as it seems, there are many other examples of the CCP benefitting from taxpayer money. A 2020 examination of publicly available loan data by strategy consulting firm Horizon Advisory found that approximately $192 million to $419 million in Paycheck Protection Program (PPP) COVID-19 relief loans were received by over 125 companies with links to Chinese entities through ownership or investment.U.S. investor and taxpayer funds are pooled in federal retirement plans that invest in Chinese entities. In September, members of the House Select Committee on the CCP urged Congress to pass legislation requiring some divestment from Chinese companies. A recent report disclosed that within the Federal Government's Thrift Savings Plan, at least 115 mutual funds hold shares in one or more of 30 Chinese companies that are sanctioned or on a watchlist due to national security concerns. Rep. Raja Krishnamoorthi (D-Ill.), the committee's ranking member, expressed concerns, saying, "By investing in these companies, we risk supporting the CCP's military aggression and their human rights abuses." Sen. Josh Hawley (R-Mo.) speaks at a Senate hearing on Sept. 12, 2023. (Senate Judiciary Committee/Screenshot via NTD)On Oct. 31, the Senate voted 61–36 in favor of Sen. Josh Hawley's (R-Mo.) Amendment (No Funding for Chinese Companies), which would prohibit Chinese entities or corporations from receiving any funding provided by the minibus appropriations bill.Mr. Hawley wrote in a statement: "The appropriations bills that we are now considering appropriating a total of $280 billion taxpayer dollars. ... This amendment says that none of the money we are appropriating can go to China. It can't go to Chinese companies or companies that are owned and controlled by China."Even in military and government procurement, taxpayer dollars are flowing to Chinese companies, including some that manufacture dual-use technology that could have military applications. The House Select Committee on the CCP has penned the American Security Drone Act, a bill that would ban the U.S. government from buying Chinese drones. The Act would prevent future purchases from Chinese companies such as Shenzhen-based DJI, which has a 58 percent share of the U.S. drone market. DJI products are already used by local police agencies across the country. Chinese drones are currently being used by Russia in Ukraine and by Hamas against Israel, and U.S. tax dollars are funding the company that makes them.The Senate is working to ensure that no U.S. government funds flow into the coffers of Chinese state-backed enterprises, with a specific focus on preventing funding for the People's Liberation Army (PLA). However, critics point out the complexity of scrutinizing every company and investment for ties to the CCP or Chinese weapons manufacturers. In some cases, ownership structures are so convoluted—involving a web of interests and entities—that it becomes challenging to define what qualifies as "China-owned" or "state-owned."Additionally, if such legislation passes at the federal level, the question arises of whether states would need to follow suit and, if so, how they would carry out this due diligence. States typically lack the investigative resources of the federal government, making the implementation of such legislation a complex and costly endeavor.As U.S. lawmakers work on measures to limit Chinese investments benefiting from government funds and reduce U.S. government acquisitions of China-backed products, they are simultaneously urging Treasury Secretary Janet Yellen to establish regulations restricting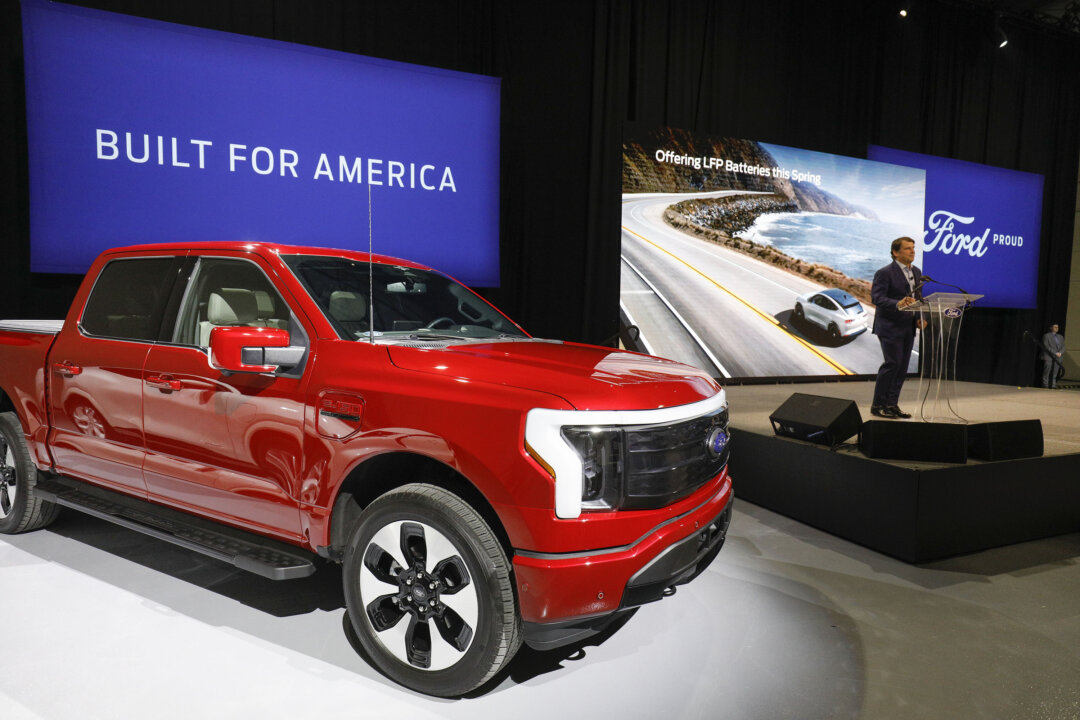 .
Commentary
Chinese companies with ties to Beijing are receiving American tax dollars.
In Illinois, U.S. tax dollars are being used as an incentive to persuade a Chinese battery company called Gotion to set up a factory, which would help create jobs. Gotion is set to receive financial support from taxpayers, including a substantial $536 million subsidy package for electric vehicle manufacturing, $213 million in tax benefits, a 30-year property tax freeze, and an additional $125 million from the state's lending program, Invest in Illinois.
It is important to note that Gotion has connections to the Chinese Communist Party (CCP) and is currently under investigation by the FBI for alleged "theft of trade secrets and economic espionage."
It is evident that this Gotion investment should be subject to scrutiny, but it is not clear which agency would conduct the investigation. The interagency Committee on Foreign Investment in the United States (CFIUS) has stated that Gotion's projects do not fall under its jurisdiction.
State governments have considerable autonomy to make their own decisions. For example, after Virginia Gov. Glenn Youngkin earlier this year rejected a partnership between Ford and Chinese battery maker CATL—citing concerns that it might be a "Trojan horse" for Beijing—the project was relocated to Michigan, where it received approval.
As wrong as it seems, there are many other examples of the CCP benefitting from taxpayer money. A 2020 examination of publicly available loan data by strategy consulting firm Horizon Advisory found that approximately $192 million to $419 million in Paycheck Protection Program (PPP) COVID-19 relief loans were received by over 125 companies with links to Chinese entities through ownership or investment.
U.S. investor and taxpayer funds are pooled in federal retirement plans that invest in Chinese entities. In September, members of the House Select Committee on the CCP urged Congress to pass legislation requiring some divestment from Chinese companies. A recent report disclosed that within the Federal Government's Thrift Savings Plan, at least 115 mutual funds hold shares in one or more of 30 Chinese companies that are sanctioned or on a watchlist due to national security concerns. Rep. Raja Krishnamoorthi (D-Ill.), the committee's ranking member, expressed concerns, saying, "By investing in these companies, we risk supporting the CCP's military aggression and their human rights abuses."
.
On Oct. 31, the Senate voted 61–36 in favor of Sen. Josh Hawley's (R-Mo.) Amendment (No Funding for Chinese Companies), which would prohibit Chinese entities or corporations from receiving any funding provided by the minibus appropriations bill.
Mr. Hawley wrote in a statement: "The appropriations bills that we are now considering appropriating a total of $280 billion taxpayer dollars. ... This amendment says that none of the money we are appropriating can go to China. It can't go to Chinese companies or companies that are owned and controlled by China."
Even in military and government procurement, taxpayer dollars are flowing to Chinese companies, including some that manufacture dual-use technology that could have military applications. The House Select Committee on the CCP has penned the American Security Drone Act, a bill that would ban the U.S. government from buying Chinese drones. The Act would prevent future purchases from Chinese companies such as Shenzhen-based DJI, which has a 58 percent share of the U.S. drone market. DJI products are already used by local police agencies across the country. Chinese drones are currently being used by Russia in Ukraine and by Hamas against Israel, and U.S. tax dollars are funding the company that makes them.
The Senate is working to ensure that no U.S. government funds flow into the coffers of Chinese state-backed enterprises, with a specific focus on preventing funding for the People's Liberation Army (PLA). However, critics point out the complexity of scrutinizing every company and investment for ties to the CCP or Chinese weapons manufacturers. In some cases, ownership structures are so convoluted—involving a web of interests and entities—that it becomes challenging to define what qualifies as "China-owned" or "state-owned."
Additionally, if such legislation passes at the federal level, the question arises of whether states would need to follow suit and, if so, how they would carry out this due diligence. States typically lack the investigative resources of the federal government, making the implementation of such legislation a complex and costly endeavor.
As U.S. lawmakers work on measures to limit Chinese investments benefiting from government funds and reduce U.S. government acquisitions of China-backed products, they are simultaneously urging Treasury Secretary Janet Yellen to establish regulations restricting U.S. investments in China. This action aligns with President Joe Biden's August executive order, granting the Treasury secretary the authority to restrict or prevent U.S. investments in Chinese entities.
While a complete decoupling from China will not happen overnight, the recent legislative efforts and ongoing discussions underscore a determined commitment to "derisking" from China.
Views expressed in this article are opinions of the author and do not necessarily reflect the views of The Epoch Times.