Six Countries Join Forces for Humanitarian Christmas Drop to Remote Pacific Islands
Five countries are joining the United States this year in a humanitarian assistance Christmas drop, which kicked off on Dec. 4.Air forces from the United States, Australia, New Zealand, Japan, South Korea, and India are going to make deliveries to over 20 thousand islanders across 56 remote islands throughout Micronesia and Palau. Based out of Andersen Air Force Base in Guam, Operation Christmas Drop is a yearly U.S. Air Force tradition. The donated supplies include food, medicine, toys, schoolbooks, clothing, daily necessities, fishing equipment, and other gifts, all dropped by parachutes. Participants of the 71st annual Operation Christmas Drop include PACAF's 374th Airlift Wing from Yokota Air Base, Japan, the 36th Wing, Andersen AFB in Guam, the 15th Wing from Joint Base Pearl Harbor-Hickam, Hawaii; airmen from the Japanese Air Self-Defense Force, Royal Australian Air Force, Royal New Zealand Air Force, Republic of Korea Air Force, and Indian Air Force. "The tradition began during the Christmas season in 1952 when a B-29 Superfortress aircrew saw islanders waving at them from the island of Kapingamarangi, 3,500 miles southwest of Hawaii," according to Andersen Air Force Base. "In the spirit of Christmas, the aircrew dropped a bundle of supplies attached to a parachute to the islanders below, giving the operation its name." Volunteers in Guam create drop-off boxes for books and raise money for the program from local businesses and citizens, as well as receive donations from people around the world, according to a private foundation that coordinates the effort. These islands are some of the most remote locations on the globe spanning a distance nearly as broad as the continental U.S., based on the information from Andersen Air Force Base. The humanitarian effort even made it to the silver screen as a romantic comedy in 2020, which received mixed reviews. The mission also has a practical purpose of training crews to resupply areas in the Indo-Pacific. It comes amid a time when Washington has seen Beijing as a rising challenge in the Pacific. Two U.S. Air Force B-1B Lancer bombers fly from Andersen Air Force Base, Guam on Aug. 8, 2017. (U.S. Air Force/Handout via Reuters) "The aerial delivery enables aircrews to develop and maintain combat readiness through aircraft generation and recovery across a remote region of the Pacific Ocean," Pacific Air Forces said in a statement. "OCD [operation Christmas drop] 2022 represents a significant opportunity to integrate airlift teams as we work closely with international partners," said Colonel Andrew Roddan, the 374th Airlift Wing commander. "This operation helps to hone critical skills necessary for [a] successful response to humanitarian assistance and disaster relief, and we look forward to continuing our successful joint efforts in support of humanitarian aid delivery." Follow Cindy Zhan is a reporter based in Australia. She covers national news with a focus on China-related issues. Got a tip? Contact her at [email protected]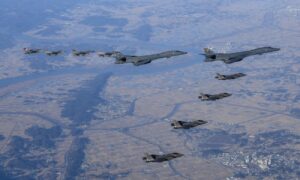 Five countries are joining the United States this year in a humanitarian assistance Christmas drop, which kicked off on Dec. 4.
Air forces from the United States, Australia, New Zealand, Japan, South Korea, and India are going to make deliveries to over 20 thousand islanders across 56 remote islands throughout Micronesia and Palau.
Based out of Andersen Air Force Base in Guam, Operation Christmas Drop is a yearly U.S. Air Force tradition. The donated supplies include food, medicine, toys, schoolbooks, clothing, daily necessities, fishing equipment, and other gifts, all dropped by parachutes.
Participants of the 71st annual Operation Christmas Drop include PACAF's 374th Airlift Wing from Yokota Air Base, Japan, the 36th Wing, Andersen AFB in Guam, the 15th Wing from Joint Base Pearl Harbor-Hickam, Hawaii; airmen from the Japanese Air Self-Defense Force, Royal Australian Air Force, Royal New Zealand Air Force, Republic of Korea Air Force, and Indian Air Force.
"The tradition began during the Christmas season in 1952 when a B-29 Superfortress aircrew saw islanders waving at them from the island of Kapingamarangi, 3,500 miles southwest of Hawaii," according to Andersen Air Force Base. "In the spirit of Christmas, the aircrew dropped a bundle of supplies attached to a parachute to the islanders below, giving the operation its name."
Volunteers in Guam create drop-off boxes for books and raise money for the program from local businesses and citizens, as well as receive donations from people around the world, according to a private foundation that coordinates the effort.
These islands are some of the most remote locations on the globe spanning a distance nearly as broad as the continental U.S., based on the information from Andersen Air Force Base.
The humanitarian effort even made it to the silver screen as a romantic comedy in 2020, which received mixed reviews.
The mission also has a practical purpose of training crews to resupply areas in the Indo-Pacific. It comes amid a time when Washington has seen Beijing as a rising challenge in the Pacific.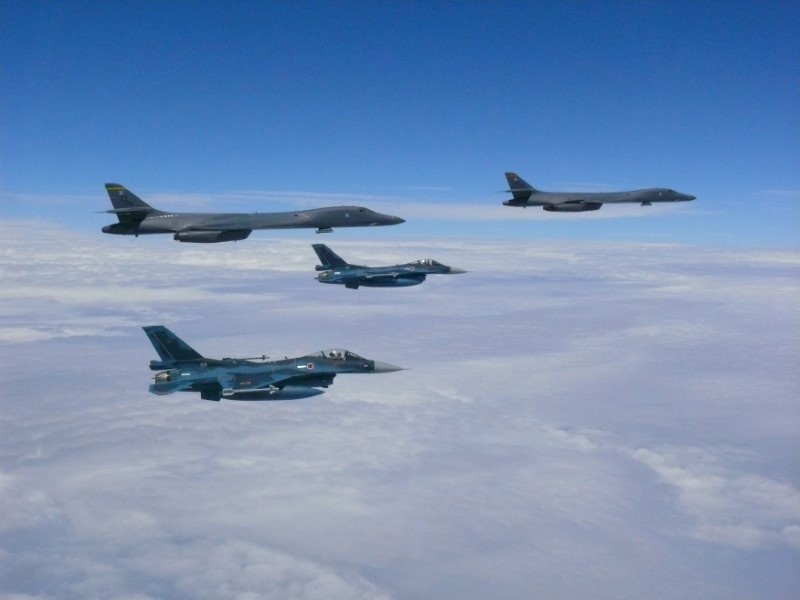 "The aerial delivery enables aircrews to develop and maintain combat readiness through aircraft generation and recovery across a remote region of the Pacific Ocean," Pacific Air Forces said in a statement.
"OCD [operation Christmas drop] 2022 represents a significant opportunity to integrate airlift teams as we work closely with international partners," said Colonel Andrew Roddan, the 374th Airlift Wing commander.
"This operation helps to hone critical skills necessary for [a] successful response to humanitarian assistance and disaster relief, and we look forward to continuing our successful joint efforts in support of humanitarian aid delivery."