Simple Ways to Ease Bowel Movements and Reduce Risk of Hemorrhoids
Hemorrhoids are an uncomfortable and common malady experienced by many people. One of the main causes of the condition is constipation. Dr. Ruixin Lai, director of Ming Tang Clinic in Taiwan, spoke to The Epoch Times about how to prevent constipation—and thus reduce the risk of hemorrhoids—by looking at diet, daily habits, massage, exercises, and more. According to the Mayo Clinic, hemorrhoids, also called piles, are swollen veins in the anus and lower rectum, similar to varicose veins. According to Lai, when there is high pressure in the abdomen and poor circulation in the lower limbs or pelvis, the risk of forming hemorrhoids will be increased. 6 Situations That Can Trigger Hemorrhoids 1. Prolonged sitting.2. Prolonged standing.3. High pressure in the abdomen, such as when pregnant or obese.4. Constipation: Straining to move the bowels puts excessive pressure on the anus.5. Rushing and stress: Can lead to avoidance of bowel movements and cause irregularity.6. Lack of exercise. Women Are More Likely to Get Hemorrhoids According to Lai, there are three clinical reasons that women are more likely to get hemorrhoids than men: Low water intake: Moisture is essential for healthy bowel movements. Low food intake: Bowel movements are proportional to the amount of food consumed.  Overeating raw and cold food: When women are on a diet, they often have salad or fruit to replace a meal. Cold food leads to insufficient energy in the stomach and intestines, functional decline, and then abnormal peristalsis. Prevent Constipation to Reduce the Chance of Hemorrhoids Lai explained that reducing the occurrence of constipation can prevent hemorrhoids, and people can start by changing their diet to ensure the sufficient intake of the following types of food: Fiber: By absorbing the water in the intestines, fiber swells and pushes the feces through the intestines until it is expelled from the body. If fiber intake is insufficient, the feces becomes impacted and difficult to move through the system. Rice: Specifically white rice for its ability to strengthen peristalsis.   Water: Plain water can promote peristalsis—unlike tea or coffee—which are diuretic and facilitate the removal of water from the body which can lead to constipation.  Changing 4 Habits Reduces Constipation Lai suggested that by changing these four habits, incidents of constipation and hemorrhoids can be reduced: Rearrange food intake structure: Eat at regular intervals, increase fiber intake, eat white rice, and avoid cold or raw food. Relax when eating breakfast: Go to bed early and wake up early. Reserve enough time to eat a leisurely breakfast Exercise regularly: Exercise can promote peristalsis and aid bowel movements. Drink sufficient water and drink it slowly: Drink at least 8 cups of water a day, and increase the intake of water according to body shape and amount of sweating. "If people drink a lot of water in one go, it is easy for the water to be discharged in urine. Therefore, people should get used to drinking slowly and drink whenever they want, to let water enter the intestines and promote peristalsis," she said. Exercises for Preventing Hemorrhoids Self-massage: Massage around your belly button clockwise with both hands to make your stomach feel warm, preferably before meals, to activate peristalsis. (This stimulates the acupressure points known as the Sea of Qi point (CV 6) and Heaven's Pivot point (ST 25)) Practice kegel exercises frequently: Kegel—or pelvic floor muscle exercises—strengthen and relax rectal muscles and sphincters to stimulate peristaltic action—focus on the area of the anus in particular. Sea of Qi point (CV 6) and Heaven's Pivot point (ST 25) around the belly can help peristalsis. (Shutterstock /The Epoch Times) Best and Worst Posture for Sitting on the Toilet Lai said the best posture for assisting healthy bowel movement is to keep the upper body at an angle of about 35 degrees to the thighs. She explained that there is a muscle around the rectum. "When people sit upright, the muscle hooks the rectum; however, when the body leans forward or something is placed underneath the feet, the upper body is kept at 35 degrees, and this muscle relaxes, making it easy to defecate." Dr. Lai said that the best position for defecating is to keep the upper body at about 35 degrees to the thighs. (Shutterstock /The Epoch Times) Lai added that many people have the habit of reading and checking their phones while on the toilet, instead of focusing on having a bowel movement. As a result, they might lose the urge to defecate, prolonging the time spent on the toilet and causing excessive pressure on the anus, which can lead to hemorrhoids. In addition, Dr. Lai said, sitting on the toilet for prolonged periods of time will also cause pressure on the anus—triggering hemorrhoids. "It is best to go again when you have the urge. One should not sit on the toilet for more than 10 minutes." A Brief Q&A A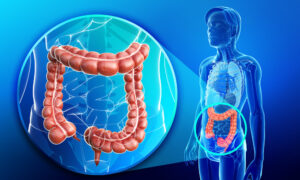 Hemorrhoids are an uncomfortable and common malady experienced by many people. One of the main causes of the condition is constipation. Dr. Ruixin Lai, director of Ming Tang Clinic in Taiwan, spoke to The Epoch Times about how to prevent constipation—and thus reduce the risk of hemorrhoids—by looking at diet, daily habits, massage, exercises, and more.
According to the Mayo Clinic, hemorrhoids, also called piles, are swollen veins in the anus and lower rectum, similar to varicose veins. According to Lai, when there is high pressure in the abdomen and poor circulation in the lower limbs or pelvis, the risk of forming hemorrhoids will be increased.
6 Situations That Can Trigger Hemorrhoids
1. Prolonged sitting.
2. Prolonged standing.
3. High pressure in the abdomen, such as when pregnant or obese.
4. Constipation: Straining to move the bowels puts excessive pressure on the anus.
5. Rushing and stress: Can lead to avoidance of bowel movements and cause irregularity.
6. Lack of exercise.
Women Are More Likely to Get Hemorrhoids
According to Lai, there are three clinical reasons that women are more likely to get hemorrhoids than men:
Low water intake: Moisture is essential for healthy bowel movements.
Low food intake: Bowel movements are proportional to the amount of food consumed.
Overeating raw and cold food: When women are on a diet, they often have salad or fruit to replace a meal. Cold food leads to insufficient energy in the stomach and intestines, functional decline, and then abnormal peristalsis.
Prevent Constipation to Reduce the Chance of Hemorrhoids
Lai explained that reducing the occurrence of constipation can prevent hemorrhoids, and people can start by changing their diet to ensure the sufficient intake of the following types of food:
Fiber: By absorbing the water in the intestines, fiber swells and pushes the feces through the intestines until it is expelled from the body. If fiber intake is insufficient, the feces becomes impacted and difficult to move through the system.
Rice: Specifically white rice for its ability to strengthen peristalsis.
Water: Plain water can promote peristalsis—unlike tea or coffee—which are diuretic and facilitate the removal of water from the body which can lead to constipation.
Changing 4 Habits Reduces Constipation
Lai suggested that by changing these four habits, incidents of constipation and hemorrhoids can be reduced:
Rearrange food intake structure: Eat at regular intervals, increase fiber intake, eat white rice, and avoid cold or raw food.
Relax when eating breakfast: Go to bed early and wake up early. Reserve enough time to eat a leisurely breakfast
Exercise regularly: Exercise can promote peristalsis and aid bowel movements.
Drink sufficient water and drink it slowly: Drink at least 8 cups of water a day, and increase the intake of water according to body shape and amount of sweating. "If people drink a lot of water in one go, it is easy for the water to be discharged in urine. Therefore, people should get used to drinking slowly and drink whenever they want, to let water enter the intestines and promote peristalsis," she said.
Exercises for Preventing Hemorrhoids
Self-massage: Massage around your belly button clockwise with both hands to make your stomach feel warm, preferably before meals, to activate peristalsis. (This stimulates the acupressure points known as the Sea of Qi point (CV 6) and Heaven's Pivot point (ST 25))
Practice kegel exercises frequently: Kegel—or pelvic floor muscle exercises—strengthen and relax rectal muscles and sphincters to stimulate peristaltic action—focus on the area of the anus in particular.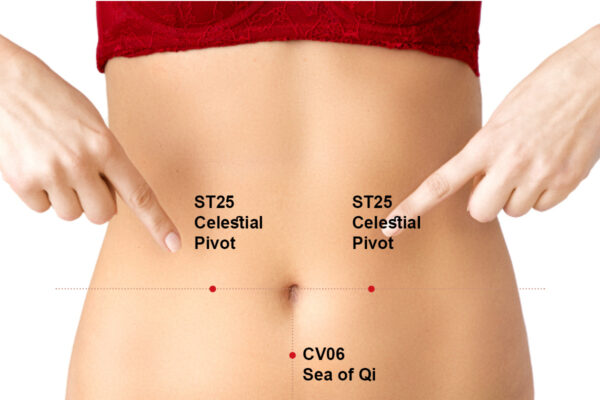 Best and Worst Posture for Sitting on the Toilet
Lai said the best posture for assisting healthy bowel movement is to keep the upper body at an angle of about 35 degrees to the thighs. She explained that there is a muscle around the rectum. "When people sit upright, the muscle hooks the rectum; however, when the body leans forward or something is placed underneath the feet, the upper body is kept at 35 degrees, and this muscle relaxes, making it easy to defecate."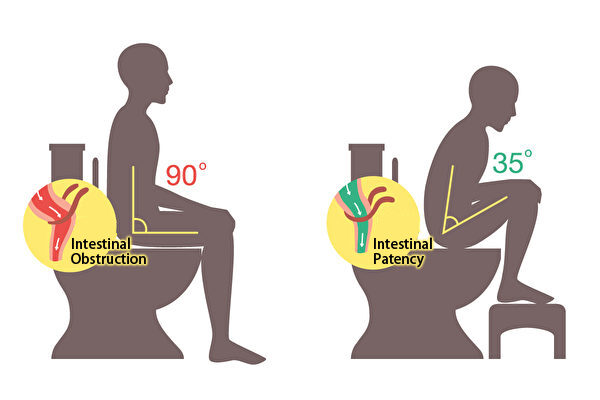 Lai added that many people have the habit of reading and checking their phones while on the toilet, instead of focusing on having a bowel movement. As a result, they might lose the urge to defecate, prolonging the time spent on the toilet and causing excessive pressure on the anus, which can lead to hemorrhoids.
In addition, Dr. Lai said, sitting on the toilet for prolonged periods of time will also cause pressure on the anus—triggering hemorrhoids. "It is best to go again when you have the urge. One should not sit on the toilet for more than 10 minutes."
A Brief Q&A About Intestinal Health
Can consuming probiotics and yogurt promote peristalsis?
Yes and no. Not all of them can. Probiotics and yogurt mainly improve gut flora. If the constipation is not due to the number of gut flora or types of gut flora, they are not helpful.
Can a coffee enema help reduce or clear constipation?
Dr. Lai said that the natural treatment of coffee enema has the function of removing impacted feces, but it may destroy the nerves indirectly around the anus and is not recommended.
In response to young people using a glycerin enema to stimulate bowel movement, Lai warned that "If people rely on this method when they are young, the intestines will not have power when they are old, which makes the defecation more difficult."