'Shut Down China's New York Consulate:' Chinese-American Congressional Candidate
Xiong Yan, currently running for Congress in New York's 10th Congressional District, accuses China's consulate in New York of "deeply interfering with the U.S. election." Xiong said that the United States government should shut it down.Xiong is a retired major who served in the U.S. Army for 27 years and a Protestant chaplain. Before coming to the United States he was a student leader of the peaceful protest for democracy held on Tiananmen Square, Beijing, in 1989 before  it was violently crushed by the Chinese regime. Xiong was holding an election campaign in Sunset Park, Brooklyn, on July 24. He told the Chinese language edition of The Epoch Times on that day that many people had informed him of China's consulate ordering Chinese expatriates to not support his campaign. He said the recent interference was not the first of this kind during his campaign. "The Chinese consulate contacted leaders in the overseas Chinese groups and asked them not to vote for me. Many people called me and even wrote me letters telling me about this. I have enough evidence." CCP's Consistent Interference in the US Election The 10th Congressional District in New York that Xiong is campaigning to represent includes two major Chinese communities—Manhattan's Chinatown and Brooklyn's Eighth Avenue. The Chinese regime's interference in Xiong's campaign began earlier in the year when Xiong's campaign office opened on March 19 and a large dinner party was scheduled. "The Fujianese and Cantonese had previously confirmed to come. But later, some people told me that the Chinese consulate called a meeting with them and said that they could not support Xiong Yan and could not let him be elected: '[Do] You guys want to go back to China to do business, or support him in the election?' They are too scared to come," Xiong told The Epoch Times earlier in March. Yan Xiong (2nd R), one of the 21 "most-wanted" Tiananmen Square protesters in 1989, speaks with local pro-democracy leaders before taking part in a demonstration on the streets of Hong Kong on May 31, 2009. (Samantha Sin/AFP via Getty Images) A Chinese-American from China's Fujian Province, also told the publication that the president of a Fujianese expatriate group received a notice from China's consulate, saying the group members should not support Xiong in his election campaign. The U.S. Department of State offers a reward of up to $10 million for information on foreign interference in U.S. elections. The Epoch Times calls to the Chinese consulate in New York were not answered. CCP Secret Police Targeting Xiong Besides directly ordering expat Chinese to not vote for Xiong, the regime tried to use its secret agents in the United States to frame Xiong and thereby undermine Xiong's Congressional campaign. The Department of Justice (DOJ) unsealed three new criminal cases on March 16, revealing that Chinese secret police and their agents are stalking, harassing, intimidating, and conspiring to commit violence against pro-democracy activists and Chinese dissidents on U.S. soil. In one of the cases, federal prosecutors said that Lin Qiming, an alleged Chinese agent, contracted a private investigator (PI) in New York to manufacture a political scandal about Xiong. Lin's arrest warrant details his efforts to use a PI to implicate Xiong in prostitution, tax evasion, and possession of child pornography. Failing that, Lin encouraged the PI to physically harm Yan by either beating him or forcing him into a car accident. Lin said in a voice message. "Beat him. Beat him until he cannot run for election." The warrant said Lin was a retired Chinese intelligence agent who continued to perform work for the Chinese Ministry of State Security (MSS), the regime's top intelligence agency. 'Close China's New York Consulate Immediately': Xiong Xiong said on July 24 that the CCP's interference in the U.S. election is absolutely intolerable for any U.S. institution and the American people. He called on the U.S. State Department to close the Chinese consulate in New York just as the  Chinese consulate in Houston was closed in 2020. People move trash bags from the Chinese consulate in Houston on July 24, 2020, after the U.S. State Department ordered China to close the consulate. (Mark Felix/AFP via Getty Images) "I suggest that the American government order the Chinese consulate in New York to close immediately so that it won't continue to harm America," Xiong said. Xiong said that the employees of China's consulates can walk away from crimes they commit on U.S. soil, as they have diplomatic immunity when they serve for a term of three years. "The victims are actually those who follow the CCP's orders," Xiong said. The CCP ordering leaders of overseas Chinese groups to interfere in the U.S. election will harm six million Chinese living in the United States, Xiong said. "I must stop the CCP from harming overseas Chinese. As an American-Chinese candidate, I want to be responsible for Chines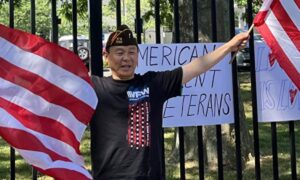 Xiong Yan, currently running for Congress in New York's 10th Congressional District, accuses China's consulate in New York of "deeply interfering with the U.S. election." Xiong said that the United States government should shut it down.
Xiong is a retired major who served in the U.S. Army for 27 years and a Protestant chaplain. Before coming to the United States he was a student leader of the peaceful protest for democracy held on Tiananmen Square, Beijing, in 1989 before it was violently crushed by the Chinese regime.
Xiong was holding an election campaign in Sunset Park, Brooklyn, on July 24. He told the Chinese language edition of The Epoch Times on that day that many people had informed him of China's consulate ordering Chinese expatriates to not support his campaign. He said the recent interference was not the first of this kind during his campaign.
"The Chinese consulate contacted leaders in the overseas Chinese groups and asked them not to vote for me. Many people called me and even wrote me letters telling me about this. I have enough evidence."
CCP's Consistent Interference in the US Election
The 10th Congressional District in New York that Xiong is campaigning to represent includes two major Chinese communities—Manhattan's Chinatown and Brooklyn's Eighth Avenue.
The Chinese regime's interference in Xiong's campaign began earlier in the year when Xiong's campaign office opened on March 19 and a large dinner party was scheduled.
"The Fujianese and Cantonese had previously confirmed to come. But later, some people told me that the Chinese consulate called a meeting with them and said that they could not support Xiong Yan and could not let him be elected: '[Do] You guys want to go back to China to do business, or support him in the election?' They are too scared to come," Xiong told The Epoch Times earlier in March.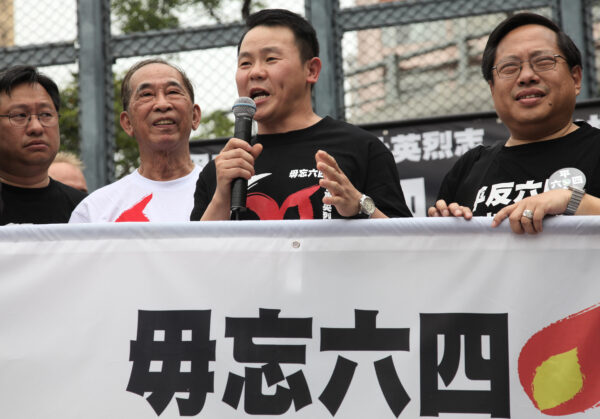 A Chinese-American from China's Fujian Province, also told the publication that the president of a Fujianese expatriate group received a notice from China's consulate, saying the group members should not support Xiong in his election campaign.
The U.S. Department of State offers a reward of up to $10 million for information on foreign interference in U.S. elections.
The Epoch Times calls to the Chinese consulate in New York were not answered.
CCP Secret Police Targeting Xiong
Besides directly ordering expat Chinese to not vote for Xiong, the regime tried to use its secret agents in the United States to frame Xiong and thereby undermine Xiong's Congressional campaign.
The Department of Justice (DOJ) unsealed three new criminal cases on March 16, revealing that Chinese secret police and their agents are stalking, harassing, intimidating, and conspiring to commit violence against pro-democracy activists and Chinese dissidents on U.S. soil.
In one of the cases, federal prosecutors said that Lin Qiming, an alleged Chinese agent, contracted a private investigator (PI) in New York to manufacture a political scandal about Xiong.
Lin's arrest warrant details his efforts to use a PI to implicate Xiong in prostitution, tax evasion, and possession of child pornography. Failing that, Lin encouraged the PI to physically harm Yan by either beating him or forcing him into a car accident.
Lin said in a voice message. "Beat him. Beat him until he cannot run for election."
The warrant said Lin was a retired Chinese intelligence agent who continued to perform work for the Chinese Ministry of State Security (MSS), the regime's top intelligence agency.
'Close China's New York Consulate Immediately': Xiong
Xiong said on July 24 that the CCP's interference in the U.S. election is absolutely intolerable for any U.S. institution and the American people. He called on the U.S. State Department to close the Chinese consulate in New York just as the Chinese consulate in Houston was closed in 2020.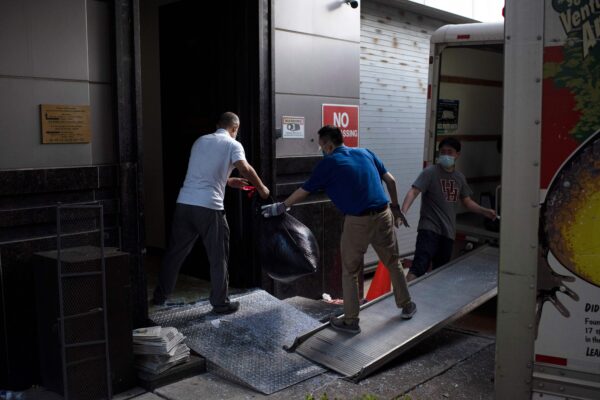 "I suggest that the American government order the Chinese consulate in New York to close immediately so that it won't continue to harm America," Xiong said.
Xiong said that the employees of China's consulates can walk away from crimes they commit on U.S. soil, as they have diplomatic immunity when they serve for a term of three years.
"The victims are actually those who follow the CCP's orders," Xiong said.
The CCP ordering leaders of overseas Chinese groups to interfere in the U.S. election will harm six million Chinese living in the United States, Xiong said.
"I must stop the CCP from harming overseas Chinese. As an American-Chinese candidate, I want to be responsible for Chinese expatriates, including those overseas Chinese group leaders," Xiong said. "This is a war against the CCP, and we must win it."
Former U.S. Secretary of State Mike Pompeo said that China's New York consulate was being used as a major hub for the CCP's U.S. espionage efforts, according to New York Post in September 2020.
"They're engaged in activities where they're crossing the line from normal diplomacy to the kinds of things that would be more akin to what spies are doing," Pompeo said
Lin Dan contributed to the article.