Share the B-21 Stealth Bomber With US Allies
CommentaryThroughout the first Cold War and as the world slides into a second, the United States has relied on intercontinental-range strategic bombers to provide a slow and recallable leg to balance the high-speed and non-recallable land and sea-based ballistic missile legs of its nuclear deterrent "triad." With its public debut scheduled for Dec. 2, and with plans so far to purchase 100, the United States should consider how it might share the new Northrop Grumman second-generation B-21 stealth bomber with its allies to increase joint U.S.-allied deterrent power as the Chinese Communist Party (CCP) embarks on wars for future global hegemony. It is in the U.S. interest to increase the long-range deterrent power and "bomber diplomacy" options of democratic allies and partners by offering to sell or lease 60 more B-21s to Australia, Britain, Canada, France, India, and Japan. This is necessary due to the Chinese regime's increasing direct threats and the increasing uncertainty that the United States can consistently provide an immediate and extended strategic nuclear and non-nuclear deterrent. Since 2021, China has been sprinting to nuclear superiority over the United States. At least 370 new intercontinental ballistic missile (ICBM) silos of the People's Liberation Army Rocket Force (PLARF) could soon be armed with ICBMs with 10 or more warheads. This alone could push China's warhead total to over 4,000 by the early 2030s, while until 2026, the United States remains shackled to a 2010 New START treaty that limits U.S. deployed warheads to 1,550. Furthermore, China and Russia have been cooperating in missile defense for most of the last decade. There are compelling indications they could engage in missile "offense" cooperation against the United States. This could include massive coercive exercises designed to keep the United States from defending allies or partners like Taiwan or to undertake a massive first strike against U.S. nuclear forces. The Rocket Force, under the Eastern Theater Command of China's People's Liberation Army (PLA), fires live missiles into the waters near Taiwan, from an undisclosed location in China on Aug. 4, 2022. (Eastern Theatre Command/Handout via Reuters) In addition, China's growing strategic forces will be combined with an ability to achieve superiority in regional nuclear forces as China builds up its likely soon-to-be-revealed intercontinental "H-20" flying wing stealth bomber force, and increasing numbers of PLA Navy ships feature medium- and intermediate-range ballistic missiles. So until the United States can rebuild sufficient nuclear strength to deter a combined China-Russia nuclear strike, it makes sense for Washington to ease the ability of its key allies to secure a primary long-range conventional strike capability—like the B-21, which can be rapidly converted into a nuclear strike capability—to increase combined U.S. and allied deterrent potential, or to sustain that capability by key allies in the event of a China-Russia strike against the United States. To be sure, Britain and France have about 500 nuclear weapons largely on nuclear ballistic missile submarines. Still, they may need about 1,500 to deter Russia and China, and a B-21 bomber force could be in place rapidly to deliver a proportion of the warhead buildup. To be brutally frank, the ability of key allies to carry out conventional or nuclear strikes against China and Russia may help deter their decision to engage in a coordinated massive first strike against the United States, as China and Russia may decide they could face unacceptable vulnerability from allied B-21 bombers after having used their nuclear forces in a first strike against the United States. While CCP leader Xi Jinping promotes his April 2022 Global Security Initiative as a supra counter-democratic alliance, China and Russia are promoting the expansion of their potentially 20-member military-stressing Shanghai Cooperation Organization (SCO), and seeking synergy with the nine-member BRICS organization. It is now possible to view the contours of potential Chinese conventional and even nuclear aggression against key U.S. allies that would justify the latter's requirement for a long-range strike like the B-21. An artistic rendering of the B-21 Raider design. (U.S. Airforce/Northrop Grumman) In the event the Chinese regime invades Taiwan, the CCP would increase efforts to isolate and subdue Japan and Australia. The CCP will secure and expand basing in key South Pacific island states to increase its coercive pressure on Australia, cutting its access to Latin America and New Zealand, all of which will further isolate Japan from sea lanes essential to its survival. For Australia and Japan, with aerial refueling, the B-21 could provide the ability to conduct long-range strikes against PLA naval formations sending invasion forces to the South Pacific, or allow Japan to conduct joint submarine-aerial strikes against PLA naval formation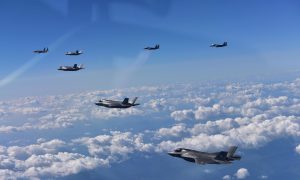 Commentary
Throughout the first Cold War and as the world slides into a second, the United States has relied on intercontinental-range strategic bombers to provide a slow and recallable leg to balance the high-speed and non-recallable land and sea-based ballistic missile legs of its nuclear deterrent "triad."
With its public debut scheduled for Dec. 2, and with plans so far to purchase 100, the United States should consider how it might share the new Northrop Grumman second-generation B-21 stealth bomber with its allies to increase joint U.S.-allied deterrent power as the Chinese Communist Party (CCP) embarks on wars for future global hegemony.
It is in the U.S. interest to increase the long-range deterrent power and "bomber diplomacy" options of democratic allies and partners by offering to sell or lease 60 more B-21s to Australia, Britain, Canada, France, India, and Japan.
This is necessary due to the Chinese regime's increasing direct threats and the increasing uncertainty that the United States can consistently provide an immediate and extended strategic nuclear and non-nuclear deterrent.
Since 2021, China has been sprinting to nuclear superiority over the United States. At least 370 new intercontinental ballistic missile (ICBM) silos of the People's Liberation Army Rocket Force (PLARF) could soon be armed with ICBMs with 10 or more warheads.
This alone could push China's warhead total to over 4,000 by the early 2030s, while until 2026, the United States remains shackled to a 2010 New START treaty that limits U.S. deployed warheads to 1,550.
Furthermore, China and Russia have been cooperating in missile defense for most of the last decade. There are compelling indications they could engage in missile "offense" cooperation against the United States. This could include massive coercive exercises designed to keep the United States from defending allies or partners like Taiwan or to undertake a massive first strike against U.S. nuclear forces.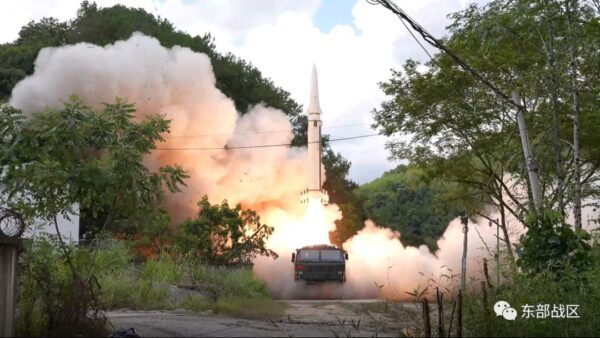 In addition, China's growing strategic forces will be combined with an ability to achieve superiority in regional nuclear forces as China builds up its likely soon-to-be-revealed intercontinental "H-20" flying wing stealth bomber force, and increasing numbers of PLA Navy ships feature medium- and intermediate-range ballistic missiles.
So until the United States can rebuild sufficient nuclear strength to deter a combined China-Russia nuclear strike, it makes sense for Washington to ease the ability of its key allies to secure a primary long-range conventional strike capability—like the B-21, which can be rapidly converted into a nuclear strike capability—to increase combined U.S. and allied deterrent potential, or to sustain that capability by key allies in the event of a China-Russia strike against the United States.
To be sure, Britain and France have about 500 nuclear weapons largely on nuclear ballistic missile submarines. Still, they may need about 1,500 to deter Russia and China, and a B-21 bomber force could be in place rapidly to deliver a proportion of the warhead buildup.
To be brutally frank, the ability of key allies to carry out conventional or nuclear strikes against China and Russia may help deter their decision to engage in a coordinated massive first strike against the United States, as China and Russia may decide they could face unacceptable vulnerability from allied B-21 bombers after having used their nuclear forces in a first strike against the United States.
While CCP leader Xi Jinping promotes his April 2022 Global Security Initiative as a supra counter-democratic alliance, China and Russia are promoting the expansion of their potentially 20-member military-stressing Shanghai Cooperation Organization (SCO), and seeking synergy with the nine-member BRICS organization. It is now possible to view the contours of potential Chinese conventional and even nuclear aggression against key U.S. allies that would justify the latter's requirement for a long-range strike like the B-21.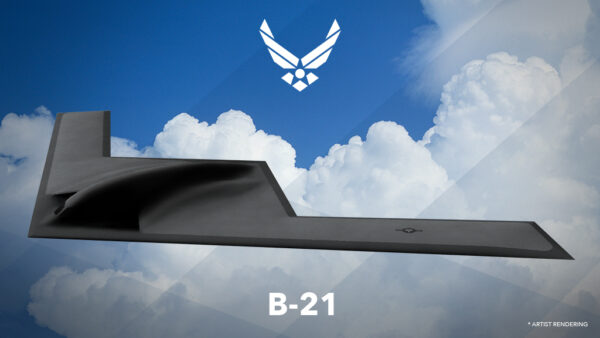 In the event the Chinese regime invades Taiwan, the CCP would increase efforts to isolate and subdue Japan and Australia. The CCP will secure and expand basing in key South Pacific island states to increase its coercive pressure on Australia, cutting its access to Latin America and New Zealand, all of which will further isolate Japan from sea lanes essential to its survival.
For Australia and Japan, with aerial refueling, the B-21 could provide the ability to conduct long-range strikes against PLA naval formations sending invasion forces to the South Pacific, or allow Japan to conduct joint submarine-aerial strikes against PLA naval formations down to the South China Sea.
For Britain, a B-21 force may help deter China from sending aircraft carrier battle groups to assist Argentina in a second Falklands War. For the last decade, China has been trying to arm Argentina to this end. Should pro-China former President Cristina Fernández de Kirchner become president for a second term, Beijing may succeed with this goal.
India faces the prospect of full war with China over disputed territories like Arunachal Pradesh, as well as daily threats from Pakistan's Chinese designed and built nuclear-armed ballistic and cruise missiles.
A force of B-21 bombers would give India a more survivable option to counter PLA Navy forces that could deploy throughout the Indian Ocean region. It also would give India an intercontinental-range nuclear triad to increase its deterrent potential by more effectively threatening new PLARF ICBM bases in Western China and its nuclear missile submarine base on Hainan Island.
According to Indian sources, New Delhi may have already decided to buy the non-stealthy Russian Tupolev Tu-160M swing-wing intercontinental bomber, a legacy relationship started with its 1988 purchase of Tu-95 intercontinental range turboprop-powered bombers. But the United States should still consider a sale of B-21s to increase the U.S.-Indian strategic relationship.
With a force of B-21s, Canada would be in a better position to counter threatening military dimensions of China's ambitions to build an Arctic Silk Road and to better deter combined China-Russia military adventurism in the Arctic.
For Australia, Britain, Canada, India, and Japan, a force of B-21s would enable their active and intercontinental "deterrent diplomacy." This year, the U.S. Air Force has made multiple deployments of B-52 or B-1 bombers to Europe, has deployed B-52s for exercises in South Korea, and is currently planning for long-term basing of B-52 bombers in Australia as B-1 bombers are now in Guam.
For its part, current U.S. plans to purchase about 100 B-21 bombers should be increased to 200 and then more as China's moves toward global hegemony increase.
This will also have the benefit of lowering the high cost of the B-21, which can be made even more affordable should the United States offer to lease it, which makes easier their return to the United States should the CCP's wars of global hegemony turn out to accelerate its collapse, similar to the former Communist Party of the Soviet Union.
China had no problem helping to turn Pakistan and North Korea into nuclear missile states that now directly threaten India, Japan, and South Korea, flouting counter-proliferation conventions such as the Missile Technology Control Regime.
This diminishment of U.S. and allied security, combined with the PLA's current breakout to nuclear superiority, means Washington cannot ignore the conventional and nuclear deterrent requirements of its allies.
Offering the sale or lease of B-21 stealth bombers helps build a stronger conventional deterrent that can be rapidly made nuclear with tactical nuclear bombs or nuclear-capable cruise missiles.
Views expressed in this article are the opinions of the author and do not necessarily reflect the views of The Epoch Times.