Senior Academicians from Chinese Academy of Sciences and Engineering Die Amid COVID Wave
Reports of the death of prominent members of the prestigious Chinese Academy of Sciences (CAS) and Chinese Academy of Engineering (CAE) took a jump in December when the COVID wave swept through the country. CAS and CAE are the highest-ranked science and engineering organizations under the Chinese regime.Based on publicly available obituaries, nine academicians have died since Dec. 21, with five dying on Dec. 23. The obituaries are suspiciously vague when describing the causes of death. Most of them simply "died of incurable illness." Being named an academician is considered the highest honor bestowed by the CCP to an individual in the field of science and engineering. All the academicians enjoyed special perks for their "outstanding contributions" to the Chinese Communist Party (CCP). Five Academicians Died in One Day On Dec. 23, Jiang Hualiang, the pharmacologist who in 2020 made the statement that a traditional Chinese medicine for the flu can be effective in treating COVID-19, died in Shanghai at the age of 57. Jiang left behind the controversial claim that a well-known household medicine (Shuang Huang Lian), which is made of three Chinese herbs: honeysuckle, scutellaria root, and forsythia fruit could be effective in treating COVID. As soon as the statement was published on the CAS website on Jan. 31, 2020, people flocked to the stores in pursuit of the Shuang Huang Lian and any medicine that had the same ingredients. Some critics accused Jiang of fabricating research results. Only a few days later, Jiang's claim was debunked by another online article saying that "there was no clinical data to support Jiang's claim." Jiang was an academician of the CAS, a member of the China Democratic League (a political party endorsed by the CCP), and a former director of Shanghai Institute of Materia Medica (SIMM), which is part of CAS. SIMM and Wuhan Institute of Virology (also part of CAS) had jointly researched treatments for COVID-19, but without known results. In addition to Jiang, four other academicians died on Dec. 23. Lu Qiang, an academician at CAS and an expert in automation and power system engineering, died in Beijing at the age of 86. Lu was also a member of the China Democratic League. Zhang Youshang, a CCP member, an academician at CAS, and an expert in biochemistry and molecular biology, died in Shanghai at the age of 97. Ma Jianzhang, a CCP member, an academician at CAE, and the honorary president of the College of Wildlife and Natural Areas at Northeastern Forestry University, died in the northeastern city of Harbin at the age of 86. Li Wenhua, a CCP member, an academician at CAE, and an expert in ecology and forestry, died at the age of 90. Four From Chinese Academy of Engineering Died in Two Days Just one day prior on Dec. 22, two people who were CCP members and academicians at CAE died in Beijing. Gu Zhenan, an expert in materials science, and Long Yuqiu, an expert in civil engineering and structural geometry, died at the age of 86 and 96, respectively. On Dec. 21, laser technology specialist Zhao Yijun died in Beijing at the age of 92. Also on Dec. 21, rare earth material and metallurgy expert Zhang Guocheng died in Beijing at the age of 91. Both were academicians at CAE. According to the website of the China Association for Science and Technology, there are 48 academicians from CAS and CAE who died this year. Also in the past month, a dozen current and former professors and CCP members at Peking University, which is one of the Chinese Ivy League schools, died. The deaths of retired CCP high-ranking officials, experts and scholars, and celebrities have become frequent with the highly contagious Omicron variant spreading quickly among people. The memo of an internal meeting of the CCP's National Health Commission shows that from Dec. 1 to Dec. 20, 248 million people were infected, and 37 million people were infected on Dec. 20 alone. The UK's Financial Times confirmed the authenticity of the internal meeting minutes from two people familiar with the matter. However, in the official report by the CCP, only 3,049 were infected on Dec. 20. Li Jing contributed to this report. Kelly Song covers China-related matters and health issues for The Epoch Times. She is based in the United States. Have a tip? [email protected]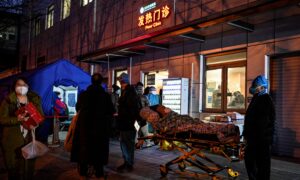 Reports of the death of prominent members of the prestigious Chinese Academy of Sciences (CAS) and Chinese Academy of Engineering (CAE) took a jump in December when the COVID wave swept through the country. CAS and CAE are the highest-ranked science and engineering organizations under the Chinese regime.
Based on publicly available obituaries, nine academicians have died since Dec. 21, with five dying on Dec. 23. The obituaries are suspiciously vague when describing the causes of death. Most of them simply "died of incurable illness."
Being named an academician is considered the highest honor bestowed by the CCP to an individual in the field of science and engineering. All the academicians enjoyed special perks for their "outstanding contributions" to the Chinese Communist Party (CCP).
Five Academicians Died in One Day
On Dec. 23, Jiang Hualiang, the pharmacologist who in 2020 made the statement that a traditional Chinese medicine for the flu can be effective in treating COVID-19, died in Shanghai at the age of 57.
Jiang left behind the controversial claim that a well-known household medicine (Shuang Huang Lian), which is made of three Chinese herbs: honeysuckle, scutellaria root, and forsythia fruit could be effective in treating COVID.
As soon as the statement was published on the CAS website on Jan. 31, 2020, people flocked to the stores in pursuit of the Shuang Huang Lian and any medicine that had the same ingredients. Some critics accused Jiang of fabricating research results. Only a few days later, Jiang's claim was debunked by another online article saying that "there was no clinical data to support Jiang's claim."
Jiang was an academician of the CAS, a member of the China Democratic League (a political party endorsed by the CCP), and a former director of Shanghai Institute of Materia Medica (SIMM), which is part of CAS. SIMM and Wuhan Institute of Virology (also part of CAS) had jointly researched treatments for COVID-19, but without known results.
In addition to Jiang, four other academicians died on Dec. 23.
Lu Qiang, an academician at CAS and an expert in automation and power system engineering, died in Beijing at the age of 86. Lu was also a member of the China Democratic League.
Zhang Youshang, a CCP member, an academician at CAS, and an expert in biochemistry and molecular biology, died in Shanghai at the age of 97.
Ma Jianzhang, a CCP member, an academician at CAE, and the honorary president of the College of Wildlife and Natural Areas at Northeastern Forestry University, died in the northeastern city of Harbin at the age of 86.
Li Wenhua, a CCP member, an academician at CAE, and an expert in ecology and forestry, died at the age of 90.
Four From Chinese Academy of Engineering Died in Two Days
Just one day prior on Dec. 22, two people who were CCP members and academicians at CAE died in Beijing. Gu Zhenan, an expert in materials science, and Long Yuqiu, an expert in civil engineering and structural geometry, died at the age of 86 and 96, respectively.
On Dec. 21, laser technology specialist Zhao Yijun died in Beijing at the age of 92. Also on Dec. 21, rare earth material and metallurgy expert Zhang Guocheng died in Beijing at the age of 91. Both were academicians at CAE.
According to the website of the China Association for Science and Technology, there are 48 academicians from CAS and CAE who died this year.
Also in the past month, a dozen current and former professors and CCP members at Peking University, which is one of the Chinese Ivy League schools, died.
The deaths of retired CCP high-ranking officials, experts and scholars, and celebrities have become frequent with the highly contagious Omicron variant spreading quickly among people. The memo of an internal meeting of the CCP's National Health Commission shows that from Dec. 1 to Dec. 20, 248 million people were infected, and 37 million people were infected on Dec. 20 alone. The UK's Financial Times confirmed the authenticity of the internal meeting minutes from two people familiar with the matter. However, in the official report by the CCP, only 3,049 were infected on Dec. 20.
Li Jing contributed to this report.