Second Peak of Chinese COVID Outbreak Predicted in May or June: Epidemiologist
China's current COVID-19 outbreak is expected to reach a second peak in the coming months, according to Chinese epidemiologists. The first wave continues to engulf the country, killing large numbers of veteran Communist Party cadres and celebrities in various sectors and overwhelming China's medical system.The peak date for the second wave of intensive infections will occur between May and June this year. That prediction comes from Zhang Wenhong, director of China's National Center for Infectious Diseases and chief of infectious diseases at Shanghai's Huashan Hospital, according to a Jan. 10 report from Chinese news portal Sina. Meanwhile, Chinese epidemiologist Zeng Guang said in a Caixin News report, published Jan. 12, that the nationwide wave will stay at its peak for 2–3 months, with severe cases lasting a bit longer. Zeng is a member of the senior expert group of the National Health Commission and chief scientist at China's Center for Disease Control. These predictions come as the first wave of the virus is still crashing through China. A spate of daily high-profile obituaries in past weeks has been a testament to the scale of the outbreak. A daily sample from Jan. 13 included Mao Ahi, a member of the Chinese Academy of Engineering, Xuan Ke, a music ethnographer, and renowned singer Xie Lisi. Although the obituaries of Communist Party cadres, academicians, and entertainment figures have made news around the world, official reports make no mention of COVID-19, generally referring merely to "illness." Hospital workers wheel a body on a gurney in the busy emergency room at a hospital in Beijing, China, on Jan. 2, 2023. (Getty Images) The explosive outbreak has swept China since early December, when the Chinese Communist Party (CCP) relaxed its years-long zero-COVID policies. A dramatic surge in deaths followed. The Elderly Bear the Brunt of the Virus "Many elderly people have died in this wave of the epidemic, such as retired senior officials and artists in the performing arts, who are already in their 80s and 90s." Japanese commentator Li Wenzheng told The Epoch Times on Jan. 13. Li placed some responsibility for the deaths with the CCP. Elderly party members are no longer useful to the regime, but enjoy high pensions and special medical care and insurance as a reward for party loyalty. Their deaths lighten the regime's economic burden, at a time when China is struggling economically after three years of pandemic measures. In a Weibo post Dec. 21, Chinese economist Mei Xinyu, a researcher at the Ministry of Commerce, lamented the death of his father-in-law, Hu Angang—an elderly and honored party member. Mei said his father-in-law "ended up on the floor of the hospital morgue waiting to be cremated" because "200-300 bodies are waiting to be cremated every day at Beijing's Babaoshan cemetery, and today there is no line for him." Hu was no ordinary citizen. He was a professor at Tsinghua University, director of the Institute for National Studies, and chief expert at the Institute for National and Global Governance. Forced to Store Corpses at Home The situation is even more difficult for average Chinese citizens. Obtaining medical treatment is difficult, and when that fails, it is just as difficult to secure a spot for cremation. Families are sometimes forced to store the corpses of loved ones at home or in their vehicles, an anonymous Shanghai resident told The Epoch Times. Shanghai resident Zhang Pei (a pseudonym) told The Epoch Times a friend paid an extra $5,000 to obtain timely cremation for an elderly family member. Shanghai resident Wu Fangyan (a pseudonym) said on Jan. 13 that "hospitals are still crowded. Only one medication is given for each visit, and the one medication does not reduce the fever, so you must go back in the afternoon and wait in line for hours … just keep registering, waiting in line, seeing the doctor, and getting the medication." Wu expressed frustration that doctors are unwilling to give more than one dose of medicine. "Sometimes you can't even get [one dose of] medicine after lining up for hours." "The government's attitude toward us is to ignore whether we can survive or not."  The strong survive, the rest die, Wu said. 'A Prepared Battle': Official China's policy-makers tell a different story. Foreign Ministry spokesman Wang Wenbin claimed at a press briefing Jan. 9 that China is fighting "a prepared battle" against the epidemic. The rest of the world continues to express concern about China's opaque death and infection data. The World Health Organization (WHO) said Jan. 11 that it is working with China but said the country's response is challenged by a lack of data. "There are some very important information gaps that we are working with China to fill," WHO COVID-19 technical lead Maria Van Kerkhove said. Ellen Wong contributed to this article. Kathleen Li has contributed to The Epoch Times since 2009 and focuses on China-relate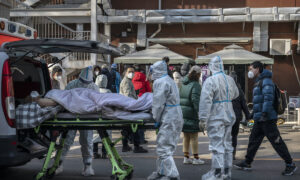 China's current COVID-19 outbreak is expected to reach a second peak in the coming months, according to Chinese epidemiologists. The first wave continues to engulf the country, killing large numbers of veteran Communist Party cadres and celebrities in various sectors and overwhelming China's medical system.
The peak date for the second wave of intensive infections will occur between May and June this year. That prediction comes from Zhang Wenhong, director of China's National Center for Infectious Diseases and chief of infectious diseases at Shanghai's Huashan Hospital, according to a Jan. 10 report from Chinese news portal Sina.
Meanwhile, Chinese epidemiologist Zeng Guang said in a Caixin News report, published Jan. 12, that the nationwide wave will stay at its peak for 2–3 months, with severe cases lasting a bit longer. Zeng is a member of the senior expert group of the National Health Commission and chief scientist at China's Center for Disease Control.
These predictions come as the first wave of the virus is still crashing through China.
A spate of daily high-profile obituaries in past weeks has been a testament to the scale of the outbreak. A daily sample from Jan. 13 included Mao Ahi, a member of the Chinese Academy of Engineering, Xuan Ke, a music ethnographer, and renowned singer Xie Lisi. Although the obituaries of Communist Party cadres, academicians, and entertainment figures have made news around the world, official reports make no mention of COVID-19, generally referring merely to "illness."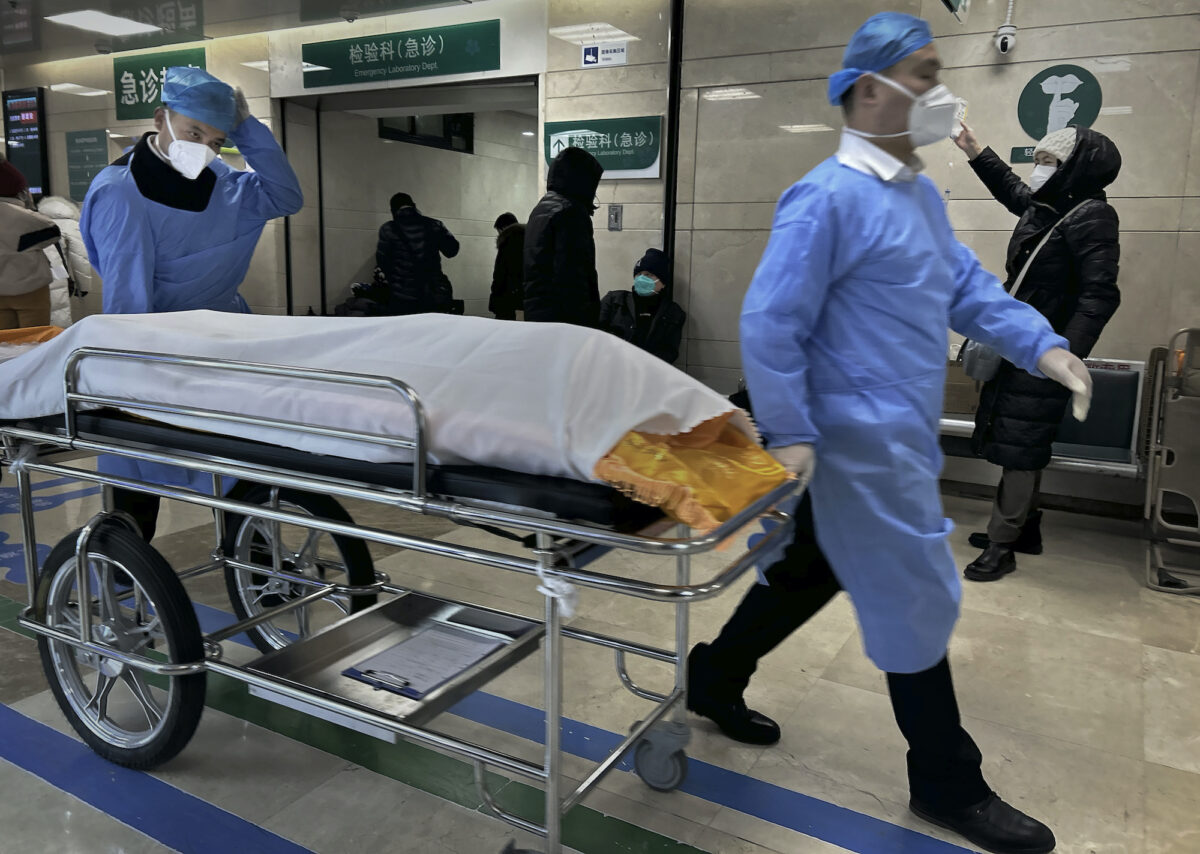 The explosive outbreak has swept China since early December, when the Chinese Communist Party (CCP) relaxed its years-long zero-COVID policies. A dramatic surge in deaths followed.
The Elderly Bear the Brunt of the Virus
"Many elderly people have died in this wave of the epidemic, such as retired senior officials and artists in the performing arts, who are already in their 80s and 90s." Japanese commentator Li Wenzheng told The Epoch Times on Jan. 13.
Li placed some responsibility for the deaths with the CCP. Elderly party members are no longer useful to the regime, but enjoy high pensions and special medical care and insurance as a reward for party loyalty. Their deaths lighten the regime's economic burden, at a time when China is struggling economically after three years of pandemic measures.
In a Weibo post Dec. 21, Chinese economist Mei Xinyu, a researcher at the Ministry of Commerce, lamented the death of his father-in-law, Hu Angang—an elderly and honored party member.
Mei said his father-in-law "ended up on the floor of the hospital morgue waiting to be cremated" because "200-300 bodies are waiting to be cremated every day at Beijing's Babaoshan cemetery, and today there is no line for him." Hu was no ordinary citizen. He was a professor at Tsinghua University, director of the Institute for National Studies, and chief expert at the Institute for National and Global Governance.
Forced to Store Corpses at Home
The situation is even more difficult for average Chinese citizens. Obtaining medical treatment is difficult, and when that fails, it is just as difficult to secure a spot for cremation. Families are sometimes forced to store the corpses of loved ones at home or in their vehicles, an anonymous Shanghai resident told The Epoch Times. Shanghai resident Zhang Pei (a pseudonym) told The Epoch Times a friend paid an extra $5,000 to obtain timely cremation for an elderly family member.
Shanghai resident Wu Fangyan (a pseudonym) said on Jan. 13 that "hospitals are still crowded. Only one medication is given for each visit, and the one medication does not reduce the fever, so you must go back in the afternoon and wait in line for hours … just keep registering, waiting in line, seeing the doctor, and getting the medication."
Wu expressed frustration that doctors are unwilling to give more than one dose of medicine. "Sometimes you can't even get [one dose of] medicine after lining up for hours."
"The government's attitude toward us is to ignore whether we can survive or not." The strong survive, the rest die, Wu said.
'A Prepared Battle': Official
China's policy-makers tell a different story. Foreign Ministry spokesman Wang Wenbin claimed at a press briefing Jan. 9 that China is fighting "a prepared battle" against the epidemic.
The rest of the world continues to express concern about China's opaque death and infection data. The World Health Organization (WHO) said Jan. 11 that it is working with China but said the country's response is challenged by a lack of data. "There are some very important information gaps that we are working with China to fill," WHO COVID-19 technical lead Maria Van Kerkhove said.
Ellen Wong contributed to this article.