Schools fear AI takeover
New York City public schools have moved to block access to ChatGPT, fearful that students will use it to cheat on essay assignments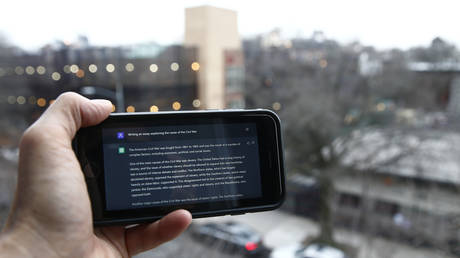 7 Jan, 2023 00:58
HomeWorld News
Schools fear AI takeover
New York City has blocked ChatGPT, citing "safety and accuracy" concerns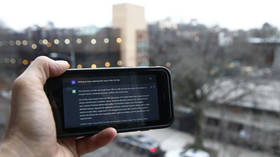 Devices and networks of the New York City Public Schools system no longer allow access to ChatGPT, a controversial new artificial intelligence program that has caused a stir in less than two months of being available to the general public.
The ban is due to "concerns about negative impacts on student learning, and concerns regarding the safety and accuracy of content," NYCPS spokesperson Jenna Lyle told the local outlet Chalkbeat earlier this week. Lyle has since confirmed the decision to AP and several other news outlets.
"While the tool may be able to provide quick and easy answers to questions, it does not build critical-thinking and problem-solving skills, which are essential for academic and lifelong success," Lyle added.
Chalkbeat described ChatGPT as being able to generate "stunningly cogent and lifelike writing" and "itch perfect essay responses to prompts spanning a wide range of subjects," causing many teachers and administrators to fear that writing assignments could soon become obsolete.
While AI chatbots have been around for a few years, ChatGPT has been accessible for free, to anyone with an internet connection, since the end of November 2022. Developed by the San Francisco-based OpenAI, in cooperation with Microsoft, the program has been able to generate text as well as images and videos, drawing inspiration from a database of digital media.
New York is the largest public school district in the US, and its ban on ChatGPT could inspire others to do likewise. Seeking to avoid a broader ban, OpenAI has released a statement saying it plans to work with schools going forward.
"We don't want ChatGPT to be used for misleading purposes in schools or anywhere else, so we're already developing mitigations to help anyone identify text generated by that system," the company said, according to AP.
The New York ban affects only the school district's network and devices, and cannot stop students or staff from accessing the AI at home. One teacher interviewed by Chalkbeat said that the ban might be counterproductive.
"We've trained a whole generation of kids to pursue rubric points and not knowledge," said Adam Stevens, who teaches history at Brooklyn Tech, "and of course, if what matters is the point at the end of the semester, then ChatGPT is a threat."
The AI could prove useful to establish a "baseline" response to basic prompts instead, Stevens argued, noting that schools treated Google the same way 20 years ago.