Saying No to Glyphosate in Our Foods, Environment
As disturbing research about the weed killer comes to light, more people are trying to avoid itOf all the pesticides in our food supply today, the most concerning to consumers is likely glyphosate, the primary active ingredient in Roundup herbicide. Residues of the well-known weed killer have been discovered in a wide range of staple food products sold in top grocery stores, meaning we are all at risk of inadvertent exposure from the foods we eat. Glyphosate has been at the center of a flood of lawsuits filed by individuals who used glyphosate products long-term in their jobs or on their lawns or gardens, and then developed cancer. However, research links glyphosate not to just cancer, but to other health problems, including reproductive issues, birth defects, and gut health concerns. As consumers learn about glyphosate, the alarming rise in its use, and its risks, they increasingly want to know how to avoid glyphosate in the air they breathe and the foods they eat. Some cities and countries are worried enough about the health effects that they are taking action to prohibit or restrict the use of glyphosate on playing fields and lawns and in landscaping. There also are savvy ways individuals can protect themselves when they shop, such as seeking out foods with the USDA Organic and Glyphosate Residue Free Certified labels. Glyphosate and Its Dramatic Rise Glyphosate is the most heavily used chemical weed killer in food and agricultural production history. It was patented by Monsanto Co. in 1974 and now is manufactured and sold by many companies in hundreds of products. Its use skyrocketed after the introduction of herbicide-resistant, Roundup Ready genetically modified organisms (GMOs), such as GMO corn and soy, in 1996. A 2017 study found that Americans' exposure to glyphosate increased approximately 500 percent since then. But the weed killer is not just sprayed on GMO crops. It also is used as a pre-harvest drying agent on non-GMO crops such as wheat, barley, and oats. It's also important to understand that glyphosate isn't just on the outside of plants—it is absorbed into plants—and glyphosate contamination can't be removed by washing or eliminated by cooking or baking. The two government agencies that are in charge of regulating the safety of our food, the U.S. Food and Drug Administration (FDA) and the Department of Agriculture (USDA), don't test foods for glyphosate. But non-government, FDA-registered laboratory food testing found extremely high levels of glyphosate in some of America's most iconic food products, such as Cheerios, Oreos, Doritos, and Ritz crackers. Additional testing discovered the weed killer in a wide range of staple food products including whole wheat bread, chickpeas, and Quaker Oats. The worst offending products were found in top grocery stores, such as Hy-Vee, Whole Foods Market, and Walmart. Alarmingly, 18 of the 26 non-GMO labeled products tested contained glyphosate. Cancer and Congenital Defects In 2015, the World Health Organization's International Agency for Research on Cancer declared that glyphosate probably causes cancer. Since then, thousands of people who used glyphosate-based herbicide and then developed cancer have filed lawsuits against Monsanto and Bayer AG, which bought Monsanto in 2018. In judgments against the corporation, Bayer/Monsanto has been forced to pay more than $10 billion in damages to gardeners, groundskeepers, and farmers who are suffering from non-Hodgkin lymphoma. "I believe that glyphosate is the most dangerous environmental chemical we face today due to its unique mechanism of toxicity, careless application, and pervasive presence," writes Stephanie Seneff, an MIT senior research scientist, in her book "Toxic Legacy." The scientific literature points to glyphosate "priming the body to fall prey to cancer," according to Seneff. But health concerns associated with glyphosate exposure go beyond cancer. An October 2020 review paper in Chemosphere journal found that glyphosate exhibits eight of ten key characteristics of an endocrine, or hormone, disruptor. It has been found to disrupt thyroid hormone regulation, suppress testosterone synthesis, and inhibit an enzyme critical for conversion of testosterone to estrogen. Exposure to glyphosate is linked to reproductive disorders, including birth defects in children and fertility problems in adults. A 2018 study in Environmental Health suggests glyphosate could be associated with shorter pregnancies, which can be detrimental to maternal health and increase the risk of infant mortality and learning problems as children develop. Researchers also are concerned about glyphosate's effects on gut health. A 2020 review of glyphosate's effects on the gut microbiome concludes that glyphosate residues on food could cause dysbiosis—an imbalance in the microbes, including bacteria and fungi, in the gut—given that opportunistic pathogens are more resistant to glyphosate than health-protecting benefici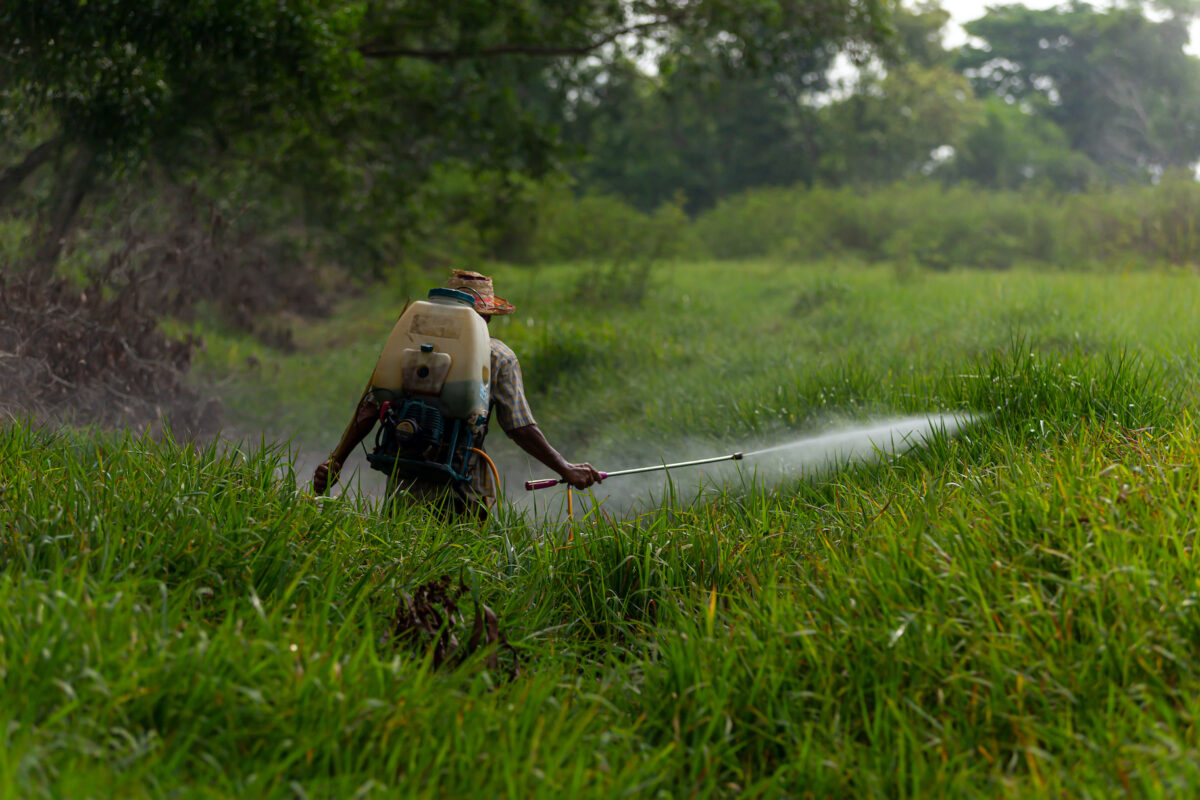 As disturbing research about the weed killer comes to light, more people are trying to avoid it
Of all the pesticides in our food supply today, the most concerning to consumers is likely glyphosate, the primary active ingredient in Roundup herbicide.
Residues of the well-known weed killer have been discovered in a wide range of staple food products sold in top grocery stores, meaning we are all at risk of inadvertent exposure from the foods we eat. Glyphosate has been at the center of a flood of lawsuits filed by individuals who used glyphosate products long-term in their jobs or on their lawns or gardens, and then developed cancer. However, research links glyphosate not to just cancer, but to other health problems, including reproductive issues, birth defects, and gut health concerns.
As consumers learn about glyphosate, the alarming rise in its use, and its risks, they increasingly want to know how to avoid glyphosate in the air they breathe and the foods they eat. Some cities and countries are worried enough about the health effects that they are taking action to prohibit or restrict the use of glyphosate on playing fields and lawns and in landscaping. There also are savvy ways individuals can protect themselves when they shop, such as seeking out foods with the USDA Organic and Glyphosate Residue Free Certified labels.
Glyphosate and Its Dramatic Rise
Glyphosate is the most heavily used chemical weed killer in food and agricultural production history. It was patented by Monsanto Co. in 1974 and now is manufactured and sold by many companies in hundreds of products.
Its use skyrocketed after the introduction of herbicide-resistant, Roundup Ready genetically modified organisms (GMOs), such as GMO corn and soy, in 1996. A 2017 study found that Americans' exposure to glyphosate increased approximately 500 percent since then.
But the weed killer is not just sprayed on GMO crops. It also is used as a pre-harvest drying agent on non-GMO crops such as wheat, barley, and oats.
It's also important to understand that glyphosate isn't just on the outside of plants—it is absorbed into plants—and glyphosate contamination can't be removed by washing or eliminated by cooking or baking.
The two government agencies that are in charge of regulating the safety of our food, the U.S. Food and Drug Administration (FDA) and the Department of Agriculture (USDA), don't test foods for glyphosate. But non-government, FDA-registered laboratory food testing found extremely high levels of glyphosate in some of America's most iconic food products, such as Cheerios, Oreos, Doritos, and Ritz crackers.
Additional testing discovered the weed killer in a wide range of staple food products including whole wheat bread, chickpeas, and Quaker Oats. The worst offending products were found in top grocery stores, such as Hy-Vee, Whole Foods Market, and Walmart. Alarmingly, 18 of the 26 non-GMO labeled products tested contained glyphosate.
Cancer and Congenital Defects
In 2015, the World Health Organization's International Agency for Research on Cancer declared that glyphosate probably causes cancer. Since then, thousands of people who used glyphosate-based herbicide and then developed cancer have filed lawsuits against Monsanto and Bayer AG, which bought Monsanto in 2018. In judgments against the corporation, Bayer/Monsanto has been forced to pay more than $10 billion in damages to gardeners, groundskeepers, and farmers who are suffering from non-Hodgkin lymphoma.
"I believe that glyphosate is the most dangerous environmental chemical we face today due to its unique mechanism of toxicity, careless application, and pervasive presence," writes Stephanie Seneff, an MIT senior research scientist, in her book "Toxic Legacy." The scientific literature points to glyphosate "priming the body to fall prey to cancer," according to Seneff.
But health concerns associated with glyphosate exposure go beyond cancer. An October 2020 review paper in Chemosphere journal found that glyphosate exhibits eight of ten key characteristics of an endocrine, or hormone, disruptor. It has been found to disrupt thyroid hormone regulation, suppress testosterone synthesis, and inhibit an enzyme critical for conversion of testosterone to estrogen.
Exposure to glyphosate is linked to reproductive disorders, including birth defects in children and fertility problems in adults. A 2018 study in Environmental Health suggests glyphosate could be associated with shorter pregnancies, which can be detrimental to maternal health and increase the risk of infant mortality and learning problems as children develop.
Researchers also are concerned about glyphosate's effects on gut health. A 2020 review of glyphosate's effects on the gut microbiome concludes that glyphosate residues on food could cause dysbiosis—an imbalance in the microbes, including bacteria and fungi, in the gut—given that opportunistic pathogens are more resistant to glyphosate than health-protecting beneficial bacteria.
The paper continues, "Glyphosate may be a critical environmental trigger in the etiology of several disease states associated with dysbiosis, including celiac disease, inflammatory bowel disease, and irritable bowel syndrome. Glyphosate exposure may also have consequences for mental health, including anxiety and depression, through alterations in the gut microbiome."
Movements Against Glyphosate
As people understand the magnitude and severity of the glyphosate problem, more people are taking effective action to protect themselves against the herbicide. One example: After hundreds of thousands of concerned citizens joined the Environmental Working Group's campaign to get glyphosate out of our food, Kellogg's announced plans to end the pre-harvest use of glyphosate on all of its crops by the end of 2025.
Grassroots activist efforts have also led to a movement of countries and cities banning glyphosate. According to Baum Hedlund, a U.S. law firm representing hundreds of plaintiffs suing Bayer/Monsanto for allegedly causing their cancer, many countries have banned or placed restrictions on the use of glyphosate.
There are also several cities in the United States that have banned the use of glyphosate, including Portland, Maine, and Miami. More than 150 cities have adopted non-toxic, organic land management policies that don't include the use of glyphosate and other synthetic pesticides. Top cities transitioning to the use of pesticide-free practices include Irvine, California, New York City, Portland, Oregon, and Dubuque, Iowa, according to Beyond Pesticides, which provides pesticide-free training and assistance to communities.
Countries That Limit or Prohibit Glyphosate
Bahrain
Belgium
Bermuda
Canada
Colombia
Czech Republic
Denmark
Fiji
France
Germany
Italy
Kuwait
Luxembourg
Mexico
Netherlands
Oman
Portugal
Qatar
Saudi Arabia
Scotland
Spain
Sri Lanka
United Arab Emirates
Vietnam
How to Steer Clear of Glyphosate
On an individual basis, simple changes in food purchases you make can protect you from glyphosate and other toxic chemicals. Purchase certified organic food or buy real food grown by local farmers who you know don't use glyphosate or other synthetic pesticides. For extra protection when shopping in stores, seek out products that have the Glyphosate Residue Free label. To motivate yourself to make these changes, keep reminding yourself that the body has an amazing ability to heal itself when you simply remove hazardous substances.
Seek Out These Food Labels for Protection
To avoid glyphosate in and on foods that you buy, look for these labels.
USDA Organic
By law, glyphosate and other synthetic chemical pesticides along with synthetic fertilizers, sewage sludge, irradiation, and GMOs can't be used in the production of certified organic crops. Even though glyphosate is pervasive in our environment and can drift onto organic crops through wind or rain, research shows that people who eat a predominantly organic diet have significantly less glyphosate in their urine than people who consume mostly conventional foods.
Regenerative Organic Certified
Companies that have products that have met Regenerative Organic Certified (ROC) certification standards must first hold USDA organic certification, which means crops are not sprayed with glyphosate. ROC then adds further criteria to ensure soil health, pasture-based animal welfare, and social fairness for farmworkers.
Products that display the Regenerative Organic Certified label include Dr. Bronner's Regenerative Organic Coconut Oil; Nature's Path Oats; Patagonia Provisions Regenerative Organic fruit snacks; and Lotus Foods Brown and White Basmati Rice. Learn more about this certification at Regenorganic.org.
Glyphosate Residue Free
Products that have a Glyphosate Residue Free label contain no glyphosate, meaning they're at the bottom limit of detection for the chemical in laboratories, 10 parts per billion. The products are tested by an accredited laboratory at least three times per year, providing extra assurance against glyphosate exposure in foods that consumers buy.
This certification is one of the fastest-growing in the United States, according to Henry Rowlands, director of The Detox Project, an organization that launched the food label in 2018 to create transparency within the food industry, specifically regarding pesticides.
More than 70 food and supplement brands and 1,500 products have been certified, including Chosen Foods oils and mayonnaise, Califia Farms dairy-free milk alternatives, Nutiva oils and seeds, White Leaf baby food, Once Upon a Farm baby food and kids snacks, Kettle & Fire bone broth and soups, Soozy's Grain-Free baked goods, Jovial Foods grain products, Uncle Matt's juices, and MegaFood supplements. You can learn more about the products that have this label at detoxprogect.org.