Sanctioned Russian Oligarch Anchors Mega Yacht in Hong Kong
The superyacht Nord, believed to belong to Alexey Mordashov, an ally of Russian President Vladimir Putin and Russia's third-richest oligarch, was anchored in Hong Kong waters on Oct. 6, 2022.After the outbreak of the Russian-Ukrainian war, the United States, the European Union, the United Kingdom, and other countries imposed sanctions on tycoons who are regarded as Putin's allies, including Mordashov. According to Bloomberg, the European and American governments have seized more than a dozen superyachts of these billionaires, with a total value of more than US$2.25 billion, as well as some other properties. But some yachts have fled to ports where sanctions do not apply. Attached video:[embedded content] The 464-foot superyacht Nord, owned by Mordashov and currently anchored in Hong Kong waters, is worth US$500 million. There are 20 luxury cabins on board, large helicopter landing pads on deck, extra swimming platforms, a swimming pool on the main deck, and a large sports and diving center on the lower deck. According to reports, Nord had previously stayed in Seychelles, an island country in the western Indian Ocean, and sailed back to the Russian port of Vladivostok in March this year. Nord left Vladivostok on Sept. 27, and once listed the Da Nang Port in Vietnam as the destination, but then changed its destination to Hong Kong waters on Sept. 5. The superyacht Nord, believed to belong to Alexey Mordashov, an ally of Russian President Vladimir Putin and Russia's third-richest oligarch, anchored in Hong Kong waters on the evening of Oct. 6, 2022. (Big Mack / The Epoch Times) Mordashov is the main shareholder of Severstal, Russia's largest steel and mining company. A spokesman for him declined to comment on the movements of Nord but claimed that Mordashov was in Moscow. Looking at the sailing website Marine Traffic, Alexey Mordashov's superyacht Nord is currently anchored in Hong Kong waters. Alexey Mordashov's superyacht Nord was anchored in Hong Kong waters on Oct. 5, 2022. (screenshot of marine traffic webpage) The Hong Kong Marine Department stated that it does not comment on the matters of individual arriving vessels, and said that the Hong Kong government has always enforced the sanctions imposed by the United Nations Security Council and that the government has no power and will not impose unilateral sanctions imposed by other jurisdictions on individual countries. Follow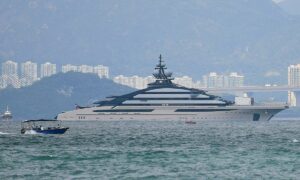 The superyacht Nord, believed to belong to Alexey Mordashov, an ally of Russian President Vladimir Putin and Russia's third-richest oligarch, was anchored in Hong Kong waters on Oct. 6, 2022.
After the outbreak of the Russian-Ukrainian war, the United States, the European Union, the United Kingdom, and other countries imposed sanctions on tycoons who are regarded as Putin's allies, including Mordashov.
According to Bloomberg, the European and American governments have seized more than a dozen superyachts of these billionaires, with a total value of more than US$2.25 billion, as well as some other properties. But some yachts have fled to ports where sanctions do not apply.
The 464-foot superyacht Nord, owned by Mordashov and currently anchored in Hong Kong waters, is worth US$500 million. There are 20 luxury cabins on board, large helicopter landing pads on deck, extra swimming platforms, a swimming pool on the main deck, and a large sports and diving center on the lower deck.
According to reports, Nord had previously stayed in Seychelles, an island country in the western Indian Ocean, and sailed back to the Russian port of Vladivostok in March this year. Nord left Vladivostok on Sept. 27, and once listed the Da Nang Port in Vietnam as the destination, but then changed its destination to Hong Kong waters on Sept. 5.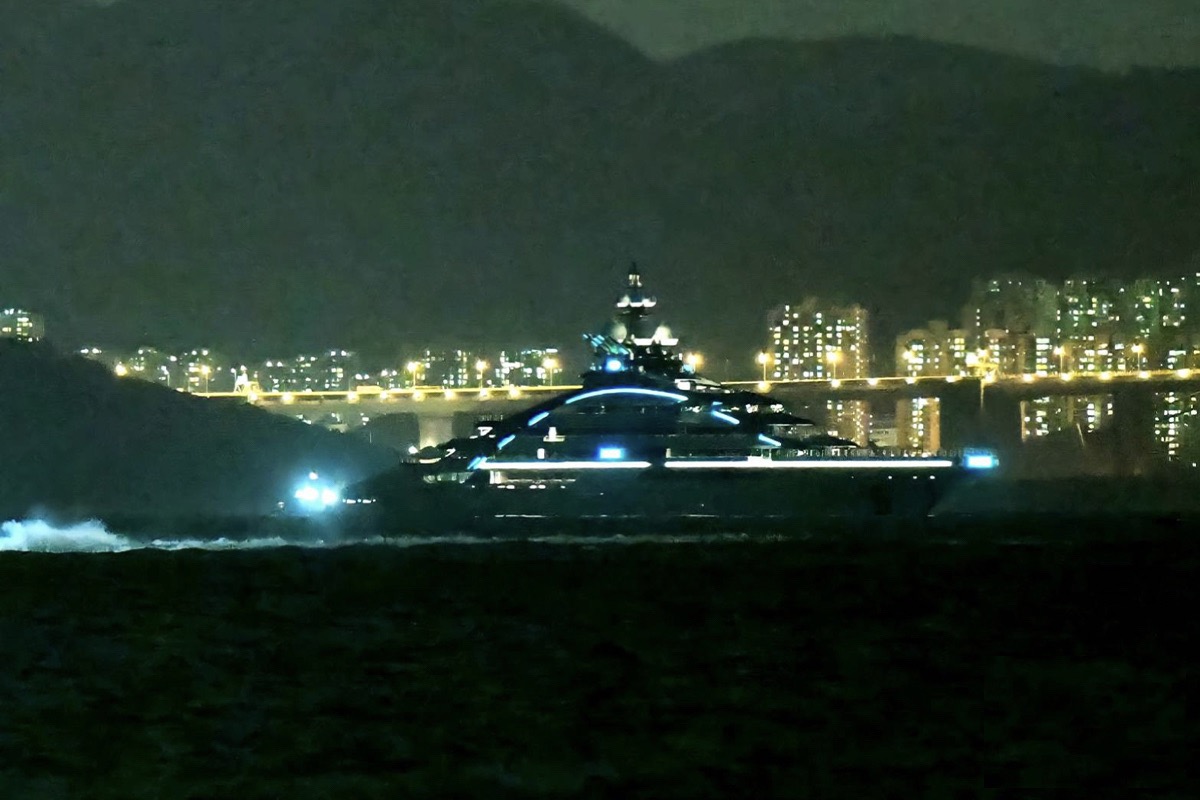 Mordashov is the main shareholder of Severstal, Russia's largest steel and mining company. A spokesman for him declined to comment on the movements of Nord but claimed that Mordashov was in Moscow.
Looking at the sailing website Marine Traffic, Alexey Mordashov's superyacht Nord is currently anchored in Hong Kong waters.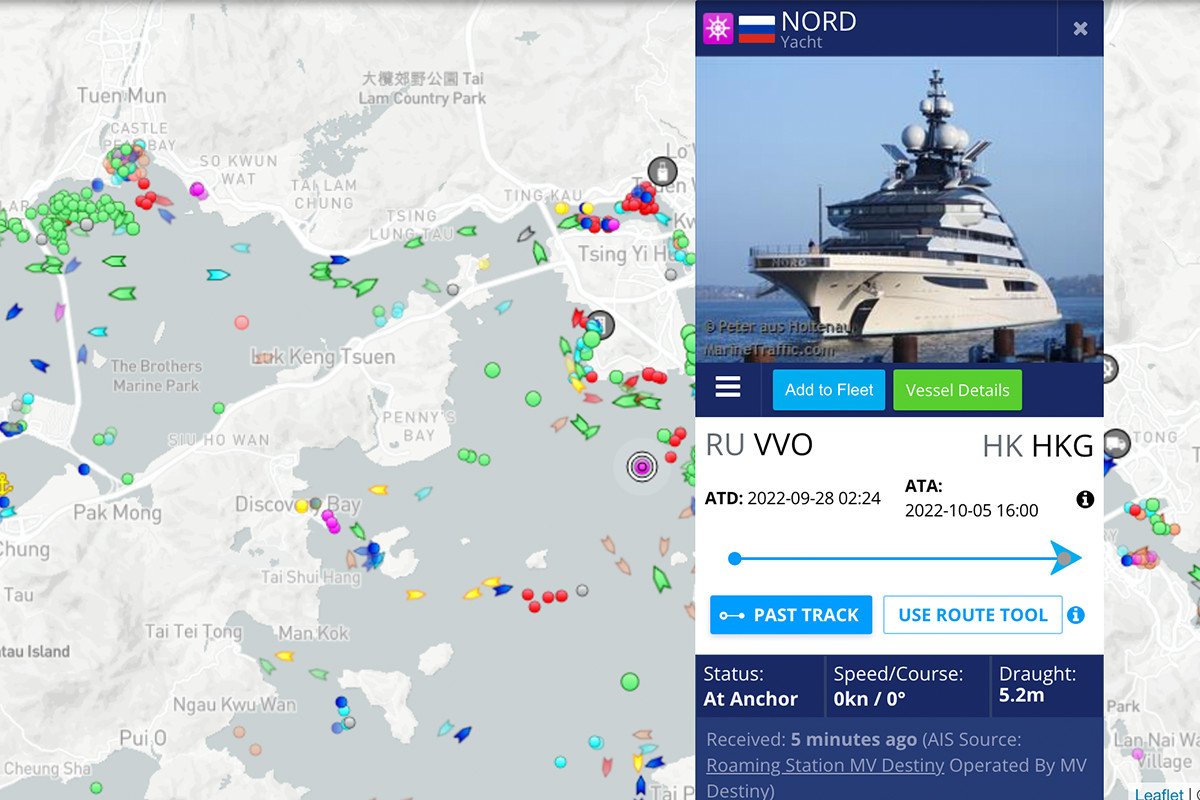 The Hong Kong Marine Department stated that it does not comment on the matters of individual arriving vessels, and said that the Hong Kong government has always enforced the sanctions imposed by the United Nations Security Council and that the government has no power and will not impose unilateral sanctions imposed by other jurisdictions on individual countries.