Saint Vincent Prime Minister Says Relations With Taiwan 'Unbreakable' Despite China's Military Drills
Saint Vincent and the Grenadines's (SVG) relations with Taiwan are "unbreakable" and will not be intimidated by "any powers," the Caribbean islands' prime minister said on Sunday following China's military drills surrounding Taiwan.SVG Prime Minister Ralph Gonsalves and his delegation arrived in Taiwan for a six-day visit on Aug. 7, marking his 11th visit to the island as prime minister. Taiwan's President Tsai Ing-wen touted the two island nations' bilateral relations in her welcoming remarks and praised Gonsalves for his willingness to visit Taiwan at a time when Beijing is conducting live-fire drills around Taiwan. "Prime Minister Gonsalves has expressed in recent days that the Chinese military drills would not prevent him from visiting friends in Taiwan. This statement left us deeply moved," Tsai said. Commitment, courage & loyalty: The virtues of @ComradeRalph were celebrated by Minister Wu alongside @iingwen during a 1st-class welcome at the Presidential Office. Our thanks to the PM for inking 2 treaties & an LOI deepening #Taiwan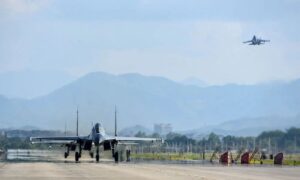 Saint Vincent and the Grenadines's (SVG) relations with Taiwan are "unbreakable" and will not be intimidated by "any powers," the Caribbean islands' prime minister said on Sunday following China's military drills surrounding Taiwan.
SVG Prime Minister Ralph Gonsalves and his delegation arrived in Taiwan for a six-day visit on Aug. 7, marking his 11th visit to the island as prime minister.
Taiwan's President Tsai Ing-wen touted the two island nations' bilateral relations in her welcoming remarks and praised Gonsalves for his willingness to visit Taiwan at a time when Beijing is conducting live-fire drills around Taiwan.
"Prime Minister Gonsalves has expressed in recent days that the Chinese military drills would not prevent him from visiting friends in Taiwan. This statement left us deeply moved," Tsai said.
Commitment, courage & loyalty: The virtues of @ComradeRalph were celebrated by Minister Wu alongside @iingwen during a 1st-class welcome at the Presidential Office. Our thanks to the PM for inking 2 treaties & an LOI deepening #Taiwan